When you are a newbie Dj, choosing a laptop should not be entirely informed by brand preferences and hardware accessories. The top priority should be on the best laptop specs for a newbie DJ to rock house parties and simple events performances.
What are the most important laptop specs for a newbie Dj? Some top features to consider include the CPU, RAM, Hard Drive storage, and connectivity. It's also best to consider the display features, design, and the build quality of a laptop.
There are countless choices available for newbie DJs. But this doesn't mean making a choice will be easy. In fact, this makes it harder to choose a laptop since the specs seem to overlap among various laptop models. But if you understand the critical aspects well, you'll have a better chance of choosing the best laptop for DJs.
Top Laptop Specs Considerations for Newbie DJs
RAM and CPU
When focusing exclusively on power, the CPU and RAM are the two dominate the list of important laptop specs. These components are the lifeline of any Dj laptop with the CPU dealing with all the computations. Essentially, a great processor handles information quickly while a bigger RAM makes running multiple applications a breeze.
..For a newbie Dj, most of the software is lightweight and you'll only need a minimum of Core i5 or its equivalent AMD coupled with 4GB RAM and you're set to use most Djing programs…
For a newbie Dj, most of the software is lightweight and you'll only need a minimum of Core i5 or its equivalent AMD coupled with 4GB RAM and you're set to use most Djing programs.
But if you intend to venture into music creation down the line, getting a faster processor and about 16GB RAM can be ideal. So, why do Djs use a MacBook? It's straight forward, it has the specs needed when you start Djing and you won't need multiple upgrades as your career grows.
CPU Cores
The number of cores in a laptop can be interpreted as "total sub-processors" available in the CPU. Each core can deal with one task while the others are assigned additional tasks. Currently, laptops come with multi-cores but having Hexa cores may not be useful if all you'll be doing is host house parties and simple events.
Clock Speed
The clock speed loosely translates into how quickly a laptop can execute tasks and the higher you go the better. Holding all factors constant, the clock speed is more valuable than the number of cores in a CPU.
To illustrate, a dual-core i5 with a higher clock speed is better than a quad-core i7 with lower clock speed. A fast CPU means that you can seamlessly apply various effects and combine them with VSTs without noticing any lags.
Storage
Laptop storage can be either a Hard Disk Drive (HDD) or a Solid State Drive (SSD). Considering that hard disks are the main causes of laptop failures, choosing a reliable hard disk is of utmost importance. Down the line in your DJ career, you might want to get an external hard drive. Similarly, you might want to get a reliable SSD.
Hard Disk Drive (HDD)
One great feature of HDDs that can't be overlooked is that they offer huge storage capacity at a decent price thus great value for money. In perspective, an SSD of similar storage capacity can cost 20 times more than the HDD. However, HDDs are prone to physical damage and the speed is below what you get from SSDs.
Solid State Drive (SSD)
Currently, these are the fastest in laptops and they perform operations 17 times faster than HDDs. Why is this? They have no movable parts for handling data which mean they are also super quiet. This very aspect makes them less susceptible to physical damage.
Display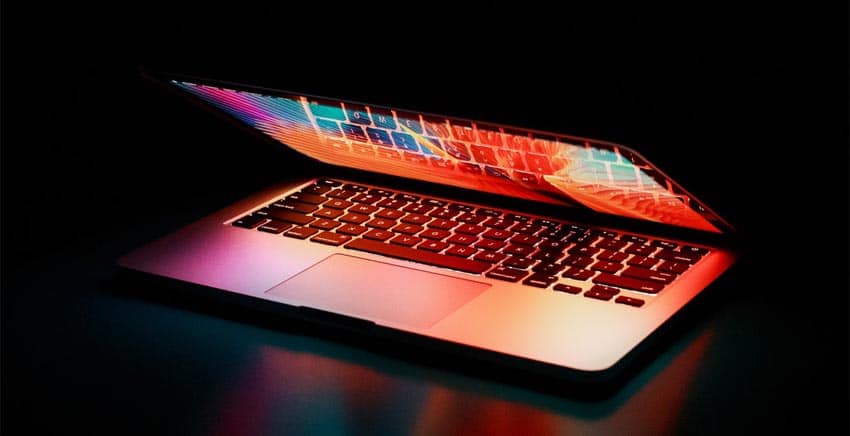 A good quality laptop display means you won't have to strain your eyes when performing. For most professionals, the small screen size is not suitable for extended performances. While opinions may vary, a 15" laptop with a Full HD resolution is ideal for DJs who want to build a professional reputation.
Screen Size
In most cases, size preferences vary among laptop users. For Djing, get a 13" if you will be using the laptop closer to your eyes or if you are one of those people with exceptional eyesight. Ideally, if you plan to mount the laptop on a stand during DJing sessions, you are better off with a 15" screen. This is because you'll be looking at it from a distance.
Resolution
Resolution is a critical aspect of a Dj laptop considering you need to clearly see the interfaces, tools, and buttons when playing music on the Dj software. A Full HD resolution should be the bare minimum if you don't want to strain your eyes when performing.
On the other hand, stay away from 4K resolutions unless you know for sure that your Dj software won't have compatibility issues. Otherwise, the interface and buttons may appear skewed.
Glossy and Matte Display
The major difference between the two is color reproduction. Glossy displays emit more light thus have more vivid colors and more often than not, they outdo the matte displays on color quality. However, they have limitations. If you are performing in a brightly illuminated room or in intense sunlight, you are likely to have difficulties seeing the screen clearly.
Matte displays have a screen protector that diffuses the light resulting in pale color reproduction. This helps users to clearly see what is on the screen. Depending on the light settings in your performance environment, these features should point you in the right direction.
Nice-to-Have Features In a Laptop For a Newbie Dj
Connectivity Ports
A good Dj laptop will have all the necessary ports needed for setting up the Dj equipment. Ideally, a Dj set includes accessories like MIDI keyboard, Dj effects unit, Dj controller, and visual units.
Having several 3.0 USB ports ensures all your peripheral equipment is easily connected to the laptop. In addition, you might need Thunderbolt 3 for lightning-fast data transfer and HDMI for external displays. A safe starting point is by determining the number of Dj equipment you plan to connect and get a laptop with a sufficient number of ports.
Design and Durability
When skimming through laptop specs for a newbie a Dj focusing on house parties and small events, it is easy to focus on performance features like CPUs, RAM, and connectivity.
While these are the primary considerations for a DJ laptop, there is no reason to dismiss design, build quality, and ergonomics. A laptop built with low-grade plastic casing and unstable hinges won't stand the test of time.
On the contrary, a solidly built laptop can withstand the occasional beatings and rough handling while still offering outstanding performance. If your budget permits, consider getting a MacBook laptop which comes with an aluminum casing and attractive design. Besides, you want to start your Djing career on the right foot and brand yourself as a professional.
Weight and Portability
On its own, a laptop doesn't seem to be much of an issue when it comes to weight. But when you consider other additional DJ accessories that you'll be carrying, it becomes a concern. As a newbie DJ, chances are that you'll be traveling a lot for performances and you'll be carrying the equipment with you. In this perspective, a lighter and portable laptop will be ideal.
Conclusion
Besides focusing on performance specs you should make sure your choice is well designed and solidly built. A laptop used for DJing is more exposed to physical damage that a regular laptop that sits on a desk with minimal movement. Most of the time, you'll be traveling with your laptop for performances in different venues. Ideally, aim for a business-class laptop because they have a better design and solid build.