No matter what business you run, a computer is going to be a necessity. Adding in the portability of a laptop makes you more mobile and more effective at getting your job done.
You don't want a sub-par machine keeping customers waiting or freezing up during work presentations. Below we've rounded up eight of the current best business laptops in 2020 covering every possible usage from small business to enterprise office settings.
Picking The Best Laptop For Business in 2020
A local coffee shop or bakery looking to accept credit card swipes on a 2-in-1 has very different needs than an office that requires a fleet of high end computers.
Whether you only have a few hundred dollars to spend or can drop thousands on a large order of dozens of machines, there are still key features to look out for before buying a new laptop.
From physical storage space to HDMI ports for using external displays, every business laptop is going to feature pros and cons.
We can help you narrow down your choices and focus on which specific features are most critical to your business.
Want to jump to a specific category? Check out each of our contenders in the list below, or scroll down to get started looking what's available in every price range and style!
Recommendations for February 2020
The Contenders For Best Business Laptop In 2020
1. Huawei MateBook X Pro – Best Laptop for Office Work
Need a top-of-the-line machine for your office with amazing screen resolution, low weight, and plenty of power? This should be your pick, so long as you don't mind the lower angle of the webcam.

Signature edition
Very light model
Security and high end specs
Bad webcam positioning
High price
Hands down, the Huawei MateBook X Pro is one of the best portable computers on the market in 2018. While its a killer choice for home users, it has some amazing features for an office environment as well.
The big draw here is that you get the signature edition of Windows. That means absolutely no bloatware, and for a business setting, that's a major plus.
Your IT guys won't need to spend time uninstalling useless features that eat up memory. With the MateBook, you also get a full day's worth of battery on a single charge at 12 – 15 hours depending on usage.
Security is always a concern in a business environment, and that's why you should be on the lookout for the fingerprint reader. With this tech, you ensure no unauthorized users are logging into your office laptops.
In terms of raw specs, you get a bit of everything here as well. There's tons of power under the hood for running any application your business might need.
There's really only one main downside to keep in mind that could be a deal breaker. The webcam is secured within the machine, so you actually have to tap the cam to bring it up.
While that's a nifty security feature, it means the webcam is placed at the bottom of the screen rather than the top. If you take part in daily video conferences, that can get annoying as the bottom angle isn't as useful for long video chats.
2. Flagship Lenovo IdeaPad 330 – Under $1,000 Picks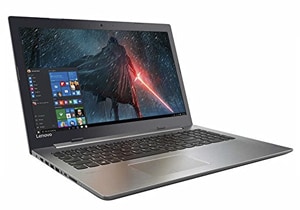 Want the best possible specs with lots of ports for connecting to external devices at a very low cost? This should be your pick for the best business laptop!

Lots of storage space
High end specs
Larger screen and more ports
Lower battery life
Heavier model
No touch screen
Need a business class machine but don't have a bunch of extra capital available to spend? This Lenovo model isn't just under a thousand, it's way, way under a thousand!
To reach that budget pricing, you have to give up a few features. Depending on your work requirements, you may not need them anyway and won't miss them here.
Many business settings just flat out don't need a touch screen, but they do need more viewing area. That's what you get with the IdeaPad's traditional clamshell design and a 17 inch screen.
This model also features a wide array of ports for connecting peripherals or hooking up to external displays for presentations. If you still run any disc-based installation program for your business, don't forget you still get an optical drive as well.
Aside from ports and screen size, the main draw here is the 1TB SSD. You won't run out of storage space for your work projects, and you get the faster solid state drive technology.
Two main downsides should be considered before going this route. First up, a 17 inch screen means you get a heavier laptop.
If you take this thing on business flights often, the reduced portability is going to get annoying. Second, you only get about five hours on a charge, so you will need to plug in at some point during the work day.
Looking for something a bit more compact instead? The Lenovo ThinkPad T480 is only 14 inches but offers similar specs.
3. HP Spectre X360 – Pick For Travel
Need an awesome laptop that can handle any task on the go? This should be your pick for the best portable laptop to take while traveling on business!
Highly portable
Scratch-resistant screen
Excellent overall specs
No dedicated graphics card
High price
We've mentioned different versions of the Spectre in some of our other articles before, and for very good reason.
If you want a business machine rather than a gaming rig, HP's offering is one of the best in class for nearly any kind of user.
The Spectre hits the trifecta for a true workhorse of a machine – portable, powerful, and connective. You aren't going to find better specs in a thin and light machine, and you can hook up to multiple monitors and printers at the same time.
Besides the thin and lightweight aspects, there's even more reason to take this model as your travel laptop. It comes with the pen stylus for working on the touch screen while on the road.
The backlit keyboard is also an excellent feature if you are working on late night flights or in a dark office setting after business hours.
Finally, you get excellent battery life with the Spectre. It can even compete with our contender below for the best business laptop battery.
If you live outside the U.S. this may not be your best choice, however. One frequent complaint from international buyers is that the warranty doesn't cover much in other countries.
4. LG Gram – Business Laptop With Best Battery Life
Until now, it was quite hard to combine big size with lightweight design – until LG Gram. This laptop doesn't only feature powerful configuration but it also features a vivid display, comfortable keyboard, and a great HD camera. Wherever you go, you'll be backed up by a reliable all-day battery.

IPS display
Lightweight yet durable design
All-day battery life
Fingerprint sensor
Keyboard is a bit far from palm rest area
Will require a bigger backpack to fit
Key features & details
5. Apple MacBook Air – Best Laptop for Business Owner
If ultimate versatility is one of your biggest priorities, there is no thinner laptop than MacBook Air. It's a laptop that will easily fit in your briefcase, but will provide a quick & smooth performance with a long-lasting battery – once you open it and start using it at work.

Thinnest design ever made
Decent screen size with Retina display
Latest designed Apple keyboard
Touch ID security
Camera quality is an average
Fan can get noisy sometimes
Key features & details
6. Dell XPS 15 – Best 2-In-1 Business Laptop
Want the absolute best hybrid laptop currently available that makes no compromises? This should be your pick, if you don't mind learning a new keyboard layout.

Extremely high end specs
Lots of storage space
Stylus included
Very high price
Different keyboard layout
When it comes to hybrid laptops, nothing beats Dell's XPS 15 at the moment. You don't lose any functionality at all here with a full 15 inch screen, 360 degree hinge, and truly top-notch specs.
Between the 8th gen processor and dedicated graphics card, this 2-in-1 can function as a business machine or a gaming rig for after work. The battery life is also extremely high for a unit with so much graphical power.
Buyers often mention the high quality display, and the extremely narrow bevel for the most viewing space possible. You also get a stylus included, and it attaches directly to the laptop magnetically so you won't ever lose it.
Despite the near-perfection of this particular 2-in-1, there is one issue frequently mentioned by reviewers. The XPS 15 features a revamped keyboard design that some love and others hate.
You get shallow keys for quiet operation, but the page up and page down buttons are located to the left and right of the arrow keys. This means you will accidentally hit the wrong key quite often while you get used to the keyboard layout.
The price tag may also be prohibitive for small business operations, at well over two thousand dollars. If you want something similar for half the price, take a look at the HP Spectre listed above.
7. Acer Chromebook R 13 – Best Business Chromebook
Want a high end Chromebook to handle basic office or point of sale tasks? This should easily be your pick.

Great battery life
Nice screen resolution
Not much storage capacity
Small keyboard
Chromebooks aren't typically the first choice for an office or business setting, but they offer more features than you may realize.
Now that Chromebooks are compatible with the Google Play store, it's simple to download apps for accepting credit card payments and tips direct from customers.
There are a few other upsides to consider by ditching Windows 10. Security is a big issue, since Chromebooks aren't going to get infested with malware nearly as often.
Acer's Chromebook also has stellar battery life, so it can last a full workday without ever needing to plug into an outlet. That is easily the most frequently mentioned positive feature in nearly all reviews.
You often find lower screen resolutions with Chromebooks, but that isn't the case with this model. If the prefer the Chrome OS over Windows, you can't go wrong with this pick, especially for a small business.
For larger enterprises with bigger budgets, the Google Pixelbook is another high end Chromebook to consider.
8. Asus VivoBook – Best Laptop For Small Business
Want portability and power in one package without an extremely high price tag? The Asus VivoBook should be your pick for best small business laptop if you don't need a touch screen.

Low price
8th gen processor
Lightweight without giving up screen size
No touch screen
No keyboard backlighting
When you need power in a small package and at a budget price, the VivoBook should be high on your list of contenders. If you are buying a laptop specifically for business purposes, then of course the purchase cost is a tax write-off in the U.S.
While sporting better specs than many budget models, you still get a very high build quality here. The VivoBook features an extremely thin bezel, with a 15 inch screen packed into a 14 inch chassis.
This is also a durable model, and it comes with any port you could possibly need, from HDMI to SD to USB.
There are a few potential downsides to keep in mind here, like the lack of a touch screen. When you need a 2-in-1 display, you should check out the other contenders listed above instead.
The base model of this VivoBook features an HDD instead of a solid state drive, although that may not matter in many small business applications.
If you find the data transfer with an HDD is too slow, an upgraded version of this model with an SSD is available for an extra $100.
Reviewers frequently mention two features that may make this model less attractive to you based on some personal keyboard preferences.
The power button is built-into the keyboard and next to the delete key, which isn't an ideal location. This model also lacks a caps lock indicator light, so you may have to tab the caps key more often than normal.
Criteria used for evaluation
Form / Design
Other than choosing laptops depending on their performance or price, some businessmen are mainly looking for versatility and mobility.
Looking at form & design is one of the first factors you should be looking into if you're interested in versatility and portability. Even if you're not, it's always a great idea to find a laptop with a quality and durable design, don't you think?
Other than the weight and thickness of the laptop, the main material used to build out the laptop is important too. After you've looked into these main factors, checking out additional design features and style is something you should do next.
When you're satisfied with the design and the laptop's form, you'll only then know if a laptop will be a good tool for your business.

Keyboard
As a businessman, you're most likely going to use a laptop to input a lot of information, data, statistics, and others – and having a great keyboard is not only going to pay off in the long run but having a comfortable keyboard to type on is something everyone should look for.

Other than comfort, finding a keyboard that is precise, has a great key travel, is made of good material, and is well placed in the laptop is really important as it all has an impact when it comes down to the keyboard choice.

After you've checked out the keyboard, we even recommend you to pay attention to the trackpad, and other doing some quality tests – make sure it's not in the way when you're using the keyboard. Some laptops have awkwardly placed trackpads or are too large and unfortunately, won't be a great fit for most people.

Performance
Business laptops are required to be one of the most reliable laptops out there and there's no better way to achieve reliability than with a great configuration that works well with the laptop's operating system.

Paying attention to configuration and components is very important since it will easily let you know what type of performance can you expect out of the laptop.

Even if you don't know much about the laptop's components, we highly recommend you to go with Intel processor (at least Core i3), 6 GB of RAM, and an SSD storage (in combination with HDD – if necessary).

Having a dedicated graphics card isn't very important, but it's something you could get in case you aren't on a tight budget and you're getting a high-end laptop. If you ever have to work in any visual software – you'll be prepared.

Battery Life
You're not always going to be around the power plugs, and you won't always have space for your laptop's charger in your briefcase. That's why you should look for laptops that come with modern batteries which are able to last for at least 6 hours straight.

This will help you work from anywhere and never shift your focus off the important business tasks due to the battery level. If you're not on a tight budget, going for a laptop that comes with all-day battery life is the best thing you can possibly do.

What's even better is that most laptops nowadays feature a very versatile design yet still have a decent battery that can last for long and even charges super quickly.

If you're getting a high-end laptop, we can't stress how important is the battery life since high-end laptops will require a bit better batteries.

Storage
Every businessman will work on different projects and will have to use different software, store different type of files, but everyone will be dealing with information.

No matter what type of information you'll be working with, you'll need plenty of space in your laptop to store it. Thinking about the storage up front is important since you don't want to end up upgrading later or having to get an external storage drive.

And other than paying the attention to the amount of space you'll have on the drive, we recommend you to pay attention to the type of storage drive too. With the sleek and fast SSD's, we can only recommend you go with an SSD, and in case you need a lot more space, you can combine it with a great HDD.

This won't only increase the space but also the efficiency of your laptop since SSD's are almost 4 times faster than regular HDD's.

Frequently Asked Questions
What sets a business laptop apart from other laptops?
Security features are often more prevalent in business-class laptops. Fingerprint readers are usually featured in these models, and you can expect higher end anti-virus software to come pre-loaded.
Whenever possible, be on the lookout for business laptops labeled as "signature editions." This is industry jargon that means "no included bloatware."
What features do I absolutely need for an office laptop?
For any office or business setting, you want high speeds and plenty of storage space with a solid state drive.
If video conferencing is a major component of your weekly work schedule, make sure to check the reviews on the laptop's webcam before buying!
In terms of operating system choices, Windows 10 Pro isn't as much of a necessity as you might imagine for most businesses.
What pitfalls should I look out for when shopping for a business notebook?
Take stock of your business software before making a buying decision. Some businesses are still using legacy software that actually run better in Window 7 or 8 with older processors.
In that case, you may want to go with one of the best 2015 – 2017 business laptops instead of the latest models.
Finding The Best Laptop for Work In 2020
From slim and lightweight 2-in-1 hybrids to large 17 inch models with extra ports, there's no shortage of options when looking for the best business laptop.
Did you find the right machine for your business in our roundup of contenders? Let us know what you think of our picks, and be sure to drop a comment if you notice any better models we didn't list here!