As handheld mobile tech becomes more prevalent, you may have looked at your devices sitting around and wondered "how to use tablet as a second monitor?"
While working from home, most will not have the luxury of a productivity setup. Fear no more, in this article, we will show you on how to use your Android, Windows and iOS tablets as a second display.
To use a tablet as a second monitor, simply download the app on both your tablet and laptop. Each app will give you the capability to connect via a cable (which reduce portability) or wireless connection (which is less stable, but more portable).
If you are looking for a tablet to use as a second monitor, we would recommend one of these:
How To Use android tablet as second monitor With Cable & Wirelessly
Picking an App and Method
There's a bit more to it than that though, as you need to be careful in what apps you pick! Some free options are available that we'll discuss below, but most likely you are going to have to spend a little money to get the best wireless experience.
Why exactly is that? Because free apps usually have these limitations to keep in mind:
The app will bombard you with ads (which obviously isn't ideal for uninterrupted usage)
The app will only work for a limited time on a free basis
The app will require elevated tablet access permissions that you may not feel comfortable giving to a third party
Wireless Monitor Extension Apps
This is what most users actually want, so let's jump into going wireless first, although as we note below, there are some big limitations here you may want to keep in mind.
Each app has in-depth instructions on going through this process, so there's no need for us to rehash that here, but there are some things to keep in mind when picking a monitor extension app.
First up, be on the lookout for apps that allow you to both extend and mirror your display. These two options come in handy in different situations.
For instance, programmers may want to see their code on the main panel while having other resources on the secondary screen.
In other cases, you may need multiple people to see what's on the screen, so mirroring makes more sense — especially if you want to pass the tablet around a staff meeting.
Now that you know what to look for, what apps should you try out? After extensive research, these are the tools we specifically recommend trying out for using your Android tablet as a monitor: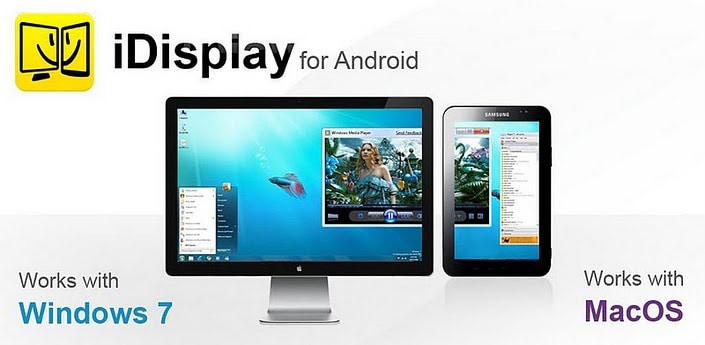 Note that iDisplay Lets you use your Android tablet as a monitor for your Mac as well as a Windows PC.
Using Remote Desktop Apps
There's another option here that a lot of users don't realize is freely available and essentially gives you the same functionality as an extension app — using a remote desktop program!
In particular, we recommend these two options:
It's important to note this isn't exactly the same thing as using your tablet as a second monitor, but it essentially gives you the same features.
Rather than extending your laptop display to your tablet, these apps let you control your laptop directly from your tablet, no matter where you are located.
This is particularly useful if you need to access your desktop from your tablet while you are away from your home or office.
..In some ways, remote desktop apps are actually better than using a paid monitor display app…
In some ways, remote desktop apps are actually better than using a paid monitor display app, because they give you screen sharing while also letting you freely transfer files between the two devices.
Broadcasting From Tablet To PC Monitor Or TV
We've seen how to use your tablet as a secondary monitor for your laptop, but what if you want to go the opposite direction?
Of course, there are apps for that as well, and as a bonus many of them let you display your tablet's audio and video on your TV as well as your computer!
That can be a huge boon if you want to stream something like Netflix from your phone or tablet on your larger screen television. To go this route, check out these apps:
Via A USB Cable
Going wireless with the apps listed above is usually ideal for maximum portability, but it may not be the best option for your setup.
…It's very important to note that wireless connections through an app will often result in a slight lag or delay…
It's very important to note that wireless connections through an app will often result in a slight lag or delay between what you do on your computer and what you see on your tablet screen.
That's where you are going to end up seeing the bulk of the negative reviews for any programs that let you use your tablet as a secondary monitor.
If you have particularly fast and stable wifi in your area (and devices with enough RAM to run the connection app smoothly), that's less of a concern. In some cases, you may want to go with a cable-based connection using a USB instead.
Just like the wireless apps listed above, these programs let you extend or mirror your laptop display over to your tablet. They work through a faster-wired connection, however, and typically don't suffer any major lag in display time:
Note that SplashTop's wired version lets you try out the connection for free for 10 minutes to decide if you want to buy, so we recommend giving that a shot first to make sure it will work with your computer/tablet combo.
Via HDMI
If USB can be used to connect your tablet to your PC, you are probably wondering if it would be simpler to just use a standard video connection cable.
Some tablets like the Amazon Fire HD feature an HDMI port, which might make you assume using your tablet as a monitor will be as simple as plugging in a cable.
Unfortunately, in most cases, these tablet ports are actually for output, rather than input.
That means you can display your tablet's screen on another device via an HDMI cable, but not vice versa.
Amazon Basics High-Speed HDMI Cable (18Gbps,...
IN THE BOX: Nylon braided HDMI cable (A Male to A Male) for connecting 2 HDMI-enabled devices; 10 feet long
DEVICE COMPATIBLE: Connects Blu-ray players, Fire TV, Apple TV, PS4, PS3, Xbox One, Xbox 360, and computers to TVs, displays, A/V receivers, and more
SUPPORTS 4K VIDEO: Supports 4K video at 60 Hz, 2160p, 48-bit/px color depth, as well as bandwidth up to 18Gbps, Ethernet, 3D, and Audio Return Channel (ARC)
Using external screen with a Company laptop
With the rise of "work from home" culture, some will be given a company laptop with limited access to install app.
Unfortunately, your options is very limited. You can either connect with a TV via HDMI, or buy an external display.
How to Use Windows Tablet As A Monitor (Or Even Your IPhone & IPad!)
As would be expected, of course, there are similar tools available for Windows 10 tablets for those who don't care for Android devices. Splashtop comes to the rescue here with this nifty tool:
This is essentially Google's Remote Desktop program, but specifically for Windows environments instead of Android.
Wondering about an iOS device instead? Most of these programs listed above have Apple Store equivalents as well:
If you are using an iPad Pro, simply using Apple Sidecar built-in feature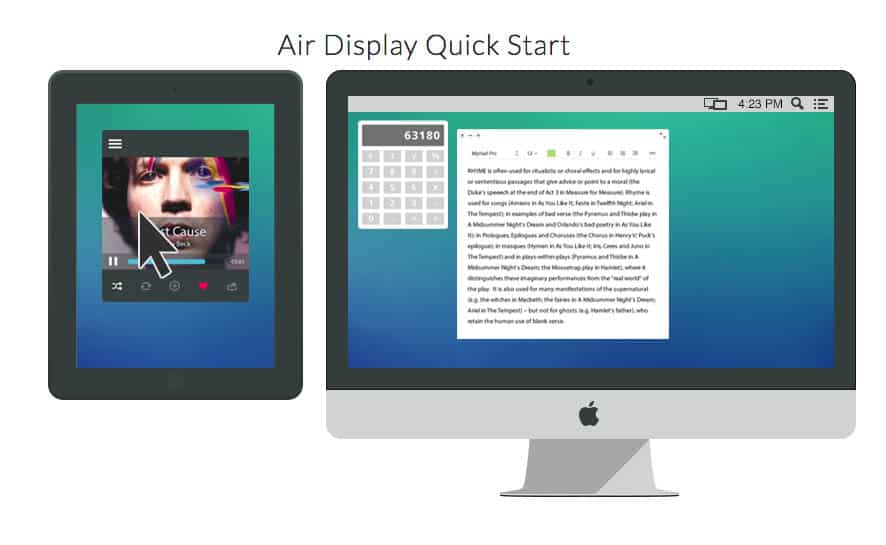 How To Get The Most Out Of Your Dual (Tablet – Laptop) Display Experience
The portability of using a mobile device as a screen is a big plus, but if you intend to use your tablet as a secondary monitor at a permanent workstation, we recommend getting one more peripheral: A tablet Stand
iKross Kitchen Tablet Mount Stand 2-in-1...
EXCELLENT COMPATIBILITY: The iKross tablet bracket adjusts from 6 to 8.7 inches to accommodate majority of the 7 to 13 inch tablets
MODERN DESIGN: The sleek and modern holder perfectly complements the kitchen countertop, cashier table, desktop and nightstand. Multiple mounting options are designed for convenience and versatility...
STURDY CONSTRUCTION: Heavy duty brushed aluminum base is fully adjustable and folds down with removeable tablet holder for clutter free viewing.
Although obviously if you frequently pick up your tablet and move it to another location, that may not be an ideal solution.
With that done, enjoy your Increased productivity from a dual screen setup without having to buy a whole new monitor!