You know it's hard picking a laptop to invest your money in, and I'm sure you're confused right now about all the hundreds of options out there.
If that's the case, fret no more as we got you covered with a list of the best possible machines.
We know just how hard it is to pick the right HP laptop and this is why we decided to come up with a comprehensive HP laptop buying guide – just for you!
Read more below to see our top picks for the best HP laptop.
Let's dive in and see what's available for any user on any budget!
Editor's Choice
HP Spectre x360
Why is it better?
Extremely fast i7 processor
4GB of RX Vega graphics
Pen enabled display
Fantastic battery life
Windows 10 Pro included
10 Best HP Laptops In 2020 Reviews
1. HP Pavilion x360 – Best Budget HP Laptop 2020
For a budget laptop, under $500, the 2-in-1 HP Pavilion x360 is HP's best offering. A full HD screen with decent specs and the included pen make for a fantastic offering if you are low on funds.

Crisp 1080p screen
Fast HDD with Intel Octane
Pen included
Only 4GB of RAM
i3 processor not great for multitasking
In today's world, just because you don't have thousands of dollars to spend on a laptop does not mean that you have to buy a used or slow machine. For under $500 you can still pick up a fast, reliable notebook that will last for years.
Key features & details
Budget Friendly
The HP Pavilion x360 is HP's best offering in the budget market, and has the horsepower to be a great machine even though it isn't top of the line.
Capable Specs
Packing a very capable i3 dual core processor, you will have enough processing power to handle your daily tasks efficiently. Though paired with the 4GB of RAM you will not have a ton of multi-tasking capabilities, you will still be able to handle most tasks with ease.
Intel Octane Hard Drive Accelerator
The inclusion of the Intel Octane accelerator will make the speeds of the hard drive rival that of an SSD, a huge positive that will make doing your tasks even faster.
1080p Screen
The full HD 1080p screen is crisp and clear. The included pen works well for note taking, and even a bit of art if you are so inclined.
Integrated GPU
The Intel integrated GPU is not powerful enough to run modern games. However, it is more than enough to watch movies and videos at full resolution without any hiccups.
While there are a ton of low budget HP laptops on the market, the Pavilion x360 does everything you need at a great price. It checks off all the boxes we look for in a cheap computer.
Hardware specifications for HP Pavilion x360
Processor Intel i3 8130u (2.2 – 3.4 GHz) RAM 4GB DDR4 Storage 1TB HDD + 16GB Intel Optane Accelerator Graphics Intel 620 Display 15.6-inch WLED LCD, 1920 x 1080 pixels resolution Operating System Windows 10 Battery Life 7 hours Weight 3.2 lbs Other Features Touchscreen Pen Display
2. HP Stream 14 – Best College Laptop
The HP Stream Pro is the perfect companion to the college student, being portable and lightweight enough to throw in a backpack all day. It has enough horsepower to make it the best choice for note taking and homework all at a fantastic price point.

Extremely affordable
Office 365 included
Great battery life
Slower dual core processor
Only 32GB of storage
When you are in college you need to save every penny you can, which is why the HP Stream Pro is such a significant laptop. Coming in at only a couple hundred bucks, it will fit into any college students budget.
Key features & details
Light and Portable
This laptop is a perfect backpack companion for a college student, being light and portable enough to keep with you all day.
Budget Specs
The dual core Celeron processor is certainly not the fastest on the market, but for the normal college grind (web surfing, emails, video watching), it will hold up fine. The 4GB of RAM is an adequate pairing for this low end processor, but still lacking for multitasking.
Fast SSD but Low Capacity
You only get 32GB of SSD storage onboard, but it is expandable, so take advantage of that and add more to increase the computers capacity. The drive itself is actually pretty snappy, being one of the main highlights of this PC.
Low Resolution Screen
The screen on the HP Stream 14 is well below the standard 1080p, coming in at only 1366 x 768 pixels. This is low, but you will not notice it much on such a small form factor laptop screen.
Office 365 Included
One of the biggest draws to this laptop for college students is the inclusion of Microsoft Office 365. This will allow you to use Word, Excel, etc, plus a full 1 TB of OneDrive storage in the cloud.
College students have much more pressing needs when it comes to their scarce funds. Don't waste it on a computer with overpowered specs when something as simple as the HP Stream 14 will suffice.
Hardware specifications for HP Stream 14
Processor Intel Celeron N4000 (1.1 – 2.6 GHz) RAM 4GB DDR3 Storage 32GB eMMC SSD Graphics Intel UHD Graphics 600 Display 14-inch WLED LCD, 1366 x 768 pixels resolution Operating System Windows 10 Battery Life 11 hours Weight 2.58 lbs
3. HP Omen 15t – Best Gaming Laptop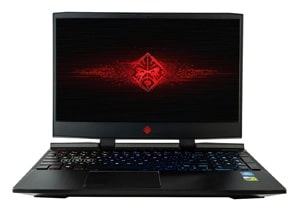 The HP Omen 15t features a high end i7 processor and an Nvidia RTX 2070, making it one of the most capable gaming laptops on the market. It will play any game you throw at it flawlessly, and is a fantastic choice for watching movies in 4k.

Fast 6 core i7 processor
Nvidia RTX 2070 GPU
Sharp 4k screen
Quite expensive
Hot when under load
HP is known for making computers in a variety of price points, and their Omen gaming PC's are one of the best selling in their portfolio. If you are considering an HP laptop and want gaming performance, the Omen 15t is a fantastic choice.
Key features & details
Quality Build
While there are other brands in the gaming laptop area, HP has been making strides here and the Omen 15t really shows the quality they are striving for. It can stand up to even the most highly regarded laptops on the market.
Top-of-the-Line Specs
The i7 in the Omen is top of the line, and when paired with 16GB of speedy memory it makes for an epic one two punch of processing power. The SSD is fast and extremely capable, and at 512GB it gives you enough space to load up all of your gaming library.
4k Display
The 4k display is excellent, giving great colors and sharpness that a 1080p display simply can not contend with.
Fast GPU
The real star of this laptop is the RTX 2070 GPU. It will give you enough horsepower to play games at the full 4k resolution so you can take full advantage of the beautiful panel on this laptop.
HP is not as well known in the gaming PC market as the likes of Alienware or ASUS, but by putting out top quality products such as the Omen 15t they will get noticed. This laptop is a must see for anyone looking to buy a top of the line gaming laptop.
Hardware specifications for HP Omen 15t
Processor Intel i7 8750H (2.2 – 4.1 Ghz) RAM 32GB DDR4 Storage 1TB NVMe SSD + 1TB HDD Graphics Nvidia RTX 2070 (8GB) Display 15.6-inch WLED IPS, 3840 x 2160 pixels resolution Operating System Windows 10 Battery Life 6 hours Weight 5.26 lbs
4. HP ProBook 450 G6 – Best Business Laptop
The HP ProBook is a sturdy, reliable laptop with a strong processor and a fast SSD to help get you through your workday no matter how long that may be. The classic HP laptop stylings are sleek and understated, just what you want when sitting at your desk.

i7 processor
Sharp 1080p display
Windows 10 Pro
Only 256GB of storage
Could use more than 8GB of RAM
There are many options when looking for a sleek and stylish business class laptop, and HP themselves have a few in this range. However, none have the balance and style of the HP ProBook 450 G6.
Key features & details
Fast and Capable Specs
The core i7 processor is fast and capable no matter the task, and 8GB of RAM is the perfect amount for business applications. Combine that with the quick SSD and you have a speedy machine that will not bog down under work loads.
Brigh and Vibrant Screen
The 1080p screen has plenty of resolution to give the ProBook a crisp picture on the 15.6-inch screen. The colors are bright and vibrant, and the laptop gets plenty bright enough so you can use it in any situation.
Integrated Intel GPU
The ProBook comes with Intel integrated graphics, making it plenty enough for business use. It will not wow you with 3d application performance, but for using Microsoft Office applications and watching videos it will be perfect.
Portable Size
The laptop is light and portable, making it not only great when sitting at a desk but also on the go. Want to take your work with you to the coffee shop? This laptop will do that easily.
Business laptops often are great at some things and bad at others. This laptop is good at everything you would want for an office or home office computer.
Hardware specifications for HP ProBook 450 G6
Processor Intel i7 8565u (1.8 – 4.6 GHz) RAM 8GB DDR4 Storage 256GB SSD Graphics Intel UHD Graphics 620 Display 15.6-inch LCD, 1920 x 1080 pixels resolution Operating System Windows 10 Pro Battery Life 11.5 hours Weight 4.4 lbs
5. HP Spectre x360 – Best Overall Choice
The HP Spectre x360 is the crown jewel in HP's laptop lineup. It is the perfect laptop in every way, with powerful specs and with an equally portable and beautiful design.

Gorgeous 4k display
Strong i7 processor
4GB Vega graphics
Pen included
Gets very hot
Wireless connection is weak
If you are looking for the best all around laptop from HP, the Spectre x360 is unrivaled. It has everything you could ever want in an absolutely stunning chassis.
Key features & details
Unrivaled Performance
When you have the newest Intel i7 mobile processor and a full 16GB of RAM, it makes for fantastic performance. Throw a 512GB SSD in the mix and you have the ultimate specifications for a portable laptop.
4k Touchscreen
The screen on the HP Spectre is spectacular. With a 4k resolution and full touch capabilities, everything looks good on this display.
Pen Enabled Display
Not only is the display nice to look at, but it offers full pen support making it a great choice for artists. Flipping the 2-in-1 into tablet mode and doodling a picture has never been easier.
AMD Vega GPU
In order for it to be able to handle applications like Photoshop, the Spectre x360 has AMD RX Vega graphics. The 4GB of VRAM is extremely useful in those visually strenuous drawing sessions.
Portable 2-in-1 Design
The laptop, being a 2-in-1, is also extremely slim and portable. You will have no problem putting the Spectre x360 in a backpack and taking it on the go.
There is not a clear weak spot in the HP Spectre x360 other than it getting a bit hot on the bottom, and the wifi connection being spotty at times. Those are extremely minor complaints when you take into account the extreme performance and looks that this laptop offers.
Hardware specifications for HP Spectre x360
Processor Intel i7 8705G (3.1 – 4.1 GHz) RAM 16GB DDR4 RAM Storage 512GB SSD Graphics AMD Radeon RX Vega M (4GB) Display 15.6-inch IPS LCD, 3840 x 2160 pixels resolution Operating System Windows 10 Pro Battery Life 12 hours Weight 4.59 lbs Other Features Pen Enabled Touchscreen Display
6. Hp EliteBook 840 G3 – High-end
The Elitebook is a great looking laptop that offers more than just it's looks. There are many great features that make this Hp laptop a worthy contender. Among them a great keyboard and decent battery life.
Classy Look
Excellent Keyboard
Great Battery Life
Webcam is subpar
The Display is Mediocre
Key features & details
Display
The display is fairly mediocre but it will do for anyone using this laptop as a workstation. You will be able to handle all the work that you would ordinarily do with simplicity and ease.
Keyboard
The keyboard is standard compared to many other laptops, but it is very nice to work on. You will love the elegant feel of the keys and how simple the strike is with each key. Whether you work all day long or just for a few hours, the ease will be magnified by this keyboard.
Battery life
If you are wanting a laptop that is going to last throughout your work day, school day or presentations, you will love this one. The battery will last for hours making it an exceptional companion for the mobile worker. You won't have to worry about needing a charge anytime soon.
Performance
The overall performance is remarkable. You will get a solid working system with the 240 GB SSD that is ideal for just about any application. The fast hard drive coupled with the exceptional 8GB of RAM makes this laptop a true desire.
Design
The look of the Hp Elitebook is considerable compared to other models. The design of this is sleek and modern making it the ideal laptop for any workplace or student.
Specification
Hardware specifications for Hp EliteBook 840 G3
Processor
Intel Core i5-6300U up to 3.00 GHz
RAM
8 GB
Storage
240 GB SSD
Graphics
Intel HD Graphics 520
Display
LED
Operating System
Windows 10 Professional
Battery Life
8 hours
Weight
3.4 pounds
7. HP Chromebook – Elite Chromebook
If you have the means to pay a premium price for a chromebook, then this is one that you want. This Chromebook is very satisfying in all respects making it ideal for just about anyone. The features are incredible and make it an ideal choice.
Comfortable to type on
Long battery life
Excellent resolution
Thick bezels
Heavier than others
Key features & details
Design
The beautiful aluminum tablet has a great keyboard that is attached and can be removed. The unique colorway and the lovely HP logo is a nice touch. The bezels make the screen seem a bit more bulky than it is but that is a minimal annoyance.
Display
The 2400 X 1600 pixels makes the screen good quality and easy on the eyes. You can see most details clearly and enjoy excellent color quality throughout. Overall, the display is ideal for most.
Performance
Armed with an excellent AMD dual-core A4-9120 processor, the power of this laptop is remarkable for a Chromebook. You will be hard pressed to find another of this calibre. The performance is suitable for any student or worker.
Battery Life
The battery of this Chromebook lasts 8 hours and 50 minutes in continuous, multi-tab usage and with a single usage occasionally, the battery can last a day or two. You will find that the battery on this Chromebook is exceptional compared to others.
Audio
This Chromebook has enough audio performance that will fill up a medium sized conference room. The sound is clear and not masked or muffled. Each amount of audio that resounds out of the speakers is exceptional.
Specification
Hardware specifications for Hp Chromebook

Processor
AMD Dual-Core a4-9120, 2. 2GHz up to 2. 5GHz
RAM
4 GB DDR4-1866 SDRAM
Storage
32 GB eMMC
Graphics
Intel HD
Display
14. 0-Inch diagonal Full HD antiglare IPS WLED-backlit Display (1920×1080)
Operating System
Chrome OS
Battery Life
9 hours
Weight
3.1 pounds
Other Features
180-Degree Hinge, Chrome OS.Warranty
8. HP ProBook X360 11 – Quad-Core
HP was thinking of small businesses when they rolled out the ProBook X360. With the aluminum chassis and the high-end specifications, this laptop is sure to impress even the higher executives.
Nice aluminum chassis
The display is bright
The specs are solid
Could get pricey with upgrades
Key features & details
Design
The Hp ProBook does seem to have a lot of the spunk you would find in an Elitebook, except it doesn't have a great HP logo on the top which takes away from the looks. However, it does have a silver anodized aluminum cover that is classy.
Display
'There are three different display types as you go up the model range, but for the base model and the purpose of this review, this one is very bright. It has a decent color gamut that will provide intense coloration throughout any image and it even holds its own in darker conditions.
Battery
The battery in this laptop is exceptional. You get 3-cell, 45 Wh Li-ion polymer batteries that are known for high-quality. You can work all day on this laptop as it will last for many hours while you work with multiple tabs open.
Ports
For a professional laptop, this one has a decent amount of ports. On the left aside there is room for a security lock and there is also a USB 3.1 port. On the right side there is a power jack, one USB type-C port, a USB 3.1 pot and an HDMI along with headphone and microSD card slots.
Graphics
The HP ProBook certainly went high-end when choosing a graphics card. The base model has an Intel UDH graphics 600. However, you can get it either with the AMD Ryzen 3 or the Ryzen 5. Both of which are powerful graphics for even intense designs and images.
Specification
Hardware specifications for HP Probook X360

Processor
Intel Celeron N41000 Quad Core
RAM
4 GB
Storage
1228 GB SSD
Graphics
Intel UHD Graphics 600
Display
HD LED Touch
Operating System
Windows 10 Pro
Battery Life
9 hours
Weight
3.2 pounds
Other Features
HD Webcam with HD Audio Stereo Speakers
9. HP HD 15 – Touchscreen
The HP HD 15 is one of those laptops that has a decent price tag and simple specifications. You aren't getting a powerhouse or a laptop that can run complex software, but you are getting a decent system for everyday use.
Great keyboard
Simple and straightforward
Good battery life
There are no Type-C ports
The display is mediocre
Key features & details
Design
The design is fairly straightforward. You are getting a laptop that is pretty much devoid of personality touches. The black design has a bit of engraving on the lid and that's about it. The bezels are thick making the interior as underwhelming as the rest of it.
Ports
Though this laptop does not have any USB-C ports, it does come with a decent amount of other ports. You get an ethernet port, an HDMI port and two USB 3.1 ports. Furthermore, there is a security lock slot, a DVD drive and one USB 2.0 port along with an SD card reader.
Display
The display on this laptop is fairly mediocre. Though it is decent enough for everyday simple use, you wouldn't want a display like this when vivid brightness is a necessity. The resolution is 1366 X 7678 which is disappointing when you can get a better resolution than this on other models in the same price point.
Keyboard and Touchscreen
The keyboard is nice and comfortable, though some may feel that it is soft compared to other keyboards. However, in a typing test, it is relatively accurate compared to any other keyboard. The touchscreen works well when in tablet mode and it is great for when you are a mobile worker or on the go.
Performance
The AMD Ryzen 7 2500U processor provides you with incredible performance and the AMD Radeon RG Vega 10 graphics gives amazing image quality. If the display would catch up to the graphics, this laptop would be unstoppable. The performance is solid and it works very well for everyday use.
Specification
Hardware specifications for Hp HD 15-ef0875ms Touchscreen
Processor
AMD Ryzen 7
RAM
12 GB
Storage
256 GB SSD
Graphics
AMD Radeon RX Vega 10
Display
LED
Operating System
Windows 10
Battery Life
8 hours
Weight
3.4 pounds
Other Features
HD Touchscreen
10. HP Zbook Studio X360 G5 – Workstation
For a premium laptop that provides you everything you could possibly want, the ZBook Studio is an excellent choice. With military grade durability along with all the bells and whistles, you are getting what you pay for and you pay a lot of this HP.
Excellent 4K design
Amazing Keyboard and Stylus
Graphics and performance are top notch
Gets very hot
The webcam is mediocre
Expensive
Key features & details
Design
The HP ZBook Studio X360 is remarkable in terms of design. It has a solid aluminum hood that is sleek and modern. The lid flexes a bit around the center that isn't ideal but aesthetically, this laptop is very compelling.
Durability
This laptop will withstand drops of up to 2.5 feet, along with vibrations, freezing, high altitudes and much more. The durability of this workstation is comparable to what you would find in military made products. It is even completely secure with fingerprint security features.
Display
The impressive 4K display makes this one of the highest quality display types on the market. Not only does it look impressive, but it is bright and color responsive in a few different settings. You will see everything down to the finest details.
Keyboard and Stylus
Your fingers will feel like they are tap dancing on this keyboard. It is smooth and comfortable to the touch. The keys are sharp and elegantly shaped. The stylus works impressively with this laptop making it ideal for those mobile workers.
Performance
There was nothing held back when it comes to the performance of this beast. The Zbook Studio is designed to outperform most other laptops with a powerfuly 2.9 GHz Intel Xeon E-218M processor.
Specification
Hardware specifications for Hp ZBook Studio X360 G5
Processor
2.9 GHz Intel Xeon E-218M
RAM
16 GB SDRAM
Storage
1 TB PCIe SSD
Graphics
NVIDIA Quadro P1000
Display
LCD, in-plane Switching (IPS) Technology
Operating System
Windows 10 Pro
Battery Life
9 hours at full operation
Weight
5 pounds
Other Features
Touchscreen
Picking The Best HP Laptops In 2020 On The Market
You don't have to check every single feature of every HP laptop you find on Amazon or other shopping sites online!
It's all about knowing what to look for ahead of time to find the perfect fit. There are five key factors to keep in mind:
Budget
CPU
Form Factor
Battery Life
Display Type
Comparing these key factors will ultimately determine which laptop is best for your usage.
We all have our own reasons why we want to get a new laptop, so make sure you know yours ahead of time.
Are you using your computer for office work? Netflix? AAA gaming? School projects? Below we cover the best options for all those tasks and more.
How Much Do I Really Need To Spend On An HP Laptop?
Probably your biggest deciding factor will be in how much you are willing to pay for an HP laptop.
Setting your budget should right away narrow down your selection and give you the best value for your money.
As our budget pick at the top of the list of contenders shows, it isn't hard to find a great HP model at under $500.
If you want a brand new, non-refurbished machine with the best features you can find in this year, expect to instead spend in the $600 – $1,000 range.
For gamers or power users who demand cutting edge hardware, your price will shoot up into the $1,600+ range.
One of the primary features that will vary by price is he CPU, which is what's responsible for processing tasks. Always aim for a faster processor when possible.
Ideally, you should get an entry-level Core i3 laptop if you wish to use a laptop only for browsing, social media, Netflix, and some basic tasks.
This article is aimed to provide you the best experience on a laptop so we're presenting you primarily models installed with a Core i4 or i7 processor.
What Features Besides CPU And RAM Do I Need To Consider?
Don't forget that laptops come in a variety of forms.
A general rule of thumb when buying a laptop is to always consider portability and convenience.
If you use a laptop mostly on a desk, I suggest you go get a traditional clam-type designed laptop.
On the other hand, if you really need to get things done on-the-go, I personally recommend you get a laptop that can be folded back, or one that you can detach from the keyboard.
Battery life is another major determining factor when picking a new laptop. Battery life varies greatly from one model to another.
If you use your computer regularly but can't easily have access to a wall socket, a laptop with a longer battery life should do you wonders.
In general, higher resolution screens and dedicated graphics cards will eat up battery life much faster. Getting an energy efficient 8th gen processor can also help increase battery life.
Landing On The Right HP Model For Your Needs
It's all about knowing what your needs are to effectively make the right selection. Don't get overwhelmed with all the options you can find online and instead focus on the things you need.
Bear in mind the key points we have discussed above and you shouldn't have any regrets at the end of the day.
Which options in our list do you think is best for you?
Are you having problems deciding which contender to pick? Tell us in the comments below and we'll be happy to help you out.
Frequently Asked Questions
Which laptop brand is the best?
You will find each major brand being very similar. HP is one of the strongest on the market, as they cover a wide range of use cases; anything from gaming laptops to business class laptops.
Are HP laptops good for business?
Yes!  HP makes fantastic business laptops. We have listed one in this article, but there are many on the market that could be beneficial depends on your need (more on the post).