You know it's hard picking a laptop to invest your money in, and I'm sure you're confused right now about all the hundreds of options out there.
If that's the case, fret no more as we got you covered with a list of the best possible machines.
We know just how hard it is to pick the right HP laptop and this is why we decided to come up with a comprehensive HP laptop buying guide – just for you!
Read more below to see our top picks for the best HP laptop.
Picking The Best HP Laptop On The Market
You don't have to check every single feature of every HP laptop you find on Amazon or other shopping sites online!
It's all about knowing what to look for ahead of time to find the perfect fit. There are five key factors to keep in mind:
Budget
CPU
Form Factor
Battery Life
Display Type
Comparing these key factors will ultimately determine which laptop is best for your usage.
We all have our own reasons why we want to get a new laptop, so make sure you know yours ahead of time.
Are you using your computer for office work? Netflix? AAA gaming? School projects? Below we cover the best options for all those tasks and more.
Let's dive in and see what's available for any user on any budget!

In A Hurry? Here's The Winner From 20 Hours Of Research
Editor's Choice
HP Spectre x360
Why is it better?
Extremely fast i7 processor
4GB of RX Vega graphics
Pen enabled display
Fantastic battery life
Windows 10 Pro included
The Lineup At A Glance
The Contenders For Best HP Laptop
1. HP Pavilion x360 – Best Budget HP Laptop
For a budget laptop, under $500, the 2-in-1 HP Pavilion x360 is HP's best offering. A full HD screen with decent specs and the included pen make for a fantastic offering if you are low on funds.

Crisp 1080p screen
Fast HDD with Intel Octane
Pen included
Only 4GB of RAM
i3 processor not great for multitasking
In today's world, just because you don't have thousands of dollars to spend on a laptop does not mean that you have to buy a used or slow machine. For under $500 you can still pick up a fast, reliable notebook that will last for years.

Key features & details
2. HP Stream 14 – Best College Laptop
The HP Stream Pro is the perfect companion to the college student, being portable and lightweight enough to throw in a backpack all day. It has enough horsepower to make it the best choice for note taking and homework all at a fantastic price point.

Extremely affordable
Office 365 included
Great battery life
Slower dual core processor
Only 32GB of storage
When you are in college you need to save every penny you can, which is why the HP Stream Pro is such a significant laptop. Coming in at only a couple hundred bucks, it will fit into any college students budget.

Key features & details
3. HP Omen 15t – Best Gaming Laptop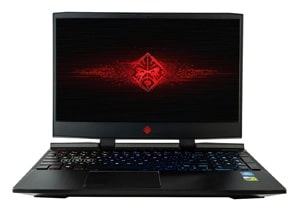 The HP Omen 15t features a high end i7 processor and an Nvidia RTX 2070, making it one of the most capable gaming laptops on the market. It will play any game you throw at it flawlessly, and is a fantastic choice for watching movies in 4k.

Fast 6 core i7 processor
Nvidia RTX 2070 GPU
Sharp 4k screen
Quite expensive
Hot when under load
HP is known for making computers in a variety of price points, and their Omen gaming PC's are one of the best selling in their portfolio. If you are considering an HP laptop and want gaming performance, the Omen 15t is a fantastic choice.

Key features & details
4. HP ProBook 450 G6 – Best Business Laptop
The HP ProBook is a sturdy, reliable laptop with a strong processor and a fast SSD to help get you through your workday no matter how long that may be. The classic HP laptop stylings are sleek and understated, just what you want when sitting at your desk.

i7 processor
Sharp 1080p display
Windows 10 Pro
Only 256GB of storage
Could use more than 8GB of RAM
There are many options when looking for a sleek and stylish business class laptop, and HP themselves have a few in this range. However, none have the balance and style of the HP ProBook 450 G6.

Key features & details
5. HP Spectre x360 – Best Overall Choice
The HP Spectre x360 is the crown jewel in HP's laptop lineup. It is the perfect laptop in every way, with powerful specs and with an equally portable and beautiful design.

Gorgeous 4k display
Strong i7 processor
4GB Vega graphics
Pen included
Gets very hot
Wireless connection is weak
If you are looking for the best all around laptop from HP, the Spectre x360 is unrivaled. It has everything you could ever want in an absolutely stunning chassis.

Key features & details
How Much Do I Really Need To Spend On An HP Laptop?
Probably your biggest deciding factor will be in how much you are willing to pay for an HP laptop.
Setting your budget should right away narrow down your selection and give you the best value for your money.
As our budget pick at the top of the list of contenders shows, it isn't hard to find a great HP model at under $500.
If you want a brand new, non-refurbished machine with the best features you can find in this year, expect to instead spend in the $600 – $1,000 range.
For gamers or power users who demand cutting edge hardware, your price will shoot up into the $1,600+ range.
One of the primary features that will vary by price is he CPU, which is what's responsible for processing tasks. Always aim for a faster processor when possible.
Ideally, you should get an entry-level Core i3 laptop if you wish to use a laptop only for browsing, social media, Netflix, and some basic tasks.
This article is aimed to provide you the best experience on a laptop so we're presenting you primarily models installed with a Core i4 or i7 processor.
What Features Besides CPU And RAM Do I Need To Consider?
Don't forget that laptops come in a variety of forms.
A general rule of thumb when buying a laptop is to always consider portability and convenience.
If you use a laptop mostly on a desk, I suggest you go get a traditional clam-type designed laptop.
On the other hand, if you really need to get things done on-the-go, I personally recommend you get a laptop that can be folded back, or one that you can detach from the keyboard.
Battery life is another major determining factor when picking a new laptop. Battery life varies greatly from one model to another.
If you use your computer regularly but can't easily have access to a wall socket, a laptop with a longer battery life should do you wonders.
In general, higher resolution screens and dedicated graphics cards will eat up battery life much faster. Getting an energy efficient 8th gen processor can also help increase battery life.
Landing On The Right HP Model For Your Needs
It's all about knowing what your needs are to effectively make the right selection. Don't get overwhelmed with all the options you can find online and instead focus on the things you need.
Bear in mind the key points we have discussed above and you shouldn't have any regrets at the end of the day.
Which options in our list do you think is best for you?
Are you having problems deciding which contender to pick? Tell us in the comments below and we'll be happy to help you out.
Frequently Asked Questions
Which laptop brand is the best?
You will find each major brand being very similar. HP is one of the strongest on the market, as they cover a wide range of use cases; anything from gaming laptops to business class laptops.
Are HP laptops good for business?
Yes!  HP makes fantastic business laptops. We have listed one in this article, but there are many on the market that could be beneficial depends on your need (more on the post).