Portable devices featuring touchscreens are undeniably the future of computing, but some users still want a full keyboard as well.
Thankfully, you no longer have to choose between a tablet and a laptop! With hybrid machines hitting the market, now you can get the best of both worlds.
If you're just starting to compare and contrast what's available, we're here to help with a roundup of the 10 absolute best 2-in-1s in 2020!
Unfortunately, Apple hasn't jumped into the convertible arena yet, so there won't be any iPad style devices listed below. There's no shortage of options from other manufacturers however, from Dell to Samsung to Acer and beyond.
Want to jump straight into a specific category? Check out our full lineup of convertible laptop contenders here:
Editor's Choice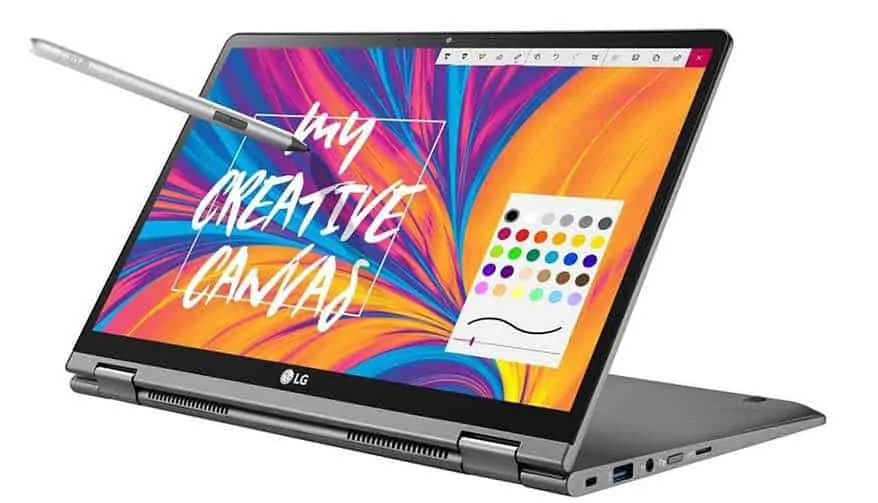 Extremely light & portable
Want the full viewing area of a normal laptop while maintaining the extremely thin and lightweight design of an ultrabook? This should most definitely be your pick!
Budget Pick
Best budget 2 in 1 laptop
Full business laptop but in a budget with a 2-in-1 design. Great display & performance !
Best Budget 2-In-1 Laptops 2020
YUNTAB 11.6 Inch GA116C – cheap 2-In-1 laptop
Just getting started trying out hybrid 2-in-1s, or looking for a very cheap model to give to the kids? This should be your pick if sticking to a budget is your main concern over any other feature and need the best 2-in-1 under $200.

Extremely low price for a 2-in-1
High resolution screen
Sluggish performance with only 2GB of RAM
Tiny storage capacity
Here's the thing — you get what you pay for. Convertible laptops with Windows 10 at this price range won't have nearly the speed or power of a regular laptop.
With only 2GB of onboard memory and an integrated graphics card, this isn't a powerhouse machine by any stretch of the imagination.
If you don't need a high end machine though, this is the perfect low budget option. You simply won't find a fully functional Windows 10 computer with a touch screen anywhere else at this price.
Managing expectations will be key to getting the most out of this Yuntab unit. With these specs, you'll primarily be web browsing, sending emails, and typing documents.
Anything past that will strain the device beyond its capabilities. Keep in mind you will also need to buy a microSD card for extra storage.
The standard Windows 10 updates will eat a 32GB storage capacity for breakfast. If you intend to save any documents or images on this laptop, you will absolutely need extra storage space.
There's one big advantage to this model over others though — you get a full HD screen with 1920 resolution, which isn't often found in budget laptops.
Keep in mind that there's an alternative to this unit if you find running Windows 10 with 2GB of RAM is too slow for your needs.
If you don't mind using all Android apps, you should strongly consider a tablet or Chromebook instead if you need to stay under the $200 price range.
Hardware specifications for YUNTAB 11.6 inch GA116C
Processor Intel Atom Z8350 quad core CPU (1.84GHz) RAM 2GB DDR3 Storage 32GB eMMC Graphics GA116C integrated graphics Display 11.6" touch screen display, 1920 x 1080 pixels resolution Operating System Windows 10 Home Battery Life 4 hours Weight 4.05 lbs Other features Removable keyboard
Lenovo Flex 14 – best budget 2-in-1 laptop 2020
Want the same level of specs you'd expect from a full business laptop but in a budget form with a 2-in-1 design? Lenovo's Flex 14 has you covered as our top pick for the best budget 2-in-1 laptop on the market right now.

Includes pen
Ryzen Processor and Vega Graphics
Large bottom bezel
Only 256GB of storage
Laptop aficionados will endlessly debate the perfect size for a hybrid machine. Your personal preference may vary, with some users preferring the tiny 10 inch and others needing the 13 – 14 inch designs.

The Flex 14, as its name implies, is on the larger end of the scale packing a 14-inch screen. Its larger size does come with added weight, however, the portability of this machine is still very good.

At this price range, you can finally get out of the lower end and find some machines that will offer fast performance no matter what kind of programs you use.

With 8GB RAM and an AMD Ryzen 5-3500u 4 core CPU, Lenovo's Flex 14 can easily serve as your main work, home, or school machine. The integrated Vega graphics are far superior to Intel's offerings, making this a more formidable option than the Intel based laptops in this price range.

The screen on the Flex 14 is really good. With a Full HD 1920 x 1080 pixel resolution, everything looks crisp and sharp.

When your done with work and are ready to switch to tablet mode, simply fold it over and enjoy your favorite TV shows and movies comfortably.

The great performance, compact form factor (for the screen size), and lightweight construction of the Lenovo Flex 14 are what make it the perfect choice for a 2-in-1 laptop under $600.

Hardware specifications for Lenovo Flex 14
Processor AMD Ryzen 5-3500u RAM 8GB DDR4 Storage 256GB NVMe SSD Graphics Vega 8 Display 14-inch Touchscreen IPS, 1920 x 1080 pixels resolution Operating System Windows 10 Battery Life 8 hours Weight 3.52 lbs
ASUS VivoBook Flip Convertible Laptop – Best Under $300
Looking for a high end 2-in-1 experience with a focus on portability at a low price point? This should easily be your pick if you only have a few hundred to spend and want a lightweight device.

Low price
Great specs for a 2-in-1 under $300
Refurbished
Low screen resolution
Although it is about the same size as the Yuntab model listed above, you get significantly hardware specs by picking the Asus VivoBook instead.
The big selling point here is packing those specs into an incredibly portable 11 inch device. If you've found that other hybrid models are too bulky or unwieldy in tablet mode, this is an excellent pick.
With double the RAM and storage space, you also get better performance and significantly more room for saving files or installing programs.
That being said, 64GB is still pretty small for a Windows 10 machine, so make sure to pick up a USB storage drive or an SD card for extra storage.
Note that his version of Windows starts in S Mode, which only lets you download certified apps from the Microsoft app store. If you prefer the full Windows 10 experience, it's simple (and free) to upgrade from S to Home.
To get these specs at this price in a 2-in-1 model you've got to go refurbished, which means the device has been previously used but repaired and restored to factory settings.
Not interested in a refurbished laptop?
If you're willing to bump up slightly above $300, note that there are several brand new 2-in-1 VivoBook options readily available at Amazon.
Hardware specifications for ASUS VivoBook Flip
Convertible Laptop Processor Intel Core i5, 5th generation (up to 3.1GHz) RAM 8GB DDR4 Storage 64GB eMMC Graphics Intel integrated graphics Display 11.6 inch touch screen display, 1366 x 768 pixels resolution Operating System Windows 10 S Mode Battery Life 5 hours Weight 4.06 lbs Other Features 2-in-1 hinge
Flagship Acer R13 13.3″ Convertible – Under $400 Pick
Willing to ditch Windows 10 and go with the more secure Chrome OS instead? This should easily be your pick for a killer 2-in-1 touch laptop!
High battery life
Fast boot up and high performance

Chrome OS rather than full Windows 10

Very small storage capacity
Most of the 2-in-1 devices in our list of contenders will feature the full Windows 10 operating system. That's not the case with this Acer model, which utilizes the Chrome OS.
There are both pros and cons to this approach. Most notably, it means you can't install Windows programs and have to use apps instead.
There's a major silver lining there, however. The Chrome OS has significantly enhanced security over the many vulnerabilities in the Windows platform.
Unlike many standard Chromebooks, you also get an ARM processor with the Acer R 13 convertible.
Why does that matter? ARM processor work better with Android programs, which means you get far better functionality from Google Play apps than with similar machines.
For users who bought this model, the main selling points are the extremely high battery life, fast boot time, and excellent screen.
There are several design issues frequently criticized by buyers who write reviews after using the device for a few months. They all deal with the way Acer chose to deal with the issues inherent to a laptop that can spin around 360 degrees.
First up, the power button is an awkward position that makes it easy to accidentally press down. Whether picking it up or placing it in your backpack, you can expect to turn it on and off while getting used to the design.
That same issue is brought up with the SD card slot. An inserted SD card pops out fairly easily as well, so be careful where you hold the R 13 in tablet mode for the first few days.
Finally, the stock power cable is a little wiggly and can fall out easily when moving the device. If you leave your tablet on your lap when charging, it may be worth investing in an aftermarket charger.
Hardware specifications for Flagship Acer R13 13.3″ Convertible
Processor MediaTek MT8173C Quad-Core ARM Cortex-A72/A5 (2.1GHz) RAM 4GB DDR3 RAM Storage 32GB eMMC Graphics PowerVR GX6250 Graphics Display 13.3-Inch Full HD Touch Screen Display, 1920 x 1080 Pixels Resolution Operating System Chrome OS Battery Life 12 hours Weight 3.28 lbs
ASUS Chromebook Flip 14 – Best 2-in-1 Chromebook
The most complete chromebook on the market, which is also a 2-in-1 laptop, is by far the ASUS Chromebook Flip 14. It does everything you want in a chromebook, and it does it extremely well.

Small bezels
Lightweight
Great battery life
White backlight makes keys hard to see
Only 4GB of RAM
64GB storage is quite small
ASUS has created a top notch Chromebook in the Flip 14. Super portable and powerful enough to do everything that is needed on Chrome OS.

While not all chromebooks are 2-in-1's, having the ability to fold this laptop into tablet mode puts it well above most of the competition. And the almost bezel less display makes the tablet mode one of the most enjoyable experiences we have ever used in a 2-in-1.

Chromebooks are underpowered when compared to their Windows based counterparts, but the ASUS still packs enough punch to give one of the best chromebook performances on the market. The Core M3 processor combined with 4GB of RAM are more than enough for your apps and daily use cases.

The 14-inch 1080p display is stunning. Great colors and good brightness make it a joy to not only work with, but to watch movies and videos.

The keyboard is fully backlit and has a 1.4mm travel distance, making it a true joy to type on. The trackpad feels great and is extremely responsive, making this chromebook a breeze to use.

There is nothing about this laptop that is lacking. When compared to all other chromebooks on the market, especially 2-in-1 solutions, the ASUS Chromebook Flip 14 blows them out of the water.

Hardware specifications for ASUS Chromebook Flip 14 Processor Intel Core M3-8100Y (3.4 GHz) RAM 4GB DDR3L Storage 64GB eMMC Graphics Intel HD Graphics 615 Display 14-inch Touchscreen, 1920 x 1080 pixels resolution Operating System Chrome OS Battery Life 10 hours Weight 3 lbs
Best 2-in-1 Laptops Under $1000 2020
Microsoft Surface Go Review – Best 2 in 1 laptop Under $600
Want an absolutely killer hybrid laptop that's extremely lightweight but doesn't have a huge price tag? This should be your pick for the best detachable laptop!

Extremely lightweight
Highly portable
Starts with Windows 10 S
Keyboard and pen aren't included
You may need to read that weight column a few more times to let it sink in. Yes, this laptop weighs 1.15 pounds.
You've probably bought heavier produce at the supermarket! Microsoft manages that weight by using a detachable keyboard instead of the 360 degree rotating hinge of the other contenders.
That's both a pro and a con, because you have to buy the keyboard separately. Even with that added cost you can stay at just under $600, however.
The Surface Go is easily one of the sleekest and most well designed 2-in-1 devices while still maintaining the specs you want from a laptop.
Two potential issues should be considered before picking the Surface Go that are regularly cited by reviewers.
Due to its size and tablet nature, the Surface Go is clearly meant to be used with a pen, but strangely it doesn't include one out of the box. If you want to use a stylus for Microsoft Ink, you'll have to buy that peripheral separately.
This model also ships with Windows 10 S, which is the stripped down version of Windows that can only install apps. That's significantly more secure than full Windows, but reduces your options considerably.
You aren't stuck with the S version permanently, however. Its completely free to upgrade to Windows 10 Home — it just means you add a good deal of time to the initial setup process.
Hardware specifications for Microsoft Surface Go Processor Intel Pentium Gold 4415 RAM 8GB DDR4 RAM Storage 128GB SSD Graphics Intel HD Graphics 615 Display 10-Inch PixelSense Touch Display, 1800 x 1200 Pixels Resolution Operating System Windows 10 S 64 Bit Battery Life 9 hours Weight 1.15 lbs
HP Pavilion x360 – Best 2-in-1 Laptop Under $1000
If you are in the market for a 2-in-1 laptop with the specs to be a full desktop replacement, the HP Pavilion x360 fits the bill. There is no better choice on the market for under $1,000.

Fast i5 processor
1TB HDD
Beautiful FHD display
Hot when running intense applications
Old HP laptop design/look
Some people don't want a tiny 2-in-1, preferring the larger size of a normal laptop. If that is you, the HP Pavilion x360 is an amazing choice blending the lines of a full laptop and a portable 2-in-1.

The Pavilion x360 with it's 15.6" screen and hefty 4.7 lbs of weight, is definitely not the most portable 2-in-1 on the market. However, you get the larger screen, powerful specs, and still the ability to flip it into tablet mode to enjoy your entertainment.

The quad core i7-8550u Intel processor is a powerful chip that rivals even desktop processing power. Combine that with 8GB of RAM, a dedicated GPU, and a fast SSD and you have a laptop that is capable of being your daily driver without the worry of any slow-downs.

The Full HD 1080p resolution of the Pavilion x360 is bright and sharp. It will be a nice display even in outside or brightly lit use cases.

The keyboard and touchpad are both good, with the keyboard being backlit with decent key travel. The trackpad is nice and responsive, giving it an all around great feel when using the laptop.

With desktop rivaling performance, the sturdy x360 hinges, and a fantastic price point, the Pavilion x360 is a fantastic 2-in-1 ready for any task you can throw at it.

Hardware specifications for HP Pavilion x360 Processor Intel i7-8550u (1.8 – 4.0 GHz) RAM 8GB DDR4 Storage 512GB SSD Graphics Radeon DSC 530 (2GB) Display 15.6-inch Touchscreen IPS, 1920 x 1080 pixels resolution Operating System Windows 10 Battery Life 8 hours Weight 3.52 lbs
Premium Flagship Inspiron 17 7000 – Best Overall
Looking for the absolute best convertible laptop with a huge screen for streaming videos and high specs? This should be your pick!

17 inch screen
16GB of RAM
8th gen processor
Much heavier
HDD instead of SSD
Looking for the absolute best convertible laptop with a huge screen for streaming videos and high specs? This should be your pick!
I bet you didn't expect to see a computer with a 17 inch display in a list of hybrid 2-in-1s! Yes, even convertible notebooks can be found with big screens for better viewing.
Obviously the bigger screen means a heavier overall computer. While this is nearly double the weight of most other contenders on our list, it remains under an inch thick for portability.
It's not just the size that's big either, as the specs on this Dell inspiron are quite monstrous as well. 16GB of RAM and an 8th gen processor mean you'll have a screaming fast experience with any kind of usage.
There's also a dedicated graphics card, so if you like some gaming on the side that option is available.
Dell made an interesting trade off on the storage capacity front, which could be a positive or negative depending on your needs.
This model has an absolutely massive storage capacity with a full 2TB hard drive. Going that route means slower boot speeds than with an SSD, but much more space for saving files.
For reviewers, there are two potential problems to consider with this model. First off, if you were expecting to get an optical drive along with the bigger size, you'll be disappointed.
The larger viewing area also makes this model less useful in some configurations. While it's easy to prop up into entertainment viewing mode, you probably won't use it as a tablet due to the size and weight.
Finally, watch out for the power button, which is located low on the right side. If you have the Inspiron tented up into viewing mode, it is very easy to accidentally turn off the screen.
Hardware specifications for

Premium Flagship Inspiron 17 7000

Processor
Intel i7-8550U (up to 4.0GHz)
RAM
16GB DDR4 RAM
Storage
2TB HDD
Graphics
NVIDIA GeForce MX150 (2GB)
Display
17.3-Inch Full HD IPS Touch Screen Display, 1920 x 1080 Pixels Resolution
Operating System
Windows 10 Home 64 Bit
Battery Life
6 hours
Weight
6.48 lbs
Samsung Chromebook Pro – best 2 in 1 laptops for college students
If you're a college student on a budget, the Samsung Chromebook Pro is a fantastic option for all of your schoolwork needs. You have all the apps available on Chrome OS to go with the lightweight and portable design to carry to all of your classes.

Great high resolution screen
Lightweight
Stylus Pen included
Build quality feels a bit flimsy
Only 4GB of RAM
While there are plenty of "bargain" laptops available on the market, generally they are extremely slow and lacking in many areas. This is generally due to them running Windows operating system, so going with a Chromebook is a great option for students.

The Samsung Chromebook Pro is not only affordable, but has the specs to make it a laptop that can handle any school work you can throw at it. The ability to put it in tablet mode and take notes with the included pen is just another nice addition for college students.

The Chromebook Pro is using an Intel Core M3 processor, giving it decent processing power but without draining the battery too fast. Combine that with 4GB of RAM and storage that is expandable, and you have a chromebook that is a worthy Windows laptop replacement.

The real star of the Samsung Chromebook Pro is the high resolution 12.3-inch display. Packing 2400 x 1600 pixels into such a small display makes for an extremely crisp and beautiful picture.

The keyboard has a nice size for such a small device, making it easy to type on. The trackpad is responsive and smooth.

While a lot of college students opt to go for a Macbook or Windows laptop, this Chromebook should not be overlooked. It has great performance and a stylus for note taking, making it a better option than its competitors.

Hardware specifications for Samsung Chromebook Pro
Processor
Intel Core M3-6Y30 (2.2 GHz)
RAM
4GB DDR3
Storage
32GB Main Drive + 256GB SD
Graphics
Intel HD Graphics 515
Display
12.3-inch Touchscreen, 2400 x 1600 pixels resolution
Operating System
Chrome OS
Battery Life
9 hours
Weight
2.38 lbs
HP EliteBook x360 – Best for Business
If you are looking for a great work or business 2-in-1 that can give you reliability and a solid build, this laptop is unrivaled. The HP EliteBook x360's high performance, great screen, and sleek styling are bound to impress your business partners.

16GB of RAM
Long battery life
Windows 10 Pro
Expensive
Not the brightest screen
When trying to find a business laptop, you want a sleek design and a rock-solid, stable performance. The HP EliteBook x360 offers both of those, as well as class leading security solutions.

The inclusion of Windows 10 Pro makes sure that you get all the added enterprise features your business ventures will need. HP's proprietary security suite of software will also ensure you do not get infected with malware or viruses, and help protect your sensitive data.

Rocking an i7 processor, with a fantastic 16GB of RAM, this computer will be able to handle any business or productivity task easily. The 512GB of SSD storage is extremely fast, and offers plenty of space to save all of your files.

The 13.3-inch display is 1080p in resolution, and looks good in color and clarity. However, we wish that the display was a bit brighter for better use in direct light.

The keyboard on the EliteBook x360 is great. The key travel and overall feel of the keyboard make this laptop a joy to type on, even on long work days.

Overall the HP EliteBook x360 does everything you would want from a business laptop, and it does them well. If you value your security, but want a high end 2-in-1 laptop to do your work, you will definitely enjoy this machine.

Hardware specifications for Samsung Chromebook Pro
Processor
Intel i7-7600u (2.8 GHz)
RAM
16GB DDR4
Storage
512GB SSD
Graphics
Intel HD Graphics 620
Display
13.3-inch Touchscreen, 1920 x 1080 pixels resolution
Operating System
Windows 10 Pro
Battery Life
15.25 hours
Weight
2.82 lbs
Picking The Best Convertible Laptop In 2020
When picking a 2-in-1 machine you want maximum flexibility, and I don't just mean that it should rotate 360 degrees in any direction.
Hybrid computers are significantly more versatile than either a standard clamshell laptop or a touchscreen tablet.
Because you will be using the device in a variety of different modes, be sure to take into account what features you aren't willing to lose.
For instance, do you absolutely need an HDMI out port? What about an optical DVD-RW drive or extra USB ports for external peripherals?
From there, it's time to consider what size will work best for your needs. Are you more excited for an extremely portable unit that's only 10 inches wide, or do you want a desktop replacement at 15 or 17 inches?
Why Should I Pick A 2-In-1 Over A Normal Laptop?
This entire answer can be summed up in one word: versatility. Nothing else comes close to the wide range of features and options you get with a hybrid notebook computer.
Want to be in tablet mode for reading an ebook or browsing social media? No problem. Need to sit your device up like a tent for streaming videos? Done and done.
When it's time for some serious typing or you want to use the touchpad for gaming, just flip the machine back over into standard laptop configuration.
Except for at the very lowest price points, hybrid machines typically have great overall specs and high battery life. That means you don't lose out on anything you'd get with a standard laptop.
If you frequently use a stylus or pen for drawing designs or marking up documents, a 2-in-1 should be your starting pick.
For users who don't ever utilize the touchscreen features, then going with a standard clamshell laptop would be a better idea, however.
Will I Be Able To Upgrade My 2-In-1 Laptop With More RAM?
This is on the one and only area where 2-in-1 hybrid laptops are currently outclassed by their standard counterparts.
There are a few exceptions here and there, but for the most part 2-in-1 devices aren't currently designed with upgrading in mind. That may change in the future as they become more prevalent, however.
Comparing all your options before making a final purchase decision is critical with a hybrid machine. The specs you get out of the box are the same specs you'll have for the life of the unit.
In general, the only upgrade possibility will exist by connecting an external USB hard drive or using an SD card for additional storage space.
For now, a standard laptop is the way you want to go if you intend to upgrade the RAM or want to install a second SSD.
For now, a standard laptop is the way you want to go if you intend to upgrade the RAM or want to install a second SSD.
What Are The Best Sizes And Styles For 2-In-1 Laptops?
Now that hybrid devices are penetrating the market and dominating in sales, we're seeing an explosion in the number of options available.
Your first decision should be whether to go with a detachable keyboard model or a unit with a 360 degree rotating hinge.
If you want the lightest laptop possible and only use the keyboard sparingly, a detachable unit is the way to go. For users who frequently switch back and forth between tablet mode and laptop mode, make absolutely certain you get the 360 degree flip version.
The best overall size for a hybrid device is a much more subjective choice, and you don't have any lack of options. From 10 – 17 inches, convertible laptops are available in a huge range of sizes.
For most users, sticking somewhere in the middle will be the best way to try out a hybrid notebook. 10 inch models frequently have overly small keyboard designs, while 15 to 17 inch screens may be too big to use the device effectively in tablet mode.
Because of their slim designs and smaller screen sizes, there will be a lot of overlap between 2-in-1 devices and ultrabooks. You may want to take a look at what lightweight laptops are up for grabs as well.
Finally, don't forget you can often choose between Windows 10 or the Chrome OS with hybrid machines. While you may be more familiar with Windows as an operating system, Chrome is worth checking out if you use web-based applications more than executable files.
Finding An Amazing Hybrid Machine For Any User
What did you think of our picks, and are you planning on buying any of these models soon? Let us know when you find your perfect hybrid laptop in the comments below!
Be sure to check back often as well, as new hybrid devices are constantly arriving. For the videophiles in particular, keep in mind that Dell will launch a brand new line of Inspiron 2-in-1 machines with 4k displays in October
Frequently Asked Questions
Do I need a pen or stylus with my 2-in-1 laptop?
No. You will definitely be able to properly use a 2-in-1 laptop with just your finger (like you would a tablet).  However, if they come with one, it will often help in note taking and drawing/art applications.
Are 2-in-1 laptops as powerful as regular laptops?
Yes!  The only real difference between most 2-in-1 laptops and normal laptops is the ability to fold them back into tablet mode.  So they are effectively full powered laptops with the added bonus of being used as a tablet.