In this age of technology, it is nearly impossible to get ahead without a tech device. One gadget that has become almost indispensable is the laptop. Compared to a personal computer (PC), a laptop easy to move from one end to another.
But is a laptop a gadget you just buy on a whim or as a need arises? As a professional or a student different situations require you to own a laptop. However, it does not change the fact that buying a laptop perhaps during Black Friday or the Holiday season will save you more money than buying it during regular periods.
It therefore boils down to timing your laptop buy and also performing adequate research with the right deal aggregator tools as discussed below:
When is the Best time to Purchase a Laptop?
Usually, laptops should be changed after they've been used for 3 to 5 years. But, we all know that is not feasible. However, for the average individual, there are several things that can fuel the need to change a laptop.
Buy Right When You Need It
You can either be a student looking for a laptop for the new school session or a professional seeking an adequate PC for business needs. For a student, the best time to purchase a laptop is during the back to school season between June to September. During this period, a lot of brands offer different discounts and payment plans.
Also, there are discounts on laptop costs during flash summer sales. However, if your laptop is too old or is broken and you can't wait, you can just proceed to get a new one that works with your budget. There are student laptops under $500 as well as those between $500 to $1000.
For professionals, you need to consider the job you do when choosing a laptop. The kind of laptop that works for administrative duties is hardly the type that would be suitable for programming. Instead, for a good programming laptop, you should opt for a system that can support Java, C++, PHP, CSS, Objective C, Swift, or other languages well. If you have an urgent need for the laptop, but don't have sufficient funds, you can get a used laptop. However, if you want to wait to gather enough funds for a new PC, then your target should be the holiday season (Christmas & New Year sales)
For business or office work, a portable laptop with a long battery life is just perfect. A few brands you can choose include Lenovo IdeaPad 330, HP Spectre X360 and LG Gram. The perfect time to buy a laptop for your business is in April where most brands release new products thereby leading to a significant drop in the price of the old ones.
Buy On Black Friday
The holiday season is an awesome time for a laptop change. This is because the festive season or acknowledged government holidays give way for manufacturers and wholesalers to reduce product prices. Some of the holidays you should target include:
This happens to be an informal name given to the Friday before Thanksgiving. During Black Friday sales which occurs in November, stores cut down on prices. As early as October, retailers and stores begin to advertise on products that will be on sale during the period.
On the day of the sale, store owners open very early, such as at midnight, or may even start their sales at some time on Thanksgiving. Therefore, if you are targeting that PC, you need to show up at your preferred retailer early to avoid it being sold out.
Buy On Cyber Monday
If you are unable to get the product you want on Black Friday, don't worry, there is also a Cyber Monday which takes place in the first week of December. Like its counterpart, Cyber Monday is an informal name given to the Monday after Thanksgiving. It is a day specifically created by retailers to encourage customers to shop online.
Therefore, instead of queuing up at stores, you can set your timer or alarm to wake you up and checkout that PC you've been eyeing online. This sale is usually driven by online discounts and promotions.
Buy When Deals Available
Some online stores you can check for great deals during this period apart from Amazon include:
Newegg: this retailer offers a vast array of computer hardware and electronics. If you are looking for a product lineup that rivals Amazon, then Newegg is the go to.
Micro Center: the site specializes in the sale of technology products. Therefore, you are likely to come across a good collection of laptops.
Tech Bargains: if you want the best tech deals, then this is the site to visit. But, the site does not complete sales. Instead, laptop buyers are redirected to the pages that sell the items.
Overstock: you can get both new and refurbished items on sale here. However, note that new laptop models may not be in stock.
Physical Stores
Besides online stores, other places you can get discount laptops and gadgets is your local physical store and wholesaler. Stores such as Walmart and BestBuy have an online presence as well. So, you can either go to the physical store or shop online and pick it up or have it delivered to you.
Walmart: Walmart happens to be one of the best places to search for good prices. The only downside is that they have a limited collection of laptops.
Best Buy: Best Buy offers a collection of laptops similar to Newegg and the good thing is you can return products within a 14 day period.
However, if you have your eyes on getting a MacBook, you may be in for a rude shock. MacBook prices do not drop astronomically during Black Friday sales.
Buy When Newer Model Introduced
For Apple products these are the periods you should be targeting for sales or a price drop:
In June, Apple holds the Worldwide Developers Conference (WWDC). The event is used as a platform for the tech giant to showcase new innovations. The company also explains its upcoming products which will in turn lead to a review in prices of previous models.
The event is usually a week long. So, what you should do if you want to purchase a Mac during this period is to wait a week or two after the event. Then you can check the Apple store or other online retailers for prices of different Mac.
Another period to look forward to for a reduction in the price of Apple gadgets is between September and October when Apple launches its new products. With the launch of new products, most retailers anticipate that the demand for old products will go down. Therefore, to clean up previous stock, these retailers will have a downward review of prices.
This is where you see retailers offer discounts in their Apple products. As such, you can easily get the previous years' Mac or iPad for a more affordable price.
Buy When Noticed A Price Drop
There are several price trackers online that you can use to monitor the cost of your preferred laptop brand. One of them includes CamelCamelCamel.
CamelCamelCamel is a price checking tool which provides deal alerts and price history of products found on Amazon. The benefit of this for you as a consumer is that you get to stay aware of pricing trends.
To use CamelCamelCamel, follow these steps:
Step 1: Search for CamelCamelCamel on your search engine.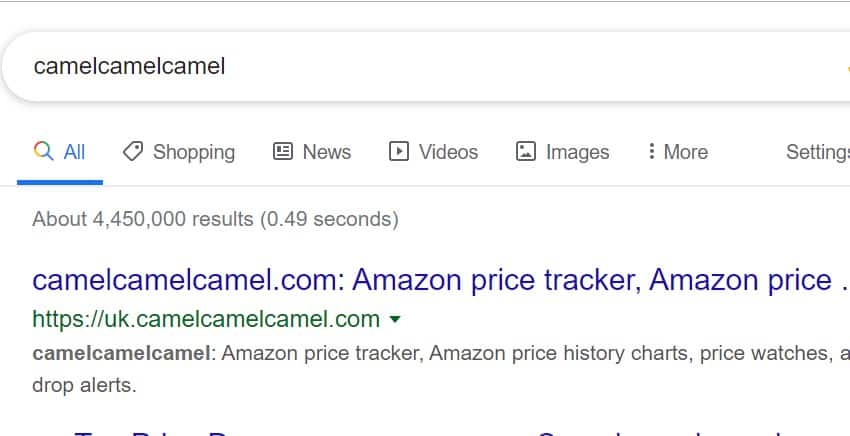 Step 2: Look out for the top result and click the link and wait till you are redirected to the page.
Step 3: In the search bar, you can either type a keyword or place the URL of an Amazon product. For this tutorial, we searched for the Acer Aspire 5.
Step 4: When you press the search tool, you should see several results.
Step 5: When the results pop up, there are three color boxes: green, blue, red beside each one.
Step 6: Green represents the Amazon Price while blue and red represent 3rd party prices for both new and used respectively.
Step 7: To look at the data for each color, simply click it, and you will get redirected to a new page to see the price history of the product.
Check Out Deal Aggregators
Thankfully, deal news sites help to put together the best laptop deals just for you. They also monitor pricing so that you know the best time to buy. Netbooknews maintain up-to-date posts on the best laptop deals such as the best Chromebook deals or best deals for certain months..  
Conclusion
Buying a laptop is a significant investment that you need to prepare for. Most importantly, be sure that your budget supports whatever laptop you choose in the end. There's absolutely no need to break the bank just because you want to change your device.