Let's be real, owning a laptop without SSD can make you sacrifice some significant speed boosts. Such speed boosts can be directly linked to the efficiency and productivity in your work. Luckily for you, in this post, you will find the best laptop with SSD so you could get for a really great deal.
You will gain more knowledge than you expect to gain from this one post. If you're working with different software, rendering videos, doing photography edits, mixing and producing music, or simply multi-tasking – you'll benefit from a great laptop with an SSD. It's simple as that.
Solid State Drives aren't that new anymore, and their prices are becoming very affordable. Therefore, we can see them in almost any decent laptop nowadays. There's no reason to have a laptop without SSD because it's really worth the upgrade. And luckily for you, in this post, find the best of the best when it comes to the laptops with SSD drive. Your decision is way more easier since you're here with us.
In A Hurry? Here's The Winner From Hours Of Research
Editor's Choice
Asus Vivobook S
Why is it better?
Double SSD storage
8th Generation processor
Ultra-thin and lightweight design
Breathtaking display
Improved keyboard
The Lineup At A Glance
Reviews Of The Best Laptops With SSD (Solid-State Drive)
1. Dell Inspiron 15.6" – Under $500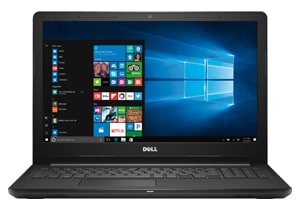 Even though this laptop has been cheaply assembled, it offers a solid design that features the most important and better yet, powerful components. One of the components is the SSD which does not only speed up things but gives plenty of efficient storing space. If you're looking for a budget laptop with SSD – Dell Inspiron is your best choice.

Smart dual-core processing power
Touchscreen display with True HD technology
Fast and responsive SSD storage
Very solid design
Affordable price
Does not include DVD R/W drive
Built mostly from plastic
Key features & details
2. LG Gram – I7 Laptop with SSD
LG Gram is one of the top laptops that has already beaten some of the best laptops on the market in some categories. Other than being very elegant, slim, and lightweight – it features an incredible performance which enhances performance and usage.

Very lightweight
Superb battery life
IPS touchscreen display
Two SSD's
Convenient Thunderbolt connectivity
Display offers some glare
New design comes with only minor redesign changes
Key features & details
3. Asus VivoBook S – Under $1000
Finding a perfect laptop just under $1000 can be quite stressful, but Asus VivoBook S is proven to be a great choice that will end your search.
Other than its slick and gorgeous design, it features a lot of powerful components that can put a great fight when compared with laptops way out of its price range.
WideView rich display
Storage combination
Slim and thin body
Ergonomic keyboard
Increased connectivity
Asus support isn't very responsive
Caps button has no indicator light
Key features & details
4. Dell XPS 13 – For Business
As a person who does all work on a laptop and takes care of the business, you'll require the best of the best, and when it comes to the best – Dell XPS is the ideal business laptop that doesn't only come with an SSD, but components that provide a very responsive performance.

InfinityEdge touch display
Powerful work performance
Very thin screen
Durable design
Fingerprint sensor
Highly portable
Camera is placed in an awkward position
Key features & details
5. Lenovo Flex 14–Top 2 in 1 Pick
Being able to use one laptop for both work and entertainment is definitely something most of us want, and still, manage to do – but with Lenovo Flex 14, you get to experience the 2-in-1 laptop which takes things to another level. It offers a very thin and compact design that can be used in three different modes for the best efficiency.
2-in-1 convertible feature
Quick battery recharging
TrueBlock privacy shutter
Includes Active Pen
Really affordable cost
Key travel is quite too short for efficient typing
Key features & details
What's The Speed Difference Between HDD And SSD?
You can think of SSD as a younger version of HDD. Improving the HDD's over the year wasn't enough, yet the industry had to come up with something new as the technology progressed.
The speed difference is quite amazing, and even users who don't know much about computers will definitely notice the difference right within the seconds.
It's mostly because of the build difference between the HDD and SSD, and that's why you shouldn't rely on HDD anymore. HDD are soon to be considered the outdated use.
| | | |
| --- | --- | --- |
| | HDD | SSD |
| Write speed | Up to 120MB/s | Up to 550 MB/s |
| Read speed | Up to 150 MB/s | Up to 550 MB/s |
You can clearly see that the speed difference is huge. SSD's are 4 or 5 times faster than HDD. Imagine how such improvement could benefit you in just the normal use of your laptop.
SSD's aren't even that new anymore and therefore, their price isn't so expensive. It's an investment that can save someone a lot of time & energy, yet improve productivity & efficiency.
How SSD Improves The Most Common Tasks You Perform?
SSD doesn't only improve the speed of tasks you do, but it also uses less battery and it will last much longer than any HDD.
It can be hard to imagine a smaller electronic device lasting longer than mechanical, but thanks to the technology, that's what we have available nowadays and we should take an advantage of it.
Here's what you can expect:
You will notice improvements and speed in anything you do on a new laptop that features an SSD. However, the most important speed improvements can be seen during the tasks that require to use the most data.
For example, if you're processing large databases, using software that requires a lot of memory, or even saving and processing big files such as video, music, photos – that's when you can expect to see the best benefits of the SSD.
What once might required hours, now it's most likely going to require minutes.
With the help of the technology, SSD's are rapidly taking the place instead of the HDD. The way they improve the operations and business is definitely something on another level.
Price-wise they're not that expensive anymore, and it's definitely something you should look for into your new laptop. There's no more need to experience slow laptop performance.
How To Choose A Laptop With SSD On A Budget?
When you're on a budget, it doesn't mean you can't get a laptop with an SSD. As the SSD's are taking over the HDD's, and their price difference is dropping, you can see the SSD's in many cheaper-priced laptops too.
However, not every laptop with the SSD will be a great fit for you. Also, if a cheap laptop has an SSD inside, this doesn't make it superior either.
Therefore, you should think about other aspects of the laptop you're interested in and really give it a second thought before making a purchase for any laptop with an SSD.
Here are some questions that will definitely help you choose a decent laptop with an SSD on a budget.
Laptop age
Components
Battery life
Versatility and portability
Upgradeability
Screen quality
SSD size
Getting a laptop with an SSD with just enough GB's to hold the system and a few programs is good enough, but you won't be able to install a number of different programs.
Also, SSD isn't the only component that matters. Make sure you really like the laptop, that it offers decent value for the price, and that you can upgrade some of the components later on (such as RAM, add another SSD, maybe even upgrade the processor).
Conclusion
If you're always looking for that bit of better performance and increase in speed, upgrading to a new laptop with SSD is a really smart move. It's an investment that will definitely pay off.
In this post, you can find a number of different laptops with SSD, which will serve for different purpose and type of use. SSD improves everything from gaming, music producing, video editing and rendering, DJ-ing, using software, working with files, or simply multitasking.
Therefore, if you choose any of these laptops, you'll have the best laptop with SSD – just make sure it's suitable for your needs, and you're good to go!