When buying a laptop, you get what you pay for. Thus increasing the price of a laptop usually means a significant boost in quality. With that said, let's take a look at a list of the eight current best laptop under $1000 available on the market!
When sticking to a tight budget is less of a concern, you have more room to find extra features packed in with high end specs.
To get the most value for your money, you need to ask yourself what options are most appealing to you. What features do you think you'll actually use regularly, and which are window dressing that can be skipped?
Hybrid laptops that flip around like a tablet are plentiful at this price point. Do you actually intend to use that feature on a regular basis, though, or do you want a traditional computer design?
From super lightweight 13 inch touch screens to full 15 inch clamshell notebooks and beyond, one of our eight contenders below should be exactly what you need!
The Lineup At A Glance
The Contenders For Best Laptop Under 1000 Dollars
1. LG Gram – Best Thin and Light Laptop
Need a professional laptop for work that's unbelievably slim and lightweight? The LG Gram should be at the top of your list due to its excellent screen and extreme portability.
Huge battery life
Incredibly slim and light
No touchscreen
Only 8GB of RAM
There are a staggering number of options in laptops today, and not everyone loves a touch screen. If you are in that boat but still want an ultra thin device, the LG should be one of your top contenders.
Key features & details
2. Acer Predator Helios 300 – Top Gaming Laptop Choice
The Acer Predator Helios 300 is hands down the best gaming laptop under $1000. With it's 6 core i7 processor and GTX 1060, it has enough horsepower to crush any game you throw at it.
High refresh rate display
Fast SSD
Powerful i7 processor
Overheating issues
Low quality trackpad
Acer's Predator gaming line is one of the highest regarded, and the Helios 300 is their budget gaming option. It has tons of features that will catch the gamers eye, all for under a thousand dollars!
Key features & details
3. Dell Inspiron 15 7000 – Best 4K Options
Finding a laptop under $1000 with a 4k display is almost impossible, but Dell has put out an offering that fits all of our expectations. The stunning display paired with an i7 processor and dedicated Nvidia GPU make this a great laptop.
Beautiful 4K display
Fast SSD
Large Memory Capacity
Thermal throttles under load
Terrible speakers
Dell is known for making laptops at all price ranges with varying specs. The Inspiron 15 7000 series has many SKU's, but few as impressive as the one we have chosen here.
Key features & details
4. ASUS Vivobook S – Best Intel Based Option
The Vivobook S is an extremely attractive laptop, with a powerful Intel processor and a dedicated Nvidia GPU. It has the looks and the power to make it a fine choice for even the most discerning buyer.
Light and portable
Nice i7 processor
Nvidia GPU
Cheap feeling chassis
Underwhelming touchpad
While Intel is the processor of choice for tons of laptops on the market, it's implementation on the ASUS Vivobook S is great. The overall computer has the specs and attractive appeal to make it a great choice for anyone.
Key features & details
5. ASUS TUF Gaming Laptop – Best AMD Based Laptop
If you are an AMD fan, ASUS has created a very good laptop with all AMD internals to keep you happy. With a Ryzen 5 processor and RX 560X GPU, this laptop shreds through all daily work tasks and even some gaming on the side.
Dedicated AMD Radeon GPU
Fast AMD Ryzen processor
Sturdy build quality
Keyboard not RGB
Loud fans
While most people will be drawn towards an Intel powered laptop, there is another competitor out there that makes fantastic CPUs…AMD. ASUS has filled their TUF Gaming Laptop with all the AMD power you can handle.
Key features & details
6. Dell Inspiron 14 5482 – Best 2-in-1 Laptop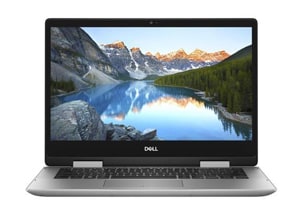 If you are a person who likes to consume a ton of media, then a 2-in-1 like the Dell Inspiron 14 5482 is a great choice. This bad boy comes with an i7 processor and is light and thin enough to carry with you every day.
Fast i7 processor
Slim and light
Sturdy hinge
Mediocre display
Low battery life
The 2-in-1 market is booming, with laptops in all price ranges available. At under $1000, the Dell Inspiron 14 5482 is the best of the best.
Key features & details
7. Lenovo ThinkPad E580 – Top Laptop For Business
There is no other brand that is as well known in the business laptop space than Lenovo, and the E580 is the best of the best under $1000. If you are looking for a serious laptop to do serious work, this is the cream of the crop.
Efficient i7 processor
Unrivaled reliability
Built like a tank
Outdated business design
No touchscreen
Searching for the best laptop for your business endeavors is one of the most daunting tasks you may face. If you have a budget of under $1000, the Lenovo ThinkPad E580 has a lot of great qualities.
Key features & details
8. Macbook Air – Best Macbook
Want to stick with an Apple device instead of going with a Microsoft Windows machine? This should be your pick for the best laptop in the price range!
High quality screen
Fast SSD
Not a fan of Windows 10 and prefer the Mac OS instead? You've still got options for a great laptop in this price range by looking at the MacBook Air series.
Key features & details
9. Google Pixelbook – Best Chromebook Laptop
If you aren't looking for the full Windows experience but are looking for a sleek and stunning laptop, the Google Pixelbook is a great choice. While Chrome OS is not the most well known operating system, it runs great and is easy to learn.
Beautiful design
Light and portable
Good keyboard
i5 processor
Small storage space
While most chromebooks are considered "cheap" or at the very least low end, the Pixelbook breaks that mold. Offering higher end specs and a beautiful screen, this is a great laptop for under $1000.
10. HP Pavilion Gaming Laptop – Best Overall Laptop
The HP Pavilion Gaming Laptop is one of the most well-rounded laptops on the market under $1000. It has an i7 processor, 16GB of RAM, and an Nvidia GPU…enough said.
Fast processor
Nvidia dedicated GPU
Stylish design
High refresh display
Small SSD
Only comes in green
Gaming laptops are generally filled with the best parts available, thus making them the best overall laptops on the market. The HP Pavilion Gaming Laptop is the best buy you can make under $1000.
What You Will Need To Know (Before Buying) A Sub $1000 Laptop
What Do I Absolutely Need In A Computer At This Price?
Before getting into memory, processor speed, and storage capacity, there are two main issues you want to consider. Specifically, what are the build quality and longevity of the laptop?
It isn't hard to find a computer with an 8th gen processor and 8 – 16GB of RAM at well under this price range. If you are going to drop more than $900 on a computer, it needs to last.
Always take a look at the reviews, and specifically be on the lookout for reviewers mentioning how long they've owned the machine. Some reviewers will give 5 stars after having a computer for a day, while others wait 8 months to a year or longer.
Those longer time period reviews will be much more helpful in determining if a particular model is still going to work properly after extended usage. Hinges break, screens lose quality, and fans get noisy over time if manufacturers skimp on the build quality.
When you know whether a $900+ portable computer is going to last long enough to be worth the investment, next up is time to consider the specs.
At this price point, you typically want a top-of-the-line processor and a minimum of 16GB of memory. There a few possible exceptions however, as noted below.
What Are Acceptable Trade Offs In This Price Range?
Each manufacturer focuses on a different set of specifications in each price range. Some will give you more processor speed, while others will go for battery life, storage capacity, and so on.
In general, you should only be willing to drop down to 8GB of RAM if there's a very compelling trade off.
Getting a high end dedicated graphics card for gaming is one such reason, as is finding a 2-in-1 device with a larger screen.
When you get close to a thousand dollars in your initial investment, a solid state drive is almost always the way to go.
Solid state drives are always going to be faster than their HDD counterparts, but unfortunately they tend to have smaller storage space.For the cost of a 256GB SSD, you could get a full 1TB of hard drive space for instance.
If you haven't used an SSD before and wouldn't notice the difference in speed anyway, you can save some money by picking an HDD model.
What Do I Get If I Spend Over $1000?
If you decide to dip a little deeper into the bank account, there are some very attractive features to be found in any given laptop. In general, you'll get similar specs, but without any trade offs.
For instance, you may find a full size 2-in-1 touch screen model with the best processor and most RAM. There won't be any reduction in the specs on any end.
Besides features like touch screen functionality, any laptop in the $1,000 – $1,500 range is usually going to be meant for gaming.
These devices typically put in dedicated graphics cards with much higher processing ability. That means you can either run high end engineering software, or play cutting edge games at very high graphics settings.
If you don't need those features and primarily use your computer for school, work, or web browsing, there isn't much reason to spend that amount of money.
The only potential reason to spend more if you don't play games is to get high end specs in an ultrabook that is more portable than the typical laptop.
Finding The Best Value Laptop
Did we help you find the best laptop under $1,000 for your needs? Let us know what you think of our picks, and be sure to leave a comment if you end up buying one of these contenders!
Frequently Asked Questions
Can you play games on laptops that cost under $1000?
Yes! We have listed a couple of gaming laptops right here in this list. If you are looking for something capable of gaming, the main thing to look for is if it has a dedicated GPU.
Does the brand of the laptop make a difference?
No. The brand doesn't affect the specifications. You need to pick the brand you have the most confidence in, and has a good track record of making great laptops.