Want to transition away from hand drawn to digital art, but don't know what sort of hardware you really need to get the job done?
There's no need to scour hundreds of Reddit posts or art blogs to find the perfect laptop. We already did that for you!
After analyzing all the options available, we've picked the 5 absolute best laptops for artists available in this year.
Whether you prefer Mac, Windows, 2-in-1, or just need a cheap budget option, we've got you covered.
Picking The Best Laptop For A Digital Artist To Use
Different art apps can have widely different minimum and recommended specs. Artists who primarily work in Photoshop, Illustrator, or Sketchbook will need something different than those who work with 3D creations in Maya.
All our contenders below will easily handle any 2D drawing application, and most can handle 3D designs as well.
Each our five picks can also double as decent gaming rigs, since many of the hardware requirements are similar for art design and gaming.
In general, a 2-in-1 will always be the way to go, unless you specifically prefer creating your art with a mouse instead.
Ready to take a look at the best laptops for graphic design and freehand drawing in this year? Let's get started!
In A Hurry? Here's The Winner From Hours Of Research
Editor's Choice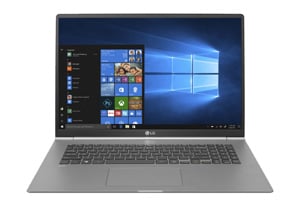 LG Gram 17
Why is it better?
The LG Gram is the world's lightest 17-inch laptop, which they have managed without sacrificing in the overall performance. Combine that portability with the gorgeous 17-inch display, and you have one of the best laptops available on the market.
The Lineup At A Glance
The Contenders For Best Laptop For Artists
1. HP Spectre X360 15t – Best 2-in-1 Laptop for Drawing
Prefer to freehand draw on a touch screen with a stylus, but still want the power of a laptop over a tablet? The Hp Spectre should easily be at the top of your list for a new computer.

4k screen
Stylus included
Dedicated graphics card
Smaller storage capacity
No built-in card reader
If you want a hybrid 2-in-1 device, the Spectre offers a perfect combination of style and substance. While there are many other 2-in-1 devices on the market, none compare in overall performance to this laptop.

Many different versions of the Spectre are available, however. Make sure you pick a configuration that will work the best for digital artwork! The more powerful the processor, RAM, and GPU, the better it will be able to handle programs such as Photoshop or Sketchbook.

With this model, you get a cutting edge processor, more than enough memory to run any art applications, and a dedicated graphics card. These are all things needed if you are serious about your art, and want the best experience possible.

With a stunning 4k display, your art will really pop off the screen as well. The 15.6-inch size is also fantastic because it gives you plenty of screen real estate to draw your next masterpiece.

There are only two downsides to this configuration — smaller storage capacity, and lack of a built-in card reader. The latter is a problem if you work with digital photographs, but it isn't hard to hook up a USB card reader.
Willing to spend a bit more? You can bump this model up to a whopping 2TB of storage space and still keep the solid state drive! That will kill the first downside, making this the greatest 2-in-1 laptop available on the market for artists.

2. Microsoft Surface Go – Best Budget Laptop for Drawing
Want the highly touted Microsoft Surface drawing experience without breaking the bank? The Surface Go has many of the same features as it's big brother, but at a fraction of the price, making it a great option for the budget-conscious artist.

Beautiful screen
Pen included
Great drawing experience
Type-cover not included
Small 10-inch display
While the Surface Go without a type-cover is technically a tablet, it is a fantastic choice for those artists looking for a laptop experience with performance to handle any projects they throw at it.

The base model of the Surface Go bundled with the Surface Pen is a fantastic budget option for the aspiring or professional artist. From Photoshop to Sketchbook Pro, you will be hard pressed to find a software that will not run admirably on this little beast.

Though it is only running a dual-core Intel Pentium processor when you combine that with 8GB of RAM and a fast SSD, this is the perfect laptop for creative individuals on a budget. While it won't compete with a high-end desktop, it is a device you can throw in your backpack and draw on the go, no matter where you are.

The high-resolution PixelSense display at 1800×1200 resolution is crisp and vibrant. It will give you both sharpness and color accuracy needed to do even high-end graphic art.

The biggest downside of this budget option is the lack of a physical keyboard. This can be remedied by purchasing the optional Surface Go Signature TypeCover.

If you need more horsepower, you can always go with a top-tier model, but remember; the more high end features you add the higher the price will soar.

3. LG Gram 17 – Best Windows Laptop for Artists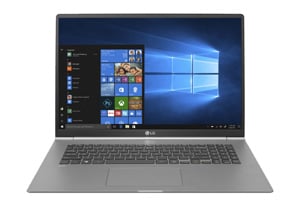 The LG Gram is the world's lightest 17-inch laptop, which they have managed without sacrificing in the overall performance. Combine that portability with the gorgeous 17-inch display, and you have one of the best laptops available on the market.
Huge 17" screen
Extremely portable
Good battery life
Slow SSD
Feels flimsy in some areas
The LG Gram is a sleek and stylish 17-inch laptop, with an impressively lightweight body and sturdy build quality. While there are some areas that feel a bit flimsy, overall the chassis is exquisitely designed and functional.

While you are paying a premium here for the looks and portability, that doesn't mean you have to skimp on high-end internals. And LG has put together a package in the Gram 17 that is great for artists.

Running an 8th generation Intel Core i7 8565u processor, with 16GB of RAM, and a 512GB SSD, the LG Gram 17 blows the doors off of most software. No matter if you want to run Photoshop, Lightroom, or Premiere, the LG Gram has enough horsepower to handle them all.

The display on the Gram is the most impressive part of the entire laptop. Clocking in at 17-inches and with a 2560×1600 resolution, the Gram pushes out stunning images with clarity and vibrancy.

4. Apple Macbook Pro 15 – Best Apple Macbook for Artists
Do you use graphic design programs that just aren't available in Windows? This should be your pick for the top Apple laptop for artists!

Excellent processor
Plenty of solid state drive storage space
No touch screen
Very high price
While programs like the Adobe suite have made their way onto both platforms, there are still design tools that you can only get on Mac OS.

If you prefer Apple to Microsoft, the 2018 MacBook Pro is the best bet for artists on the go. Between the blazing fast i9 processor, 32GB of RAM, and Radeon graphics, you can run pretty much any image editing tool you need.

The 2880 x 1880 15-inch Retina display is a star here. The colors are vibrant and pop off the screen, and the True Tone technology automatically adjusts the white balance of the screen to match the color temperature of the light you are in.

Everything is not perfect with the Macbook option, however. A couple of issues should be kept in mind here before making your purchase.

Although you get the cool Touch Bar feature that suggests buttons to use, this isn't a touch screen model. That's an odd oversight for the extremely high price.

The MacBook Pro also features four USB-C ports and no card reader. For most external devices, that means you'll need to buy an adapter.

5. Microsoft Surface Book 2 – Best Laptop for Drawing
Want a full range of options on drawing with a stylus, using a keyboard, or hooking up to an external monitor? For digital artists who can afford it, the Surface Book 2 should be your top pick.

Very lightweight
Dedicated graphics card and great specs
High price
Pen not included
For digital artists, Surface Book 2 is essentially the ultimate machine to look at right now. It checks off all of the boxes that will be on any artists list.

For a hybrid touch screen device, it has very high-end specs. You get the versatility of a tablet for freehand drawing, with the hardware of a cutting edge desktop.

The high-end i7 processor combined with the dedicated GTX 1060 GPU makes for a formidable laptop and one that can handle any program you want to use. That includes high-end 3D software, such as 3d Studio Max and Maya.

Just remember you have to buy the stylus separate — it doesn't come in the box! That issue aside, if you are a creative type in need of a killer laptop, look no further.

Don't plan on doing any 3D art at all and just stick to 2D drawing? You can ditch the dedicated graphics card and save some money by going with the Surface Go instead.

6. Lenovo Flex 5 – Best Laptop for Beginning Artists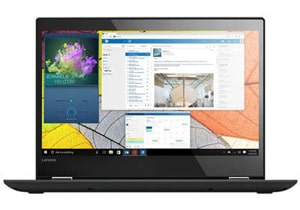 The Lenovo Flex is best for those who want to dip their toes into digital art before diving into the deep end. With spectacular specs for an amazing price, you'll be hard pressed to find a better beginner's laptop for the casual artist.
Great Display
Budget Friendly
Small Storage
Integrated Graphics
The Lenovo Flex is a great 2-in-1 for those artists looking to take the plunge into digital art. This laptop is going to keep your day to day work running with an Intel Core i5 processor for super speedy performance while also giving you the ability to run your design software.
It's a little small on the storage side, with only 256 GB of storage but it should be enough to get you started on your digital design adventure. There currently aren't any upgradeable options but you could always get an external hard drive if you find yourself needing a little extra storage space.
Normally, you'll want a dedicated graphics card for your graphic design laptop. This gives you better performance in the long run. However, the Lenovo's integrated card is not something to fret over. It will still run everything you need it to.
Remember, this is the laptop to get you started in graphic design. If you find that you're really into digital art, you can upgrade to another laptop on this list later, after you've gained your feet in the field.
7. Dell XPS 15 – Best Value Laptop for Artists
A gorgeous 4K touchscreen with impeccable specs, the Dell XPS 15 will give you the best performance for the best price on this list.
Great Graphics Card
Expansive Storage
Outstanding Performance
The specs needed to run a graphic design laptop often come with rather staggering price tags. However, the Dell XPS 15 offers incredible performance for a great price. You won't be cutting too many corners with this machine. It performs almost on par with the Macbook Pro and Surface 2, while also not killing your budget.
Its 4K screen is sure to make your beautiful art stand out. It has an excellent storage capacity at 512 GB and stunning RAM at 16 GB. With its Core i7 processor, you'll be powering just about any graphics software at top notch speeds.
The main downsides to this model are its battery life and its lack of ports. At only 5 hours off charge, you'll likely find it impossible to do work away from an outlet. The model only offers two ports so you'll need to be strategic on how you use them.
8. MSI GP73 Leopard – Best Work & Play Laptop for Artists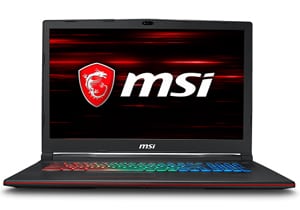 This beautiful MSI Leopard will give you awesome performance for your artwork while also offering the added bonus of being a top of the line gaming rig for your gaming pleasure.
Stunning Specs
Large Display
Fantastic Storage Capacity
Ports Galore
A gaming laptop may be a surprise on this list but let me explain why it works so well. Gaming rigs have to have incredible specs in order to run today's games. Those same specs are often required to run the best design software.
So, while the MSI's 17.3in display, 1TB of storage, and NVIDIA GeForce GTX 1060 graphics card will make any gamer drool, it will also give you the ease of performance needed for all your graphic design needs. Whether it's 2D or 3D rendering, the MSI has the power to run it without a problem.
The MSI has an immense number of ports for you to choose from, including a built in card reader. No need to give yourself a headache over which peripheral device is more important here. It's likely you could use all of them at once with ports to spare!
Its main drawback is its weight and battery life. As an owner of an MSI gaming rig, I can tell you first hand that they are not very portable laptops. This machine is more of a desktop replacer than a run around, travel laptop. At 6 pounds, 17 inches long, and nearly 1.5 inches thick, it's difficult to find any sort of backpack or sleeve to put it in. Best to leave this beast on your desk.
As with most gaming laptops, the battery life is quite short. This MSI will give you about 4 hours off charge under day to day activity load so you won't be able to do much work outside the office with this one. As said above, it really is a desktop replacer.
What Are The Minimum Specs I Should Accept For An Art Laptop?
The answer to this question highly depends on what specific programs you intend to use, and whether you are interested in 2D art or 3D rendering.
As we mentioned above in our budget pick, a hybrid Android tablet / notebook can actually work well if you mostly freehand draw digital creations.
If you want a full Windows 10 computer however, don't settle for any less than 16GB of RAM. Art programs tend to be very memory-intensive, so anything less than that will result in unacceptable lag.
If you are rendering 3D scenes, don't forget the dedicated graphics card. In most cases, digital artists can get away with a 2GB video card.
What Other Features Do I Need To Look Out For In A Laptop For Drawing?
Screen resolution should be an important priority for artists. In most cases, budget laptops with 1366 x 768 resolution displays just aren't worth your time.
Those types of machines are meant for web browsing or typing up word documents, not creating art from scratch.
Keep a close eye on what ports are included, as well. You may want to hook up to an external display, so an HDMI port is critical.
For those who work with digital photography, make sure you've either got a built-in card reader or be ready to buy an external card reader.
Using Technology To Create Amazing Art
What sort of digital creations are you planning on making with your new laptop? We'd love to see what you come up with if you picked any of our top 5 contenders for the best artist laptop in this year!
Frequently Asked Questions
Will these laptops be able to handle both 2D and 3D art?
Any of the products with a dedicated graphics card will be able to hand 3D art at varying levels.  However, the Intel integrated GPUs will struggle.

Are these good laptops for college students?
Yes!  All of the laptops on this list are fantastic options for college students.  Though on the normal college student budget, we suggest checking out the Surface Go and the versatility it would bring you.