Speed and power are an ever-increasing demand with those who buy laptops for intense, tasks like video or music editing, or the fastest gaming laptop money will buy, look no further than the Intel i9 computer chip. Here you can find out list of best intel i9 laptops available on the market (so far).

The Intel i9 chip is billed as the fastest on earth, primarily because of its mult-core technology.

A core is a processor within the chip itself, and each core adds more power to the overall CPU, being able to handle more intensive data task.

Needless to say, a 6 core or higher i9 computer is blazing fast and can handle an enormous amount of data.

A computer with an i9 chip is, however, not cheap, but for those who needed it for their graphics, video editing, programming or gaming use, sometimes the best is a minimum requirement.

In A Hurry? Here's The Winner From 20 Hours Of Research
Editor's Choice
Apple Macbook Pro 15
Why is it better?
Top quality display

Top quality build

Top quality battery life

Extremely portable
Outstanding battery life

The Lineup At A Glance
The Contenders For The Top 5 Best i9 Laptop Computers
1. ASUS ZenBook Pro 15 – Best Cheap Option
If you want an i9 processor but are on a budget then ASUS ZenBook Pro 15 is probably the right computer for you. Many people who do intensive video editing report it is very fast, although you cannot expand the RAM in the computer.

Budget friendly
Has built-in fingerprint technology for added security
Has a fast-charging battery function
Limited RAM
Limited hard drive space
Limited battery life
A budget-conscious i9 laptop with many features such as a touchpad screen, an adaptive screen allowing you to create shortcuts with a simple tap.

The ASUS ZenBook Pro 15 seems to handle most but the extreme requirements for functions such as video editing, with its single biggest drawback being the 16 gigabytes of Ram it comes with are soldered into the motherboard so you cannot add additional memory.

Also, the battery life is limited to around 5 hours, but this is offset somewhat by a quick charging function, allowing you to go from zero to 60 percent in under 50 minutes.

At a price of around $2300, the ASUS ZenBook Pro 15 is the least expensive in our roundup, and the vast majority of customer feedback is positive.

Computers with i9 machines do get warm, so the dual-fan is appreciated. And the 4k screen is crisp and crystal clear. You can also use the screen pad to easily use the display in dual-mode.

2. GIGABYTE AERO 15-X9 – Best Mid-Range i9 Laptop
This is one sweet machine if you know what you are doing. And perhaps is as close to an Apple Product as you can get in a Windows Machine. However, customers experience problems and are forced to reinstall windows, and wrestle with other firmware problems. So this is not a machine recommended for computer beginners.

All Intel inside
Superb battery life
Exceptional graphics
Good Battery life
Will likely to require re-install of windows.
Reports of screen bleed
A well-designed machine with a finely crafted display, plenty of RAM, great graphics and sound, and overall, a real beast of a machine.

In it's best state of configuration, there is almost none better in an i9 laptop, and the two-year warranty can't be beaten. But it's not a beginners machine.

People spend hours reinstalling Windows, and fine-tuning the machines. Those who do rave about their machines. Those who do not, complain they should have bought another laptop.

3. Apple MacBook Pro 15 – Best MacBook i9 Computer
You'd be hard pressed to find a faster, better-built, than the Apple MacBook Pro 15. Across the world, video and music editors chant the mantra, "Go Mac and you won't look back." These machines are not only well made, but they require limited out-of-the-box tinkering.
Large storage capacity
Superior build
Extremely portable
Fantastic graphics and color rendering
Expensive
No support for older usb systems.
Limited amount of ram with basic unit.
The Apple MacBook Pro 15 is about as far of a perfect machine as you are likely to find in a laptop.

The graphics are superior for this lightweight power-horse, and Mac's are loved by
gamers and video editors alike.

Important to note is that Apple claims the MacBook Pro 15 can handle intense, memory hungry tasks twice as fast with the MacBook Pro 15 as previous models.

One knock is not only are these machines expensive but the basic Apple MacBook Pro 15 comes with only 16 gigabytes of RAM, so serious video editors and others will likely need to plunk down an additional $300 to bring the machine up to full power.

So be prepared to spend money on this well-crafted workhorse, but where quality, as well as simplicity, counts, this is probably the machine you wish to purchase when buying an i9 laptop.

4. MSI GT75 Titan Extreme – Best i9 Gaming Laptop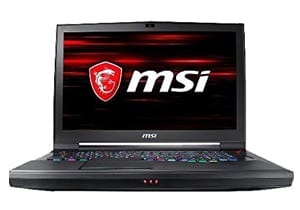 The large, 17-inch screen brings games to life with speakers to match, and if gaming at high speed is your thing, consider the MSI GT75 Titan Extreme.

Excellent large screen display
Excellent gaming performance
Elegant design
Long battery life
Expensive
Not really portable
At 12 pounds, this i9 computer can hardly be described as a laptop. It's more like a durable tank on your desktop.

And although it has plenty of power to do video editing and other memory intensive tasks, nobody buys this expensive machine for anything but gaming.

But if playing Halo or other games are your thing, you can't get much more to life than this 17-inch, aluminum body computer with fantastic graphics and movie projector sound.

5. Dell XPS 15 9570 – Best Alternative i9 Laptop
Sleek, stylish and powerful. However, customers either love it or hate it. There's plenty of chatter over the internet that the performance of the i9 in this computer isn't as good as other machines.

Great graphics
Astounding 4k display
Thin bezel, nicely designed
Customers complain of slower clocking by the manufacturer.
Battery hog
We loved the sleekness of this machine, and had no problems with it whatsoever. It seemed to handle everything that I threw at it with ease, and the graphics are stunning.

That said, power-users, and there are plenty, complain the machine is not really that much and upgrade from cheaper i7 processors, so despite having excellent performance, we rated the Dell XPS 15 9570 as best alternate on our list.

Criteria used for evaluation
Display Size and Quality
These are high-end laptops, and whether they are used for gaming, or intensive, video editing and productions work, you want a crisp, neatly styled and built computer display.
RAM and Performance
Having a powerful processor and enough RAM to push a high-resolution screen and perform tasks such as video editing quickly are the reason people buy a laptop with and i9 processors.
Storage
Whether for gaming or video editing, you need plenty of storage space. The laptops we reviewed ranged in storage capacity from 512 gigabytes to 2 terabytes.
Battery Life
Being able to work remotely is an important consideration in a $2000 plus laptop. Some of our laptops have outstanding ratings in this category while other are more power hungry.
USB Ports
Connectivity to other peripherals is important. Some, like the Apple Macbook Pro 15 requires you to use newer technology while others offer a combination.
Customer Feedback
You could drive yourself to the nuthouse reading reviews and trying to establish benchmarks for an i9 laptop. Unless you are a technical wizard, most of this you won't understand. As laptop's with and i9 processor are still relatively rare, we paid attention to customer reviews for feedback on performance.
Frequently Asked Questions
Is and i9 processor worth it?
If you use an intense amount of data, and i9 is nice to have. Videos, for example, can be rendered at up to 40 percent or more quickly. However, you do pay more for having the latest and the greatest processor.

Do I need to have at least 32 Gigabytes of Ram?
Unless you are doing pure gaming, yes. As noted in our review, the ASUS ZenBook Pro 15, does not allow any expansion of its 16 gigabytes of Ram, and the Apple MacBook Pro 15, only comes with 16GB for the basic unit. So plan on spending an extra $300 or so to bring your MacBook up to peak power.
What else do I need to know about i9 laptops?
First, an i9 laptop is not a substitute for a dedicated desktop. The machines are clocked differently, and you will notice a definite slow down in power-data use programs. They are nice to have item, but really, a desktop is probably the way to go if you do heavy tasks all the time.
Secondly, the performance of an i9 can be noticeable for games, but typically offers only a 10 percent advantage over buying a computer with i9 capability.
Finally, i9 laptops get really warm, so be sure any laptop you buy has adequate cooling functions, ideally with two cooling fans.