A gaming laptop that can run the latest AAA games is a big investment, so you need to make sure you find the perfect machine that meets all your needs without going over your budget.
Looking to play new online survival games or run the latest competitive MOBAs? We've got you covered with a list of all the best gaming laptops under 800 available online.
What Games Can I Play On A Laptop Under $800?
Before you lay down the cash necessary for a brand new portable gaming rig, at the very least you should be sure it can play the types of games you prefer! The laptops listed below will easily hit the minimum system requirements for any non-VR titles and give you good frame rates on these games:
Far Cry 5 at medium settings
Fortnite at medium – high settings
League Of Legends at high settings
Starcraft II at medium settings
Monster Hunter World at low settings
Dragon Age 3 at high settings
Destiny 2 at medium settings
Overwatch at medium settings
CS:GO at high settings
Heavily modded Skyrim at high settings
GTA V at medium – high settings
Fallout 4 at medium settings
Picking The Best Gaming Laptop Under $800
With a price tag of under $800 you can start to get into the higher end of laptop specs while only having to make a few concessions due to budgeting.
More onboard system memory, additional hard drive space, and faster processors all become standard at this price range. Older games will all run well at high settings, while the newest offerings will typically get no frame rate drops near the medium range.
There can be wide a disparity between graphics cards and features like keyboard backlighting and overall weight however, so you can't expect to just pick the laptop with the best price and still get the best overall product experience.
In A Hurry? Here's The Winner From Hours Of Research
Editor's Choice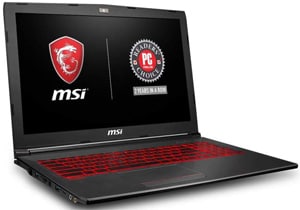 MSI GV62 8RD-200
Why is it better?
In 2018, MSI's GV62 sits at the top of the pack for mid-range laptops that offer great gaming specs without costing an arm and a leg. You'll get the best graphics with the most stable frame rates and without having to give up any extra hard drive space.
The Lineup At A Glance
The Contenders For The Best Gaming Laptops Under $800
1. MSI GV62 8RD-200 – Sleek Design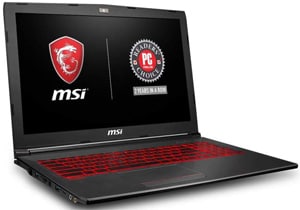 While you take a hit on battery life with these higher specs and epic back lighting, this is the absolute most bang-for-your-buck you can get in a sub-$800 laptop. If you need power over other considerations, pick this rig!
8th gen processor
Best graphics card
Red backlit keys
Low battery life
Highest price
Key features & details
If you want to stay out of the four digit price range but still need a gaming behemoth that can handle nearly any new game with high frame rates, MSI is where you want to go right now.
The 4GB Ti rendition of the GTX 1050 is essentially the upper limit of what you can expect from a graphics card in this price range, and the 8th gen Intel i5 has you covered on processing power.
Data transfer speeds will be quite high here thanks to a minor change on the specs. Rather than a separate SSD boot drive like the other contenders, instead you get a 16GB Octane drive for faster load times.
The red edge glow keys also offer a killer look that are quite different from your standard back lit keyboard, setting your gaming laptop apart at LAN parties.
Reviewers are consistently impressed with the fast operating system boot times, comfortable keyboard design, and the extra fan button to manually purge hot air if the machine is running too warm.
2. Dell G3579 – SSD Boot Drive
If you prefer function over form and don't need a flashy looking laptop, Dell's G3579 gives you all the specs you need for a killer gaming experience.
Solid state boot drive
Plenty of hard drive space
8th gen processor
High price
No gaming design features
Key features & details
A covert gaming laptop masquerading as a typical business machine, Dell's budget-friendly option features an unassuming design with fewer bells and whistles.
From the outside it looks like the typical work laptop, but when you pull open the screen you'll find a different story, with low key blue back lighting and plenty of power under the hood.
The dedicated GTX 1050 graphics card and 8th gen processor combo will more than cover you on the gaming front, running most games at medium to high settings without much in the way of frame drops.
Amazon buyers frequently mention that the screen isn't as bright as other models, but loved the sleek business-style design and were impressed with how easy it is to install extra RAM by just removing a single screw.
3. HP Pavilion Gaming Laptop – Light Weight
If you are looking for a laptop that can run most games well but isn't super flashy and obnoxious with its design, the HP Pavilion Gaming Laptop is a perfect choice. It has enough horsepower to still be a gaming laptop but doesn't sacrifice any of the sleek HP stylings in the process.
Lightweight
Long battery life
Backlit keyboard
Can't run games at highest settings
Plastic parts feel flimsy
Key features & details
When looking for gaming laptops, they are often very loud and bright, while not being very stylish. HP has tried to break this trend with the Pavilion Gaming Laptop, and they have succeeded.
4. Acer Spin 5 – Best Hybrid Laptop
It is rare for gaming and 2-in-1 laptops to cross, but the Acer Spin 5 has crossed them extremely well. With a GTX 1050 graphics card and an i5 processor, this laptop can power through both gaming and content creation tasks.
Multi-touch screen
Nvidia dedicated GPU
Good speakers
Slow hard drive
Imperfect trackpad
Key features & details
Acer is a well-known PC brand, and they are really stretching their legs in the 2-in-1 laptop space. The Spin 5 is a great 2-in-1 that can also play your favorite games on the go.
5. Dell Inspiron Gaming Laptop – high performance
Getting a GTX 1060 equipped laptop for under $800 is unheard of, but somehow Dell has made it happen with the Inspiron Gaming Laptop. Blast through the newest titles even at Full HD 1080p resolution, without compromise!
Nvidia GTX 1060
Fast SSD drive
Great price
On the heavy side
Poor battery life
Key features & details
Dell is making another appearance on this list, giving us the only option at under $800 with the powerful GTX 1060 equipped. That instantly makes it the most graphically advanced laptop on this list.
Recommended Gaming Resources
6. MSI GL63 Gaming Laptop – Stylish Gaming Design
MSI has created an extremely "gamer" looking laptop in the GL63 Gaming Laptop. It has vibrant red lights, sharp edge lines, and enough power to play your favorite games.

Strong gaming aesthetic
Fast SSD drive
Backlit keyboard
Only 256GB of storage
Touchpad buttons are stiff
Key features & details
MSI makes incredible looking gaming laptops, and the GL63 is a perfect example of that. It packs pretty good performance into a sleek and stylish gaming chassis.
7. ASUS TUF Gaming Laptop – Best AMD Laptop
AMD is breaking into the gaming laptop space with its new Ryzen processor line, and ASUS has packed this laptop full of AMD goodness for under $800. A Ryzen processor paired with a Radeon RX 560X makes a great entry-level gaming option.

Sturdy build quality
Fast wireless connectivity
Nice keyboard
Terrible battery life
Loud fans
Key features & details
If you are looking for an alternative to the normal Intel-based laptops, AMD has started to break into the gaming laptop space. This awesome ASUS laptop features a Ryzen process and Radeon graphics to blast through your games.
8. Acer Aspire 7 – best overall laptop
The Acer Aspire 7 is going to be the best overall laptop in the under $800 price point. It does everything well, from gaming to office work. You can do with it whatever you please, and the powerful specs will not waiver.
Fast i7 processor
Compact and portable
Nice keyboard
Bad screen brightness
Runs hot
Key features & details
We have covered a ton of laptops under $800 and worry about dubbing one the overall best in class. However, this Acer laptop doesn't have many weaknesses, and ticks all of the boxes making it our choice for best overall.
Why Should I Pick These Laptops?
The dedicated graphics card options typically stay the same here as in lower priced laptops, but absolutely everything else sees a bump in quality.
When you get into the $700 – $800 range, you will see much faster boot up speeds and significantly better install speeds due to the operating system being installed on a separate SSD. So long as you pick a model that also has a standard hard drive, you won't run out of space for more games anytime soon.
8 – 12GB of RAM remains the standard for these machines, so be on the lookout for laptops that can expand with additional memory up to 32GB if you want your gaming rig to remain competitive in the years to come.
What Am I Looking For In This Price Range?
While staying under $800, you can expect to get into cutting edge 8th generation processors for a smoother overall experience, whether you are running multiple programs for work or are gunning down enemies in Call Of Duty.
Without going up to a higher price range, you still need to be willing to make a few potential trade offs, however. To prevent lag or graphical glitches while playing games at medium to high settings, be sure to look for graphics cards at the 4GB range that are at least comparable to the GeForce GTX 1050.
256GB drives should be the absolute smallest acceptable storage space at this price, but if you need more room than that don't forget to factor in the potential cost of an external USB hard drive.
What Else Should I Keep In Mind?
To keep prices on laptops low, many manufacturers install what's commonly referred to as "bloatware" — extra programs from third parties that automatically load on startup. In most cases, these are programs you don't really need.
To get the best performance out of a budget laptop, don't be afraid to change your startup options, remove pre-installed programs, and tweak graphic card settings!
Besides pre-installed software, be sure to compare what aesthetic options are available between laptops of similar specs. Two portable gaming computers might have the exact same graphics card or processor, but if one has better heat sinks and modern red backlighting, it will be more comfortable to use for long periods of time.
High End Laptops At Budget Prices
Which of these best gaming laptops under $800 appeals most to you, and what features are you looking for in this price range? Let us know what you think in the comments, and hopefully we'll see you in the Fortnite lobby soon!
Frequently Asked Questions
How long do gaming laptops last?
You can generally expect to get 2 years out of a mid-tier laptop before an upgrade will be needed.
Are gaming laptops a waste of money?
No! If you are using your laptop as a gaming machine, you will need the dedicated graphics solutions that come with them. An Intel or AMD integrated solution is generally not enough to play games, so most mainstream laptops are simply not enough.