10 inch tablets can be very useful, and getting one of the best 10 inch tablets will get you far. It can be tricky to find a 10 inch tablet that will suit all your needs, but sticking to some of the most known and most trusted tablets is a good idea to start with.

Great thing is that 10 inch tablets are right in the middle of a sizing chart, and if you don't want to get a tablet that's too small or too big, 10 inch tablet is a perfect choice.

Luckily for you, in this post, we have some of the best 10 inch tablets on the market you can get for a very reasonable price. We've done our research, and now it's up to you to choose the best one for yourself.

Down below, you can find some of the top tablets you can get in 2019 and yet won't have to worry if they'll last at least a few years from now.
In A Hurry? Here's The Winner From Hours Of Research
Editor's Choice
Apple iPad Pro

Why is it better?
Retina True Tone display
HD camera
Up to 10 hours of battery life
Stylish, sleek and modern design
Durable and reliable
Price is reasonable
The Lineup At A Glance
Review of the best 10 Inch tablet In 2019
1. Apple iPad Pro – Top Picks
Retina display with True Tone technology
Aluminum durable body design
Sleek and stylish look
Powerful Fusion processor chip
HD camera
Smooth iOS operating system
Price is reasonable
Doesn't support Bluetooth mouse
Apple iPad Pro is a very solid, powerful, and reliable tablet that comes with an amazing that is large enough to suit you for gaming and even doing some work outside the office or school. Strong battery life makes it very portable and travel-friendly.
Key features & details
2. Samsung Galaxy Tab A – Best Samsung Option
WUXGA display
Expandable storage
Ultra-fast octa-core processor
HD cameras
Very long battery life
Affordable price
Takes a bit too long to recharge the battery
If you're looking for a tablet that is very versatile other than portable and powerful, Samsung Galaxy Tab A is a great choice. It comes with a great display that is suitable for gaming or even streaming videos and movies.
Key features & details
3. Fusion5 Tablet – Best Windows Pick
Very portable & lightweight design
Powerful performance
Mega storage space
Graphic display for optimal viewing
Comes with Windows pre-installed
Has one USB 3.0 port
Isn't expensive
Audio quality isn't the best
It's hard to find a 10″ Windows tablet that crosses all T's and I's, but Fusion5 is a very decent tablet that comes with really surprising features. It's powerful enough to run most commonly used software, has a lot of storage and even features a USB 3.0 port for additional peripherals.

Key features & details
4. Lenovo Tab 4 – Best Android Pick
Perfect for multimedia and entertainment
Suitable for kids
Great configuration
Decent speakers
Can be used as 2-in-1 tablet
Is worth the price
More than half of storage is used by OS
Lenovo Tab 4 is a decent laptop that is the best 10″ Android tablet you can get on the market in 2019. It's a great tablet for multimedia and entertainment that can be even transformed into a tablet for kids. The battery life of 20 hours is one of the strongest things you'll definitely love.

Key features & details
5. Amazon Fire HD 10 – Cheapest 10 Inch Value Pick
Brilliant display
Alexa virtual assistant
Large internal storage
Well integrated with Amazon services
Long lasting battery life
Built to withstand everyday use
Cheapest 10" tablet ever
Is officially made by Amazon
Power button placement makes it easy to shut tablet off
If you're on a budget yet you're looking to find a decent 10″ tablet – it can't get better than Amazon Fire HD 10. It's a tablet that comes with an incredible display for such price and is equipped with powerful components, in order to provide the best user experience with help of Amazon services.

Key features & details
Criteria Used For Evaluation
1. Form / Design
10 inch tablets aren't very small but aren't very big, and they're right in the middle of a size chart. Depending on their form and design, you'll easily tell whether you're travel-friendly and very portable, or they're more for indoor use.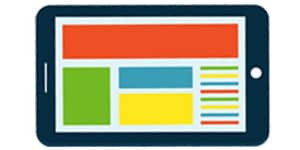 The thinner and less weight tablet has, the more travel-friendly it is. However, that sometimes can mean the durability won't be as good as usual.
Therefore, you should find the golden middle, meaning the tablet is portable enough for your needs, yet is durable and reliable. Such a combination is the most ideal, and knowing your needs first will make your search a lot easier.

2. Performance
When you're getting a new tablet, there are quite a few things you expect it to do. One of them is definitely a solid, smooth, and fast performance. Keeping an eye on the specifications of each tablet will help you understand what actually can a tablet do and what it can't do.

With the latest technology, it's a real surprise to see how powerful configuration we can get in a tablet that is very compact, thin, and lightweight. It's almost like a computer you can take anywhere with you, without needing a special backpack or bag for it.

Processor, RAM, and a graphics card all have an impact on the performance, and if you're wondering how well is a tablet performing – you should start by checking out the specifications. They'll give you a clear idea on the tablet's performance.

3. Battery Life
Battery life is very important when it comes to tablets. It's even more important than when you're choosing a new laptop. The reason for that is the portability and compactness of tablet for a travel-friendly lifestyle that it aims for. Get a tablet with great battery life and you will never have to slow down.
Even though tablets come with very compact and small batteries, they're even more powerful than they have ever been in the past.

With the technology advancement, today, we have an advantage that combines both great battery life span and compact configuration that helps us get the most out of a tablet. The most we have ever been able to get from such a portable device. Getting a great battery life should be as important as configuration.

4. Storage
Storage sometime can limit you from having as many things on your tablet as you'd wish to have. However, getting a tablet with a great amount of storage will solve all your problems and leave you with no worries.

Getting a tablet with a great amount of storage isn't always possible, but instead, you should always aim for a tablet that has expandable storage through microSD card. Most of the tablets nowadays come with such additional feature, and it's definitely a life-saver to have.

You won't only have a great amount of storage and no worries on your mind, but you could also take all your stored files on a microSD and put it into another tablet, laptop, or mobile phone which is a useful & versatile option to have.

5. Other features
Every tablet is different, and even though these are all 10-inch tablets, they come with different features, and that's what's so special about tablets. We recommend getting a tablet that can handle all your needs, and then aim for some additional features that will make your life easier.
The features tablets come with are endless and you get to choose between features that will shape the use of your tablet in different ways.

Gaming tablets will probably come with a better screen and audio speakers, while tablets made for entertainment will most of the time come with a lot of pre-installed apps that are ready to use.

Other than that, there are features such as additional accessories that depend on a brand or a seller, but it's useful to get as many freebies with your tablet, if possible.

Resources
Joe Maring, The Amazon Fire HD 10 tablet is too good to be true, Nov 26th, 2018