The Samsung Galaxy Beam is a smartphone in a league of its own, this mid range handset hit the street with a 1GHz dual-core ST-Ericsson NovaThor U8500 processor running a Mali-400 GPU, so think Samsung S2. It's also got 768MB of RAM and 8GB of internal memory 4GB of which are eaten out of the box, so luckily you've got an mirco SD card.


The phone has a 4" LCD display with a resolution of 480×800. It has shiny, vivid colors, and very good viewing angles. It has respectable 400 nits of brightness which is above average and has 233 pixel density which is quite good.
The projector is 15 lumens and obviously works best in complete darkness, we did a bit of playing around and watching a two hour movie will leave you with abit of juice left on your phone. Luckily the Beam comes with an extra battery pack.
There is one variable that needs to be taken into account with the Beam, it's that there is no official way to secure the projector while you're using it. There is no stand so you just have to use what's around to prop it up, which works fine in my bedroom or living room where there are plenty of blankets laying around. It a little tough in the board room where you're stuck holding it on the perfect piece of wall. But luckily the area around the projector doesn't heat up too much so I wouldn't be worrying about over heating the handset.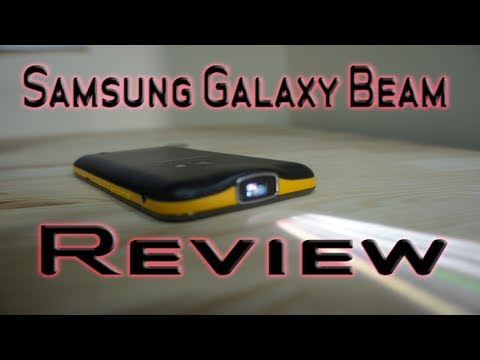 All in all  the phone offers good performance and battery life, it's not a high end phone but competing in the mid range it's a very solid choice. The only draw back is its a mid range phone with high end price tag of between $550-800. But the thing is if you picked up a comparable pico projector case it would cost you around $200, which actually makes the phone a pretty good deal.
It also comes with a large battery that will last yo all day and you even get another one in the box. It doesn't sport the latest version of Android, which isn't such a big deal because you still get access to pretty much all the apps, but moving fro ICS to Gingerbread is kind of painful.
Despite its weak software, the Samsung Galaxy Beam's bright projector pushes the boundaries of what your phone is capable of, and as a handset it offers strong features that make it a solid choice.