Netbook News is in the second row of the Nvidia Day 1 keynote with Jen-Hsun Huang, who rarely disapoints with an entertaining performance. We are expecting NVIDIA's CEO and co-founder to share some of the latest breakthroughs in science, applications and technology that harness the massively parallel processing power of GPUs.
To Watch the nvidia keynote live click here We will be updating this entry through out the keynote incase you aren't interested in watching the whole thing.
AMAZING 3D Demo Video
Jen-Hsun is going to to talk about:
Nvidia's focus cuda's development
4 5 or 6 amazing announcements
Nvidia's Focused in three major areas:
Visualization – quadro
Parrallel Computing – Tesla
Personal Computing – GeForce, Tegra
Context aware computing is coming
Hawxs 2 Game Demo (see video)
CUDA: involved two decisions. 1st recognized that we didn't want to replace the CPU but augment it with a many-core GPU
"We recognize we dont want to replace the CPU, we want to add performance on it using GPUs"
CUDA-x-86 you can deplay apps on to any computer, so now Its all about Killer Apps!
MATLAB announced they will support CUDA-Accelerated GPUs with the Parallel Computing Toolbox
2D image are made 3d & they adjust the focal point in real time so the background comes into focus and the subject blurry. Fingers crossed this gets into Adobe CS6 or CS7.
Video showing how robots are performing beating heart surgeries. GPU enabling quick computation of motion compensation
Dr. Black discussing his vision for future GPU-enabled medical technology. Mobility, brain surgery, fetal (in-womb) surgery
CUDA Roadmap (image for this post)


Physics demos Show off Fog at NVIDIA GTC keynote day 1
There was a few interesting physical demos presented during GTC Day 1 Keynote by Tony Tamasi, Senior Vice President Content and Technology in NVIDIA.
This demo is showing some high-fidelity smoke simulation, with particles interacting fully with characters, producing nice fluid and turbulent behaviour. Last year the smoke looked more like sand, this year you can see that it really does look like smoke.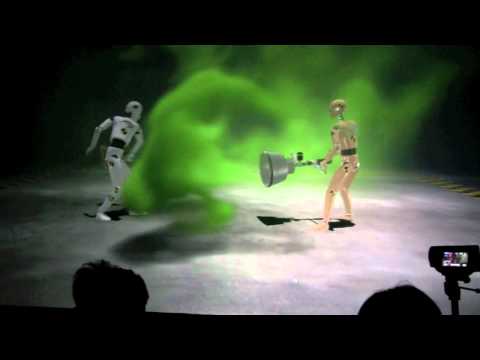 Future of Adobe Photoshop Demo – GPU Technology Conference
There was alot going on during the Day 1 Keynote at Nvidia's GPU conference, as far as consumer are concerned there was one significant demo. The demo involved Adobe showing off a technology being developed using a plenoptic lens aka one of those lenses that looks like a bug eye. By attaching a number of small lenses to a camera, users can take a picture that looks, at first, like something an insect might see which, each displaying a small part of the entire picture. Using an algorithm Adobe invented, the multitudes of little images can be resolved into a single photo. The possibilities are endless on how you can manipulate the photo. 2D image are made 3D & they can adjust the focal point in real time so the background comes into focus and the subject blurry. Fingers crossed this gets into Adobe CS6 or CS7.