AMD's Fusion platform is exciting stuff and the first lot of Fusion APUs should be out in retail early next year and consists of APUs (fusion of CPU and GPU) for the various markets from netbooks to notebooks but we are mostly interested in the low end stuff which AMD is labelling as the "Brazos" platform and includes both the Ontario and Zacate APUs. Here, we are taking a look at the Zacate APU which is dual core with an 18W TDP intended for thin and light notebooks. The netbook version,Ontario, will run at 9W. We have no idea what the clock speed is but we do know that it supports DirectX 11. (pictured below, right)
The game AMD is showing you is called City of Heroes: Going Rogue. One thing that we did notice is that Going Rogue should run fine on the Core i5 processor, so we are a little sceptical that the setting might have been tweaked to slow performance. Regardless, we are excited to see Ontario up and running. In case you forgot how long we have been waiting the processor's existence was revealed during a speech from AMD executive vice-president Henri Richard in Computex 2007 held in Taiwan.
We are expecting a few token devices around Christmas with many more appearing after CES.
Here's a look at the Zacate APU with some gaming vs a Core i5 setup (rather suspicious though)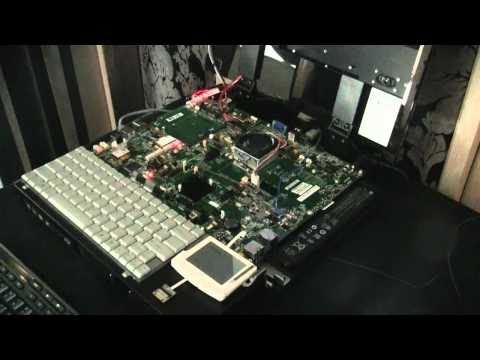 Also, take a look at AMD's official video overview of the Zacate APU: