The Galaxy Tab 2 (7.0) has just hit web and the verdict is good, I thought I would pull together the veditics from some of my favorite reviews.  It comes in at a very reasonable $249 and offers an average 7:40min of battery, under the Android 4.0 OS you've got a dual-core TI OMAP processor clocked at 1GHz and runs a 1024 x 600 TFT LCD display with a 3-megapixel camera on the back. an IR blaster on the side of this device to connect to your Samsung Smart TV, and a microSD card slot to expand your memory by 32GB.
It took Samsung a while, but the company seems to have finally figured out the secret to a successful tablet: don't compete with the iPad. The Galaxy Tab 2 7.0 competes instead with the Kindle Fire and the NOOK Tablet, and unless you're a heavy reader or love the particular interfaces of those two tablets, the Tab 2 is probably a better buy right now. Ice Cream Sandwich is an excellent tablet operating system, and though it hasn't solved the app problem — though the Kindle Fire and Nook Tablet are in the same boat — phone apps do look a little better on a 7-inch display than blown up to 10 inches. The Tab 2 is more powerful than either the Kindle Fire or the Nook Tablet, and because it runs a fuller version of Android it's a more capable device if you're interested in more than just reading. If Samsung would add the Galaxy Tab 7.7′s Super AMOLED Plus display, this would be an absolutely killer tablet, but even as is it's as good a Slate as you'll find for $250.
At almost half the price of the similar-looking Galaxy Tab 7.0 Plus, the Tab 2 performs gracefully, comes with ample storage space to harbor your vast trove of media, and generally makes Google's latest software more accessible. Still, despite its reliable performance, it seems to us that Samsung didn't do enough to effectively overpower the allure of the Kindle Fire's tidy ecosystem. Without access to a well-curated content library, the Tab 2 (7.0) doesn't really stand out amid an ever deepening line of Android 4.0 devices, and it will have to work that much harder to win the hearts of consumers looking for a 7-inch tablet (or just a really inexpensive one). All that said, you'll be hard-pressed to find a better ICS tablet at this price. So if that newly minted OS is what your Wallet's angling for, go ahead: take the plunge and call this media-minded slate your own. Had Samsung chopped off an extra $50 and put this on even ground with the Kindle Fire, though, it might have had an even clearer winner on its hands.
 SlashGear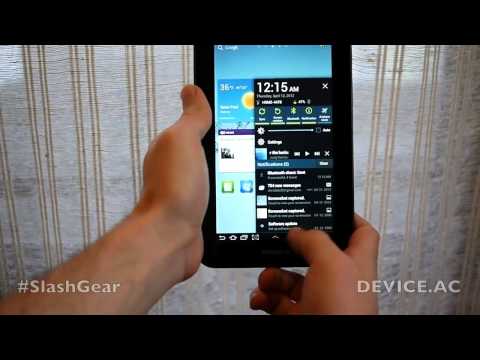 This device is one of Samsung's undeniably vast number of tablets they've got on the market right this second. Compared to the Galaxy Tab 7.7, it's not nearly as impressive, but also not nearly as costly. This tablet is made to be inexpensive enough for anyone to afford while it keeps many of the features and elements that make a Samsung tablet experience one to look forward to. And best of all, the price on this beast is one to look forward to: $249.99 with no contracts for data to speak of! All that on the 22nd of April – that's coming up quick, get your wallets out!
Overall, the Galaxy Tab 2 is a solid 7-inch tablet, although the display (arguably a tablet's primary feature) is unimpressive. We like the idea of the remote-control abilities, and the TV-mirroring is a great addition if you have the right gear. If you don't have any use for those, however, Samsung's new Tabs probably won't do much for your iPad envy.
ProsInexpensive. Ships with Android 4.0. Slim, lightweight, and well-built. Stable and responsive performance.
ConsAverage, aging components. Screen could be sharper.
Bottom LineThe Samsung Galaxy Tab 2 (7.0) may not be a big step forward on the hardware front, but it's a simple, elegant small-screen tablet that really shows off the polish and power of Google's latest mobile operating system—for just $250.
The Samsung Galaxy Tab 2 (7.0) is less of a step forward in the Galaxy line and more of a step in a new direction. The solid build quality and slick design remains, but instead of packing in top-of-the-line components and charging top-of-the-line prices, Samsung is smartly focusing on a solid software experience and an accessible price. The company isn't trying to take on the Apple iPad, but is setting its sights on the burgeoning, budget-friendly tablet market defined by the Amazon Kindle Fire and the Barnes & Noble Nook Tablet. At $50 more than the Kindle Fire, the Tab 2.0 offers a more feature-rich, flexible tablet experience, with expandable storage, cameras, and Google's latest mobile operating system with access to the Google Play app market. The Kindle Fire retains a slight edge for most tablet users, in that it makes the tablet experience as simple and straightforward as possible—allowing easy access Amazon's vast content selection. However, for users looking for the best Android ICS experience in a small screen tablet right now, look no further than the Galaxy Tab 2 (7.0).