The concept of hooking up your mobile phone or tablet to an external monitor and peripherals isn't a new one, but the video below showing off the Samsung Galaxy Nexus as desktop computer is a cool reminder that newer mobile devices are even more capable of doing this well.
The Ice Cream Sandwich interface blown up on a large monitor works pretty well in concert with a Bluetooth keyboard and trackpad. A Bluetooth mouse could've been used in this set up, but as Christian Cantrell mentioned in his video, using a trackpad gives as close an experience to using a touchscreen as possible. And as can be seen in the video, navigating through the home screens, switching between apps, and so forth work quite nicely. It would be nice if Android had an option built-in to increase DPI settings if the device is hooked up to an external monitor so that the interface doesn't look overly large on-screen, but it's possible that there's a 3rd-party Android utility to help with that.
While right now you wouldn't be able to do everything on your mobile that you could on a desktop machine, for many people who merely e-mail, surf the web, play games, and do light text file work, this would be a fine alternative to a full desktop computer, at least as much as using a tablet, or simply using your smartphone without external peripherals would be.
Check out the video to see how well it works "out of the box" (BYO appropriate cables and peripherals, of course):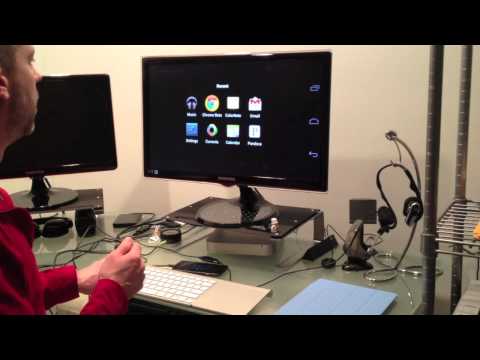 Via Clove Blog