Today Acer announced the 13.3-inch Aspire S5 Ultrabook, their follow-up to the Aspire S3, one of the first Ultrabooks out on the market.
It's the world's thinnest Ultrabook (for now), measuring at 15mm at its thickest point, and weighs in at 1.3 kg. Similar to the Aspire S3, the S5 has an instant-on feature called Acer Green Instant On to enable fast booting and resuming (less than 1.5 seconds). The S5 is the first Ultrabook to support Acer's Always Connect feature, which allows users to the AcerCloud to manage and stream media stored on the Aspire S5, even if it is in sleep or hibernate mode.
The Aspire S5 has another first, the MagicFlip I/O port launcher button which slickly reveals the I/O ports on the back of the device when the ports are needed. Otherwise, the ports are concealed to keep the lines of the Aspire S5 minimal and clean. The S5 has HDMI, USB 3.0, and 20 Gbps Thunderbolt ports.
Like all the other Ultrabooks on the market right now, the Aspire S5 has an Intel Core processor and uses SSD internal storage for speed and shock resistance. It also has a PowerSmart battery pack that provides three times longer battery life cycle when compared to traditional battery packs.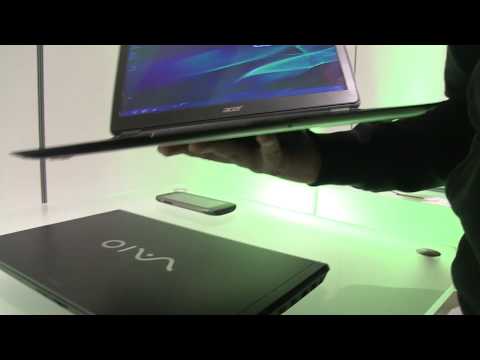 The Aspire S5 is shipping in Q2 2012, but pricing information hasn't been revealed yet.