The ASUS Transformer Prime TF201 is poised to be the top Android tablet on the market, and not because its going to be the first tablet to market with Android 4.0, but because its a design statement with the hardware to back it up. It's thinner, smaller and lighter then its predecessor and its made out of superior materials.  The aluminum body has an improved look and feel and the higher integrity of the materials has allowed for an even more sturdy hinge for the keyboard docking station.
It's already available for Pre-Ordere from Amazon with a US street date of December 8th, so if you want it, you don't have to wait long to have it!  And you would have our full support, we're a fan, read our review to find out why.
Quick Specification Overview
The Transformer Prime has a 10.1″ Super IPS+ 1280 x 800, 10 finger multitouch display with Corning's Gorilla Glass. Under the hood we've got Nvidia's new Tegra 3 quad core processor with 1GB or RAM and the option for a 32 or 64GB SSD along side some cloud based storage from ASUS Webstorage.
The camera is significantly improved with an 8MP rear facing camera and a 1.2MP on the front with increased shutted speeds. The rear camera has a flash and features a large F2.4 aperture when most others have a smaller F2.8 which will improve field of depth. There are a bevy of connections available including a 2-in-1 audio jack, micro HDMI, Micro SD card reader, internal microphone and the dock offers an additional 1 USB 2.0 & a full size card reader. There are also a series of sensors including a G-Sensor, Gyroscope, E-compass, GPS & Light Sensor which presumably will be used to automatically gauge screen brightness.  It also comes in two colours.  We haven't been able to get our hands on the Champagne Gold, but we are told that its the more elegant of the two…which is hard to believe since the Grey was pretty stunning.
Design
The ASUS Eee Pad Transformer Prime comes in two colors Champagne or Grey and the finish looks and feels expensive. Design is where this tablet pulls ahead of the iPad 2 in our opinion. The metallic swirl on the back covers finger prints and hides scratches easily its made of aluminum so its at least as durable as the iPad 2. The Transformer Prime measures 263 x 180.8 x 8.3mm that's actually thinner then the iPad 2 which measures in at 241.2 x 185.7 x 8.8mm. The reason why the Prime is longer, is that it has a 16:9 ratio and the iPad 2 offers a 4:3, so their screen sizes have to be different.
The design for the Transformer Prime is one of its biggest selling features, its a design statement that I previously only could have been made by Samsung.
Display
ASUS offers a 1280×800 display based on Super IPS+ technology. IPS is the technology used in iPads and iPhones(4+) displays. Besides being able to reach very pixel density, IPS is also known for having a remarkable 178 degrees view angle (useful if several people are looking at the tablet) and excellent color reproduction. This latter quality is particularly sought-after by photography enthusiast and even workstation professionals.
ASUS says that the IPS+ allows this display to be 1.5X brighter than a normal IPS display, the iPad 2 has the "normal". This means easier outdoor viewing and the display can also switch to normal IPS mode, so there's no downside.
In terms of screen responsiveness it has been increased by more than 100%, this means that the screen reacts in 50ms, instead of 110+ms. This in combination with the Tegra 3 processor makes this tablet feel very snappy.
We also that the edges of the Transformer's bezel use the stylish finish as the lid, which gave our thumbs a place to rest without making the screen grimy.
On Screen Keyboard
Its the same on screen keyboard that is found in the TF101. ASUS thoughtfully included a number row at the top, and keys are large and well laid out, on the original the width of the Transformer makes it difficult to type using your thumbs in landscape mode. Luckily the Transformer Prime is thinner and its smaller size is easier to get your fingers around making the on screen keyboard pretty much perfect!
Camera
ASUS knocked it right out of the park with their 8 Megapixel rear facing camera. They learned from Apple's mistake on with the iPad 2′s low-quality camera The 8MP camera has an aperture of f2.4, which is high-end for today's mobile cameras. If you don't know what "aperture" means, it's basically the size of the hole by which the light comes into the camera. It can be confusing, but the lower the number and the bigger the hole. ASUS has also integrated a back-illuminated sensor (BIS), which captures more light than conventional sensors. The combination of the large aperture lens and the BIS sensor should do wonders
Here is our video showing off the pictures and I've posted a few below, there are more in our full post dealing just with the camera, so click here if you're curious.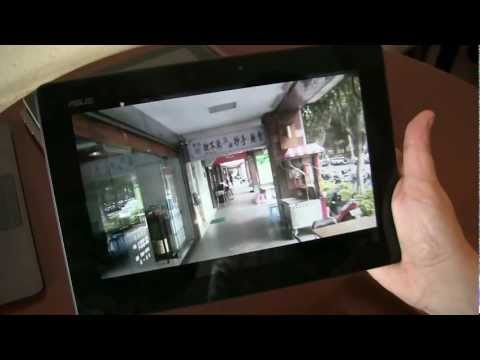 Performance
The ASUS Transformer TF101 when running a quadrant benchmark scored 2259, the Tegra 3 Transformer Prime scores a much higher 3056. Quadrant measures the performance of the device's CPU, I/O, memory throughput, and 2D / 3D graphics. The higher the score, the better.
NenaMark 2 looks at OpenGL 2.0 with graphic-intensive operations to really push the new processors to their limits. It uses five times as much geometry, as well as tough shaders and lots of HD content; it also deploys dynamic lighting, bump mapping, and cube map reflections. The Transformer Prime scored an unprecedented 49.7 FPS. I've never seen numbers like this on a tablet before.
Sunspider simulates real-world usage of the JavaScript on various websites. This test however isn't really optimized for multicore systems so you'll actually find that the Samsung Galaxy SII will out perform the Transformer Prime. Regardless we thought we would run and let you know it scored 1783ms.
If you're wondering how the Nvidia Tegra 3 processor differs from Qualcomm's Snapdragon S4 processor we've actually got an article outlining the differences. Here is a performance video for you to check out.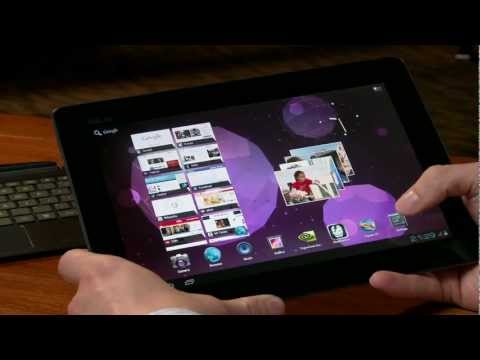 Battery Life
Battery Life on the ASUS Transformer Prime should actually improve as ASUS is planning on issuing an update to the power saving mode shortly.  ASUS promises 12 hours with our the dock and 18 with, the numbers more realistically are looking like 10:30 and 15.  Which are nothing to complain about.
Software
When looking at pre-installed apps, the Prime comes with @vibe Music, Amazon Kindle, App Backup, App Locker,Big Top THD, Bladeslinger, Google Books, Davinci THD, File Manager, Glowball, Movie Studio, MyCloud, MyLibrary, MyNet, Netflix, Photaf Lite, Polaris Office, Press Reader, Riptide GPkShadowGun, SuperNote, WebStorage, yskk, Zen Pinball THD and Zinio. Yes, that's a lot of games, and you'll want to be using them — if only to show off just how good this thing is at 3D gaming.

Asus is going to push the SuperNote app because it's something that Android doesn't do very well out of the vox. SuperNote lets you type and hand-write, but it can treat the handwriting like notes to the computer text: as if you were taking notes on a printed piece of paper. It is also possible to draw on top of all that.
Keyboard Docking Station
All we have to say about this is that they took one of their highend netbook keyboards and put it into the docking station.  ASUS has taken all the experience they've accumulated from creating the first netbook and put it all into this docking station.  The finish feels expensive, the is not a cheap plastic feeling to be found on this device.
In addition to providing a great keyboard and a Touchpad that supports multi-touch gestures, the keyboard dock also has one USB 2.0 port and an SD card slot. The 22-Wh battery in the keyboard dock will extend the tablet's battery life by 6 hours, giving you a combination that will easily last through a long day of usage.  The only thing to pay attention to is the right shift key is smaller, this could present an issue depending on your typing style, but it's easy to get used to.
This keyboard docking station turns this tablet into a netbook in terms of productivity! The only thing holding you back will be apps, but since Polaris Office comes pre loaded you'll be equipped with everything you need.
Pricing
The Transformer Prime is going on sale for $492 for the 32GB & the64GB is going to run you $585. This is extremely competitive pricing!  The original Transformer will drop in price down to $399 for the 16GB and $449 for the 32GB. ASUS has just killed their original Transformer line up since the Prime at 32GB and the original at 32Gb are only $55 difference, who would buy the original with such a small price difference?
As for the optional keyboard/doc, it will be priced at $149, which is not pocket change, but if you look at the $199 Motorola Lapdock, or the $70 to $100 that a Bluetooth keyboard for iPad can cost, it's actually not bad at all – the Asus keyboard has a battery that can power the Transformer Prime for an additional 6 hours.  The dock is available for $149 from Amazon if you're interested.
All of the previous issues with the docking station have been taken care of, it's easy to place in and out of the dock.  Since they have switched over from plastic to aluminum they've been able to reduce the size of the hinge because the body is so much stronger. Throw in an extra 6 hours of battery life and we've got an accessory that it a must have in my opinion.
Conclusion
In one word, Awesome.  We're totally in love with the design of this tablet, so much so that we're sure that Apple is going to go after ASUS next.  A tablet with such a high end design and attention to detail is something that I would have expected from Samsung.  ASUS has really stepped up their game
In short its got a fast Tegra 3 processor an elegant design and offers wide viewing angles.  Its got a very competitive battery life of 12 hours on tablet alone & 18 Hr when its docked.   The physical keyboard adds versatility and provides productivity to a tablet that can provide a robust entertainment platform in terms of games and HD playback.  It's also lighter and thinner then most Android tablets and thinner then the iPad 2 which is pretty impressive.
In terms of negatives I'm struggling to come up with any, the only unknown is how will Ice Cream Sandwich perform? We'll have to wait and see, but for now its a huge positive and not a negative. Looking at they negatives of the keyboard docking station a small right shift key is all that I can see, its a small keyboard the size of a netbook.  It might not be the most comfortable typing experience for people with fat fingers but if you've got some spring in your typing skills you'll adapt with little issue.
If you're thinking of buying the ASUS Eee Pad Transformer Prime, do it! It's got more versatility then the iPad 2 with its ports and docking station.  If you're keen to check it out on Amazon its going for $492 for the 32GB & the64GB is going to run you $585
Here is our hands on video and comparision to the original ASUS Eee Pad Transformer: