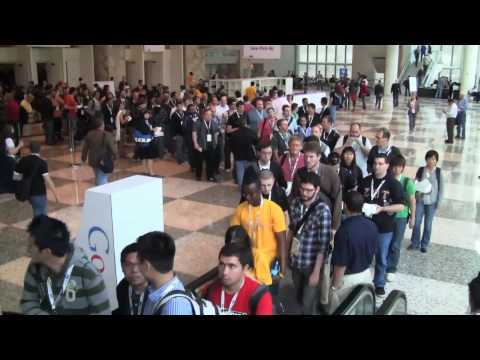 Google I/O 2010 took place at the Moscone Center in San Francisco May 19-20. The conference had some interesting revelations, the most significant for netbooks and the Web was Google Annoucing Support for Web M, whose most outstanding feature is the video codec VP8. Micheal Maimoff of Google's Chrome Developer Relations Team talks about the Web M announcement as well as Hakon Wium Lie, Father of CSS & CTO of Opera. Adobe was running a demo of VP8 on YouTube, the picture quality is outstanding, so be sure to take a close look.
As this is a highlights Reel of Google I/O you'll get to see some Android 2.2 or FroYo running on a Nexus One. Also at the show was a Prototype Nvidia Tablet, the tablet was mysteriously absent on the 2nd day of Google I/O rumors were that Google asked them to take it off the show floor as they wanted to focus to remain on phones. . .too much press! We can back that up with our video and story getting featured on the Guardian and 70 other websites. To give you a run down of the tablet specs this 8.9 inch tablet was running Android 2.1 with its 1Ghz Tegra 2 processor. It was also sporting a webcam & microphone and for connectivity on the left hand side of the device we have audio jacks, docking port connector and a microsd card slot. On the bottom we have some status LEDs for Power, Wifi and a lighting blot, not too sure what the lighting bolt LED was for, charging perhaps, hard to say. Moving around the device to the right we have two USB ports and the PSU all covered up with a silicon flap. On the top because it is Android after all we have back, menu and home we also have what appears to be a SIM card slot though it curiously looked a little bit too thin.
We got over a few more things in the video, a great photo editing website that runs on HTML5 and canvas, MugTug worked very closely with Google so that the demo of their site would work flawlessly during the Day 1 Keynote. Netbook News hopes that you feel like you got to see the excitement of Google's very own convention.