MeeGo is dead long live Tizen! When MeeGo wasn't mentioned at IDF last week it was clear that they were saving an announcement for AppUp Elements, the developer conference taking place September 28-29th, 2011.  Officially the LiMo Foundation and The Linux Foundation have announced a new open source project, Tizen, to develop a Linux-based device software platform.
Tomorrow morning's keynote is going to have our full attention as we attempt to put together how Intel plans on moving its developer community from MeeGo to Tizen.
According to the Tizen website:
The Tizen software platform, a mobile and device operating system based on Linux and other popular upstream projects. Tizen will support multiple device categories, such as smartphones, tablets, smart TVs, netbooks, and in-vehicle infotainment devices. The Linux Foundation will host the project, where Tizen development will be completely open and led by a technical steering team composed of Intel and Samsung.
With Samsung announcing that they are open sourcing their Linux project, Bada, we aren't surprised to hear Limo break the news that they are going to be teaming up with the handset manufacturer.  MeeGo will also be moving under the Tizen umbrella, in their blog post on the announcement they explain why they are going to be making the move.
Why not just evolve MeeGo? We believe the future belongs to HTML5-based applications, outside of a relatively small percentage of apps, and we are firmly convinced that our investment needs to shift toward HTML5. Shifting to HTML5 doesn't just mean slapping a web runtime on an existing Linux, even one aimed at mobile, as MeeGo has been. Emphasizing HTML5 means that APIs not visible to HTML5 programmers need not be as rigid, and can evolve with platform technology and can vary by market segment.
With so many dedicated Qt developers we have to wonder if we are going to hear that the move to Tizen is based on the mobile devices, since there are already a small, but still existing, series of MeeGo netbooks on the market. The news is not detailed enough to make any serious determinations as to how the roll out will effect the developer community, for that we'll have to attend the plethora of HTM5 sessions being held at the developer conference in Seattle tomorrow.
Here is the presentation at Intel's AppUp! Elements where Scott Apeland talks about the new operating system.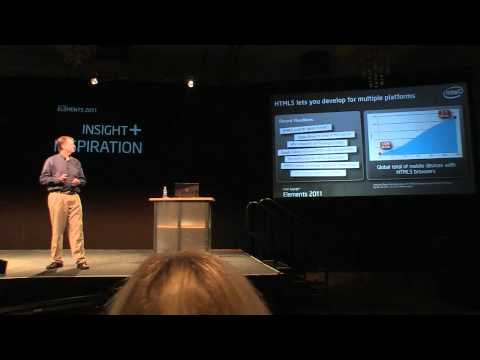 Via Linux Foundatoin, MeeGo.com & Tizen