Update: Added our hands on video of the Galaxy Tab 7.7 to the bottom of the post.
Again, thanks to This is My Next, we have some detailed specs on the Samsung Galaxy Tab 7.7. Some suggested that since it'd be strange to have a 7.7″ screen, the ".7″ really referred to the thickness of the tablet. Well, wonder no more. The "7.7″ in the name does refer to a 7.7″ screen. And what a screen, the Super AMOLED display!
More specs:
1280 x 800 resolution
335g (12 oz)
7.89 mm thin
1.4 GHz, dual-core processor
up to 64 GB storage
3 MP camera with autofocus
5100 mAh battery rated for 10 hours of video playback
Android 3.2, with TouchWiz UI skin
Personally, I LOVE the 7″ tablet form factor. I first grew to love it when I got a B&N NOOKColor, and then when I got the Wi-Fi-only Galaxy Tab 7″ (which now all of a sudden feels very outdated). It is so comfortable to hold for long periods of time and read tons of content. It feels familiar, like a paperback book. I like it so much that I am almost loathe to use my larger 10″ tablets much anymore. They feel heavy and unwieldy compared to the 7″ tablets. And may I say, taking photos or video with a 7″ tablet is way less cumbersome than trying to do the same with a 10″ tablet, full stop.
I'm quite pleased that Samsung hasn't abandoned the smaller tablet form factor, which I was worried they'd do when the 10.1 came out. And it's clear from the spec list for the Galaxy Tab 7.7 that Samsung isn't trying to skimp on this tablet at all (well, maybe a little on the camera). However, as I mentioned in my post about the Galaxy Note, I'm worried that Samsung is getting too "size happy", trying to please everyone by making a tablet or phone in every size that electronics screens are available. This strategy could come back to bite them, but I guess as long as it's working for them, they might as well take advantage of it while they can. However, I think that now they have Galaxy devices in 4.3″, 5.3″, 7.7″, 8.9″, and 10.1″ sizes, they've got the range covered.
Hands on video: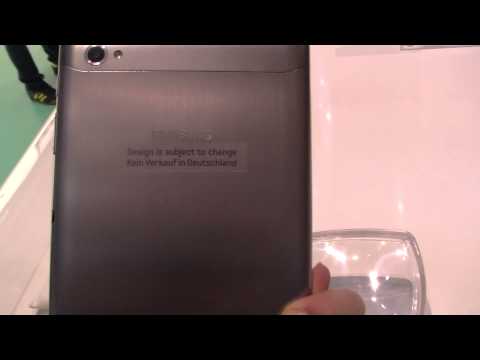 Via This is My Next