Sascha got a quick look at the Sony Tablet S and Tablet P devices right after Sony's press conference and provided a couple quick walkthrough videos. The Tablet S video is pretty short, just a quick look around the 9.4″-screened device, but Sascha got a little more in-depth with the Tablet P, looking at all the customization that Sony did for its dual-screens and UI over stock Android Honeycomb. It's a completely different user experience, and it actually reminds me of the heavy customization Sony did when they made their Clie line of Palm OS PDAs. Sony pushed what the OS could do, and created some really interesting visual UI elements, and it's evident that they have done the same for Honeycomb.
For example, when playing a video, the top screen shows the video, while the bottom screen is devoted to playback controls. Also, when trying to connect to external devices such as Bluetooth speakers or a Sony Bravia TV, the available devices are shown as thumbnails, not just a list of sometimes meaningless device names or model numbers. There's a "Favorites" app that contains shortcuts to your favorite media and bookmarks so that you don't have to drill down through stock Honeycomb menus and screens to get to them.
Of course, with all of this customization, you have to wonder, what will happen if there are updates to Gingerbread? Will the Tablet P support Ice Cream Sandwich in the near future? All of Sony's custom UI elements will probably slow adoption of Android updates, so that is something to take into consideration. The customization seems to offer a great consumer experience over stock Honeycomb, but do you value that over timely Gingerbread or Ice Cream Sandwich updates? It's up to each individual to decide. At any rate, the Tablet S is available in Europe at the end of September, and the Tablet P is available in mid-November. We'll update you when US release dates are available.
Sony Tablet S walkthrough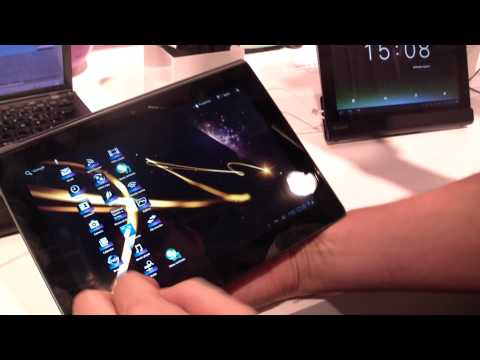 Sony Tablet P walkthrough