Two of the latest low-cost Honeycomb tablets to hit the shelves are the Acer Iconia Tab A500 and the Asus Eee Pad Transformer. The only trouble is, it's almost impossible to tell the two apart (beyond the $50 price difference). At first glance they are pretty similar. Both have a 10.1-inch 1280 x 800 capacitive touchscreen, run NVIDIA's 1GHz dual-core Tegra 2 processor and 1GB of RAM. Each has 16GB or 32GB of internal storage along with a microSD card slot that can handle an additional 32GB. Connectivity includes WiFi b/g/n on both (the A500 adds in 802.11a support) and Bluetooth 2.1+EDR, together with a mini-HDMI port for outputting up to 1080p HD video. 3G versions of each tablet will follow later in the year. The most notable difference in terms of hardware is that the screen of the ASUS Transformer is a little more brilliant showing whiter whites and blacker blacks. This is because ASUS decided to use an IPS LCD on the Eee Pad. It offers iPad-like viewing angles & it's supposed to hold a 178-degree view angle, in comparison the 160-degree Iconia Tab with its regular LCD display.
However in order to get USB ports you'll have to pony up for the docking station that comes with the Transformer, which is our opinion is a brilliant buy. If you want to check out our review click here.
The A500 is 10.24 x 6.97 x 0.52 inches and 1.69 pounds, while the Transformer is slightly wider at 10.6 x 6.9 x 0.51 inches but a fair chunk lighter at 1.49 pounds. It's battery life where the Eee Pad Transformer really slips ahead, though. ASUS' tablet alone can manage 9.5hrs, 1.5hrs more than Acer expect from the Iconia Tab, but of course there's also the keyboard dock to consider. That boosts the Transformer's runtime to 16hrs in total, besting not only the A500 but Apple's iPad 2 as well.
If you're just in it for the looks, then the Transformer feels nicer in your hands. It's lighter and the textured back feels expensive somehow. There is no arguing that visually a sexier. Check out the back for your self, which one do you think is sexier…is it just me or is the ASUS the clear winner.  Often design can come down to personal preference but since neither has a clear design flaw, like a heating vent where you're meant to hold it, its about aesthetics.
The Transformer has made the most significant alterations to Honeycomb so far, offering key customizations that add even more utility to the base Honeycomb interface.  If connectivity is your thing, the Iconia Tab delivers Micro-USB syncing, full USB hosting, a dock connector, a charging socket, and MicroSD and MicroHDMI compatibility
You're pretty much getting the same Web browser and multimedia experience. However with the ASUS there is the 5-megapixel camera with an LED flash on the back and a 2-megapixel camera on the front, the pictures looked richer and a little more detailed.
$400 is where most tablets should be, pricewise. At $139, we think its reasonable for the productivity that it adds along side the extra 7 hours of battery life you'll be getting. Also, with the keyboard it's only $50 more than the iPad 2 and being able to type on actual hardware is quite useful.
It's hard to say if Asus will be able to steal any market away from the mighty iPad 2, but for now, we can safely say that it offers the best bang for your buck among the latest Android 3.0 tablets.
Check out out comparison video below for all the details!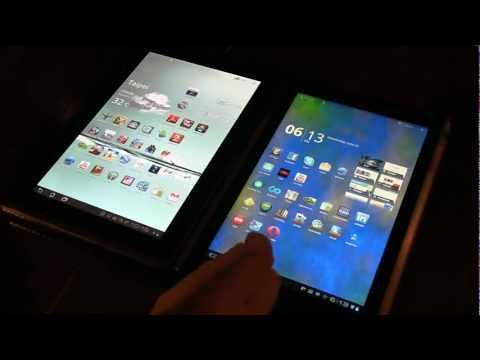 Check out the Asus Eee Pad Transformer at Amazon or the Acer Iconia Tab A500 at Amazon.