Update: NewGadgets is in with a hands-on video of the 10-inch Windpad Enjoy. Added to the bottom.
MSI showcased a couple of low cost Android tablets alongside the AMD Fusion WindPad 120W and Intel Oak Trail Windpad 110W Windows 7 tablets. Those tablets were the WindPad Enjoy 7-inch and 10-inch tablets with pricing at $199 for the 7-incher and $299 for the 10-incher. If you're after a tablet with bottom-end specs, then read on.
Both tablets sport a Rockchip 1.2GHz chip (Cortex-A8) and Android 2.3 Gingerbread, front and rear 2.0MP cameras, 4GB of internal storage, 512MB of RAM, b/g/n WiFi, Bluetooth 2.1+EDR, accelerometer, mini USB, headset, volume rocker, mini-HDMI and a MicroSD card slot. No 3G options, these are Wi-Fi only tablets. The 10-incher has a 10-inch 4:3 ratio 1024 x 768 display and weighs 795g, the 7-incher, a 7-inch 800 x 480 display with a weight of 395g. Both capacitive touch screens.
Both the tablets are expected out by the end of July.
JKKMobile spent some time with the 7-incher and says it feels just like any high end tablet, although the metal-finish back is at odds with the glossy black plastic on the front). Apparently there are the usual capacitive touch buttons alongside tacked on virtual menu buttons.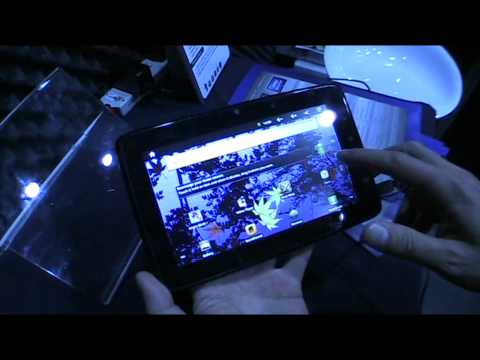 Hands on video of the 10-incher from NewGadgets. Same design and specs as the 7-incher expect larger, and there's enough light to see the capacitive menu buttons here.