Update 3: Pictures of the white model, real and hands on shots. Details on the battery capacity.
Update 2: Added presentation video from Eee PC boss Jonney Shih.
Update: We will be finding out more about this low cost Atom N435 (1.33GHz) processor tomorrow.
Remember that thin netbook ASUS teased last week? Turns out ASUS' idea of breaking rules means offering MeeGo and going fluorescent red as we're seeing with this brand new Eee PC X101 on display which matches the preview Notebook Italia leaked quite nicely.
A nice deviation away from the standard Seashell design but keeping a chiclet keyboard and matte display while opting for a large, buttonless trackpad. The bronze (update: gold), metallic model is looking much nicer than the cheap looking red model. In terms of size and weight this netbook is breaking norms at 950g and a thickness of 17.6mm.
The specs? An Atom N435 processor (that's no typo and we don't have details on this yet other than a 1.33GHz speed, more details tomorrow about this), a 10.1″ 1024 x 600 matte display, 802.11b/g/n Wi-Fi, 2x USB 2.0, microSD card slot, headphone, Kensington key lock and a 2600mAh 28Wh battery. We're looking at a rumor matching $199 for this base model with MeeGo along with a higher end X101H model offering a "hybrid hard drive" (SSD + HDD) along with Windows 7 or MeeGo. No word on availability just yet.
Hands on video: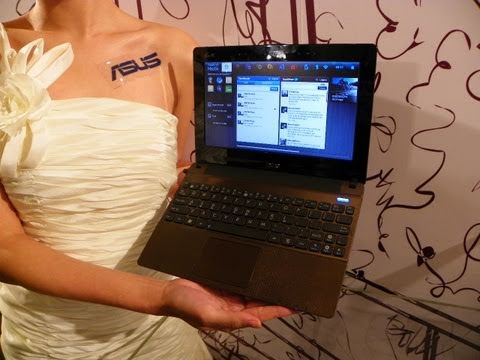 Presentation video (only if you want to see Mr. Shih say "Shwuper affordable"):