Update: Amazon's taken the pre-order page down.
We've seen Samsung's Series 7 hybrid tablet / netbook show up in online listings back in March and since then Intel's gone official with Oak Trail and listed this Series 7 tablet as one of the upcoming tablets that will sport the new Atom Z670 processor. Today, it finally goes up for pre-order at Amazon.com, priced at $649. Note that we've seen more than one SKU pop up.
For that price you get said Atom Z670 processor (single core, 1.5GHz), a 32GB SSD, 2GB of DDR2 RAM, dual 1.3MP / 3.0MP front and rear cameras, 802.11b/g/n Wi-Fi and Windows 7 Home Premium 32-bit, according to the listing.
Other specs we heard back at CES in Jaunary – a 64GB SSD option, optional 3G and WiMAX, a 6-cell battery good for up to 9 hours and it has a 10-inch screen with a 1366 x 768 resolution. We were told back then official pricing was $699 which matches the list price seen here.
Samsung hasn't gone official with any release date yet but Oak Trail tablets should start shipping this month, and may include this tablet. (see list of upcoming Oak Trail tablets).
Here's our hands on from CES to refresh your memory as it's been a while since we've seen this tablet: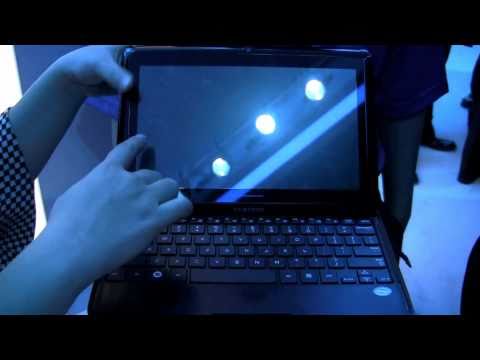 Website: Amazon.com