It's no secret that Windows 7 is not the best operating system for tablets, mainly because of its mouse-centric heritage. Most of the Windows tablets that cross my desk suffer from usability issues, short battery life and high price tags and the bmodo12 is not an exception. Having said that I do feel there is a place in the ecosystem for Windows 7 tablets, they are targeted at business users those that need program compatibility across all of their portable computers.


This tablet offers a high-definition 11.6-inch screen, front-facing webcam, and multiple USB ports that truly stands out from the crowd. But does the bmodo12 user interface and high resolution display justify its $799 asking price? Lets go through the tablets features and weigh the pros and cons.
Design
At 11.6 x 7.6 x 0.6 inches and 2.2 pounds, the bmodo12 isn't a waif of a tablet, its significantly heavier than the rival iPad (1.5 pounds) and more than twice as heavy as the Samsung Galaxy Tab (13.6 ounces). The all-black design aesthetic is simple, but classy. We particularly like the highly grippable soft-touch rubberized back that is smudge proof, unlike the screen, which smudges up with fingerprints quickly.
When holding it in our hands, we couldn't help but notice the heft after even a couple of minutes of use. Thankfully its being targeted as a business companion so taking it from work to home the docking station is meant to play a significant roll in the usage of this tablet. If that's not the only scenario you'd like to see it in and would like to sofa surf well its actually perfect for that as well. Its rubberized backing makes it lovely to hold and though its hefty you'll be sitting down so your able to prop it up on parts of your leg or a pillow while you're watching television or in bed reading the paper.


Ports and Webcam
If you're looking at where this is going to beat the iPad well this is the section! All ports are placed on the left side, leaving the right side empty and the bottom side only with the docking connector and two stereo speakers. So the array of ports consists of DC IN, mini HDMI (you'll have to buy an adapter yourself), 2 x USB, headphone jack, SD card slot and SIM card slot. Its also got 3G that's not locked to any carrier
The 1.3-megapixel webcam provided decent enough image quality, though in low light the results weren't that great, however there aren't that many standards built in webcams that do. On the other end I was told that I was a little fuzzy and have looked crisper.
Display and Sound
The 11.6-inch, 1366 x 768 display offers more screen real estate and resolution than most tablets on the market. However, even at maximum brightness the colours could have been more vibrant especially since Samsung and its Super AMOLED and Apple with its retinal display are quickly becoming standard. The screen was also very glossy, but with its battery life limitations you're not likely to be doing much outdoor computing. Viewing angles were solid from 45 degrees to the left and right, but you'll want to tilt the tablet toward your face to get the best view.
If you're wondering how easy it is to change theThe screen orientation can be changed automatically by the 3-axis accelerometer, but you can lock it manually with an utility offered by bModo. It works as expected, with transitions taking 2-3 second maximum. The capacitive layer that enables touch input is pretty accurate and sensitive, but supports only 2 points of input.
Sound quality was perfectly acceptable both when watching videos and listening to music. When streaming Santogold on pandora the sound was clean and loud enough to fill a room.
Benchmarks & Performance
On PCMarkVantage, a synthetic benchmark which measures overall performance, the Slate scored 1,530 which was essentially the same score as the ExoPC which scored 1,536. If you haven't noticed, they are both based on the same hardware so this is why they are performance wise on par. If you look at the CTL 2goPad it clocked in at 1,149 and this is of course much better then your average netbook at1,338.
The tablet's mediocre score of 147 on 3DMark06, a benchmark that measures graphics prowess, matched the 143 provided by the CTL 2goPad. If you compare it to 10-inch netbooks with integrated graphics such as the Samsung NF310 (147) it was completely on par.
Battery Life
Windows 7 tablets with Atom CPUs have a deservedly poor reputation when it comes to battery life. The bmodo12 is on par with the other Pegarton tablets at 3 hours and 55 minutes watching movies. I was able to squeeze in 2 movies which makes it acceptable for a short trip. If you look at the CTL 2goPad, it only got 3 hours and 15minutes and the Netbook Navigator Nav 9 was a low 2:47 and both have smaller screens. However, if you compare the bmodo12 to an iPad, which lasts 9 hours and 28 minutes, or a Samsung Galaxy Tab, which endured nearly 6 hours in 3G mode, its battery life is not impressive.
Like all Windows 7 tablets battery life is the down fall, but if you're looking for around the home computing or business use around the office this would be a tablet to consider.


Docking Station
While quantities last you can pick up the bmodo12 or 12G with a docking station which is valued at $75. The folks at bmodo told me that it wasn't unusual for people to order 2 docking stations as they wanted to have one at work as well as at home. Its pretty handy to have a keyboard plugged into the extension of available ports with Ethernet port, audio inputs, three extra USB 2.0 ports and it acts as a power charger to juice up your tablet. The base is heavy and you can get pretty into angry birds and feel safe that you won't be knocking over the tablet.
One thing I don't like about the docking station is the fixed angle. Since the display is very glossy I feel like you'll often want to adjust the angle to compensate for variations in lighting.
During normal operation the unit doesn't seem to heat up but as soon as you throw a few flash website into the mix and some multimedia things start to heat up. Its not unbearable but it is noticable and if you suffer from sweaty palms you'll be happy it has the rubberized backing.
User Interface – Bossa Nova
bModo12G offers a custom UI named Bossa Nova which provides access to a few settings (Brightness and Volume), a weather widget and a few optimized apps like a browser, RSS reader, Twitter and Facebook. If you compare Bossa Nova to the ExoPC UI its night and day! ExoPC has a much higher level of interactivity and could almost be the sole area of interaction of the tablet. Bossa Nova is a simple supplement that allows you to access areas of the tablet that would be cumbersome to interact with in Win7′s anti-touch friendly interface. One thing that I did enjoy is the UI can can be conveniently accessed by pressing the optical mouse point found on the top left part of the bezel. Its also a very convenient feature since it can be used to navigate the start up menu if Windows 7 fails to start up normally.
The biggest stumbling block of this tablet is the price, 799$ for the 1GB RAM bModo 12, if you compare it to the other Windows 7 tablets of similar build, ExoPC is $100 cheaper at $699. Overall it's a very decent tablet, if compatibility tops your list and integrating it with your existing Windows infrastructure is necessary then I would consider this tablet. The docking station turns it into a productivity desktop device with the ability to be used for sofa surfing.

However, if you just want to consume media and play with apps on your tablet, the more mature Apple iPad will be more your speed. And if you're looking for something more portable, you should consider the Android-powered Galaxy Tab. If you are looking for something for business that will fit into an existing Windows infrastructure then bmodo12 is a strong candidate. However, if you compare it to the ExoPC which offers identical hardware at a lower price point and with a superior UI the choice becomes clear.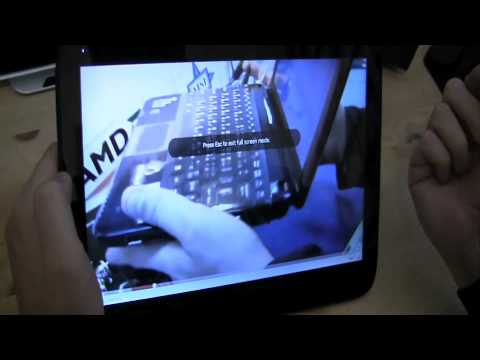 bModo 12G specs
11.6″ HD LCD TFT (1366 x 768 pixels resolution) with Capacitive Multi Touch (Real Two Points Touch)
Intel Atom PineView-M N450 @1.66GHz CPU + ICH8M
Integrated Graphics Media Accelerator 3150
Broadcom CrystalHD Discrete 1080p HD Video Accelerator
2GB DDR2 800MHz
SanDisk SSD 32GB
WiFi 802.11N, Bluetooth 2.1 + EDR, Built-in Mini PCI GPS card (supports A-GPS and S-GPS function), 3-axis accelerometer
Unlocked SIM card slot
1.3 megapixel front facing camera
Built-in Speaker (1.5W) x 2, Mic x 1
2 cell 27 WHr battery
295mm x 195mm x 14mm, 990 grams