Marvell is taking big steps to inspire education with its proof of concept Mobilize tablet the "Moby". This 10 inch education focused tablet is running the ARMADA 168 (1 GHz) with a WMMX multi-media acceleration engine. Other specs include a glossy capacitive touch screen, 256MB DDR2 RAM, 1024 x 600 resolution, 4GB NAND flash, Micro-SD up to 16GB, USB 2.0 (x1 host, 1x device), audio jacks, wifi & 2800mAh battery.


Don't be too hard on the application demos, some of them are strickly proof of concept and aren't actually applications. Marvell is a chipset manufacturer they are simply giving the industry direction for they could so with their CPU with education tablets in mind. To give you an idea this tablet is directed towards 6-12th grades and teachers. Concepts usage is linked devices with guided instruction, socially aware interfaces, collaborative learning, analytic driven content, teacher workload optimization, and parental involvement are addressed.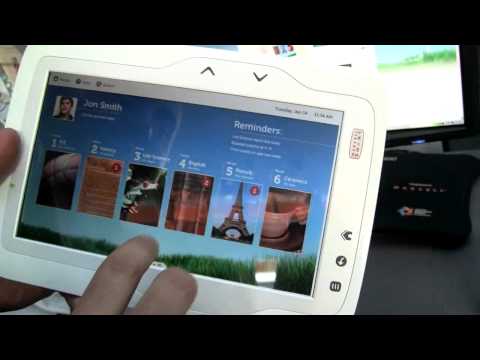 If you want to see how the demos were visualized and intended there are online versions on the Mobylize website here.
We were able to pick up some additional photo's of the tablet so enjoy!