If you want to play rounds of DOTA 2, Fortnite, or Call Of Duty anywhere, anytime, you need to find the right portable gaming rig. But what exactly is a gaming laptop and how does it differ from a home or office machine?
There's more to this decision than just picking a dedicated graphics card and getting more RAM! Below we explain the ins and outs of selecting the right model for high end, modern gaming so you can play any title at high settings.
No matter what kind of games you want to play, we've got you covered with a comprehensive buying guide that covers every possible feature and component.
10 Simple Rules For Buying A Gaming Laptop
In terms of OS, Microsoft Windows is almost certainly the way to go, unless you specifically just want Chrome app games.
Due to the power requirements of the graphics card and advanced CPUs, you will probably max out at 2 – 4 hours of battery life when you aren't plugged in.
While there are a few high end thin and light Max-Q designs, in most cases you can expect a gaming laptop to start at 6 pounds and go much higher.
A solid 8GB of RAM is the absolute bare minimum of memory for gaming. 16GB will offer a better experience and 32GB is future proofed.
Ideally you want a solid state drive instead of an HDD avoid long load times.
A dedicated graphics card should be your top priority when looking at specs. The GTX 1050 Ti version should be your absolute bottom line, with a 1060 or 1070 preferred if you can afford them.
Go for the best processor you can afford. At minimum, an Intel Core i5 of 7th or 8th gen is recommended for a smooth gaming experience. If you have extra money to spend, go with a Core i7 instead.
Take careful note of the ports on any model, especially if you prefer to use an external gaming mouse or want to hook up to an HDMI monitor. Make sure to check for an Ethernet port if you use a wired connection at LAN parties!
While a gaming-focused brand such as MSI or Asus Rog offers flashy body styles, you can often get the same specs and save money by going with less ostentatious models.
Look for multi-area or even per-key RGB backlighting for a truly impressive lightshow while playing!
1. What Specs is the most important when buying gaming laptop
Your primary concern when buying a gaming rig should be performance over all other features. Below we'll show you exactly how much RAM you need, along with the best type of CPU and GPU to pick so you always have slick visuals and fast speeds.
1.1. Choosing RAM
Your bare minimum amount should be 8GB, and you shouldn't be willing to go below that number for any reason. Most games these days will only barely run on 4GB and your overall performance will be so low that you might as well not play any games at all.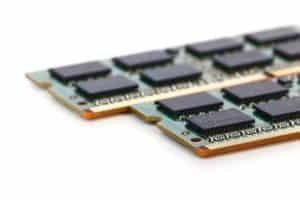 The pace of technology is always marching forward, and in some cases 8GB is now the minimum while 16GB is recommended for the best gameplay.
In general, 32GB is overkill, but it does future proof your machine so you can always run the newest and best games.
1.2. Choosing CPU
While RAM and the graphics card are often the focus of marketing for any given gaming rig, the processor is equally important.
For speedy Windows updates to faster game install speeds, you want the best CPU you can afford when buying a gaming laptop.
Your bottom end pick should be an Intel Core i5, as this is the bare minimum you'll need for decent gaming performance. In most cases, the i5-8300H will offer smooth gameplay.
For better overall speeds and fewer frame rate slow downs, we recommend going with an Intel Core i7 CPU instead, however. A 6 core, i7-8750H should be the processor to aim for to future proof your machine.
1.3. Choosing A Graphics Card
More than any other component, the GPU should be where you focus your money when picking up a new gaming laptop.
Your bottom option right now should the NVIDIA GTX 1050 Ti edition. This card will handle nearly any game on medium to high settings, although it will struggle with newer titles on ultra.
If you demand graphical performance, we recommend going with either the GTX 1060 or GTX 1070 instead.
Those cards are also VR-capable, so you're ready to go if you decide to pick up a Rift or Vive headset.
At the top end is the GTX 1080, which most gamers won't need at this point in time. The only reason to go that route is to ensure you don't need to upgrade down the line.
The brand new RTX series of cards from NVIDIA also just arrived, but at this point their price outweighs their usefulness.
1.4. Choosing An SSD (or HDD)
At this point in time, we don't recommend picking any laptop with a hard disk drive at all.
Games these days use very large files and load times are increasingly exponentially for those who are still utilizing the aging hard disk drive technology.
..at a minimum, you should be picking a machine with a 256GB SSD..
At a minimum, you should be picking a machine with a 256GB SSD. That offers the speed you need, but doesn't provide a ton of room for installing more than a handful of newer games.
A more spacious 512GB SSD will work better for gamers who like to have a variety of games available at any one time.
If you want additional space but need to save money, there are two options. You can look for:
A gaming laptop with a hybrid SSHD that is still faster than an HDD
A gaming laptop with both a small 128GB SSD for booting Windows with a larger 1TB HDD for storing files.
2. Deciding On Size And Form Factor
Smaller is typically better for most electronics, but that's not the case for a gaming rig. On the gaming front you want to strike a good balance between screen size and a lightweight design.
2.1. Screen Size
For most users, we recommend going with a 15 inch display for the best median point between size and weight.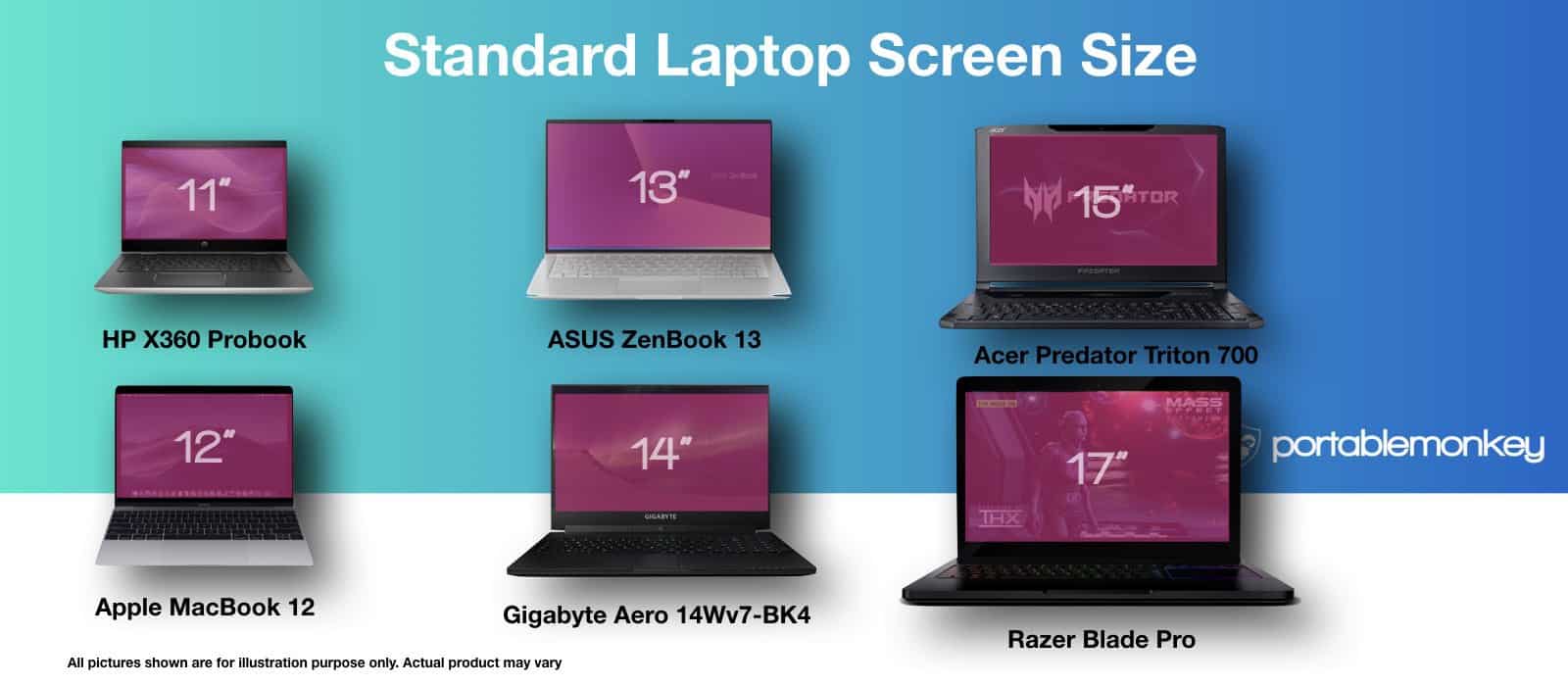 For those who prefer more screen area, there are plenty of larger 17 inch models available as full desktop replacements. The weight very quickly goes up and you lose portability, however.
More: The best 17 inch laptops available
2.2. Body Style
While you can find a handful of hybrid 2-in-1 laptops with dedicated graphics cards, that style isn't currently intended for gaming. In most cases, a standard clamshell design will be your main option.
You won't often find super slim ultrabooks meant for gaming either. This is slowly changing however, due to a new design called Max-Q. The end result is that you lose out on a small amount of graphical processing power, but get a significantly thinner profile.
For durability and aesthetics, keep an eye out for any gaming laptop with a fully metallic body rather than a plastic shell.
2.3. Keyboard Options
When buying a portable computer for playing online games, you particularly want to pay attention to models with low key travel and anti-ghosting features.
Gamers need precision so you don't accidentally hit the wrong macro while playing a MMORPG or tap the wrong key during an online deathmatch.
Visual aesthetics again play a big role here, as many gaming models can be found with either five section RGB or even per key RGB enabled.
These options let you choose the color of the backlighting in different areas of the keyboard, which again help with precision.
For instance, you can change the color of the WASD keys to light up differently than the CTRL or Shift keys. While that not only looks cool, it helps you maintain more precision key control when playing in the dark.
2.4. Ports And Connectivity
High end gaming is often enhanced with extra peripherals, and you need a way to connect those devices to your computer.
A gaming mouse with multiple DPI settings and a handful of extra macro buttons can be the difference between victory and defeat in a battle royale game, for instance.
Be on the lookout for these types of ports:
Ethernet for a wired connection at LAN parties
HDMI for hooking up to a high definition external display
USB 3.0 for best speed — you'll want a minimum of 2 ports, but 3 is better
USB-C if you want a universal single port and don't mind using adapters
3. Other Features To Consider (That May Save You Tons Of Money)
You've decided on your ideal graphics card, processor type, display size, and amount of RAM. There are still a few other features to consider however, and we can help you make sure to pick only the best options!
3.1. Battery Life
There's no way to sugar coat it — battery life in gaming models is awful.
With cutting edge graphics cards and huge amounts of RAM, you can seriously get less than an hour of battery life.
The absolute best case scenario will be in 3 – 4 hour range, and models that can actually support that amount of battery typically skyrocket in price.
In most cases, just expect to stay plugged in at all times while gaming.
In fact, some laptops actively throttle GPU and CPU speeds while using the battery to conserve power. You won't get the same speeds gaming when you aren't plugged into an outlet.
3.2. Cooling Options
Graphics cards and high end CPUs generate significant quantities of heat, which is bad news for the longevity of your laptop.
Some models will include a side button to manually flush hot air when the machine starts to overheat. Several manufacturers also include built-in software for monitoring and controlling temperatures in their gaming models.
Those options aren't always necessary, however.  If you want to save money, you can skip those fancy built-in options and instead pick up an aftermarket cooling pad.
More: The best laptop coolers available
3.3. Screen Types And Resolutions
In most cases, you can expect an HD non-touch display, but you have two main options to consider in the screen panel:
There's a lot of debate among gamers as to which is better. IPS panels offer better viewing angles and smoother colors.
TN models feature faster response times, however. That means you get smoother picture during fast movement (like when playing an online shooter).
Either way, your bare minimum resolution for gaming should always be 1920 x 1080. Anything less than that isn't sufficient for modern games.
Be sure to also remain on the lookout for for any gaming laptop with a monitor labeled as G-Sync enabled.
Why do you need this feature? G-Sync handles the issue of screen tearing by forcing your monitor to match the refresh rate of your graphics card and gives a much better viewing experience.
3.4. Gaming Brands And Warranties
Build quality and tech support are overlooked features when investing in a gaming laptop, and you want to know your machine is covered if something goes wrong.
MSI – Easily one of the most recognizable gaming laptop brands right now, MSI models are typically quite expensive, but worth the price with very high customer reviews. Warranties are usually 2 – 3 years.
Asus – The ROG series is known for being comparatively thin and light, but usually only offers a 30 day return policy with a 1 year limited warranty on some parts.
Acer – The Predator, Helios, and Nitro line of laptops offer plenty of bang for buck with lower costs. Warranties are usually only for 1 year, and you'll need to pay shipping.
Alienware – These models tend to be quite heavy but have extremely distinctive visual designs. Upgraded warranties are readily available for online tech support and even in-home repair.
Lenovo – These gaming models typically look like normal office computers from the outside and come with 90 day to 1 year warranties.
HP – The Omen and Pavilion lines both come in gaming variants with 1 year warranties where shipping is typically covered. Extended warranties that cover parts for longer periods of time are also available.
CUK – Computer Upgrade King models are opened and upgraded before they are shipped to you, offering higher end specs than their base models. You usually get a 3 year limited warranty with these models.
Gigabyte – Like with CUK, these models are upgraded ahead of time and typically feature a 1 year warranty,
Eluktronics – For an offbeat brand, you'll find very high user reviews for gaming laptops here, although the warranty is only for 1 year.
Sager – This brand has both bulky models with high end graphics cards and thin 'n light models, with a 1 year limited warranty coming standard.
2. How Much Should I Spend On A Gaming Laptop?
By browsing between brands and keeping an eye out for sales and price drops as new models arrive, it hasn't hard to spend less than you'd expect on a great gaming rig.
For most users, you can get good performance at high settings by spending between $800 – $1,200. If you demand extra features or bleeding edge performance though, you may want to consider bumping up to a higher tier.
With the exception of certain limited time killer deals, in most cases your minimum to spend on a decent gaming rig is going to be $700 – $800. At this price point you should get:
8GB of RAM
Intel Core i5 CPU
256GB SSD
GTX 1050 graphics card
When bumping up to the $800 – $1,200 range, you should instead expect these basic specs:
8 – 16GB of RAM
7th gen Intel Core i7 CPU
256GB SSD or an 128GB SSD + 1TB HDD
GTX 1050 Ti – GTX 1060 graphics card
More cooling or backlighting options
If you spend in the $1,200 – $1,500 range, these should be your bare minimum expectations:
16GB of RAM
8th gen Intel Core i7 CPU
GTX 1060 – 1070 graphics card
512GB SSD, or a smaller SSD with an extra HDD for storage
Extra features such as G-Sync, higher resolution screens, or per key RGB lighting
VR-ready
By increasing to the $1,500 – $2,000 range, be on the lookout for these hardware specs:
32GB of RAM
Intel Core i7-8750H CPU, or in some cases even an i9 instead
512GB SSD + extra HDD storage space
GTX 1070 graphics card
VR-Ready
Enjoy Your New Gaming Laptop!
What is a good gaming laptop? It's any machine that lets you play your favorite games without lag and without breaking your bank account!
Whether you stuck to the quick tips cheat sheet or devoured every detail in the in-depth buying guide, you should now have a very clear picture of what you need.
From casual Fortnite players to die-hard RTS, 4X, and RPG fans, you should now be capable of picking a gaming laptop with confidence.
Have any other questions or wondering about any features or models we didn't cover? Drop us a comment and we can make sure you make the right choice!