Even though laptops are getting slimmer and lighter than ever before – tablets are getting more advanced than ever before. Therefore, we don't blame you for having interest in tablets that could help you perform some of the simple tasks such as note-taking.
In fact, it's quite a smart idea since there are plenty of college tablets that are almost ready to replace laptops in the most basic tasks.
In this post, you won't only find best tablets for everyday use, but you will find the best ones that will allow you to take notes in school & other useful things to do in the classroom in the most simple way.
In return, you won't even feel any of these tablets weighing your backpack down. Therefore, keep on reading to not only find some of the best models, but also to learn how to choose an ideal tablet that will meet all of your needs.
More: How To Take Better Notes On IPad
Best Note-Taking Tablets in 2022
Royole RoWrite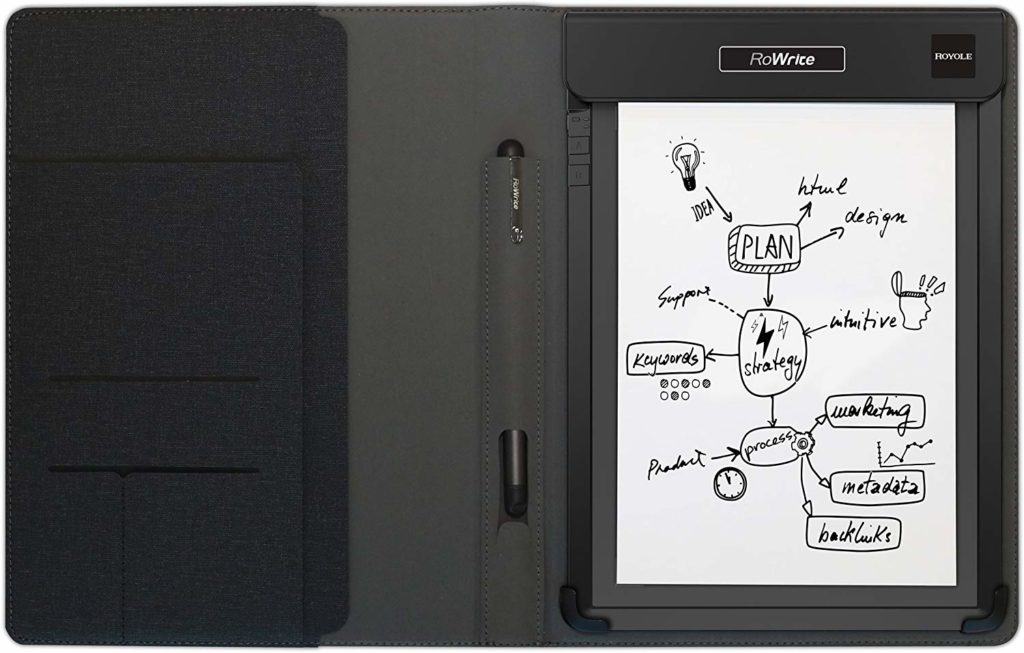 Royole might not be the most known brand among the tablets – but it's the brand that specializes in producing note-taking tablets and this product is a high on our list, taking the number one spot.
Real ink usage
Pressure sensitivity pen
Real-time conversion of notes to digital files
It's a bit hard to continue writing where you left off after leaving the tablet on the entire time
Pressure Sensitive Pen
You can think of a Royole RoWrite as a notebook that will never run out of pages. It comes with a pressure sensitivity pen that uses real ink so the written notes are actually written on a real paper and then are scanned digitally for easier notes sharing.
This enables you to write anything and anywhere, yet still get the opportunity to create real-time digital notes you can edit, share, and read later.
Inside the RoWrite app that comes integrated within this tablet, you can choose various writing instruments, thickness levels, and over 80 colors.
Work Offline – Share Later Online
This tablet doesn't require internet connection in order to write. This means that you can work offline and then share your notes and do any necessary edits when you come online.
Pin Point Accuracy
You won't even feel like you're writing on a tablet since RoWrite has a built-in sensor that tracks pressure, sensitivity, and accuracy.
With the number of easy-to-access combinations within the tablet, real ink, and even easier way to add symbols – you can achieve faster writing speeds while keeping the pretty writing.
Needless to say it, these couple of features make this one of the best tablets for this need since they're built with a purpose.
Apple iPad Pro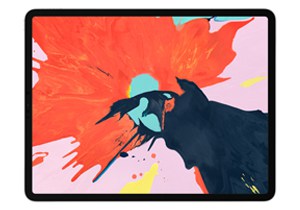 Apple has been leading the tablet's market with iPad and they're still one of the best tablet manufacturers out there. If you are looking for a traditional tablet that can help you take notes in an easy way – look no further.
Liquid Retina display with the latest technology
Long-lasting battery life
Thin and ultra-lightweight design
Apple Pen has to be purchased in addition to the tablet
Liquid Retina Display
Display is one of the most important aspects of tablets that can allow you smooth note taking experience. Luckily, Apple integrated one of their most innovative display technologies called Liquid Retina display.
It's a display equipped with a Promotion True Color technology and a Wide Color design. You'll be able to take notes in the dark, light, and even under the brightest sun.
Combine this with the Apple Pencil and you won't know whether you're writing on an actual paper or a smooth display.
Our favorite thing about Apple's Retina display in the iPad is the ability to avoid fingerprints, dust, and debris which makes writing or drawing on their tablets a lot easier. Also, you won't find yourself cleaning the iPad on a daily basis just to be able to write without distractions.
Face ID Security & Battery Life
All of your notes will stay secure thanks to the Face ID technology that allows you to unlock Apple iPad Pro with your face.
Up to 10 hours of battery life is more than enough to keep you through your day without having to carry a charger to every class you go to. Simple task as note taking might not even consume as much battery as doing heavy-processing tasks so you will be able to get a full battery life every single day.
If 10 hours of battery life isn't decent enough for you – there's nothing to worry about. Apple iPad has one of the biggest advantages not many users think about. It's the ability to charge the iPad using a power bank.
Most of the time, you won't find a free plug to charge your tablet – yet a slim and lightweight power bank can help you out no matter where you take your tablet with you.
Powerful Performance
The latest Apple iPad Pro is based on the most powerful A12X Bionic chip that uses Neural Engine to offer the most powerful & smooth performance.
You will never end up waiting for the notes to open. In fact, you'll always be the first one in the class to be ready to take some notes.
With that being said, you can also rest assured in your free time because the latest iPad has the ability to run a lot more demanding apps and games. This means you will never be bored with an iPad next to you.
reMarkable Paper Digital Tablet – best tablet for taking handwritten notes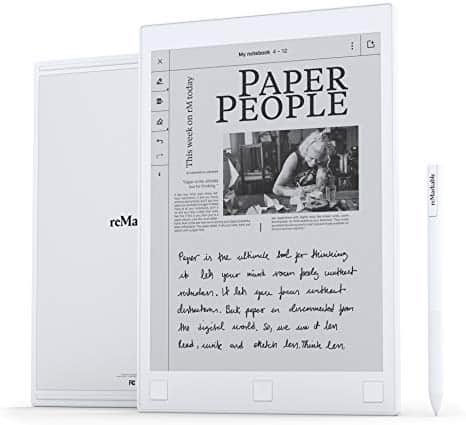 reMarkable specializes in producing paper digital tablets that are made for note-taking and it's one of the best tablets so find out down below how it could help you out.
226 DPI Canvas display
Paper-like writing experience
Thin and easily portable design
Not being able to sync with Evernote, Dropbox, and a couple of other software
Experience so Close to Paper
Note taking experience is taken to another level since these digital notes offer a paper like feel. You won't have trouble writing down everything you need to know or organizing your notes even during your classes.
If you're looking for a way to replace your notes without feeling the feel of a regular display – this is one of the best choices you can make.
Low Latency Canva Display
Writing down on some tablets might feel dreadful, and yet other tablets like Apple iPad offer a pretty amazing experience.
When it comes down to reMarkable digital notepad, its Canva display offers low-latency which enables quick and effortless writing. You won't even notice you're writing on a digital display.
Notes Conversion
Once you're done writing down notes from your class, you can convert all your notes into digital written text that is nicely formatted.
In case you have to share your notes – this would help people easily understand your writing. We also find this feature to be ideal for people who don't really like their handwriting yet are used to taking notes by hand.
This simple yet efficient feature allows for a quick & easier notes checking after the class

Microsoft Surface Pro 7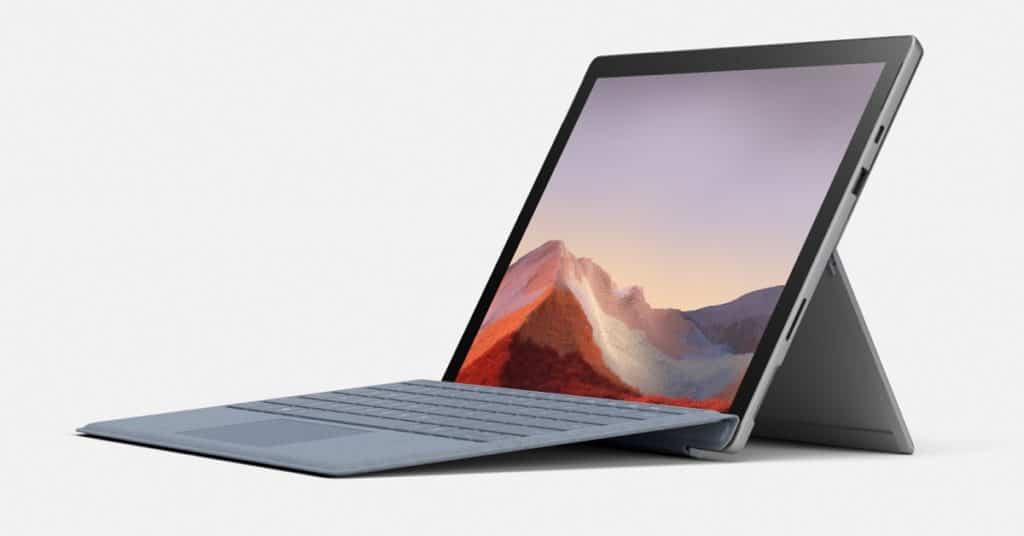 Among the best tablets for taking notes – you'll find Microsoft Surface Pro since it is one of the tablets considered to be fully ready to replace a laptop experience.
Decently-sized thin-bezel display
Great responsiveness
Highly versatile design
Surface Pen is sold separately
Tablet with a Versatility of a Laptop
As mentioned earlier, you are able to ditch your laptop and replace it with a Surface Pro 7 tablet. You will still have the same versatility style of being able to use this tablet along with the keyboard, mouse, or in a studio mode.
However, one of the biggest benefits is the portability which is increased by 10 times in comparison to the most modern regular laptops.
Standout Design
12" is a great size to take notes without feeling like you're writing on a digital screen and yet you'll still have enough of space to rest your wrist while writing.
How about when you're not working? You can enjoy the studio laptop that allows you to read your notes hands-free.
All-Day Battery Life & Thin-Bezel Display
You won't have to worry about the battery life. Charge it overnight and use it throughout the day without carrying your charger with you.
Thin bezel display enhances the paper-feel experience but also increases focus during the class.
We've also noticed that no matter which Microsoft Surface you go for – you'll most likely always end up with an all-day battery that will keep you pushing even when other tablets can't.
Sony DPT-CP1/B Digital Paper Tablet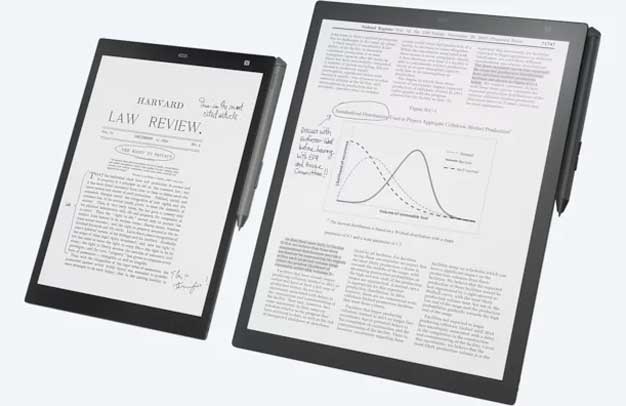 If you'd like to replace handwritten notes with digital writing and yet you'd like to stay away from a number of operating systems – Sony introduces an ideal digital paper tablet for this situation.
Paper-like large display
Super-long lasting battery
WiFi capability
Transferring files is made out to be a bit complex
High-Quality Display
10.3" display offers a high contrast level along with the low-glare feature to ensure comfortable writing experience with plenty of comfort.
Of course, the whole experience is going to have you thinking that you're writing on a paper-like texture. Whether you're reading or writing notes – this display won't cause headaches and instead, it's going to offer comfort throughout the day.
Paper-Like Texture
Technically, this is a regular display. On the other hand, it's a paper-like texture that is going to make highlighting, annotations, and erasing a lot easier than it already is on the paper.
Pressure sensitivity is just right and you won't even feel like you're pressing the pen against the display. When in reality, you will be doing the same thing you've been doing for a long time now, just with the ability to have all your notes stored digitally with easier access.
Therefore, when you consider the price of this Sony digital paper tablet – it offers true value considering everything it offers and the change it can help you make.
Amazing Battery Life
Unlike other tablets that are made for entertainment and plenty of other options – Sony dedicated this tablet to everyone who decided to turn notes into the digital form.
Therefore, battery life is up to a week on a single charge which means you will have to charge it only 3 or 4 times a month.
Samsung Galaxy Tab A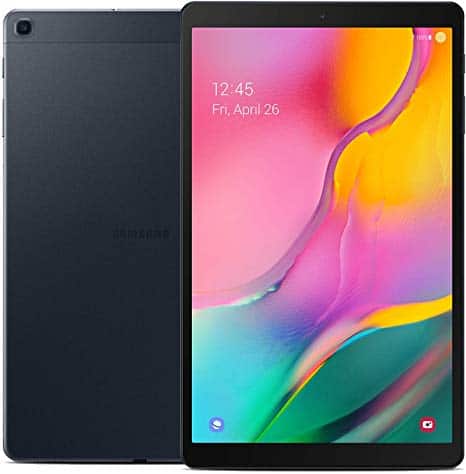 If you're looking for an android tablet that will help you turn your notes into digital notes – this is probably the best android tablet you'll find on our list, and you'll find out why down below
Large Full HD display
Lightweight and durable design
Compatible with almost any pen
No biometric security included
Full HD Minimal Bezel Display
Galaxy Tab A offers a 10.1-inch screen which utilizes a narrow bezel that maximizes viewing space.
With that being said, on this android tablet, everything looks great because of the full HD display that responds well to a touch. Most importantly – any pen is suitable with this screen!
Expandable Memory
It's not likely that your notes will ever take up the whole space this 10.1-inch tablet offers, but it's good to know that you will be able to expand the memory by inserting an additional microSD card.
However, it's likely that you'll be using this laptop for entertainment as well, so this is a great feature to have around. One thing we are sure of is that you will never lack space on a Samsung Galaxy Tab thanks to their smart implementation of an additional microSD slot.
Binge-Worthy Battery
The initial battery life advertised is 13 hours, however, if you only use this tablet for note-taking, we predict that you could get a lot longer battery life.
And with an operating system such as Android, you won't have to worry that the tasks in the background are consuming a lot of your battery.
From all Android tablets we've tested, we can confirm that Samsung Galaxy Tab is one of the rare tablets that runs the official Android software (including updates) very smoothly. And then when you add up to this fact a binge-worthy battery, you'll love doing everything on a tablet of this quality.
Lenovo Yoga Tab 3 Pro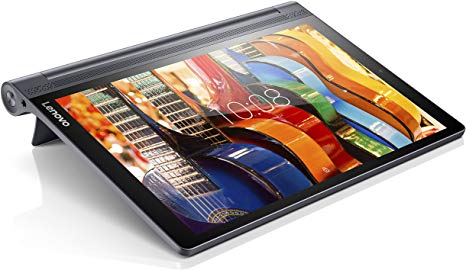 Lenovo introduces another great android tablet which can serve a great purpose for handwritten notes but also can be used with any pen which offers a great versatility for any type of a student.
Incredible 2K IPS display
Withdrawable side stand for better support
Suitable with any pen
There are very few accessories available for Tab 3
2K Display
Even though Lenovo developed this quality 2K display for entertainment purposes – it's perfectly suitable for anyone who needs a way to turn their notes into a digital format.
It's a big IPS screen (10.1") with crystal-clear image that makes responsiveness a top-notch. We can thank Lenovo for the development of this display, but also the Android operating system.
Such a combination offers incredible smoothness with an ideal viewing experience. You will love looking at this tablet no matter what you're up to.
Multi-mode Position
This tablet is very well designed and we really like its side hinge which allows you to lift up the tablet during the table use so you can achieve even better comfort than you have when you write in the notebook.
Such type of design has been around for a long time now but Lenovo did really improve this design to another level. They're one of the most innovative brands when it comes down to design so the users like you can experience their tablets in the best ways possible.
And we can guarantee that such combination of passion and product quality results in the production of the best tablets that can last for years before you even think about getting an upgrade.
Splash Proof
No matter where you use this tablet to take your notes – it's not going to stop you from doing so even in the light rain.
This quality display is splash proof which is ideal for even cleaning it from fingerprints with a water-based solution.
Of course, this tablet won't survive heavy rain or submerging into water – but splash proof is a simple yet overlooked feature that's hard to find nowadays in the modern tablets.
Picking the Best Tablets for Taking Notes 2023
Display
Even though most people start looking into the battery life, pen or level of pressure sensitivity a pen can produce – it's all about the display.
Handwritten notes on a tablet are the best when they're written on a high-quality display. Size of the display isn't necessarily important as much as the type of a display, brightness, and overall responsiveness.
Most of the best tablets featured here such as the Samsung Galaxy Tab and iPad Pro provide some of the best displays you could want for note taking.
On the other hand, tables specifically made for handwritten notes such as the Royole RoWrite are a great way to get another type of display that's perfect for this purpose.
Size & Weight
If you have a look at tablets such as the Apple iPad Pro, Samsung Galaxy Tab, or even Microsoft Surface – what's the one thing they all have in common?
It's a very lightweight, thin, yet durable body design. They all feature a different operating system, but we would like to take an iPad Pro as a great example. It's an extremely powerful tablet with one of the best yet the thinnest displays on the market.
However, it's still featuring a design that you can take anywhere you go without feeling it weighing you down. That's exactly what we think is important for someone who decides to find the best tablet to help them simplify their school or work tasks.
Compatible Pen
Without a pen, you won't be able to do any writing – and even though most tablets don't come with a pen, how do you know which pen do you need?
Not any pen will do and we highly recommend checking out the level of pressure sensitivity as this will let you know how sensitive the pen is and how responsive it will be.
Pens produced by the official tablet manufacturers such as the Surface Pen or Apple Pencil don't come included. However, if you choose a tablet of these brands – we highly recommend purchasing the official accessory, if possible.
If you decide to purchase a third-party pen, levels of pressure is one of the main features to look out for, no matter which one of the best tablets we recommended you might have.
Processing Power
The last thing you want is a tablet that will slow you down or even become unresponsive in the most important moments.
Chances are, you will be taking notes at work or in school and processing power is one of the main 4 things you should look into every tablet you check out.
At least a dual-core processor is required, along with at least 4 GB of RAM, and at least 64 GB of memory. Anything better than this will offer better performance, for both writing and personal/entertainment use of the tablet.
Conclusion
We've listed some of the best tablets for handwritten notes so you don't have to spend hours researching.
But even though we guarantee that any of these 7 tablets will make an ideal choice for the purpose – you should wisely inspect each one of them to find an ideal fit for your personal needs.
Now, not only you know how to choose a tablet whether it's an Android or iOS tablet – but you also know how to choose a pen or an ideal screen.
What is your favorite tablet from the list? And what do you think is the most important feature of such a tablet?
Feel free to leave a comment down below, but also feel free to ask questions and we will do our best to help you out!