If you're a college student who's looking to replace their laptop with a brand new tablet that will do everything a laptop can, plus additional things – you're in the right place. Because, in this article, anyone can find the next best college tablet in 2020 here.

Tablets have many advantages over tablets and not only they're very versatile, they're very powerful at the same time – meaning they can be even better than most laptops today. Read this guide if you want to find the best laptop for taking notes.

We've spent many hours gathering the information, creating a list of the best tablets any college student would benefit from, and then tested them for weeks before writing this article.
Best Tablets For College Students On A Budget 2020
1. Apple iPad Pro – Best iPad for College Students 2020
New Liquid Retina screen technology
Neural Engine processor
Face ID authentication
Long-lasting battery life
Four stereo speakers
Lightweight design
A bit tricky to use as a handheld device due to its screen size
Apple has introduced some of their latest technology such as Retina Liquid display, 4 stereo speakers, and the fastest processor with Neural Engine. It's definitely one of the fastest tablets on the market that can replace any student's laptop and is being used mostly by medical school students who require reliability.

Key features & details
This iPad Pro comes with the most innovative technology that gives users a crispy clear and vivid view. The screen goes from edge to edge, which results in breathtaking views no matter if you're reading or watching your favorite show – you'll love every second inch of it.

In combination with ProMotion technology, everything looks gorgeous and feels responsive on this tablet.

The best thing for students is that iPad Pro can be used as a laptop, considering it to be a 2-in-1 tablet. Just attach the removable keyboard and you're good to follow the lectures without anything slowing you down.

With its complete redesign, you will have the most versatile tablet right in your hands.

Every student needs to protect their privacy and work, and there is no better way than with the help of Face ID authentication system that Apple has in place for a long time now.

Security along with the reliability and protection is the best way to go.

Hardware specifications for Apple iPad Pro
Processor
A12X Bionic processor with Neural Engine
RAM
4GB
Storage
64GB
Graphics
A12X Fusion graphics
Display
Liquid Retina edge-to-edge Display
Operating System
iOS
Battery Life
Up to 10 hours
Weight
1.39 lbs
Other Features
FaceID authentication, compatible with keyboard
2. Microsoft Surface Go – With Keyboard for Typing
PixelSense high-res display
All-day battery life
Runs Windows OS smoothly
Fast performance
Versatile USB-C port
Very light yet powerful
Can overheat sometimes during heavy tasks
If you're looking for a tablet that can replace your laptop and make sure you never miss a note in your class, Microsoft Surface Go is the right choice. It features a high-res display that allows you to watch, type, or even draw, and an all-day battery life to keep you going when others are charging.

Key features & details
Windows 10 Home runs smoothly on Surface Go and it even comes in an S mode which provides more security and protection to users.

Along with that, it offers better performance on tablets which makes sure that Surface Go runs smoothly and never slows you down.

Microsoft Surface Go offers versatility and multi-tasking ability through the USB-C port. You can use it to connect any external devices, while you won't need to worry about charging.

Charging happens through Surface Connect port that Samsung patented to offer a fast charging, no matter if you use it in tablet, laptop, or studio mode.

Surface Go is one of the lightest tablets on the market, but also one of the thinnest at the same time. It can fit in any bag and can be taken anywhere.

Along with its fast and efficient power, it can handle any work throughout the day no matter where you are.

Hardware specifications for Microsoft Surface Go
Processor
Intel Pentium Gold
RAM
8 GB
Storage
128 GB
Graphics
Intel HD Graphics 615
Display
PixelSense Display
Operating System
Windows 10 Home in S Mode
Battery Life
Up to 9 hours
Weight
1.15 lbs
Other Features
3 usable modes, very lightweight and portable
3. Samsung Galaxy Tab S4 – for taking handwritten notes
A lot of storage
Comes in a bundle with a lot of accessories
Very lightweight
Far-field microphones
AMOLED display
Cinematic speakers
Microsoft Office doesn't come free
Samsung Galaxy Tab S4 offers everything a student needs, and then even some more. It features a crystally clear display, amazing audio experience, and even comes in a bundle with useful accessories to get your college year started.

Key features & details
Galaxy Tab S4 features a clear and crisp AMOLED display that goes from corner-to-corner.

It features a 16:10 ratio that is perfect for entertainment and work, offering true cinematic experiences. Looking at the screen for hours is definitely not a problem.

This tablet comes with Dolby Atmos surrounding stereo speakers that create a cinematic sound.

No matter if you're listening to audiobooks, podcasts, or simply watching movies or listening to music, you'll love the sound and enjoy the experience.

What's most important for students is something this tablet offers. Not only Samsung Galaxy Tab S4 powers up quickly, but it also charges very quickly.

The battery of an average user can last up to 16 hours, so you never have to stick to the outlet and wait.

Hardware specifications for Samsung Galaxy Tab S4
Processor
Octa-Core, 2.35 GHz
RAM
4 GB
Storage
64 GB
Graphics
Adreno 540
Display
AMOLED display
Operating System
Android
Battery Life
Up to 16 hours
Weight
3.65 lbs
Other Features
Bundle full of accessories
4. Lenovo Yoga Book – Best Tablet For College Students Under Budget
Quality IPS display
2-in-1 combination of productivity & versatility
Great battery life
One of the thinnest tablets
Quality build and design
Comes with Canadian keyboard
When you're looking for a tablet that can do everything your old laptop can, and even more than that – Lenovo Yoga Book will take your experience to another level. It's one of the thinnest tablets on the market that can be used in more than 3 ways to suit your college needs.

Key features & details
Lenovo Yoga Book is equipped with equally powerful, or even more powerful components than some laptops.

It features Intel Atom processor in combination with 4 GB of RAM and plenty of storage, making it ideal for college students who need the power on a go.

The display on this tablet is an IPS display that features a decent resolution of 19200 x 1200 pixels. For a 10″ tablet, that's a really great display that will allow you to keep up with anything you work on for hours.

For one of the thinnest tablets on the market right now, the screen itself is pretty thin, which means Lenovo done well hiding the IPS display and yet still providing a great user experience.

One of the greatest things about this tablet is that, even though it's considered as a tablet, it's actually a very versatile device that can allow you different modes of use.

It can be used as a tablet, a laptop with a detachable keyboard, as a drawing device or as a book for writing, hence the name of the model.

The freedom is endless, and it's up to your creativity and needs to decide the way you want to use it!

Hardware specifications for Lenovo Yoga Book
Processor
Intel Atom, 1.44 GHz, Quad-core
RAM
4 GB
Storage
64 GB
Graphics
Integrated graphics
Display
IPS display
Operating System
Windows 10
Battery Life
Up to 15 hours
Weight
2 lbs
Other Features
Different modes of use, dual camera
5. Samsung Galaxy Tab A – Cheapest College Tablet
Powerful performance
Expandable storage
Very compact
Great build quality
Dual camera
Battery life isn't the best
College students are most of the time looking for great deals, and if you're on a tight budget, there's no better tablet for college than Samsung Galaxy Tab A. It's a tablet that is very affordable yet it features powerful components for a decent performance and it's a digital note taking tablet every student will love.

Key features & details
Even though Galaxy Tab A doesn't come with a lot of storage space, it comes with the ability to expand the storage all the way up to 128 GB.

This is perfect for a student who's on a budget right now but has the chance to upgrade later and improve the tablet.

Considering the price, Samsung Galaxy Tab A comes with very decent components such as official Samsung quad-core processor, 1.5 GB of RAM, and 16 GB of storage that is upgradeable.

It's a decent configuration that will get any student going in no time.

When you can't keep up with the lecture held by quick teachers, a dual camera will be useful. The front-facing camera is 2 MP and the rear camera is 5 MP which is a great quality for a tablet.

You will be able to take photos of the college board in no time, with precise quality.

Hardware specifications for Samsung Galaxy Tab A
Processor
Samsung Quad Core processor, 1.2GHz
RAM
1.5 GB
Storage
16 GB
Graphics
Intel HD graphics
Display
HD display
Operating System
Android
Battery Life
Up to 5 hours
Weight
2 lbs
Other features
6. Microsoft Surface Pro 6 – Best Windows Option
Best Windows tablet out there
Powerful 8th generation Intel processor
Very long lasting battery life
Versatile design
Quality and durable build
Pen and keyboard don't come included
If you're looking to get the best Windows tablet for college out there – there's no better than Microsoft Surface Pro 6. It features one of the fastest Intel processors, most versatile design, and the lightest body ever. Combined with all-day battery life, your college will be way easier.

Key features & details
Surface Pro 6 is one of the tablets that can easily replace a laptop and improve your productivity in college thanks to its versatility.

This tablet can be used as a tablet, laptop, or even a studio, increasing the multi-tasking abilities and letting you get the best out of the tablet itself.

Even though this tablet is ultra-slim and weighing only 1.70 pounds, it features one of the best configurations that Windows tablets come with.

Surface Pro 6 is powered by an Intel i5 processor, 128 GB SSD storage, and 8 GB of RAM, which is far better than even some of the laptops today.

You won't have a problem handling even the heaviest tasks in college.

To get the most out of such powerful and classy tablet, ultra-slim yet long-lasting battery that can keep the tablet up and running all day.

It can last up to 13.5 hours of regular use, and you might find yourself not even carrying a charger with you on days you don't plan doing any heavy tasks.

Hardware specifications for Microsoft Surface Pro 6
Processor
Intel i5 8250U, 1.6 GHz
RAM
8 GB
Storage
128GB SSD
Graphics
Intel Integrated
Display
IPS display
Operating System
Windows
Battery Life
Up to 13.5 hours
Weight
1.7 lbs
Other features
Remove if nothing is found
7. Huawei MediaPad M5 Pro – Best Android Option
Curved 2.5D display
High resolution
Great audio quality
Simple yet sturdy design
Very stylish look
Charges very quickly
If you're looking at some of the best Android tablets you could use for college, Huawei MediaPad M5 Pro is definitely the top choice. It features the most innovative curved display on a tablet, excellent sound, great build quality, and everything a student needs for college.

Key features & details
To never miss a detail, Huawei has introduced and made a curved 2D glass display that fits well on a 10″ tablet and can reach a resolution of up to 2560 x 1600 pixels.

The screen itself offers 82% screen-to-body ratio which will let you enjoy whatever it is you're doing.

Huawei MediaPad M5 Pro features a quad stereo speakers system that is tuned and certified by Harman.

It provides perfect 3D sound that goes well with a curved display. It's an audio experience followed and combined with amazing video experience.

This tablet is very simple and pure, yet it's very stylish and classy at the same time. The curved body adds elegance and it creates a design that's remarkable for its simplicity.

On the other hand, this tablet is very sturdy and is well-built to withstand regular usage very well.

Hardware specifications for Huawei MediaPad M5 Pro
Processor
Kirin 960 processor, 2.1GHz
RAM
4 GB
Storage
64 GB
Graphics
Mali G71
Display
2D Curved Glass display
Operating System
Android
Battery Life
Up to 10.5 hours
Weight
1.1 lbs
Other Features
Quad speakers, curved body design
8. Amazon Fire HD 10 – Best Tablet for Textbooks Reading
Full HD display
Long lasting battery life
Alexa virtual assistant
Access to millions of books
Very robust design
Official Amazon Fire OS
WiFi connection range isn't very far
If you're looking to replace all your books with a tablet, Amazon Fire HD 10 makes it very possible. It's a powerful tablet with access to millions of books and help from the Amazon's Alexa virtual assistant. Combination of a brilliant HD display and a powerful configuration will keep you going for many hours.

Key features & details
Fire HD 10 features a full HD display, a quad-core processor, 2 GB of RAM, and battery life that lasts up to 10 hours.

That's almost everything a student needs, of course, with direct access to the books market.

What every student needs is a bit of help from time to time, and Alexa offers exactly that.

Alexa virtual assistant offers a hands-free mode to control the tablet with only your voice, from music to searching the web and everything else.

Thanks to Amazon's Fire OS, you get direct access to millions of eBooks and audiobooks available through Amazon.

Replacing almost all your college literature and books is simpler than you think it is. Yet, it's a tablet that will make word processing a breeze.

Hardware specifications for Amazon Fire HD 10
Processor
Quad-core, 1.3 GHZ
RAM
1 GB
Storage
32 GB
Graphics
Integrated graphics
Display
1080p Full HD display
Operating System
Fire OS
Battery Life
Up to 10 hours
Weight
0.65 lbs
Other Features
Alexa virtual assistant
Picking The Best Tablet for College Students in 2020
1. Form / Design
Students require a tablet that is easy to carry and handle, even when there's no space. Therefore, getting a tablet that is compact will offer students more time to focus on more important things.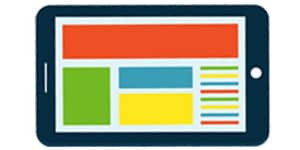 Form and design won't only give a better comfort to tablet users, but it connects a number of benefits such as travel ability, compatibility, versatility, and many others.
The lighter and thinner tablet is – the better versatility and less hassle it will offer to a student.

2. Battery Life
When you're looking to squeeze more work into your schedule and don't want to be slowed down by a weak battery or a charger, make sure to choose a tablet that comes with decent battery life.
With the technology, we have nowadays, batteries are thinner than ever and yet stronger than ever.

Therefore, they can have a super long lifespan on a single charge which is perfect for every student who doesn't want to worry about finding the outlets, carrying a charger – yet just about taking care of the college work.

3. Keyboard
If you aren't planning to get an external keyboard, making sure that the on-screen keyboard is sized decently and is optimized for typing will save you from many hours of regretting your choice.
Getting a tablet with a great keyboard is important for students who tend to take a lot of notes during lectures, but also require a quality keyboard to be able to take care of their work constantly.

The most popular tablets come with 2-in-1 keyboards that can be either attached or detached from a tablet in order to suit different needs and situations. Getting a tablet that comes with (or can additionally come with) a keyboard is something every student should look into.

4. Connectivity
As a college student, it's most likely you'll be required to connect some of your other devices to your tablet. To do so, you'll need to look into tablets that are very versatile and come with either a universal connecting port or many different ports that will suit your devices.
Most tablets today come with ports that use universal connectivity in order to allow users to connect as many external devices as necessary.

Even though tablets are thinner than laptops and might not have as many ports, they're equally good at connecting external devices. It's something every student will require, at least a few times, if not almost every day.

5. Performance
Just like laptops, tablets are optimized for performance, along with their ability to be much more portable. Looking for performance in a tablet should be like any other device, including laptops.
Tablets can be even better than most laptops thanks to the most modern technology we have nowadays. This leaves students with more versatile, yet even more powerful devices that will help them get their work done in no time, without any delays or problems.
Therefore, all students need is a tablet with a great configuration that can handle everything they put upon him.

Resources
Katie Holdefehr, Why You Should Bring a Tablet to College, Real Simple, 8th Aug, 2018
Jack Schofield, Is a tablet or 2-in-1 laptop with a stylus useful for a student?, The Guardian, 20th Sep, 2018