Samsung's booth over at FPD 2010 was definitely the highlight, there really wasn't much else interesting elsewhere unless you're into 3D TV with or without glasses. None of the glassless 3D displays impressed me, speaking of that.
7-inch AMOLED Display
First up is that 7-inch AMOLED display that we'll most likely see in a Samsung tablet next year. It's got the same 1024 x 600 resolution (169 PPI) with 16.7M colors, 250 cd/m2, "free" viewing angles and > 100% NTSC color space:
Dual Display Clamshell Prototype
Then there was a 4.5-inch PenTile AMOLED display showcased in a dual screen clamshell device. The display has the same specs as above but a higher 300 cd/m2 brightness and a 100,000:1 contrast ratio:
Foldable Display
Another prototype showing off a 5.3-inch display (animated) that was foldable in the middle which didn't surprise me since I also saw a few flexible displays on the way to this one. It has a 960 x 800 resolution (235 PPI), 26.2K colors, 250 cd/m2 brightness, 100K:1 contrast, > 100% NTSC color space.
Flexible Display
Similar to the above, a few displays with flexible, animated displays, 4.3-inch in size.
Transparent AMOLED Display
A transparent AMOLED display was showcased in a prototype 14-inch notebook. Worked as expected, though I would have like to know if it could operate normally without transparency. For the size, the resolution was quite low at 960 x 540 pixels (78 PPI) and 250 cd/m2 brightness.
Plastic Display
Super thin, unbreakable displays according to Samsung. Some prototypes showcasing a 10.1″ display of such type with a 1024 x 600 resolution, 50% color gamut, 250 cd/m2 brightness and 1,000:1 contrast. We just need to wait a decade or two for battery technology to come of age before we get stuff this thin with decent battery life!
Video of all the above: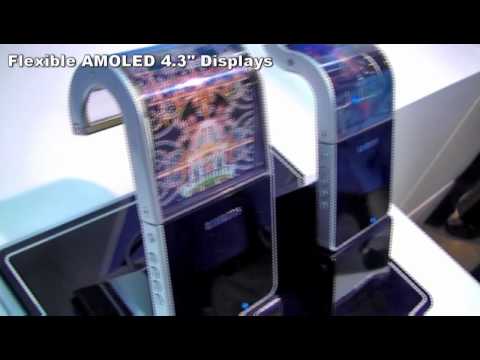 The rest of the pictures: