Dario Demut – June 25th 2019
Are you looking for a laptop from the future? They're already available, and you will find the best ones you can get in 2019 in this post
1. Intel Gaming Laptop Prototype "Honeycomb Glacier"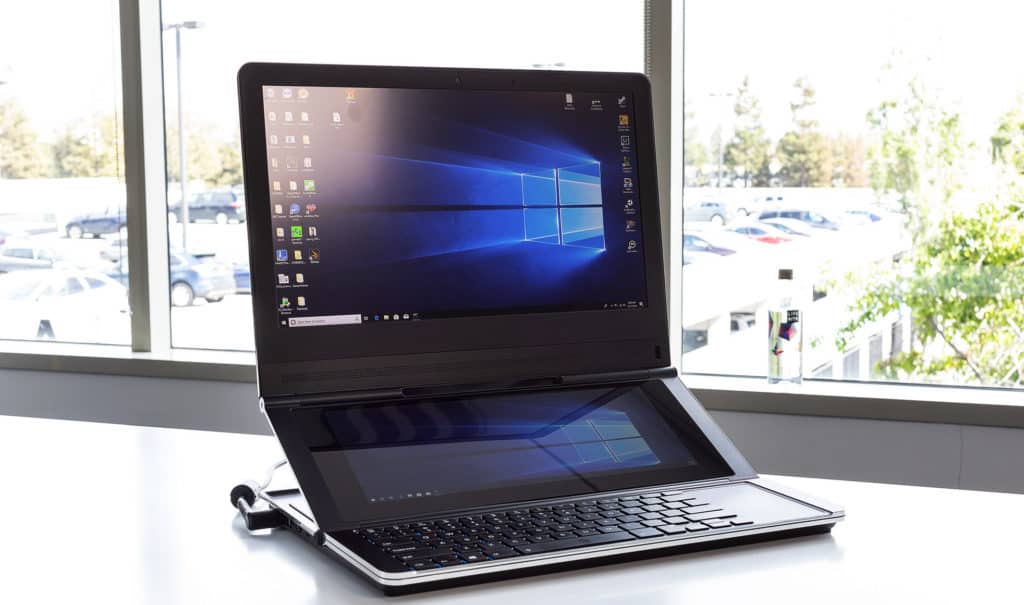 Overall Features
Double Lifting Hinge

Two screens

Eye tracking

Heart rate monitor

A unique way of cooling

Decent design
Unique Features
We all appreciate Intel for its chip-making abilities, but when it comes down to laptop making and designing – we were really surprised with a prototype version of their gaming laptop "Honeycomb Glacier".
The whole concept of Intel's prototype gaming laptop relies on a double lifting hinge which holds two screens and gives the users the ability to lift up the secondary screen and adjust it at any angle.
The sole purpose of double lifting hinge design is to allow users the use of either one or both screens at a comfortable angle where users don't need to lift their head up and down.
Two screens are combined with an eye tracking feature which allows users to switch between the tabs on a secondary screen without having to minimize the game or click on a tab of the chat to start typing. There's also a heart rate monitor included which will allow gamers to track their progress during training sessions.
Photos: Vjeran Pavic / The Verge
When is it getting released?
Unfortunately, this prototype laptop isn't released yet and Intel didn't mention a release date.
There are still quite a few drawbacks since this is a rough prototype version made with off the shelf parts.
We might never see this version get released, but you never know with Intel. They might finish this laptop and get it ready for its release date – but one thing is for sure. We will see this unique but useful design being used in gaming laptops very often.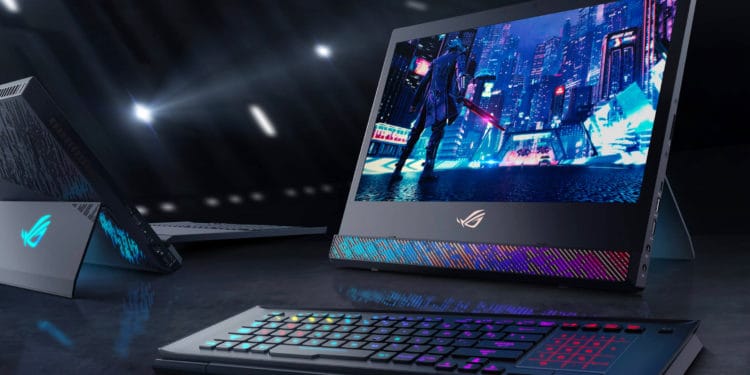 Overall Features
9th generation Intel configuration

VR ready

GeForce dedicated graphics card

Bold and unique design

Removable keyboard
Unique Features
Asus is a leading brand in producing gaming laptop's, but they are a real threat to other gaming manufacturers with a design of Rog Mothership.
Rog Mothership is a laptop but it's not quite designed as your usual laptop. This concept of a gaming laptop requires the user to lift it up in the air, lay it on a stand and then open the keyboard.
The keyboard is detachable which lets users increase their comfort. Interesting thing is that the motherboard is placed behind the screen so you will find a processor being located in the screen.
This prototype is a bit heavier than most gaming laptops we are used to, but it's still portable and you can take it anywhere in a backpack.
When is it getting released?
There is no exact release date announced just yet, but Asus has said that we can expect this laptop to hit the stores by the end of 2019.
It's hard not to get impressed by unique design which changes the way gaming laptops are used, and even though it still features one screen – you'll sometimes feel like you're gaming on a desktop computer instead of a laptop.
3. Acer Predator Helios 700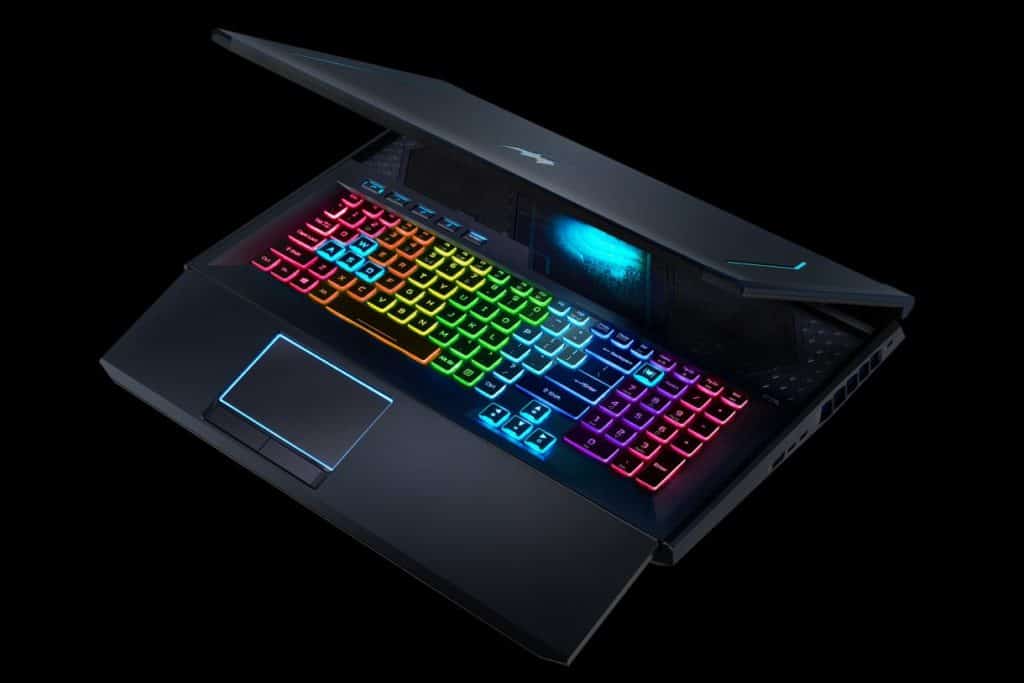 Overall Features
Unique sliding keyboard design

Deck out display

Over-clock ready components

In-linear keys
Unique Features
Definitely, the most unique feature about Helios 700 is the slide-out keyboard design which introduces a new level of the cooling system in gaming laptops.
Even though Acer Predator Helios 700 features a fairly unique design by sliding the keyboard and revealing two dual big fans – all of this is done for a thermal purpose.
However, what was really interesting to see as a gamer is the in-linear keys which allow users to adjust the spring level. Therefore, you will be able to adjust how hard or how soft you need to press some of the most important keys for your games.
For example, for first-person shooter games, you could adjust main movement keys (WASD) to achieve more comfortable results.
When is it getting released?
Acer didn't announce the exact release date, but we have the information that Predator 700 is getting released sometime in July 2020 for Europe countries. However, North America will get their hands on this laptop a lot earlier – somewhere in April 2020.
4. Acer Predator Triton 900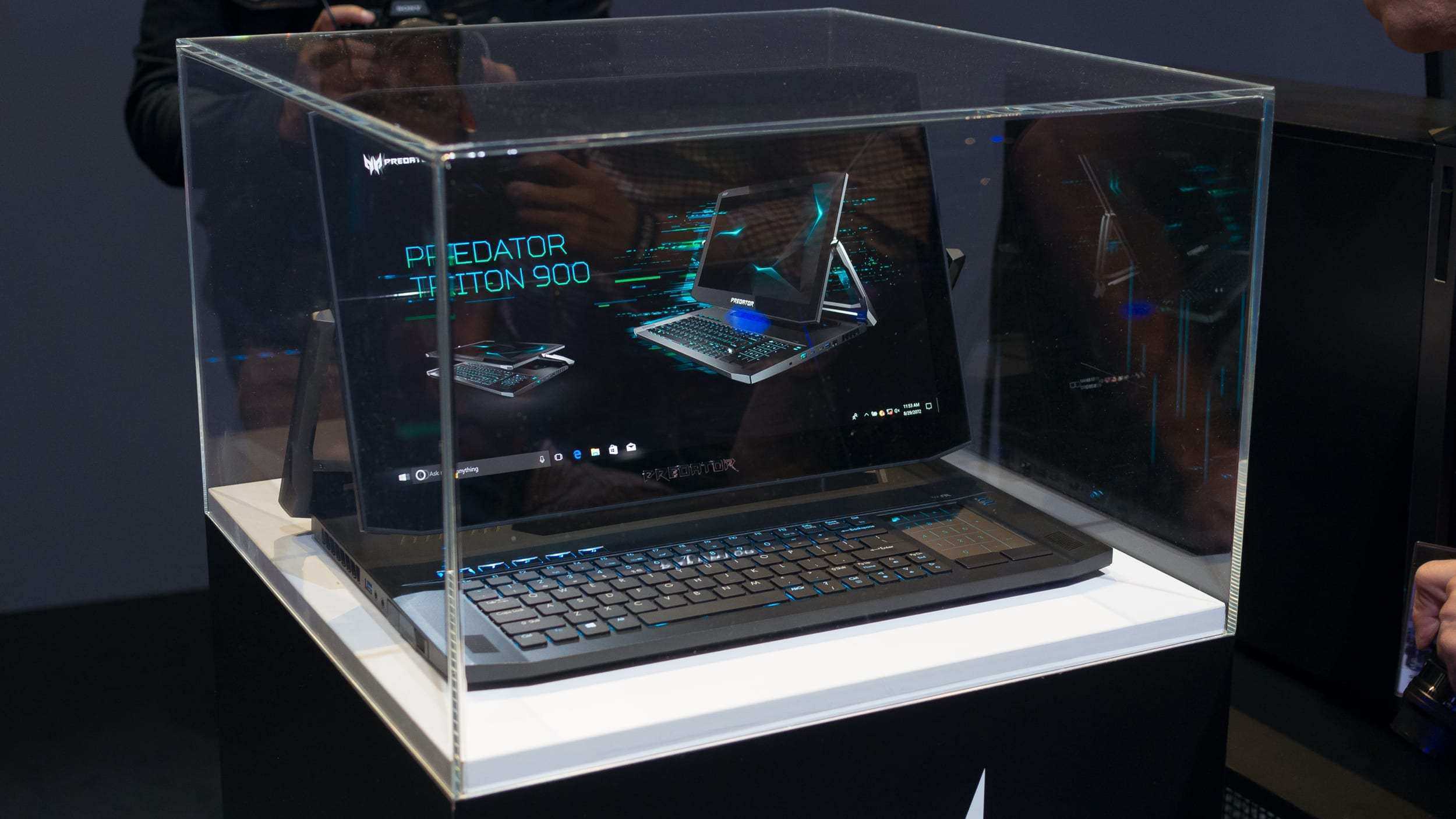 Overall Features
4K Ultra HD display

3D fans

G-sync support

Metal hinges

Xbox dongle

Easy overclock button
Unique Features
While this laptop might look like your usual gaming laptop, the whole unique concept of Acer Triton 900 lays in two hinges which offer users to rotate the display 360 degrees to achieve the best viewing angle.
This is the main design feature, however, a lot of unique features are going on inside the laptop itself. This unique gaming laptop combines the latest Intel processor with GeForce dedicated graphics card that offers 4K gaming experience with G-sync support.
This means that the graphics card will match the rate of your display to the rate of your FPS inside the game to provide a fluid and smooth gaming experience.
With the unique cooling that introduces 3D fans, this gaming laptop can run games at the highest settings and eliminate the heat efficiently.
When is it getting released?
Triton 900 was released mid-March this year and even though it's mighty – the price is hefty.
There is no doubt that this is one of the most powerful gaming laptops you can literally take anywhere and enjoy your favorite games in 4K resolution.
5. Razer's "Project Valerie"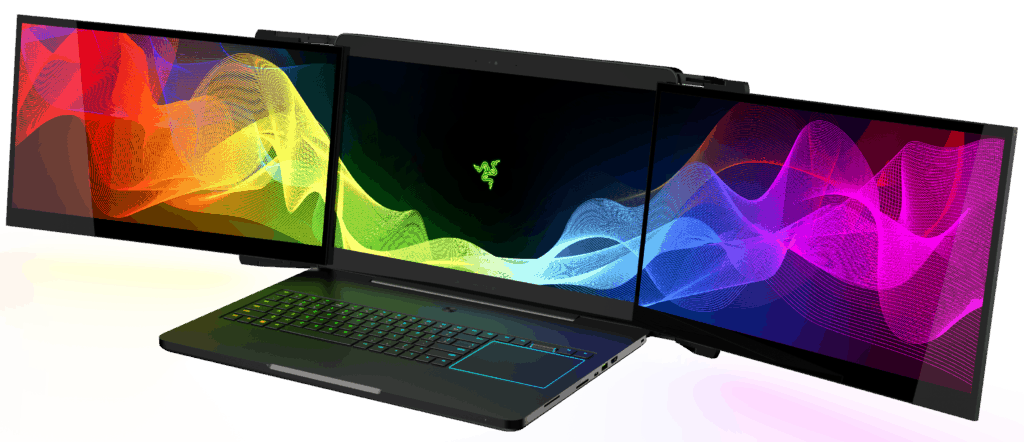 Overall Features
Fully automated triple 4K display

The most creative design

Average 17″ thickness of a laptop now includes 3 displays

Myriads of use

Ideal for FPS gaming

G-sync enabled
Unique Features
Even though it's been two years since the most unique Razer laptop called "Project Valerie", it's still leaving everyone in wow with its design.
What's unique about this laptop is that it's the prototype for the first laptop in the world which has 3 displays in one. Worth mentioning is that all three displays are fully automated and support 4K resolution
Project Valerie brings triple 4k displays that are automated and are revealed upon a press of a button which adjusts the angles and returns the displays in a portable chassis.
It's worth to note that this laptop features the average thickness of a 17″ laptop, even though it features 3 display panels.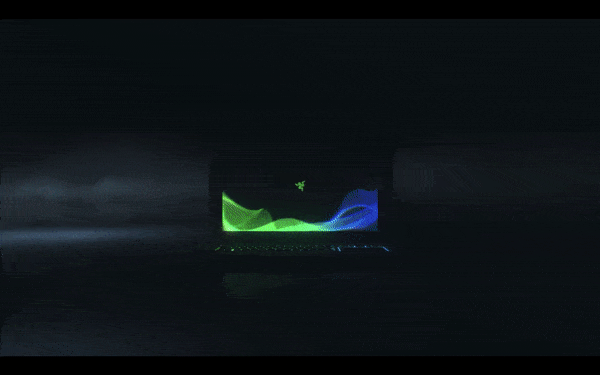 When is it getting released?
Razer's "Project Valerie" has been introduced at CES 2017, however, ever since then, Razer didn't update anyone with their progress or even a release date. So we are not sure if this is even going to be released, but it seems like Razer is on the right path.
For sure, this is every gamer's dream, but even better yet, a lot of creative professionals have shown interest in this type of laptop, especially because of the multi-screen use.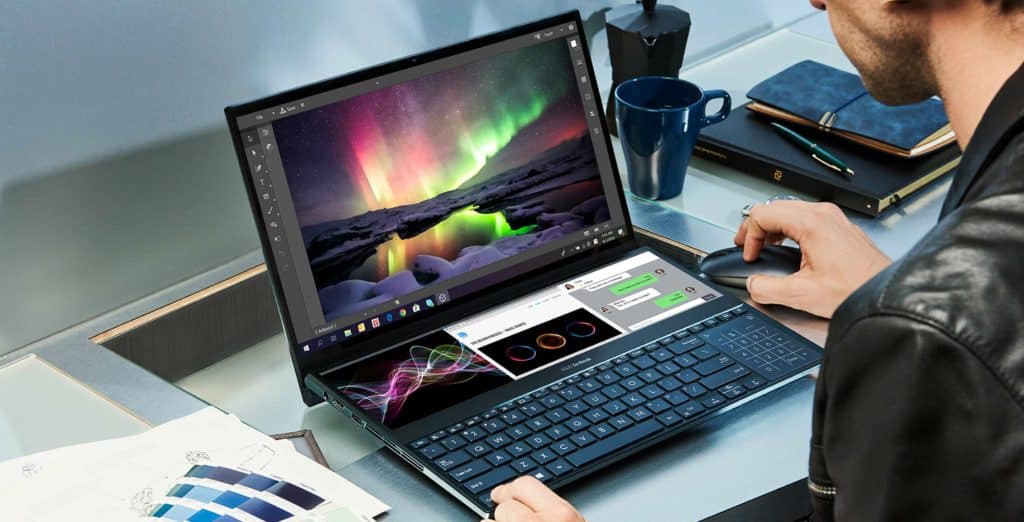 Overall Features
Two screens

Lifts the laptop off the desk a bit

Increased cooling

Packed with powerful components

Increased connectivity
Unique Features
What's so unique about ZenBook Pro Duo is the secondary display placed just underneath the main display – moving the keyboard a bit closer to the user. However, Asus has also provided an ergonomic wrist comforter which fixes the placement of the keyboard.
The multi-tasking potential with this laptop is absolutely incredible, and what's even better is that Asus took this to another level. Instead of relying only on Microsoft Windows for support between these two displays – Asus introduced some of their own software which allows users to take even more advantage out of this duo.
Having a few different windows running on the 4K displays is pretty brilliant, but what's even better is the ability of a touchscreen. And it is placed just above the keyboard really improves the sense of secondary display.
When is it getting released?
Asus has announced that Zenbook Pro Duo is going to be available in Q3 in Canada.
However, we don't have a lot more information when this laptop will be available for the rest of the world.
Needless to say, this laptop really improves multitasking unlike any other laptop available on the market. Scrolling through pages looks incredible on two 4K displays which work well together.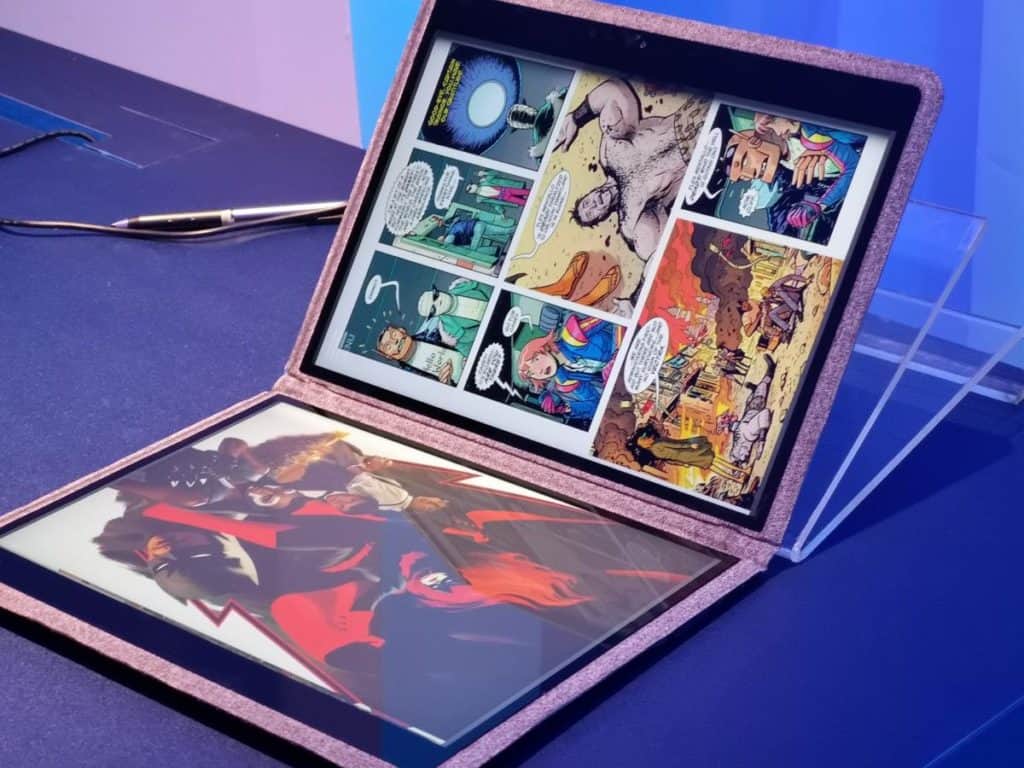 Overall Features
Dual screens

Encased in fabric

Quad-core processor

Fanless chassis

Stylus support
Unique Features
The most interesting and unique piece of Intel Twin Rivers is the casing. What meets the eye is the fabric case, and while it might look like an additional case – it's actually the chassis of this laptop. The chassis is totally made out of fabric case.
The reason Intel went with this choice is to reduce the weight of a regular laptop which has also helped them to remove a fan and introduce a first fanless laptop.
It features two 1080P displays which offer the touchscreen capability and even support Stylus. There's no keyboard but the secondary screen can be converted into on-screen touch keyboard.
Other than being used as a laptop, its design is suitable to be used as a book or notebook. The only downside is that the prototype doesn't have available ports other than the power connection port.
When is it getting released?
Unfortunately, Twin Rivers is just a prototype that has been recently revealed to the audience, but Intel didn't mention a release date or even a possible year we could swipe our credit cards and purchase this laptop.
But one thing is sure, this laptop is ideal for creatives who need combined versatility with extreme lightweight & portability.
8. Asus Zenbook Screenpad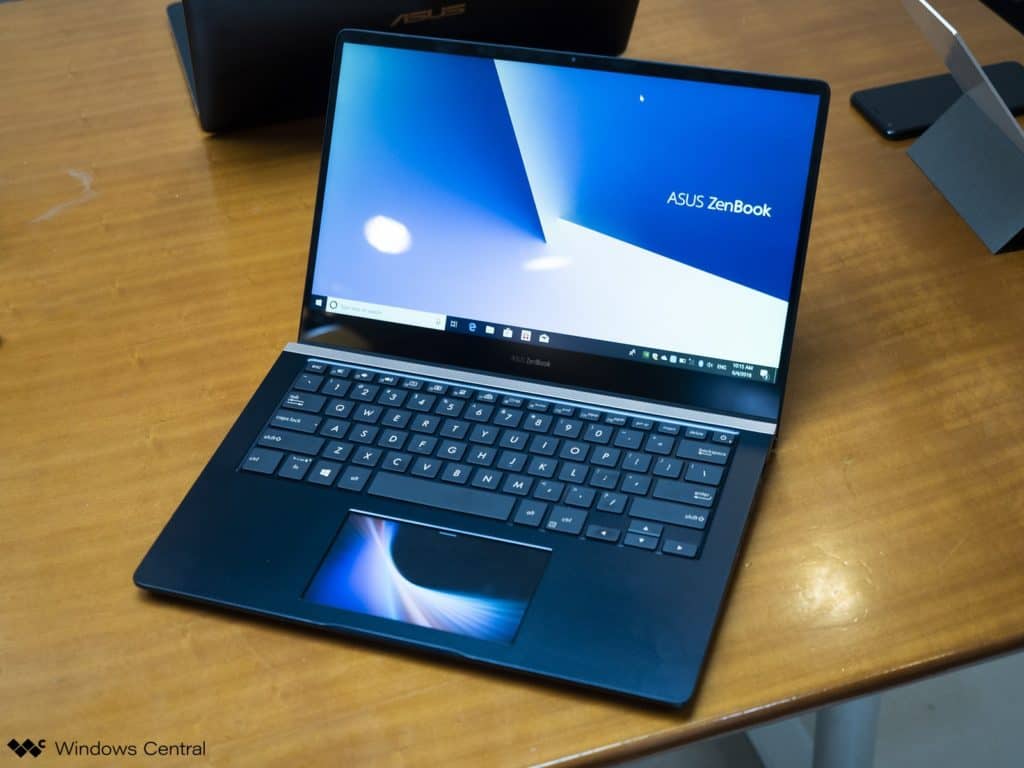 Overall Features
The screen inside a touchpad

Plenty of ports

Multi-touch display

4 different screen modes of use
Unique Features
The most unique feature of Asus's latest Zenbook Screenpad laptop is definitely the dual screen. At first, you might not even notice a secondary screen until you turn on the laptop.
The secondary screen is placed inside a touchpad area which is really unique. Therefore, you get to choose between 4 different screen modes of use.
When you enable a display inside the touchpad, you get a new way to increase your multitasking capabilities (or even entertainment) by having an app open.
Asus has even introduced a Launcher software which features a lot of settings where you can even toggle brightness of a display inside a touchpad. How cool is that?
What's even cooler is that you can use touchpad screen as a secondary screen – and even though it's quite small, it's really amazing. Watching videos inside a touchpad is the new future.
When is it getting released?
Asus Zenbook Screenpad doesn't have a release date yet, but Asus is constantly working on it and has even introduced an improved version of their prototype, 2.0.
Even though the secondary screen isn't big, it really increases the ways of using a laptop and even multitasking so we believe Asus is on the right path with this unique feature.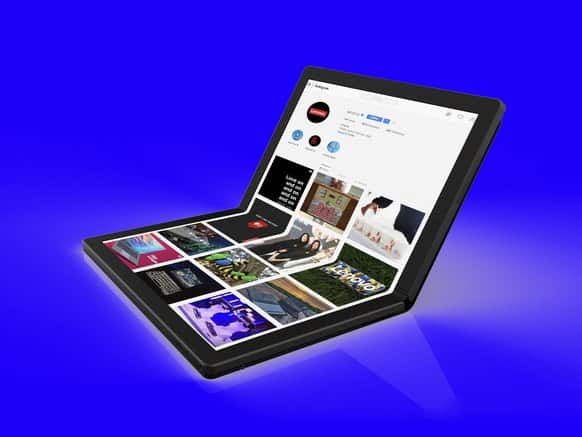 Overall Features
Foldable screen

Great compactness

Increased portability

Multi ways of use
Unique Features
While other brands are experimenting with introducing two screens into a laptop (or even three screens), Lenovo has introduced a prototype laptop which features a single display which has a folding capability.
Even though it's a prototype in a very early stage, Lenovo is on the right track. We assume that this laptop design will be able to introduce new ways of using a laptop but will also eliminate iPads and other tablets in the near future.
What's even better is that this one large foldable screen can be separated into two screens inside the operating system to split the screen. This allows for users to use the bottom part of a display as a keyboard while they're handling everything on the upper part of a design.
It's a great innovation which is already pretty usable in its early prototype stage – which is why we believe Lenovo will be able to take advantage of their innovation further.
When is it getting released?
Lenovo released just the right amount of information about the laptop, but there is no exact release date announced just yet. However, we were able to find out that this prototype is still going to introduce a lot more to the design and will be released in 2020.
1. HP Spectre Folio: Leather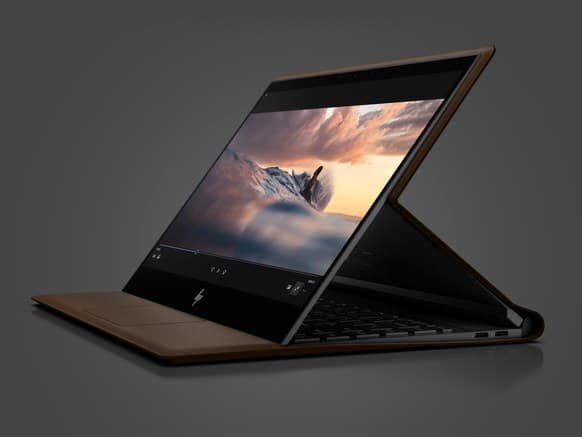 Overall Features
Convertible screen

Adjustable leather design

Elegant and deluxe feel

Combination of a laptop and tablet

Long lasting battery life
Unique Features
The most unique feature of HP Spectre Folio is that its chassis is made out of leather which makes it look like a tablet placed inside a very elegant case.
Other than that, it features a convertible screen that allows you to adjust it to different angles and even rotate it to achieve a full tablet mode. What's interesting that the keyboard is then placed in between the screen and the case so you still get a really comfortable use.
This takes the use of a regular laptop to a whole new level without introducing a secondary display but with a playful design.
When is it getting released?
HP Spectre Folio is surprisingly already available to be purchased and depending on your location, you might not be able to purchase the high-end version as it's only available in the US and Australia for now.
Even though the real leather looks great, we believe it can get easily scratched and deteriorated over time – which could decrease its after-market value but the design is really taken to another level.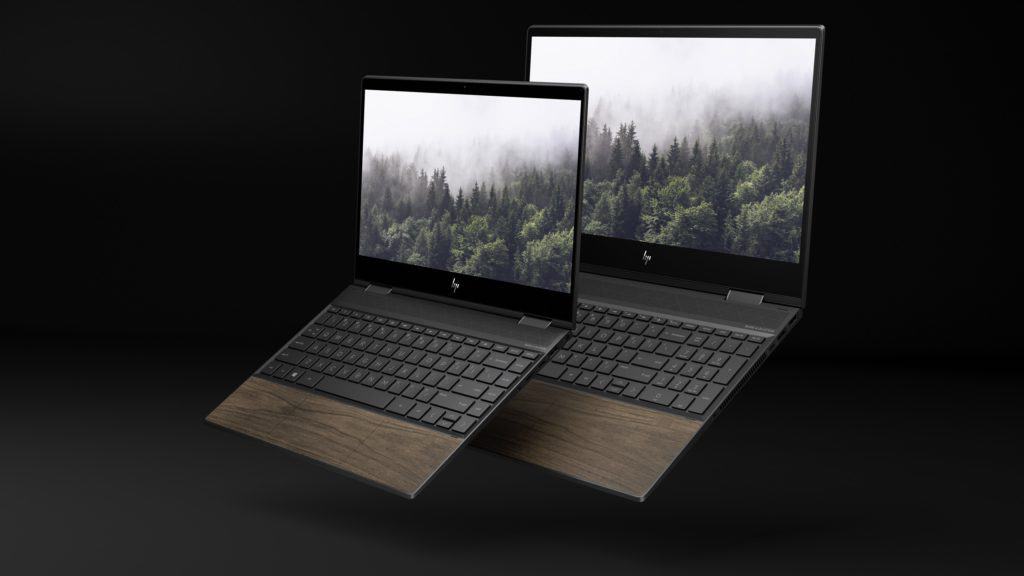 Overall Features
Wooden keyboard and touchpad

The very unique feel and look

Great design combination

Increased processing power

Long lasting battery
Unique Features
The most unique feature of HP Envy Wood is the introduction of wood material as you can see from the name of the laptop itself. HP didn't only start playing with design but also with their choice of material.
Therefore, this laptop features a very unique wooden design that is placed just below the keyboard to give users a great feel when typing. Instead of cold metal or plastic feel, you'd get to feel real wood.
HP did that to 5 different laptops, including real walnut or birch material. Unfortunately, as much as we like the wood feel, wood doesn't cover the whole laptop.
When is it getting released?
Unfortunately, the specific date of release of this wonderful laptop hasn't been announced yet, but we got the information that we can expect Envy Wood to be on sale sometime this fall.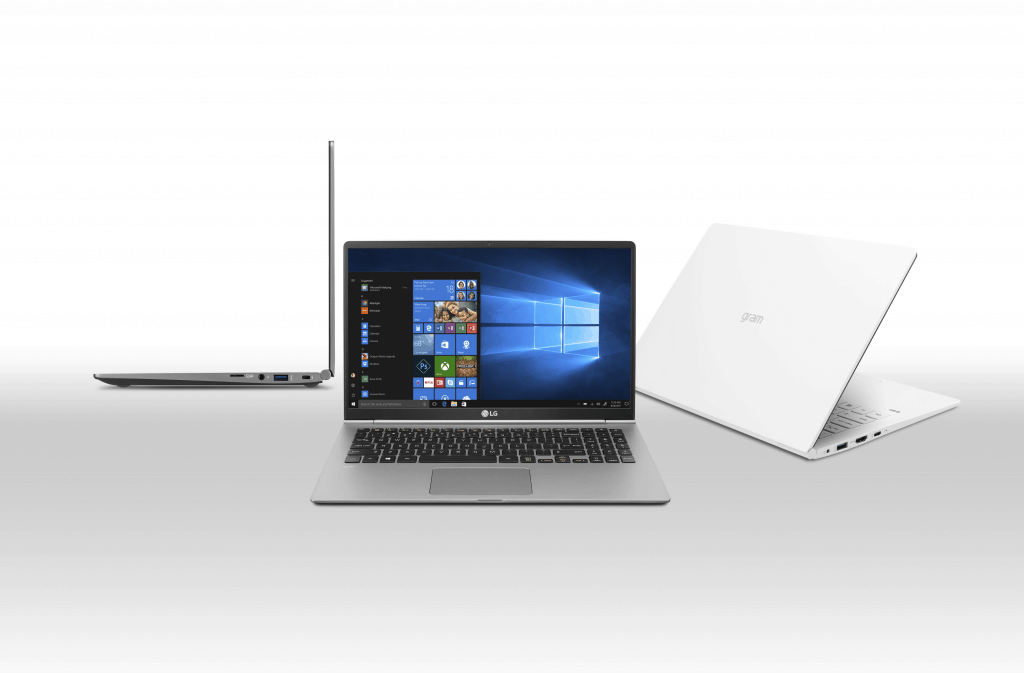 Overall Features
Made from Magie Carbon

Large design but lightweight

Long lasting battery life

Increased processing power
Unique Features
LG Gram is certainly not the newest or the most unique laptop on the market right now, but the reason it is unique is its capability of featuring a large 17″ display inside a 15″ body which is lighter than most 13″ laptops.
LG did a really good job at puzzling out the design and layout of this laptop so it saves weight and increases the portability and versatility.
Another unique feature which we haven't seen in any other laptop is the use of Magie Carbon as a chassis material.
This makes Gram a very lightweight yet sturdy and durable laptop which you can still take anywhere, and it's guaranteed you'll have the largest display wherever you go.
When is it getting released?
LG Gram has been recently released and is already available to be purchased. It has already received a lot of positive feedback from users and some of the biggest magazines who tested this laptop up-front.
Even though Gram isn't very unique in terms of design, it's still unique in its build way which increases most aspects of an average laptop user.
4. Asus ZenBook 30th Anniversary: Leather & Gold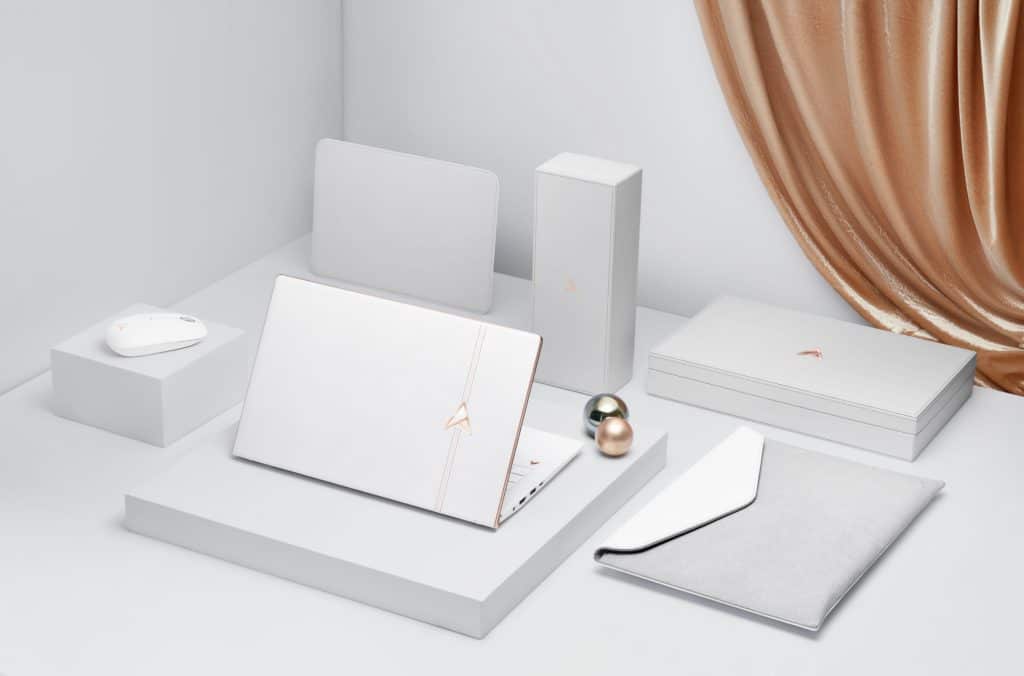 Overall Features
Made from genuine leather

Plated with 18 karat gold

Includes premium accessories

Compact and durable design
Unique Features
30th anniversary is something big and Asus did a really good job of going big with their ZenBook.
Therefore, 30th Anniversary ZenBook features a very unique look since Asus used an Italian leather for chassis and even plated the laptop with 18 karat gold.
Other than it being the size of an A4 paper, it's pretty light and yet has plenty of ports. One of the most unique features is the ErgoLift hinge which lifts up the laptop just a tiny bit as you open the laptop's screen.
Not only this ensures a better position when typing, but it also drastically improves cooling.
Another thing you don't notice straight away is the touchpad. It actually features a screen inside a touchpad which you can use whenever you power on the laptop.
When is it getting released?
Since it's a 30th-anniversary laptop, made for a special occasion – Asus has a specific date in mind, but they were short on providing the actual release date. Therefore, you will have to stay tuned!
If you're spending a lot of time using your laptop, either for work or entertainment – why not spice things up with a great combination of power and design?
Not only we have had real pleasure testing these laptops, but we realized how some designs were actually improving the way we work.
Every single one of these laptops has a purpose which is laying either in design or the way of use. And that purpose is going to help you take things to another level and never look back!
Some call these laptops from the future, but they're really close to hitting the shelves – and some of them are even already available.