Even though Excel, Word, and other similar word & number processing software might seem to run easily on any type of configuration – you'll still want to get a decent laptop speed when running such software.
And therefore, this review post which includes best laptops for word processing and Excel software will make the decision choice for your needs.
We worked hard to make a compulsive list of the best laptops on the market which would fit right in our post. Then, we chose 5 best laptops which we then further reviewed before writing this post.
Now, everything is ready for you so you don't need to waste hours on research – yet after reading this post, you'll most likely make up your mind on the next laptop purchase.
In A Hurry? Here's The Winner From Hours Of Research
Editor's Choice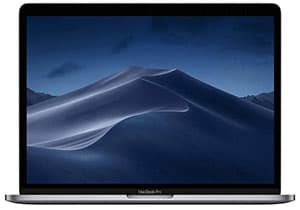 Apple MacBook Pro
Why is it better?
High-end configuration
Retina display
Fully redesigned keyboard
Long lasting battery life
Force touch trackpad
Best Laptops For Streaming Videos 2023
1. LG Gram – Biggest Screen Pick
Sale
If you're looking for a decent laptop size but you don't want to sacrifice portability – LG Gram is an ideal laptop for excel and word. It features a very lightweight body, so it's easy to carry around even though it features a widescreen display at the same time. Inside the fairly thin chassis, LG hides a lot of power configuration.
Large widescreen screen size
Lighter than some 13" laptops
Durable body design
Long lasting battery
Fingerprint reader
SATA drive is a bit on the slower end
Key features & details
Lighten the Load
Even though LG Gram features a 17" screen size, this laptop features a decent size which won't tip over the scale. In fact, this laptop is far lighter than some 13" laptop models available on the market.
This only shows how lightweight this is for its size, hence the LG's Gram name of this specific model. LG's innovative design and construction of this laptop allows them to place the necessary configuration (which is quite powerful), and still get the proper cooling system in place.
After all, they managed to lighten the load for size of such a laptop which surely brings joy to users who need both portability and larger screen size.
Big Canvas
Not only LG Gram features a "big canvas" for a display, but it features an IPS display that is made to deliver both portability and uncompromising results.
This decently sized display features vivid color, sharp and crystally clear image which is ideal for users who are working with a lot of text or numbers on a screen, especially for a longer period of time.
What we liked the most about this 17" screen is that it's 16:10 widescreen display made with IPS panel that provides ultimate viewing experience. Other than that, it can reach a resolution of up to 2560 x 1600 pixels which is more than enough for Office software.
Yet, this screen is still slim enough so you can close the laptop and take it anywhere with you without having to worry about fitting it inside your backpack.
Built to Last
Other than being proven as a reliable laptop that's ready for any occasion – LG Gram is made out of a tough material that still allows the laptop to be lightweight enough to make it easy to carry around.
It's definitely not a laptop you should put inside your office and never take it out, worrying you might damage it. It's a laptop that's made for real world-use, absolutely anywhere you are able to take it.
The whole chassis is made out of premium nano carbon magnesium metal body which is tougher than most common laptop chassis available on the market. It provides military durability and such chassis will even protect a very thin laptop.
We were really surprised to see how LG managed to combine lightweight yet durable design that is really portable for its big size.
2. Apple MacBook Pro – Most Comfortable Keyboard Laptop For Word
The latest MacBook Pro is Apple's model which is recognized for a fully redesigned keyboard that is one of the best ones on the market. If you're looking for a keyboard that is manufactured decently, offers a great spacing, is placed well, and features nice switches with low key travel – this is the right laptop you should purchase.
Retina display
Ultrafast performance
Redesigned keyboard
Long-lasting battery life
Force Touch trackpad
Slim design
Features only USB-C ports
Key features & details
Fully Redesigned Keyboard
This is one of the best budget laptops on our list. It's true that Apple had problems with their MacBook keyboards, which included MacBook Pro the previous years. However, if there wasn't for this problem, Apple probably wouldn't be fully redesigning their keyboard.
And that wouldn't lead to one of the best keyboards in laptops nowadays. MacBook Pro features a fully redesigned keyboard with Butterfly key mechanism that now provides four times more key stability than other traditional scissor key mechanisms.
Other than reliability, we were really surprised with improved comfort. Even though we always loved typing on MacBook keyboards – we can say for sure that 2019 version of the MacBook Pro keyboard is the best one so far Apple produced.
Eye-Opening Performance
Retina has always been the unique signature that produced jaw-dropping and eye-opening performance.
With the newest MacBook Pro models, Apple has also featured True Tone technology that works well with Retina displays to provide even better visuals.
The screen is remarkably thin and yet it features a true Retina display that works incredibly good with enhanced Radeon Pro graphics Apple relies on.
You'll be able to handle much more than Word and Excel with such graphics performance. However, we are pretty sure your eyes will never get sore, no matter how many hours you've been sitting behind a laptop screen.
If you're a person who loves to combine visuals inside their Word documents, make beautiful Excel documents, and even do a lot of PowerPoint presentations – you'll love the latest Retina display.
Long Lasting Battery
Depending on the MacBook Pro model you purchase, if you decide to go with Pro model that includes TouchBar, you'll find a slightly improved battery than regular Pro models.
This is due to a lot more space available for Apple to placed slightly larger battery that will provide a battery life of up to 10 hours. This might not seem a lot in theory, but if you are someone who does a lot more than the use of a simple Office software – you'll benefit the most by the battery.
MacBook Pro's battery don't only last for long hours, but it is optimized in a way to hold a charge for quite a long time even though you might be handling heavy-processing tasks on Microsoft Word, Excel, Powerpoint, Outlook, etc.
3. Apple Macbook Air – Lightest Design laptop for excel
Working on a go shouldn't be a problem, and if it is a problem for you – choosing MacBook Air will definitely solve your issues. It's one of the lightest laptops on the market which still features durable construction and it hides a lot of power inside for best performance levels anywhere you go.
Retina display
Touch ID
Fast SSD storage
Stereo speakers
Redesigned keyboard
Responsive force touch trackpad
Can heat up during heavy-processing tasks
Key features & details
Lightness Strikes Again
MacBook Air has always been the iconic laptop for its thin design which is very lightweight and highly portable.
Now, after the full redesign which allowed Apple to produce the whole design out of a 100% recycled material, the MacBook Air is still lighter than ever before.
Not only it's thinner, lighter, and more powerful – but this laptop comes in 3 beautiful colors which will keep you in a very big dilemma before your purchase.
If you think about the Air design in whole, the improvements Apple was able to do such as adding Retina display, introducing Touch ID, and adding a whole new latest-generation keyboard – it still kept its shape and form very well.
It takes a whole lot of engineering to pull off something like this, but it's a brilliant move from Apple.
Touch ID
Touch ID didn't only stick around with MacBook Pro version, but it was even introduced in Air model which is really awesome.
Now, you get to forget about passwords and use your finger as a password. Touch ID relies on an advanced security that introduces a very convenient technology built right inside the super thin Air's design.
By using the Apple's sensor, you get to unlock your MacBook, access locked documents within seconds, or even complete online shopping without having to type a single password character.
We have thoroughly tested this feature and we find it to be very useful. Not only this is very convenient but it's offering security advancement required in 2020.
All-Purpose Performance
Apple's MacBook Air has always been considered as an entertainment or office notebook which was highly portable, but wasn't as powerful as Pro edition.
The tables have turned in 2020 as Apple introduced a configuration that is ideal for all-purpose and all-day performance.
Even though it's a very lightweight laptop, it still packs some serious components that offer quite a punch.
Therefore, you'll be able to handle everything from reading emails to editing movies in iMovie or other software.
The biggest improvement was the 16 GB RAM and 1.5 TB storage that are powered with 8th generation of Intel Core i5 processor.
Considering the battery life of about 12 hours – this is an ideal laptop for word processing software. Its capacity is enough for your office tasks even for long hours.
4. HP Spectre X360 – Versatile Design
Video streaming is always easier with a bigger display and LG Gram is a laptop which offers 17″ full HD IPS screen with a full-sized keyboard, and yet a very light and slim body. Nevertheless, it hides a lot of powerful components inside.
Full HD IPS display
Touchscreen capability
3 modes of use
Thunderbolt 3 ports
Compatible with HP pen
3-in-1 versatile design
Can overheat since there is limited cooling space
Key features & details
3-in-1 Mode
HP is really well known for its innovative approach to laptop market and Spectre x360 has surprised everyone with its 3-in-1 versatile design.
HP Spectre x360 features a 360-degree rotatable display, hence the model name. One moment, it might look like your regular laptop. Next minute, it can turn into a tablet mode by rotating the display all the way behind a keyboard.
There's third mode, which is our favorite, and it is an entertainment mode. If you flip a screen almost the whole way from the keyboard and put it on a desk – you get a screen with a stand.
This allows you to do both work and handle entertainment which just increases the multifunctionality of this laptop.
Touchscreen Capability
To spice things up, HP worked hard to introduce a touchscreen capability into a very thin 13.3" IPS display.
It all worked out perfectly, introducing one of the best touchscreen displays on the market inside a 3-in-1 laptop version.
HP even introduced their own HP Pen which comes included with a laptop and yet helps to ensure the touchscreen capability is being used to its full potential.
We must admit that it's a lot easier to do some simple tasks with a pen since it pinpoints the details very well. You won't have a problem touching even the smallest box or character on a screen.
Another useful thing is the Corning Gorilla Glass that provides extra security in a case of an accident. You might not be a clumsy type of a person, but hey, you never know – so it's better to be on the safe side.
Sleek Design
Do we even need to mention the sleek design of HP Spectre x360? We don't mean it's only beautiful in a tablet or entertainment mode, but it's a very sleek laptop in its standard position.
It combines a very lightweight and slim design which is accompanied by a thin screen, very flexible hinges, and a finish which combines sleek black and rose gold color.
We are talking here about a proud feeling you will have whenever you pull this laptop out of your backpack and place it on a table. Whether it's in your office, on a conference table during a meeting, or simply in a coffee shop – you'll always feel special working on this laptop.
5. Dell XPS 13 – Longest Battery Life
Temporarily unavailable
Working on a go requires a long-lasting battery life, and Dell XPS 13 is one of the best laptops that feature the longest battery life. You will be able to take this sleek and slim laptop anywhere and work worry-free. You won't even have to bring a charger with you.
Infinity-Edge 4K screen
Powerful configuration
Improved WiFi and Bluetooth connections
Backlit keyboard
Thunderbolt 3 port
Comfortable keyboard
Sleek design
Carbon-like material attracts dust and fingerprints
Key features & details
Touch-Screen Infinity Edge 4K Display
Other than its long lasting battery life – this laptop features a great combination of design and material that takes it to another level.
Not only it provides a 4K display, but it's a display placed in a very narrow bezel that just provides breathtaking visuals.
On top of that, Dell managed to successfully introduce the touchscreen capability to this display, improving the performance, multitasking, and efficiency in general.
You can probably imagine the joy of doing Word and Excel work while using such innovative display – just by judging the laptop through the images.
Even better yet, this laptop reaches a full 4K HD resolution of 3840 x 2160 pixels which are pretty amazing for entertainment purposes as well.
Powerful Configuration
When we received this laptop, we couldn't help ourselves but to pray it for its thin design. It's fairly close to MacBook Air in thickness.
However, when we found out how powerful configuration it hides inside its slim but mighty body – we were surprised.
Dell managed to add 8th generation of Intel Core i7 processor, a large SSD storage, and 16 GB of RAM, as well as managing the effective cooling system.
On top of that, Dell improved the Wireless and Bluetooth connection by introducing Bluetooth 4.1 Combo and Killer 1435 WLAN hardware.
Therefore, wherever you go and take Dell XPS 13, you'll feel like you're having a workstation with you. This is ideal for someone who is always handling a bit more than just a Word and Excel software.
But if you're looking for a laptop for Word with the sake purpose of running Microsoft Word, Microsoft Office 365 – this will prove itself to be a reliable and speedy laptop you will love working on.
Sleek & Lightweight Design
As you can tell, we fell in love with XPS 13 design. Even though it's a 13" laptop, it's very thin and lightweight – but as you previously could see, it's packing some serious configuration inside.
What we loved the most is the carbon-like finish that spreads across the palm rest and around the keyboard, while it provides a stainless steel finish on the screen lid and at the bottom.
Such combination makes this laptop visually appealing which goes really great with the slim design and a narrow bezel display.
Picking The Best Laptops For Word Processing & Excel 2020
Size & Resolution
Since you'll be using a lot of word processing software, you'll be reading a lot of text and even dealing with numbers. Therefore, decent laptop size and resolution are an important aspect of a laptop you're looking for.
Depending on your portability needs, you'll have to find an ideal laptop size for your needs. However, you'll also want to make sure, whatever the laptop's size is, it features a quality screen.
This way, you will ensure that you're getting a decent resolution which can go as high as 4K in some laptops. This will make the use of word processing and excel software very smooth and easy to see. Therefore, you'll never feel a need to attach an additional screen to your laptop just for better visibility purpose.
Technology nowadays allows us to reach incredibly high resolutions at very compact screen sizes which just improves the overall image.
Form / Design
If your main need for a laptop is to deal with word processing and excel software, you might not need a high-end configuration, but focusing more on a form and design is a smart idea.
You should ask yourself how important is the mobility and versatility to you. Where do you work the most? Do you like working on the go or are you even required to take your laptop with you most of the time?
If yes, you should look for a compact laptop that will offer enough power yet a great lightweight and thin design you'll love to take anywhere with you without feeling it's a hassle.
However, if you're settled in an office and you don't require increased versatility and portability levels – going for a larger laptop is definitely something we recommend. There are quite many laptops which offer both size and versatility as well, so you can never go wrong.
Keyboard
Word and Excel are one of the main software we use to input our data and therefore, you'll rely on the keyboard a lot every time you use your laptop.
If a laptop doesn't come with a decent and comfortable keyboard you'll be looking forward to using – it doesn't matter how powerful or pretty it is, it shouldn't be an option to consider.
Most comfortable keyboards are well placed with decent spacing between the keys, keys are made out of great and comfortable material, and even key travel is satisfying.
You don't want key travel that's too shallow as this will lead to mistakes, but you also don't want a big key travel since that will slow you down and make you regret choosing such keyboard after a few hours of typing.
Most modern laptops feature a chiclet keyboard type which is a very thin yet efficient keyboard – and if it's decently manufactured, it's a real pleasure to use it.
Touchpad
If you're used on working on a go and you don't like carrying extra peripherals if you're just going down to the coffee shop to get some work done – touchpad is a really important aspect of a laptop you shouldn't ignore.
You want to find a touchpad which is decently sized so you don't have to use extra strokes for even the smallest moves, supports multi-gestures that improve the efficiency and ease up the multitasking, and also are made out of a great material such as glass which will give the trackpad a nice glide.
Also, make sure that the manufacturer includes the drivers or relies on the Windows drivers for best trackpad optimization. We find that these details are really important to achieve the best efficiency and responsiveness.
Battery Life
Since Word, Excel, and other similar software aren't very demanding – they won't quickly drain your battery. With most modern laptops that feature modern batteries that can last up to a day on a single charge – you should be looking to get a laptop with such battery life.
This way, you'll get a long lifespan and you won't have to worry about bringing a charging with you everywhere you go. No matter if you work from the coffee shop or from an office – you will want a decent battery life of at least 6 hours.
You don't want to be looking for power outlets or constantly have to keep the laptop on a charger. This would even increase other concerns such as overheating which you definitely don't want.
Frequently Asked Questions
Is graphics card necessary for word processing and Excel type software?
Since Word, Excel, and such software don't demand a lot of graphics processing power, you won't need a laptop with a dedicated graphics card. Laptop with an integrated graphics processor such as Intel HD graphics will do perfectly fine for this purpose.
What are the minimum requirements for a Microsoft Office software?
Minimum requirements for Microsoft Office software are at least 4 GB or 8GB RAM, display with a resolution of 1280 x 768 or higher, operating system Windows 10 of Mac OS Sierra and higher, and .NET version 3.5 on Windows for some features
Should I always go for SSD or HDD (hard drive) is okay as well?
Most modern laptops feature SSD storage type, yet HDD (hard drive) isn't as bad for the purpose of word processing tasks. Depending on your full use of the laptop, we recommend you go for SSD if you consider a budget laptop. If not, sticking with HDD isn't a bad idea either and it should do fine.
Resources
System Requirements for Office – Products.Office.com
Apple MacBook Keyboard Redesign – Apple.com, 2019