Trading Forex is definitely something that requires skill and knowledge, but other than skill and knowledge – you need a solid laptop to match your capabilities. Therefore, in this post, we will help you find your next best laptop for trading Forex.
It's a bit tricky to find a perfect laptop for Forex trading since there are quite many things and aspects to look out for. However, we have spent hours narrowing our list to the top 5 and taking time to test each of these laptops individually.
This leads us to write this full review where you will find our insight and hands-on opinion of these laptops which would most likely make an ideal choice for your needs.
If you aren't a big fan of technology and know nothing about it – we can guarantee you that no matter which laptop you choose from this list, you'll be equipped with a very solid machine.
In A Hurry? Here's The Winner From Hours Of Research
Editor's Choice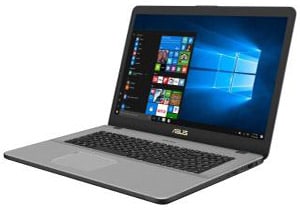 ASUS VivoBook Pro
Why is it better?
Large wideview display
Thin and portable design
Comprehensive connections
Long lasting battery life
4K UHD output
The Lineup At A Glance
The Contenders For The Best Laptops for Trading Forex
1. ASUS VivoBook Pro – With Largest Screen
There is no better way to trade Forex than using a large display with a high resolution that will provide a vivid image no matter what you do. That's exactly what ASUS VivoBook Pro offers along with the powerful configuration and sleek & lightweight design.
Powerful Intel configuration
Dedicated graphics card
Large widescreen display
Comprehensive connections
Sleek & lightweight design
Temperature can get high when turbo boosted
Key features & details
2. HP Envy 17t – Best Display Choice
There is no better way to experience anything you're doing on your laptop than with a UHD4K display that offers brilliant image with a high number of pixels. That's exactly what HP Envy 17t offers even though it has a very slim chassis and pretty decent configuration.
Sleek and thin design
UHD 4K display
Powerful configuration
Dedicated graphics card
Increased connectivity
Touchpad isn't placed in center
Key features & details
3. Dell XPS 13 – Lightest Pick
Working on a go requires one of the lightest laptops on the market such as Dell XPS 13 which is very lightweight, very thin, and yet packs a decent configuration and even better yet display that will keep you going anywhere you are.
Powerful configuration
Increased versatility
Can be easily recycled
Ultra HD 4K Infinity Edge display
One of the lightest laptops on the market
Increased connectivity
Speakers are just an average
Key features & details
4. Huawei Matebook X Pro – Large Trackpad Choice
You'll be working on a go and you'll be most likely relying on a trackpad – and the good news is that Huawei MateBook X Pro features a wide and very responsive trackpad which includes multitouch gestures. Other than this incredible feature, it is very light, thin, and easily portable.
Very large trackpad area
Incredibly thin design
Narrow bezel 3K display
All-day battery life
40% performance boost
Can heat hot during heavy-processing usage
Key features & details
5. Apple MacBook Pro – High-End Pick
If budget isn't a problem and you're going all-in to find the most high-end laptop which will never let you down in your Forex trading tasks – the latest Apple MacBook Pro is the laptop you should be purchasing. It features Intel i9 powerful configuration, amazing display, and incredible yet sturdy design.
Latest high-end configuration
True Tone Retina display
Ultrafast SSD storage
Four Thunderbolt 3 ports
Slim and lightweight design
Durable chassis
Keyboard can be quite noisy for some people
Key features & details
Criteria used for evaluation
Size & Resolution
As a Forex trader, you'll be looking into the screen for almost your whole work day. Not only that, but you'll also be looking at numbers and characters on large sheets which could really bring eye issues if you're not careful with your laptop choice. Therefore, size & resolution are really important when it comes down to the best laptop for trading Forex.
Depending on your portability needs and wishes, you might stick with a 13″ laptop – but you can also go with a 17″ choice as well. However, what you should look for is a high resolution as this will make things a lot easier for you (larger resolutions provide more pixels).
Therefore, if you're not on a budget we highly recommend you go for a 4K resolution, but if not – you can always go with 1080p resolution at least.
O.S
Depending on your trading capabilities, level, and skills, you might be using Forex trading software that helps you with the process by automating most of the work. On the other hand, you might be doing everything by yourself without any software.
Whatever the way it is – we highly recommend Forex traders to go with an OS that is reliable, will support them in both hardware and software capabilities, and will be easy & quick to use.
We recommend sticking with two best options available which are Microsoft Windows and Apple Mac OS X.
These operating systems work really well with hardware and are quick and easy to use. They're also very reliable with all the support you can have. Also, you will never be unable to do any task or install any software since chances are 99% there is the software you require available for these operating systems.
Performance
Since Forex trading laptops don't need to come with the most high-end configuration, but if you aren't on a budget – we highly recommend you get a very decent configuration.
Even though you won't be working in very demanding software – you will often have a couple of software open, maybe even a few different browsers with plenty of tabs and along with some other apps. Therefore, you will want a high processing power combined with plenty of RAM.
While the graphics card isn't very necessary, most laptops we chose include dedicated graphics card or they rely on a very quality integrated graphics card processor.
Having the necessary speed and reliability at any given moment is very crucial because you don't want to be slowed down or miss on anything.
Battery Life
You will have quiet office days but you'll also have trading times when you're somewhere between your home and your office. This really requires your laptop to have great battery life.
Most modern laptops come with batteries that can last about 20 hours which for most traders is enough for a day. However, some average users might even get two days out of a single battery charge.
Other than battery life, you should be looking at the battery type since some modern batteries come with super quick charging capabilities. This will allow you to fully recharge your battery in just an hour.
We wouldn't recommend you to go for a battery which can't last at least 5 to 6 hours. Every one of the laptops we've mentioned in this post has a super long battery life and you shouldn't have to worry about this – yet you should realize it's a very important aspect.
Touchpad
Since you're looking for versatility and portability – you will most likely be going to use your laptop without additional peripherals such as mouse and a mousepad.
Therefore, we find that touchpad and the whole trackpad area is really important for Forex traders. From design, the placement, material, responsiveness to even available multitouch gestures.
You want a trackpad that won't limit you in any way, and yet will provide more efficient use of your laptop with decent trackpad responsiveness, multitouch gestures, and plenty of space for a smooth glide on great material.
We really like touchpads which are made out of glass rather than plastic and knowing that both Windows and Mac OS X operating systems come with plenty of multitouch gestures you can use – this will make your work a lot easier.
Frequently Asked Questions
Do I need a graphics card for Forex trading?
Graphics card isn't necessary for trading Forex and the decent integrated graphics processor is going to be just fine. However, if you aren't on a tight budget, getting a laptop with a dedicated graphics card isn't a bad idea. But once again, it depends on your other use of the laptop when you're not Forex trading.
Is SSD necessary or I can go with HDD as well?
SSD isn't necessary and a high RPM HDD storage type will do just fine, but you will notice almost every one of these laptops comes with SSD since it's becoming a new standard in quality laptops. However, as answered earlier, HDD will do just fine in case you're on a tight budget or laptop manufacturers chooses HDD over SSD.
How much storage would I need for Forex trading?
Since you'll mostly be using browser or software, we highly recommend you get at least about 128 GB storage. This is the minimum, and depending on the type of software you're going to install and what other users of the laptop will be in your free time – you will want the storage number to gradually increase.
Resources
Forex Platform Requirements – Forex.com
How to Choose the Best Computer for Trading Forex – TradingHeroes.com