A magic keyboard, better sound, and a 16" display wrapped up with faster performance are what makes up the new MacBook Pro 16". This laptop isn't only among the most powerful of all Macbooks; it is by far the best.
Using their iconic workstation, Apple improved upon pretty much every aspect of this Mac Book making it among the best laptops money can buy. With all the hype surrounding the MacBook Pro 16", you may not realize that there are a few things that aren't ideal. Check it out!
| | |
| --- | --- |
| Things we love about the Mac Book Pro | Things that we aren't so sure about |
| Magic Keyboard | Limited Ports |
| Excellent screen resolution | No SD card Port |
| Improved speaker quality | Price |
| Excellent and powerful performance | |
| Thin bezels | |
| Almost 11 complete hours of battery life | |
So, what's new with the MacBook Pro 16"?
The Mac Book is not a new brand, and it has come out with many models before that are comparable to the last and since they are so keen on giving you one model after the other this really shouldn't be a surprise. So, what is the hype with the new MacBook Pro 16" and what makes it better than any previous models?
These questions are valid and need to be answered to determine if the MacBook Pro 16" is one of the laptops that are worth switching too as compared to any past model of the same device which is, wait for it… only 6 months old! Let's check it out.
Magic Keyboard
There are many new things that come with this Apple product that makes it magnificent. However, one of the first things that will stand out to you will be the keyboard. The new magic keyboard has added a brand-new keycap structure that is much more concave and has a rubber dome underneath for optimal support.
This keyboard is smooth to the touch and makes working on it soft like a pillow and responsive compared to other keyboard types. However, the keyboard may seem too soft for some. You are typing on a computer and not a pillow after all. Yet, the new keyboard is so comfortable to work on that you will never want to go back to any other type of keyboard again.
Battery
This battery has increased in size to a 100-watts/hour battery making it considerably larger than previous Mac Books. What that means is that the battery will last much longer now than it ever did between charges making it the ideal traveling companion. 
What you get is a workstation that will last for up to 11 hours between charges. This laptop relieves you from suffering from a minuscule battery but provides you a great deal of power.
Speakers
If you love the sound and speakers that are incomparable with a built-in microphone, then you have found it in the MacBook Pro 16-inch. Seriously, the speakers are phenomenal. 
You will love how clear and crisp sounds with the considerable improvement compared to past Mac models. If you are conducting meetings, need to listen to audio frequently or do video chatting, this feature is ideal for you. 
Furthermore, it is loud enough that you will not feel the need to use any external devices in order to obtain a sound quality that is worthwhile. 
You get the improves speaker sound without compromise on the one aspect you love about the MacBooks, and that is the thin and light design.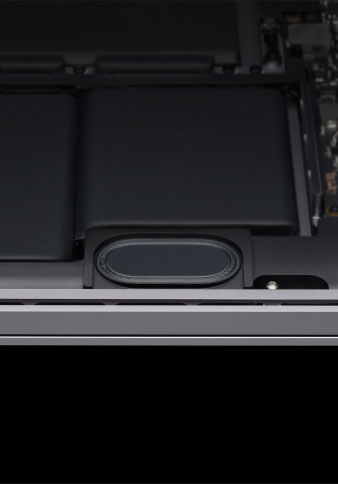 Display
Unsurprisingly, this computer comes with one of the most colorful and brightest panels that have come with any other Mac. Furthermore, the resolution is 3072 X 1920, which makes it better than past MacBooks. One thing that this book sadly doesn't come with is a 4K screen resolution that most professionals must prefer. 
You would think that with the cost of this device that would be built in, but Apple chose the lesser resolution because it helps to extend the battery life. Moreover, the bezels are slimmer providing you with more screen to look at for a more immersive visual experience. Those who are true pros will love and appreciate that you can change the refresh rate for the display.
the most colorful and brightest panels
more screen to look at for a more immersive visual experience
Other Features
There are a lot of new features that come with the MacBook Pro 16," and it can quickly be overwhelming. However, apart from the features mentioned above, there are a few honorable mentions.
        This Mac comes with an 8-core Core i9 CPU that is faster and stronger than previous models.
        On top of a great CPU, there is 8GB of Ram and 8TB of storage that makes this a very versatile and large laptop for space.
        There is a thermal design that has 35 percent more surface area, and the fans inside can push 28 percent more air through to keep your laptop safe without overheating.
        The camera also deserves mention because it has wonderful capabilities that are comparable to other Apple products.
Processors
faster and stronger with an 8-core Core i9 CPU
Storage
very versatile and large laptop for space with 8GB of Ram and 8TB of storage
Thermal
35 percent more surface area, and the fans inside can push 28 percent more air through
The new 16-inch MacBook Pro is available both online and in stores.
The standard model of this MacBook starts at $2399 and it comes with a Core i7 CPU along with 16GB of RAM an amazing AMD Radeon 5300M GPU and an SSD card that has 512GB. This particular model was designed to replace the 15" Mac Book Pro.
Furthermore, the model does step up with a faster CPU and Faster Radeon Pro graphics long with a 1TB SSD. However, for the larger model, the cost is steeper at $2799. For all the bells and whistles, you can get the same CPU, but the SSD boosts up to 2TB along with the RAM increases to 32GB, and the amazing graphics card goes from 4GB all the way up to 8GB. However, you pay for it at $3899.
If you purchased the MacBook Pro 15" you may feel rather frustrated that you paid the same price for the lesser computer. The MacBook Pro 16" has taken the place of the 15" version that is only a few months older but no longer sold by Apple. Which may make anyone who purchased the 15" feel as though they spend a ridiculous amount of money a computer that is now considered outdated only a few months since it's release.
Is the MacBook Pro worth buying?
There are a lot of differing opinions when it comes to whether or not the MacBook Pro 16" is worth the money you would spend on it. Since the price is very steep, it isn't one of those things that you want to just jump into purchasing. There are a lot of things to consider before you jump headlong into a computer that is worth a fairly decent second-hand car.  
If you are on the fence as to whether or not you should purchase the MacBook Pro 16" then there are a few things that can help you make that decision and those things are as follows:
Purchase The New MacBook Pro 16" If…
A WorkStation That Lasts
You want a workstation that is going to last your entire workday. 
With an amazingly improved battery that holds a life of up to 11 hours, you can work all day long without needing to charge. 
A Love Of The MacBook Pro
When you love the MacBook Pro but desire to have more power and more bells and whistles, then this is a great choice for you. 
Apple wanted to design a computer that was going to give their customers more of what they want.
More Power
Apple has a tendency to upgrade old loves. However, if what you are wanting is a powerhouse, then this is the right Pro for you. 
The MacBook Pro does give you the most powerful Mac ever produced.
Don't Purchase The New MacBook Pro 16" If…
You Love Windows
Many people succumb to peer pressure when they switch from a Windows OS to a Mac OS because they are told that Mac is better or vice versa. 
The problem is, if you love Windows, you aren't going to dive deep into a Mac. Therefore, if Windows is what you love, stand by it. Don't switch over to a Mac because you were told too.
Too Much Power
The Mac Book Pro 16" packs a powerful punch when it comes to performance and overall power. This workstation is by far among the most powerful computer on the market. 
What makes this a bad choice for you is if you are getting this laptop without the need for this much power. Therefore, if you don't need that kind of power, don't get it.
Cost Matters
This workstation comes at a steep price. Don't spend a crazy amount of money that it costs to get all this power and beauty if you don't have the money for it. You need to carefully consider if spending a few grand on a laptop is a good idea or not. 
The cost of this laptop can go a long way in the life of those who don't have extra cash to spend. If you don't have the money for this kind of luxury, don't get it. There are other options that are available to you that don't require spending a small fortune.
To Put It Into Perspective…
Here is a comparison chart to help you see the differences in the Mac Book's so that you can see what makes the MacBook Pro 16" special.
Type

MacBook Pro 13"

MacBook Pro 15"

MacBook Air

MacBook Pro 16"

Display

 

13.3"

Retina display

 

15"

Retina display

13.3"

Retina display

16"

Retina display

Processor

Up to

4-core

Intel Core i7 processor

Up to

4-core

Intel Core i7 processor

2-core

Intel Core i5 processor

Up to

8-core

Intel Core i9 processor

Memory

Up to

8GB

memory

Up to

16GB

memory

Up to

16GB

memory

Up to

64GB

Memory

Storage

Up to

1TB

storage

Up to

2TB

storage

Up to

1TB

storage

Up to

8TB

Storage

Battery life

Up to 10 hrs

Up to 12 hrs

Up to 12 hrs

Up to 11 hrs

Keyboard and Touch bar

Touch Bar and Touch ID

Touch Bar and Touch ID

Touch ID

Touch Bar and Touch ID

Suitable User

This laptop is great for someone who wants an older mac that is still powerful and lightweight

This Macbook is an excellent choice for those who are in college and need a light laptop that has a long battery life. 

This laptop is best for those in school who need a basic laptop that also comes with a good battery life and is portable

This Macbook is ideal for those who are professionals either as a graphics designer or someone who games. 
Each of the MacBooks bring something to the table that makes them worth the purchase. The MacBook Air's are excellent for those who are mobile workers or who are students. The one with the 4 ports is best for those who have additional products that need to be plugged in or who tend to do presentations or play games occasionally. 
However, the MacBook Pros are the best laptops for those who are more serious about their laptops and spend a lot of time working from them. These are great for advanced students and for those who work in graphic design or even who take gaming very seriously. 
Each of these books are incredible and each provide you something. When in doubt, go for the least of them. If you don't have specific needs then the MacBook Pro 16"is probably too much laptop for you. 
Future Of The MacBook
The future is never sure when it comes to Apple products, but you can have confidence that whatever they come up with next it is going to be amazing. Since the MacBook Pro 16" has become one of the best systems on the market, it is going to be hard to beat. However, if there is one thing that Apple relishes on, it is providing high-quality and powerful workstations to the public. Keep your eyes peeled, you don't want to miss what's next. 
Conclusion
The new MacBook Pro 16" is a powerhouse of a workstation that is amazing under the fingers of everyone who touches it. The overall performance is incredible and is amazing for anyone who wants to have a powerful system on their hands. This workstation has an incredible display and a magic keyboard that makes this system worth purchasing.
The ultimate decision is yours. Apple spared no expense to provide you with a high-quality, updated version of its popular Pro series. However, the Mac Book Pro 16" quickly jumped through all the hoops and skyrocketed to the top of its class in both display and performance. An amazing system at an incredible price.