More and more people use their iPad for productivity as hybrid work system gradually becomes a norm for many. iPad has the capability to handle many tasks, light or heavy. But to get the most out of it, you need some accessories. A stylus enables you to draw and scribble. The Magic Keyboard props your iPad up to a certain degree to give you a slightly more comfortable angle.
Sometimes choosing the best iPad accessories could be a bit daunting as there's a wealth of cases, stands, keyboards, and many other categories from the official or third parties. And among them, a nice case and a stand are must-haves.
MagEZ Folio 2: A Slim, Magnetic Folio Cover That Stands in Portrait Mode
Every iPad user needs a case to protect the device. If the case could provide more other than protection, that's a bonus. The Apple Smart Folio is a double-sided case that stands the iPad in two angles.
If you're looking for something like the Apple Smart Folio, take a look at the MagEZ Folio 2 from PITAKA. It's cheaper but with more functions.
The MagEZ Folio 2 is a double-sided cover that protects the front and back of your iPad. It also secures your Apple Pencil with a magnetic strap that can be hidden if you don't use a stylus – no more worrying about losing your creative tool while on the go. Furthermore, the PITAKA folio can be folded in two ways, providing four standing angles including the portrait orientation which is ideal for web browsing, reading, and video chatting.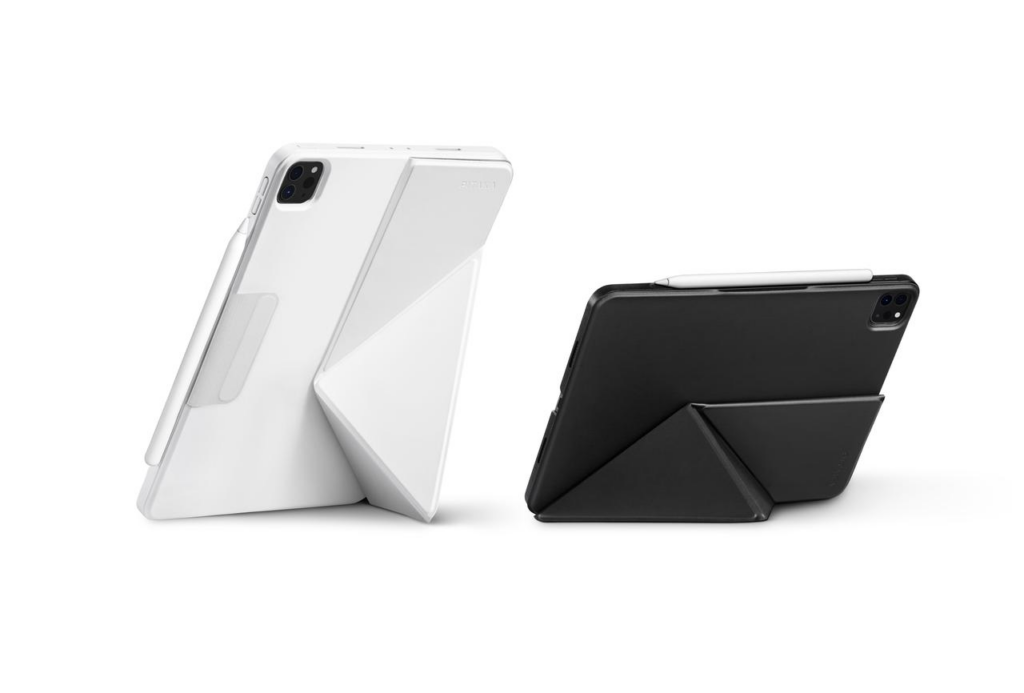 Additionally, with a lightweight 240g (11'') construction, the PITAKA iPad folio case is an ideal accessory that protects your device when you carry it around.
MagEZ Case for iPad: Ultra Slim and Magic Keyboard Compatible
If you don't need to elevate your screen to a comfortable viewing angle, you may choose a minimalist iPad case.
PITAKA's MagEZ Case is purely a case with an open-sided design which enables it to work seamlessly with the Magic Keyboard. If you use a Magic Keyboard, this could be your best deal.
Slim as the case is, it's made of aerospace-grade aramid fiber, which is stronger than steel but lighter. So it can protect your iPad from scratches and scuffs. The unique material has a texture that's smooth to the touch while adding grip.
The MagEZ Case is compatible with the MagEZ Folio 2. So if you want to have every edge of your iPad covered, get the case and the folio.
MagEZ Stand: A Magnetic, Adjustable iPad Stand
If you need to use your iPad to work long hours while at home or in the office, you'd better get an iPad stand that ease the strain or pain of your neck.
The MagEZ Stand is designed for that purpose. To magnetically attach your iPad to the stand, apply the MagEZ Case or the included sticker, so installing is a snap and removing is a single pull. You can rotate the screen between portrait and landscape mode effortlessly with a single hand. And you can tilt the screen up +32.5° and down -5°to find the most comfortable viewing angle.
With this magnetic iPad stand, you can use your iPad as a second screen alongside your computer. Or add a mouse and keyboard to turn the tablet into a desktop computer.
In addition, PITAKA also offers an iPad stand with wireless charging function. To wirelessly charge your iPad, you need the MagEZ Case Pro and the MagEZ Charging Stand. With those two accessories, you can snap your tablet to the stand and enjoy hassle-free wireless charging.