A Virtual Private Network (VPN) would help maintain your privacy by masking and hiding the data that you send or receive from your IP address. A VPN is typically used over a less secure network such as public Wi-Fi and other networks, it uses tunneling protocols to encrypt and decrypt data. Thus, protecting you from any DDoS attacks and online attacks that could lead from phishing scams to identity theft. Now, a lot of VPN service providers are also targeting gamers as their new audience, claiming that their VPN for gaming can improve gaming latency and reduce lag.
The truth is, in some cases yes. A slow connection may be due to issues of your packets not taking the fastest route to their destination that could result in higher ping. What a VPN will do is connect you to the server via a faster route, like taking a shortcut. It could stabilize your connection to avoid lags spikes. But keep in mind that, if the connection between your network and the game server is as fast as it can go, a VPN may only produce extra lag.
How Network System Works
A network system is a connection of nodes like computers, routers, and switches using cables, fiber optics, or wireless signals, the connections between those devices in a network allows them to communicate and share information/ resources. Each device on a network uses an Internet Protocol or IP address, a unique string of numbers that identifies a device and allows other devices to recognize it.
In this network the router facilitates the communication between different networks, the router analyzes the information it receives and determines the best way for the data to reach its destination. While the switches manage the node-to-node communication inside a network, ensuring that all the data that is sent across the network can reach their destination.
Basically, a network system is the structure that lets every device communicate to each other and to other networks as well. Thus, enabling us to communicate and access contents wherever we are with the use of internet connection. This is also true of online games, this allows us to play online games and connect to its server for us to play it with other gamers.
What Affects Internet Speed/Ping
If you are a game then you heard of the word ping, which is displayed on the top or bottom of any games and well of course the lower the better. But what does ping really represent and what factors affect it?
Ping is a tool or software utility to test connection between computer networks, it is some kind of measurement as to how fast the information sent from server to server or devices to devices is usually measured in milliseconds (ms) and the time of travel between these locations is called latency. Though in the world of gaming, ping and latency are considered the same. A high ping would result in low gaming performance so it is desirable to have a low ping for smoother gameplay especially when playing competitive games online.
The speed of your internet connection from ISP
There are plenty of internet plans and they offer different Mbps per plan so the higher the mbps the faster the internet connection you have, of course this is the first variable that could affect your ping. Your ping is dependent on the speed of your ISP so having a mediocre plan could end up in a disastrous gaming experience, especially if there are many users that are using your internet. So if you plan on getting an internet, make sure to invest a little more money as it is worth it for a long period of time.
Firewalls
Most of the data packets that are sent from your computer to necessary addresses are checked by firewall, while we are talking about milliseconds this process can take time and may slow down internet connection that could lead to high latency. To reduce the latency you need to disable any Windows Firewall and other third party applications that have firewall protection such as antivirus applications.
Using Wireless
We cannot deny the fact that wireless connection on devices has been vastly improved, but it is still preferable to use ethernet cable especially for gaming. The very downside of using Wi-Fi connection is the atmosphere of surrounding, the interference that is present between your router and your device could drastically affect your ping. While an ethernet connection gives reliable and less lag.
Distance of game server
Well this is pretty easy to understand, if the game server is very far from you then it may affect the ping in game. Take not that, gaming ping and internet ping is not the same. You can have a very little ping on your internet but that isn't true to your game, as the distance of the server affects the transmission of game data that could lead to high latency.
Network congestion
Even if you have a high speed internet connection, still the number of users that are using it and their activities affects your game ping. The increase in load results in network congestion that could affect the transfer speed of other packets, i'm pretty sure you've noticed that if someone is watching youtube videos with 4K resolution then others would sacrifice by having a slow connection since the router prioritizes the device that consumes most of the data.
In What Way VPN Can Improve Ping
VPN for gaming allows your IP address to be anywhere in the world, all we need is a stable internet and a premium VPN that actually works. A stable connection to a VPN server allows the data that is being sent to take a shortcut through the game server, for example, you live in Spain and you play a game that has a server in the US, so to get a stable connection you need to select US as your server in your VPN. By doing this you are using the VPN server to directly connect to the best game server that you selected based on the country you choose.
Using a gaming VPN could reduce the latency for games since you can select the country that is nearest to the game server, this is like bypassing any other server and directly tapping into the game server which could lead to ping times improvement and game latency.
What To Do If You Get High Ping From VPN
The main reason for high ping when using a VPN is the connection between your location and the VPN server, since there are times that your location is pretty inconvenient for the game server since it is way too far or there are many users on that particular server so you get high ping. Though the connection between the VPN server and the game server is extremely large and stable, so you might want to try connecting to a server in the nearby country as they may work better.
Make sure to do this also, turn off any firewalls you had in place. Try using an ethernet cable instead of Wi-Fi, trying this workaround may solve your VPN issue so you won't need to select a random nearby server when playing online games.
Best VPNs For Online Gaming
While it is somewhat true that a VPN can reduce your ping if used right and given the right conditions, not all VPN is the same. There are VPN services that work better than others, so let us introduce some of the best gaming optimized VPN.
Work on: Windows, macOS, Android, iOS, Android TV, Linux, Chrome, and Firefox. It's also compatible with routers | Streaming sites unblocked: Netflix, Youtube, Hulu, HBO, Disney+, Comedy Central, BBC | 24/7 support: Yes | Trial period: 30-day money-back-guarantee | Number of servers: 5,400+ | Server locations: Unidentified | Countries: 62 | Maximum devices supported: 6 for single subscription
One of the best VPN service providers that has been dominating the industry for years, enjoy fast and reliable connection with its vast network of servers that is located in 62 countries around the world. A VPN that is great for the price, has ultimate online security and lets you play any online games without restrictions. The unlimited bandwidth and high speed servers keeps your gaming as smooth and immersive as ever.
They offer a 30-day money back guarantee for their single subscription that could accommodate 6 devices simultaneously, giving you a freedom to test the service and experience the NordVPN risk free.

Work on: Windows, Mac, Android, iOS, Linux | Streaming sites unblocked: Netflix, Hulu, HBO, Amazon Prime Video, Showtime, Sling TV, DAZN, and BBC iPlayer | 24/7 support: Yes | Trial period: 30-day money-back-guarantee | Number of servers: 3,000 | Server locations: 160 | Countries: 94 | Maximum devices supported: 5 for single subscription
A leading VPN service provider in the industry with military-grade security that protects you from DDoS attacks and cutting-edge leak prevention, ExpressVPN keeps you safe and gives you low ping in games. With over 3,000 servers that are strategically located in 94 countries around the world, you can be sure that you got the fastest server connection there is. ExpressVPN is one of the best choices for gamers because its strategically positioned servers could give you an on-point game server connection.
Take advantage of the 30-day money back guarantee offer to test out this amazing VPN, a single subscription could protect 5 devices simultaneously. They have 24/7 chat support in case you have a problem with the VPN.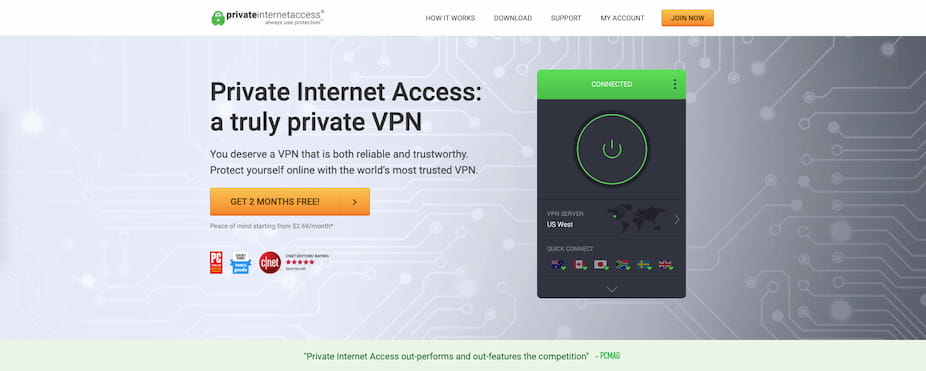 Work on: Windows, Mac, Android, iOS, Linux | Streaming sites unblocked: Netflix, Youtube, Hulu, HBO, Disney+, Comedy Central, BBC | 24/7 support: Yes | Trial period: 30-day money-back-guarantee | Number of servers: 3,200 | Server locations: 52 | Countries: 46 | Maximum devices supported: 10 for single subscription
One of the budget-friendly VPN options, Private Internet Access offers a top speed connection with its worldwide VPN network. They are very committed in providing security to protect your privacy, they use military grade encryption and complex protocols to keep you safe. They have over 3,200 servers scattered across 46 countries, ensuring that there is always a server available for you regardless of where the game server is located. What we like about PIA is that, if ever you experience high latencies during gameplay it lets you alternate server gateway and swap ports and protocols so you can continue the smooth gaming experience.
Private Access VPN offers a single subscription that enables you to protect 10 devices simultaneously, you can try their service for 30 days and get your money back if you are not satisfied with the VPN service.
Conclusion
Using a VPN for gaming has been widely practiced and most of the reason is to bypass any restrictions, so in return there are questions that need to be answered. Can a VPN reduce ping in online games? We have given the answers above and we believe that given the right choice of VPN and internet service provider you can greatly lower ping in a game.