Looking to jump into the world of ultra portable computing but not quite ready to make a big investment yet?
Don't worry, we've got you covered!
We compared dozens of different budget tablets to find the absolute best models available for less than a single Benjamin Franklin.
Want the best bang for your buck?
Depending on what features you need, staying under $100 will require going refurbished with some brands, while others have brand new models available.
Whether you prefer Android or Windows (or just need a drawing tablet for graphic design!), we can show you the 8 absolute best cheap models available in 2019.
If you want something with better specs for all your productivity or gaming needs. Checkout our:
Mid range budget tablet pick: Under $200
Highend tablet buying guide: Under $300 | Under $400
..or browse our Tablet by budget series to get our experts's most recommended tablets falling under different budget constraints.
The Lineup At A Glance
Review Of The Best Cheap Tablet Under $100
1. Samsung Galaxy Tab E Lite – Best Android Option
Don't need the latest and greatest OS or fastest tablet around? If you just need to surf the web, send messages, and use the occasional app, this is easily one of the best cheap Android tablets.
Comfortable and lightweight
Great performance for the price
Have to go refurbished to get under $100
Older version of Android
Key features & details
2. Huawei Mediapad T3 – Inexpensive Android Tablet Pick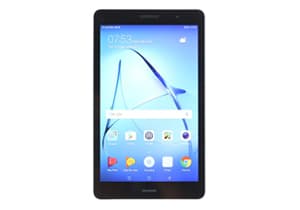 Want beautiful colors, deep blacks, and great speed? The Huawei MediaPad T3 is easily the best inexpensive Android tablet (although it does usually sell for slightly over $100).

High quality display
More RAM for better performance
Excellent battery life
Slightly heavier than other models
Lots of bloatware
Key features & details
3. Fusion5 – Best 10 Inch Pick
If you want a bigger screen for the best viewing experience, this is easily the best 10 inch tablet under $100.
High quality screen
Extra ports
Lower battery life
Heavier unit
Key features & details
4. Amazon Fire 8 – Best 8 Inch Pick
If you love using Amazon Prime as your main entertainment source or read a lot of eBooks, the Fire 8 is easily the best 8 inch tablet under $100 for you.

Excellent performance
Low price
Extra Amazon features
You have to manually install the Google Play store
Apps will try to upsell you on Amazon services
Key features & details
5. Asus Google Nexus 7 – Best 7 Inch Pick
Looking for a smaller, lighter tablet with excellent screen quality? While you have to go refurbished, the Asus Google Nexus 7 is easily still one of the best 7" tablets under $100.
Highest screen quality
Lightweight
Refurbished
Older version of Android
Key features & details
6. Nuvision Encite Split - Best Windows Option
If you're on a very tight budget and you are a die-hard Windows user - this is the perfect Windows tablet for you. It features a decent configuration, runs Windows 10 smoothly, is easy to use and navigate - and it even features a removable keyboard cover which is included in the price.

Cheapest Windows tablet
Long lasting battery life
Features USB-C port
Runs Windows 10 OS
Dual-core processor
Comes with a removable keyboard cover
Keyboard is very comfortable
Sound is an average
Doesn't feature the latest Bluetooth version
Key features & details
7. NuVision 8″ Full HD – Best Windows Option
Want the full Microsoft Windows 10 experience in a tablet that weighs under a pound? NuVision easily offers the best budget Windows tablet under $100 right now.
Windows 10 in a lightweight tablet
Full HD display
Slower performance than other models
Not much storage space left with Windows installed
Key features & details
8. CHUWI Hi8 SE – Top Picks
Want the absolute cream of the crop in terms of performance and construction while still staying on budget? Chuwi offers the best overall tablet under $100!
Excellent performance for the price
Durable metal body
Much more storage capacity
Slightly lower battery life
Key features & details
Criteria used for evaluation
Display Quality
You don't want to sacrifice visual quality to stay on budget, especially when you'll be staring at a screen for hours at a time.
100% of your tablet usage time will focus around visual quality, whether you are reading a news story, catching up on that latest thriller, or playing on an app. When comparing reviews from end users, we found that the #2 cause of negative buyer feedback was poor screen quality.
At this price range, we recommend you pick a device with an IPS panel and a minimum of 1200 pixels resolution, but 1900 is a much better option if you want to view HD videos.
2. High Performance
You will have to make a few sacrifices on specs to stay under $100, but you still want a reasonably fast device that meets your needs.
Without question, the #1 top reason buyers aren't satisfied with their budget tablet purchase is slow speed or frequent crashes when using memory-intensive apps.
We strongly recommend a quad core processor and a minimum of 2GB of RAM for any device in this price range. 16GB should be your minimum acceptable storage amount in most cases to ensure you have enough space to save your files and run apps smoothly.
3. Hand Comfort
Unlike a laptop, you will be holding your tablet for extended periods so you want the most comfort possible without going over budget.
Tablets come in all shapes and sizes these days, but there are a few designs that tend to be more well received by reviewers than others.
We recommend staying under a pound in weight unless you are picking a tablet that is at the larger 10" size.
Be on the lookout for comfortable rounded edges as well, and always check reviews to see if previous buyers used aftermarket rubber cases for additional comfort.
4. Durable Design
You don't want to waste your $100 and end up buying a new tablet after an accidental drop!
Not all tablets are designed in the same way, and most budget tablets don't include worthwhile warranties. Those that do cover parts usually won't repair or replace critical components like the screen if they have suffered accidental damage.
We strongly recommend looking for a device with a solid metal chassis that won't break the first time it gets bumped or spilled on.
Note that you can also alleviate some of this issue by buying an aftermarket case with a screen protector, although you may end up spending more than the full $100 at that point.
5. Extra Features
You'll notice many tablets in this price range have the same overall hardware specs, but some offer additional features that make your purchase more worth the price.
You aren't buying a full computer, but you still want to have as much versatility and usability in your device as possible.
We recommend looking for tablets with extra ports (such as full sized USB or HDMI), higher end full HD screen qualities, or that include free perks like a stylus to ensure you get the most bang for your buck.
Some tablets include free trials of streaming services as well, such as Amazon Prime.
Frequently Asked Questions
What do I need to look for when picking a tablet?
You might be tempted to solely look at the starting specs and try to find the tablet with the best speed, but that's a common mistake for new buyers.

There are several other features that should be more strongly considered first.

First up, you should decide on which specific OS will work best for your needs. 

For instance, do you want access to a stable of apps from the Google Play store? Or do you instead prefer to stick with the Windows platform you already know how to use?

Will your device primarily be used for entertainment like reading books and streaming movies? Or do you instead plan to utilize graphic design apps or image editing tools?

In most cases, you can use these broad categories to find the device that fits your needs:

1. For the quickest speeds at this price point and the widest range of apps, go with an Android device. The newer the Android OS version, the better.
2. For basic web browsing and using a few programs you already know well, consider picking a Windows device.
3. For hooking up to your Prime account to stream music & movies or read your eBook collection, go with an Amazon Fire OS device instead.

Besides OS, size is the next most critical factor to keep in mind.

Tablets are available as small as 7 inches, which is great for portability but doesn't offer much display area for viewing videos or playing games.

On the opposite end, 10 inch tablets require two hands to hold, but give you significantly more viewing room.

If you want a good compromise, we recommend going with an 8 inch device that gives you the best of both worlds.

After you have your OS and size decided, you can then drill down into the specs and look at other features that will determine how much money you should spend.

What are the bottom line specs I should expect from a budget tablet?
Before you start considering specs  like RAM and graphics chips, make sure to take a close look at the projected battery life of a tablet.

You don't want to have to plug in multiple times a day, and some models offer faster charging than others.

In general, we recommend sticking to any device with 8 – 10 hours of projected battery life, unless there's a compelling reason to go lower (such as higher specs).

Always keep in mind that those projections are based on dimming the screen brightness while running a single app at a time.

If you keep multiple apps going, crank the brightness to max, and use memory-intensive apps like games, your battery life expectancy will drop significantly.

Don't forget to carefully compare screen resolutions between models, either. Even budget models that are $99 or less can be found with full HD screens.

Be on the lookout for any device with IPS panel for better viewing angles and a resolution of 1920 x 1080 pixels.

Those specs are particularly important if you plan on streaming a lot of movies or want less eye strain when reading for hours at a time.

After finding your ideal battery life and screen resolution, it's time to finally decide on the basic hardware.

If you are going to spend up to $100, you should expect a minimum of 2GB of RAM and a quad core processor. Those two specs together will be necessary to run most Android apps without any lag.
What other features should I keep an eye out for when tablet shopping?
We've covered quite a few features that can change your decision when buying a tablet, but there are still a few other aspects to consider.

Like with a laptop, different tablet brands can come with varying port configurations. One might only have a mini USB for charging, while another could have a full USB port and an HDMI port for hooking up to an external monitor.

Take careful stock of how you intend to use your tablet before making that final buying decision so you don't end up losing out on features you need!

Most tablets at this price point will include a microSD card slot for extra storage space, but not all tablets can accept the same amount of storage.

If you intend on storing plenty of PDFs, eBooks, and photos on your tablet, make sure it can use a large maximum amount of SD space to keep up with your collection!

Finally, be sure to check the reviews from previous buyers to see what extra features may have been installed by the manufacturer.

Some manufacturers include extra tools to extend the basic functionality of the Android OS. Others may include a host of "bloatware" from third parties, which helps them lower the price but also reduces overall tablet performance.
Will you have to sacrifice a few things along the way to find the most affordable tablet?
You definitely will have to sacrifice a few things along the way - but that shouldn't discourage you from finding a quality tablet because it's still possible to find one. And things you will have to sacrifice are mostly additional accessories on some models and improved storage or such components. But you still get a fully working tablet.
How to deal with loads of bloatware on cheaper tablets?
The simple way to deal with bloatware is to simply uninstall it before installing any other apps on your tablet. Bloatware is always easy to uninstall, and once you uninstall it - you will have plenty of space to install newer apps. However, make your choices wise - since not all apps that come included are bloatware, yet you might delete some.
Which OS is the best for a $100 tablet?
The best OS for such affordable tablets is definitely Android - but that doesn't mean you can't find a Windows OS or even an iOS. Android is known world-wide and you will always get the support you need regarding the apps and system itself. But if you look hard enough, you might even find some refurbished iPads with iOS which is another great option.
Resources
Florian Wimmer, Mediapad T3 Review, NotebookCheck
Gadgets 360 Editorial Team, Asus Google Nexus 7 Review, Gadgets.NDTV
Zach Bowden, NuVision Tablet Review, Windows Central