What's the best VAIO laptop this year?
Important Notes
"Wait, I thought Sony discontinued making VAIO laptops back in 2014? Why are there new VAIO laptops in the market?"
Sony did discontinue the release of VAIO laptops back in 2014 but VAIO corporation now makes their own laptops. The same engineers are still designing and building the VAIO laptops so it's guaranteed that you could rely on the brand.
Picking The Best Sony Vaio Laptop in 2023
While you can still trust the brand, the question is…
Can you rely on the performance?
VAIO or not, you need to make personal evaluations ahead of time to make sure you're choosing the right specific model. We took a step further and compiled a list of factors that you MUST check to accurately choose the best one for you.
This particular brand doesn't include dedicated graphics cards, so you can jettison that choice from your mind.
Although there are laptops that will work for casual gaming, VAIO is more aimed at the business or student customer.
Instead of graphics, focus on what sort of speed you want from your processor and the amount of physical memory you need.
After picking those basic specs, take a moment to consider the overall screen quality you demand. While any of these models have HD screens, some have significantly higher resolutions for even crisper viewing.
We checked all the VAIO laptops that were released since 2014 and we have come up with 5 of the best Sony VAIO laptop in this year. Check them out below.
Looking for the most updated reviews from other trusted brands? We recommend you to checkout The best laptops by brand series
In A Hurry? Here's The Winner From Hours Of Research
Editor's Choice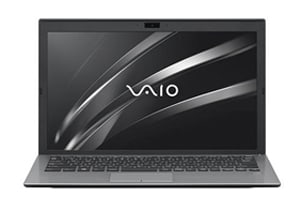 Vaio S 1TB Edition
Why is it better?
The overall best VAIO option is easily the 1TB edition of the VAIO S. The blazing fast 8th gen processor, 16GB of physical memory, and huge solid state drive all result in a very smooth experience.
If you prefer a hybrid device with a touch screen, there's another option to consider. For the 2-in-1 crowd that likes to use a stylus, the VAIO Z Flip will instead be your best bet.
The Contenders For Best Sony Vaio Laptop
1. Vaio S VJS132X0511S – Best Vaio Laptop For Work
Extremely high end processor
Very lightweight
No touch screen
Smaller touch pad design
Should this be your choice?
All in all, if you're looking for a VAIO laptop for work-related tasks, the VAIO S is our personal top choice for you.
True performance.
This iteration of the VAIO S line has a very powerful 8th generation Intel Core i7 processor (i7-8550U). This means you get true performance no matter what.
A powerful processor like this is able to handle multiple applications, windows, and browser tabs without breaking a sweat. So for any type of processing task, it's a guarantee that you maximize your overall productivity.
The 13.3" display is Full HD so you get outstanding image output and production on screen, although unfortunately you don't get touch capability here.
Besides the SSD storage for faster boot and loading times, the VAIO S also has 8GB of DDR3 low-power memory. This means opening files and applications will be lightning fast.
The keyboard is comfortable and isn't noisy. The trackpad, on the other hand, is relatively smaller so it will take some time to adjust and get used to the design.
Another stunning feature about the VAIO S is the fingerprint scanner. This allows you to easily log in to your accounts online and your laptop in mere seconds – great for saving time.
Lastly, the battery life. This laptop can be used for an entire day since this has a battery life of up to 8 hours and 30 minutes for basic tasks or video streaming.
Want a full size 15-inch screen to get your work done, or prefer having a touch display? Take a look at HP's 2018 Pavilion 15t model, which offers the same overall specs but with more features and at a lower price.
Hardware specifications for Vaio S VJS132X0511S
Processor
Intel Core i7-8550U (8MB Cache, up to 4.00GHz)
RAM
8GB DDR3 RAM
Storage
512GB SSD
Graphics
Intel UHD Graphics 620
Display
13.3-Inch Full HD Display, 1920 x 1080 Pixels Resolution
Operating System
Windows 10 Pro 64 Bit
Battery Life
8 hours
Weight
2.34 lbs
2. Vaio S Laptop VJS131X0121B – Best Vaio Laptop For Business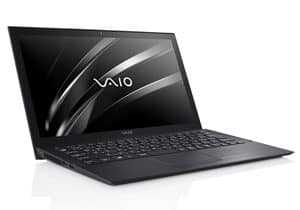 Lightweight
High battery life
No touch screen
Smaller storage capacity
Should this be your choice?
If you want to get a VAIO laptop for your business that's also durable, this version of the VAIO S is your stop.
Durability made for human mishaps and imperfections is what you get here.
This version of the VAIO S is great for businesses in general. While it may be very similar to the previous contender overall, this model outperforms it in a very specific manner.
While you downgrade slightly to the 6th generation Intel Core i7 processor (i7-6500U), when it comes to durability, this version easily wins the competition.
The engineers specifically tested this rendition of the VAIO S to high end impact, stress, and pressure tests to make sure the unit is able to withstand the average mishaps, slips, and falls.
Like its brethren above, this also has a 13.3" Full HD display screen. Any productivity charts, graphs, and business-related infographic will be displayed accurately on screen.
256GB SSD memory is less than some of our other contenders, but for business applications you may be using cloud-based storage anyway. Between the SSD and 8GB RAM, your boot up and loading times are cut significantly.
Typing on this laptop's keyboard is ergonomically designed to make sure you are comfortable at all times.
Finally, this model sports 3 USB ports, HDMI, an SD card slot, VGA connectors, and even LAN to make sure you're ready no matter what type of business environment you are in.
Want to stick with a thin and light model like the VAIO, but prefer more RAM and a bigger SSD out of the box?
If your business applications run slowly with 8GB and need more than 256GB of space, take a look at the Huawei MateBook X Pro Signature Edition. While keeping the same low weight, it offers much faster overall speeds and more storage capacity.
Hardware specifications for Vaio S Laptop VJS131X0121B
Processor
Intel Core i7-6500U (4MB Cache, Up to 3.10GHz)
RAM
8GB DDR3 RAM
Storage
256GB SSD
Graphics
Intel HD Graphics 520
Display
13.3-Inch Full HD Display, 1920×1080 Pixels Resolution
Operating System
Windows 10 Pro 64 Bit
Battery Life
9 hours
Weight
2.34 lbs
More: 8 Best Business Laptop (Including Small Business & Office Choice)
3. Vaio Z Flip – Best Vaio Laptop For Students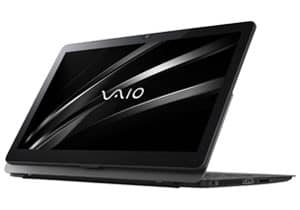 2-in-1 design
Stylus included out of the box
Not upgradeable
No dedicated graphics card
Should this be your choice?
If it's a VAIO laptop that you want to aid you throughout your college life, get the VAIO Z (flip) 2-in-1 model!
The performance of a desktop computer in a laptop that can be converted to a tablet – this is VAIO Z.
Ditching the clamshell design, the Z is a 2-in-1 13.3" laptop that you can literally flip for convenience and productivity. Not to mention this comes with the stylus to aid a student's needs throughout their college life.
Displays and details on-screen are on point since this has an ultra high resolution of 2560×1440.
Starting off with the processor, opening multiple windows, assignments, projects, and presentations will be easy since this has an Intel Core i7-6567U processor.
With a spacious SSD and a full 16GB of RAM, there will be absolutely no compromise on speed or power for any type of project – perfect for students.
Everything from the keyboard, the screen technology, stylus, and lightweight build is specifically designed for students.
The only downside is the lack of a dedicated graphics card. You can still do some casual gaming on the weekends, but don't expect to run new games at high settings.
Don't care about getting a hybrid model? If you prefer the normal clamshell design, you can get similar specs — with a GTX 1050 graphics card added in — with the Dell XPS.
Hardware specifications for Vaio Z Flip
Processor
Intel Core i7-6567U (4MB Cache, up to 3.60GHz)
RAM
16GB DDR3 RAM
Storage
512GB SSD
Graphics
Intel Iris Graphics 550
Display
13.3-Inch WQHD Touch Screen Display, 2560 x 1440 Pixels Resolution
Operating System
Windows 10 Pro 64 Bit
Battery Life
11.5 hours
Weight
2.96 lbs
4. Sony Vaio S I5 Version – Best Budget Vaio Laptop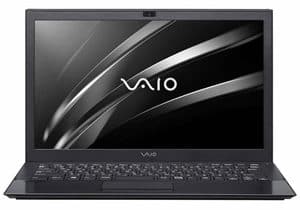 Decent i5 processor
Solid state drive
Small storage capacity
No touch screen
Should this be your choice?
Are you a loyal VAIO customer but need to stick to a lower budget? This should be your top pick for a cheaper VAIO laptop model!
Want to stick with the VAIO brand you know and love, but don't have a ton of extra cash to spend? This budget version of the VAIO S has you covered.
It makes a few trade offs on specs to arrive at a lower price, but will overall provide fast speeds.
With an i5 processor and 8GB of RAM, you still get enough power to run most applications smoothly. Even with multiple tabs and apps open, you won't notice any appreciable lag.
The solid state drive also means lightning fast boot up speeds. To lower the cost, you drop down to 128GB of storage space however.
To overcome that limitation, be sure to get an external USB drive to save your files. If you don't want to carry around an external peripheral, there are plenty of free online cloud storage options.
Besides taking slight hits on the storage space and processor speed, this model also drop down from Windows 10 Pro to Home.
Honestly though, for most users won't matter anyway, so it makes sense to save money by ditching Pro.
Looking to save even more money? If you still want a great overall laptop but are willing to move to a different brand, take a look at the latest HP Pavilion model.
For nearly $300 less you actually get a bigger screen, and it adds in touch functionality.
Hardware specifications for Sony Vaio S i5 Version
Processor
Intel Core i5-6200U (3MB Cache, Up to 2.80GHz)
RAM
8GB DDR3 RAM
Storage
128GB SSD
Graphics
Intel HD Graphics 520
Display
13.3-Inch Full HD Display, 1920 x 1080 Pixels Resolution
Operating System
Windows 10 Home 64 Bit
Battery Life
9 hours
Weight
2.34 lbs
More: The Best Affordable Laptop Under $500
5. Vaio S 1TB Edition – Best Vaio Laptop For Gaming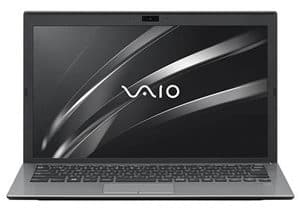 8th gen i7 processor
Huge SSD
No dedicated graphics card
Smaller screen size than most gaming rigs
Should this be your choice?
Looking for a great VAIO work or business machine but still want to do some gaming on the side? This should be your top pick!
OK, so we've got some bad news for you.
VAIO laptops specifically aren't designed with gaming in mind. This line of portable computer is aimed squarely at business, office, and school usage.
That being said, you can still get some casual gaming done, so long as you pick the right model. Finding that model isn't hard, as you can start with a familiar device we've already listed and tweak its specs!
The VAIO S we listed up at the top of this article comes in multiple configurations. If you want to play games, this edition is absolutely the model to pick.
The 8th gen i7 processor handles integrated graphics much more smoothly than older models. With 16GB of RAM, you will more than meet the minimum requirements for most games.
Those two specs aside, the big draw here is the size of the solid state drive. With a 1TB SSD, you won't run out of room installing anything in your Steam library.
Unfortunately, the biggest downside is that you can't get a VAIO model with a dedicated graphics card. That means you will be able to get games to run, but you won't get steady frame rates at high graphics settings.
Be sure to note that battery life listed above is estimated for word processing or video streaming, not gaming. When playing Fortnite you are going to get a much lower battery life before having to recharge.
If you are going to spend the amount of money required for a VAIO, you may just want to flat out pick a gaming laptop instead, however.
The ROG Strix GL702VI gives you the same overall specs, but with a screaming fast GTX 1080 graphics card. Fora similar price to the VAIO S, you will be able to run absolutely any game at ultra settings.
Hardware specifications for Vaio S 1TB Edition
Processor
Intel Core i7-8550U (8MB Cache, up to 4.00GHz)
RAM
16GB DDR3 RAM
Storage
1TB SSD
Graphics
Intel UHD Graphics 620
Display
13.3-Inch Full HD Display, 1920 x 1080 Pixels Resolution
Operating System
Windows 10 Pro 64 Bit
Battery Life
8 hours
Weight
2.34 lbs
More: The Best Gaming Laptops (From Budget Friendly To VR-Ready)
What Features Should I Compare When Choosing Vaio Models?
SPOILER ALERT
The CPU isn't necessarily the most important choice.
Buying the right laptop is a complex procedure, unless you boil down and filter your options by knowing your needs before making any selection.
First off, don't skimp on the screen quality of the laptop.
Remember that you'll be staring at the laptop's screen for hours so it would be in your best interest to get one that has a high quality and display.
For work and business use, a 1080p resolution or Full HD resolution should do fine. For students, we took the initiative and went with the VAIO Z (flip) 2-in-1 Laptop since this has a 2K (2560×1440) resolution, perfect for accurate details and output.
Next up, keep in mind the keyboard layout and design. Avoid cramped or uncomfortable keyboards with some due diligence and research ahead of time.
If you have the chance to visit a store that sells these, I highly recommend you check it out and type a few paragraphs to make the proper evaluation.
The overall build of the laptop is yet another thing that you need to carefully look into. That typically isn't an issue with VAIO however.
No matter which of these laptops you end up getting, you will definitely get solid value for your money.
Why Do I Need To Pick A Vaio With An SSD?
The norm of using an SSD (Solid State Drive) instead of the traditional HDD is slowly taking over the world for obvious reasons. This is why our list of the best VAIO laptops solely utilizes SSD.
Speed is everything these days so it's a given that you should get a laptop with an SSD for storage. Even a tiny 128GB SSD can outperform a 1TB HDD when it comes to loading and boot times.
Space isn't that big of an issue these days since we use cloud storage and external drives are so cheap.
So, unless you are into video editing or photography, I suggest you stick with a laptop with an smaller, faster SSD instead of a larger, slower HDD.
Finding The Perfect Vaio Laptop To Fit Your Needs
To some, it's a surprise knowing VAIO is still in the market! Once you get over that shock, it shouldn't be hard to pick which model is ideal for your needs based on our criteria for work, budget, and gaming.
Which of the best VAIO laptops in our list of contenders do you want to get? Tell us down the comments!