Portable laptop computers are available in a dizzying array of configurations and price points. In many cases, you don't actually need to spend very much to get a great machine.
By staying on the lower end of the price range, you can save yourself hundreds of dollars and still find excellent hardware specs.
But what exactly should you be looking for? We've rounded up five contenders for the best laptop under $400 that will work for anyone's needs — whether you are a college student, gamer, or casual web surfer!
In A Hurry? Here's The Winner From Hours Of Research
Editor's Choice
Dell Latitude E7250 (Refurbished)
Why is it better?
Fast i7 processor
16GB of RAM
Fast SSD
Light and portable
The Lineup At A Glance
Review Of The Best Laptop Under $400
1. ASUS X555DA – Best Gaming Laptop Under $400
Just need a solid budget laptop for light gaming but don't want to drop the money on a unit with a dedicated graphics card? This should be your top pick for the best inexpensive gaming laptop under $400.
Lightweight
Optical drive and tons of ports
Best overall specs
No dedicated graphics card
No keyboard backlighting or gaming aesthetics
Key features & details
2. HP Stream 14 – College Student Pick
If you are a student on a tight budget, the HP Stream 14 is the perfect laptop for you. It is fast enough to handle all your school work and some video consumption, and also includes a full year of Microsoft Office 365!
Great battery life
Extremely affordable
1 year of Office 365 included
Only 64GB internal storage
Cheap feeling build quality
Key features & details
3. Lenovo Ideapad High Performance Laptop – Best Optical Drive Choice
If you are looking for a great all around laptop that can be your home computer or a business laptop, the Lenovo Ideapad High Performance Laptop can do the job. The AMD A12 processor and 8GB or RAM make for a great web browsing and video watching experience.
Has optical drive
Sturdy build for budget device
Snappy processor
Nice business look
Low resolution screen
Slow hard drive
Key features & details
4. ASUS VivoBook 2 In 1 Flip – Best 2-In-1 Laptop Under $400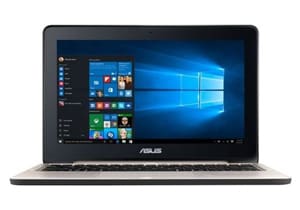 Want a sleek, light machine that can double as a tablet but won't break your bank account? The Asus VivoBook 2 is one of the best low cost 2-in-1 laptops available under $400, and it has the best screen quality out of all our picks as well.

Hybrid dual use design
Lightweight and portable
Best screen quality
Less RAM than other models
Smaller storage capacity
Key features & details
5. Dell Latitude E7250 (Refurbished) – Best Overall
The absolute best laptop you can get for under $400 is the Dell Latitude E7250. Though it is refurbished, you still get an i7 processor and 16GB of RAM…unheard of at this price point!
Fast i7 processor
Good SSD performance
Plenty of RAM
Low resolution screen
Refurbished
Key features & details
Criteria used for evaluation
1. Graphical Power
Even when buying a cheap laptop, it's still possible to get acceptable frame rates at decent graphics settings…
In order to stay under the $400 price tag, a dedicated GeForce graphics card normally won't be a feasible option. That can severely curtail your gaming experience, unfortunately, and prevent you from running anything on high settings.
At this price range, we recommend the AMD Radeon R7 or Intel UHD 620. They won't compare to something like the GTX 1050 card, but they will get the job done better than older technology.
Keep in mind that both the Radeon and Intel integrated chips are still utilizing shared graphics memory. This means that if you have more RAM, you can expect a better graphical experience.
2. Overall Performance
If you have to save money by getting a lower end graphics chipset, always aim for the most RAM and fastest processor available.
At this price, you can officially ditch anything that only comes with 4GB of RAM out of the box. That just simply won't work for most games and is too big a corner to cut for saving money.
In the vast majority of cases, we highly recommend a minimum of 8GB of RAM with any notebook. The only exception to that rule is if there's a compelling trade off, like finding a faster 8th gen processor.
In terms of processing speed, it's usually better to avoid the slower Celeron processors. When you go that low, you can expect Windows 10 updates to take several hours to complete.
3. Display Quality
When it comes to work or gaming, many buyers overlook the resolution of the screen and end up with sub-par viewing performance.
While the graphics card, RAM, and CPU will have the biggest impact on your performance, don't forget to take into account a laptop's ability to display crisp and clear visuals!
At this price point, a 1366 resolution will likely be your only option most of the time.
For the best viewing experience (whether playing an FPS or streaming Netflix movies) we recommend shooting for HD 1920 resolutions whenever possible.
Unfortunately, if you want full HD video at 1080p with a 1920 resolution, you'll have to bump up the price.
4. Storage
With budget model laptops, you need to balance quality and speed versus overall capacity with your disk drive choice.
At this price range, you won't normally find an a solid state drive unless there is a big trade off — like going refurbished or getting less RAM.
If you intend to stay under $400, we recommend looking for anything with a hybrid drive or a secondary Optane drive for better data retrieval speeds.
5. Extra Features
Processor speed, hard drive style, and RAM shouldn't be the only features you consider — don't forget the extras that make or a break a machine at this price range!
Everything from number of ports to overall battery life can radically change whether a computer meets your needs.
To figure out what you need, we recommend you start by asking yourself a few questions. For instance, do you need a card reader for transfering photos off your camera's SD card?
Do you still need an optical drive for burning DVDs or transfering data off old CD installation discs?
How many USB ports will you need for external devices like a mouse, optical drive, or external monitor? Will you need to buy a USB hub to make sure you have enough ports?
For the best experience, make sure to answer these questions before looking for your top contenders!
Frequently Asked Questions
Can you play games on a laptop under $400?
No. We do not suggest gaming other than light casual games on these laptops. While you could play some older games possibly, the overall gaming performance will be low.
Where should you cut corners on specs on a budget computer?
You want to get the best processor possible, but you can technically cut corners in the hard drive area.  An older mechanical hard drive will still be fine for everyday use. You could also cut back on screen resolution to a degree, but we wouldn't suggest 1366 x 768 resolution on a laptop screen above 14-inches.
Resources
Gamerz, ASUS X555DA Review, Gaming Gizmo
Matthew Elliot, Asus VivoBook Flip Overview, PC Mag