Watching movies on a laptop might not have been a very enjoyable experience before, but nowadays, with the most modern laptops – it can definitely be an amazing experience. And that's why we had to write a post on the best laptops for watching movies in 2020.
There are plenty of choices which make the decision hard, especially if you don't know what to look for in a laptop that is suitable for movies.
We spent hours narrowing our list of laptops to 5 and then reviewing and testing laptops individually so we can provide hands-on experience and knowledge to you in this post.
This would help you make up your decision without any prior technical experience or without any knowledge at all.
The Lineup At A Glance
The Contenders For The Best Laptops for Watching Movies
1. LG Gram – With Largest Screen
Screen size is really important to everyone who wants to watch movies on a laptop and this LG Gram laptop combines both great screen size and lightweight & thin design. Its screen is based on an IPS display that provides a great resolution and great viewing experience.
Large widescreen IPS display
Lightweight and slim body
Long lasting battery life
Durable design
Plenty of storage space
Decent configuration
Keyboard is a bit far from the palm rest
Key features & details
17" IPS DisplayWatching movies on a laptop is always better with a larger screen, however, that can most of the time sacrifice the versatility. However, that doesn't happen with LG Gram.
In fact, this laptop is so well manufactured that it is actually lighter than some 13" laptop models.
Yet it still features a widescreen 17" display which offers 16:10 aspect ratio with a resolution of 2560 x 1600 pixels. It's not a true 4K resolution but it's a resolution in between 2K and 4K.
We liked that the screen comes with a narrow bezel that increases the viewing experience drastically.
You can think of this display as a big canvas that takes laptop screens to a whole new scale – which is just one of the reasons we think this is the most ideal laptop for watching movies.
Long Lasting Battery Life
LG Gram features a 72Wh lithium battery that can last up to an amazing 19.5 hours on a single charge. This will leave you with plenty of movies to watch. When the battery drains, it won't take long to charge it (approximately 2 hours) and you'll be good to go for another day.
This is especially ideal for people who plan to use the laptop for personal use, school, or work and yet still keep it as their main entertainment device.
This battery type has been awarded with a mobile mark 2014 standard and LG has been using it ever since (with constant yearly upgrades, of course).
Light yet Durable
LG did a really good job at manufacturing this laptop since they were able to combine perfect material that gave this laptop a lot of durability and yet still have kept it lightweight.
Even when you think that this laptop is actually 17" big, you realize that LG did an outstanding job keeping the most important aspects of laptop in check while providing as much as they were able to.
However, that's not everything – yet they managed to pack pretty powerful configuration inside and do a proper cooling system which is quiet yet keeps the laptop in optimal temperature range.
So when we put this laptop on scale, we measured it to weight 2.95 lbs. This might be quite on the heavier side for some people, but when you consider it's a 17" laptop made with premium aluminum material – it's definitely lightweight for its specifications.
Specification
Hardware specifications for LG Gram
Processor
8th generation, Intel Core i7-8565u, 1.8 GHz
RAM
16 GB
Storage
512 GB SSD
Graphics
Intel HD Graphics 610
Display
17", IPS display
Operating System
Windows 10
Battery Life
Up to 19.5 hours
Weight
2.95 lbs
Other Features
Remove if nothing is found
2. Huawei MateBook X Pro – Best Touchscreen Pick
The touchscreen makes everything easier and Huawei MateBook X Pro doesn't only offer a touchscreen capability but a great IPS display that is large and it offers great viewing experience. Its design is really thin and lightweight which makes it easily portable so you can watch movies wherever you go.
Touchscreen IPS display
Boosted performance levels
Impressive battery lifespan
Very portable design
Great connectivity
Temperature gets high during heavy-processing tasks
Key features & details
3K Touchscreen Display
Watching your favorite movies and shows is a lot better in 3K than any lower resolution, and in some cases this display might be even better than 4K displays.
While you will require a movie or show to be available in 4K to enjoy its full resolution, with 3K display such as the one featured in Huawei MateBook Pro X, you won't have to make sure movies are in 3K resolution since most of them will be a fit for 3K screen.
We find this to be ideal for Netflix shows since it's quite useful. Also, on top of that, this beautiful display is touchscreen so you can enjoy it to the fullest.
Also, there's corning gorilla glass protection and even anti-fingerprint coating so you and the screen are totally safe every time you use it.
With Huawei MateBook X Pro you can forget about charging cables and completely trust the laptop's battery to provide you with an all-day experience.
Huawei says that MateBook X Pro comes with an all-day battery that can last up to 15 hours on a single charge.
Since movie watching isn't hard on the processor, it won't use the battery whole lot so you can definitely expect to get about 15 hours on a single battery charge.
It is incredible how Huawei managed to add such an incredible battery inside a thin body this laptop features.
When you have a look at Huawei MateBook X Pro, you'll easily notice that this laptop is in a range with Apple's MacBook Air when it comes down to the thickness.
It's very thin laptop which still features an aluminum durable chassis, which doesn't sacrifice the lightness.
Therefore, this laptop weighs about 2.93 lbs which doesn't make it the lightest laptop on the market, but it's almost there. Considering the configuration it is hiding inside the beautiful design – it's totally worth the weight.
However, you won't have to worry about its portability since you'll never feel it in your backpack.
What surprised us the most was the increased connectivity. Huawei managed to place a decent number of ports on the sides – even though they made this laptop to be very thin.
Hardware specifications for Huawei MateBook X Pro
Processor
8th generation, Intel Core i7-8550U, 1.8 GHz
RAM
16 GB
Storage
512 GB SSD
Graphics
NVIDIA GeForce MX150
Display
13.9", 3K IPS touchscreen display
Operating System
Windows 10
Battery Life
Up to 15 hours
Weight
2.93 lbs
Other Features
Fingerprint reader, Corning Gorilla Glass
3. Lenovo Flex 14 – With Versatile Design

If you're watching movies on a laptop, why not make it easier for yourself with a laptop such as Lenovo Flex 14? This is a 2-in-1 laptop which increases the ways of use and makes it incredibly easy to use and watch movies on a go. Either as a tablet or in a studio mode will be perfect for a great movie watching experience.
2-in-1 design
More than one way of use
Long battery life
TrueBlock privacy
Active Pen included
Increased connectivity
4K display
Has a bit limited screen brightness
Key features & details
If you're someone who is constantly watching movies on the go, is there a better way to watch movies than with a laptop that is flexible and can adjust to your position?

Lenovo Flex 14 is a 2-in-1 laptop is very great at giving you a pretty decent viewing angles no matter if you're laying, sitting, or being somewhere in between on your couch.
This flexible design introduces hinges that allows users to rotate screen 360-degrees which allows you to use this laptop in 3 different modes. It's either as a laptop, as a tablet, or as a studio.
It's very thin and lightweight, yet it features decent performance and a full HD display which comes with the touchscreen capability. Lenovo even includes their own pen you will be able to use for increased productivity.
Privacy is really something that's hard to preserve, especially in the age of the internet – but Lenovo came up with a brilliant idea of featuring TrueBlock privacy.
It's a feature that allows you to close your laptop's webcam physically so even if someone gains access to your cam – all they will see is blank, as long as it's shut.
We believe this is a very convenient feature and that everyone should keep the camera's shut closed whenever it's not in use – just for safety reasons and a sake of mind.
The screen is really thin and yet Lenovo surprised us once again with their innovations – which is a big plus.
Not only you will be able to achieve perfect viewing angles even when you're traveling in a crowded space – you'll be enjoying every second you watch on this screen because Lenovo features full HD display.
You can expect stunning visuals and nothing less on a resolution of 1920 x 1080 pixels, which is ideal for watching almost any movie out there. We have also tested this laptop for TV shows and it was perfect.
Not only we've enjoyed the stunning visuals on this screen, but it was a real pleasure to take full advantage of this screen by using the pen which comes included. It's ideal for a creative person who is looking for a laptop that will combine both entertainment and graphic design tasks.
Hardware specifications for Lenovo Flex 14
Processor
AMD Ryzen 5 3500U, 2.1 GHz
RAM
8 GB
Storage
256 GB SSD
Graphics
Radeon Vega 8
Display
14", full HD 4K touchscreen display
Operating System
Windows 10
Battery Life
Up to 8 hours
Weight
3.52 lbs
Other Features
Fingerprint reader, TrueBlock privacy shutter
4. HP Spectre x360 – Best Audio Quality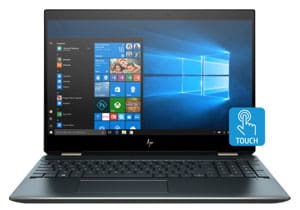 Other than a quality IPS screen, you have to pay attention to speakers too. HP Spectre x360 features Bang & Olufsen audio speakers which offer incredible surrounding experience throughout the movies. Combine it with a very flexible and rotatable screen and you will always have the best viewing experience.
Great performance
Wide Vision camera
Large IPS display
Bang & Olufsen audio speakers
Rotatable screen
The fan can get a bit noisy
Key features & details
Not only HP improved the overall design, they have also surprised us in both configuration and design with Spectre x360 laptop.

It's a 2-in-1 laptop which is relatively thin and lightweight, yet it packs up some serious components inside its sleek aluminum body.
This laptop features the latest 8th generation Intel components such as i7 processor, NVIDIA graphics card, and plenty of RAM and storage space.
On top of that, it features a very sleek design which has changed drastically in the last few editions – which was a positive surprise by HP.
If you're a creative person who is looking for a laptop that combines both entertainment and work/school – you'll love the versatility and power of this laptop.
Watching movies on a laptop requires a great pair of stereo speakers which is something people forget about very often. But that's understandable, since everyone is focusing on finding the perfect display that will offer incredible visuals and make movie watching experience a positive one.

HP has just got into partnership with Bang & Olufsen company which is one of the leading companies when it comes to speaker production.
Therefore, you can expect to see many more HP models featuring Bang & Olufsen speakers integrated in laptops.
These speakers are very loud, come with a crispy and rich sound, and even have a decent amount of bass – which makes them ideal for both movies and music.
Therefore, you won't have to be connecting external speakers yet enjoy the combination of perfect display and speakers in one.
HP Spectre x360 features a decent 15.6" IPS display which can reach 4K resolution. Not only this laptop features an ideal screen for movies, but what's even better yet is the flexible hinge that allows users to rotate this display 360-degrees.

Therefore, you can use this laptop in a tablet mode, or in a studio mode – leaving the laptop on a table with a keyboard behind the screen to achieve the best viewing experience.
This screen is also touch responsive so you can take full advantage of it with HP Pen that comes included.
For the price, this is a really ideal combination which will be a great fit for almost everyone out there, no matter whether you enjoy watching movies on the go or in your bed.
Hardware specifications for HP Spectre x360
Processor

8th generation, Intel i7-8550U, 1.8 GHz

RAM
16 GB
Storage
512 GB SSD
Graphics

NVIDIA GeForce MX150

Display

15.6", 4K IPS micro-edge display

Operating System
Windows 10
Battery Life
Up to 8 hours
Weight
2.85 lbs
Other Features

Flexible screen hinges
5. ASUS Rog Zephyrus S – With 4K Resolution

If you're looking to watch movies in a true 4K resolution, there is no better screen for 4K movies than ASUS Rog Zephyrus S. It features an ultra-wide 4K display which provides brilliant viewing experience, even if you're sitting under a bright sun. It's also packed with a serious configuration that will provide a lot of gaming fun as well which is a great plus.
Innovative design
Silky-smooth display
144Hz refresh rate
Great viewing angle
Improved cooling
Key features & details
Even though this is a laptop which is ideal for gamers and professionals – the silky-smooth display it features is ideal for movie lovers who are looking for their perfect laptop, no matter the budget.

ASUS Rog Zephyrus S features an 15.6" IPS display which doesn't only offer a decent screen size, but also a great viewing experience.
However, what's one of the best selling points of this laptop is the screen's refresh rate which is 144 Hz. This will provide a silky smooth visual experience, no matter what you do. You can play games or watch movies and you'll never be able to spot a visual lag or stuttering.
Narrow bezel screen design just improves the overall aspect ratio and improves the viewing experience – which is why this laptop ended up on our list.
Since this laptop packs some amazing components and provides a really great performance levels – it's equipped with a very innovative yet effective cooling system.
As you can notice, the keyboard is shifted a bit closer to the users by removing the palm rest, yet introducing a lot more space below the screen to integrate better cooling system.
That's exactly what ASUS did to provide optimal temperatures even when you're gaming or doing heavy-processing tasks.
We also have to mention that this cooling system is very quiet and it's perfect for people who watch movies. Speakers are decent, but if the cooling system made noise, the experience would be nothing else but overall.
If you're familiar with ASUS's Republic of Gamers line, you'll know that this is one of the best gaming laptops you can get within this budget. And you can definitely expect this laptop to run every one of the latest gaming titles without any frame drops.
Therefore, it's clear that this sleek and slim body is hiding some pretty powerful components such as 8th generation Intel i7 processor combined with a GTX 1070 graphics card.
ASUS did a really good job at packing such powerful components inside a very thin chassis and yet keeping the cooling system very efficient with their innovative design trick.
Once you look at the laptop in whole, no matter what you'll be using this laptop for – you'll love the power and visuals it offers. Considering the value of this laptop – it's totally worth the price.
Hardware specifications for Asus Rog Zephyrus S
Processor
Intel Core i7-8750H, up to 3.9 Ghz
RAM
16 GB
Storage
512 GB
Graphics
NVIDIA GeForce GTX 1070
Display
15.6", full HD 144Hz IPS display
Operating System
Windows 10
Battery Life
Up to 5 hours
Weight
4.63 lbs
Other Features
144 Hz refresh rate
Criteria used for evaluation

Size & Resolution
If you are someone who loves watching movies wherever you go – watching movies on a laptop is a great decision.
And it doesn't need to be an awkward experience as long as you make sure you get a laptop with decent size and resolution.
The first thing everyone goes for is the screen size, but we highly recommend you to pay attention to resolution as well. Depending on the quality of a screen, some modern laptops are able to reach a 4K resolution which is 3840 x 2160 pixels.
If you get a chance to find movies that are in true 4K resolution, you'll have the smoothest and the most enjoyable watching experience.
You'll definitely forget you're watching a movie on a laptop. However, 1080p is a really decent resolution we would recommend your laptop to have. It's very common to see laptops nowadays featuring 1080p resolution which is ideal for this purpose.
Form / Design
Since you'll be watching movies on a laptop, you should take the full advantage of a laptop by making sure you find a laptop with a very thin and lightweight design. This will allow you to take your laptop anywhere you go and still have an enjoyable watching experience.
However, there's much more than just design in terms of versatility. What is really important when you're looking for a laptop for watching movies is the screen shape and design.
Most modern laptops feature a screen with a narrow bezel that basically fits a larger screen inside a smaller laptop body which removes large bezels and replaces them with a narrow one.
This increases watching experience by allowing you to focus more on the screen and opposing no distraction. Also, making sure that your laptop's screen comes with an anti-glare feature is really important.
Battery Life
There is no worse thing happening than having to get up out of your comfy bed just to plug in your battery charger. Watching movies will probably require an internet connection or video software or two.
However, that isn't very demanding on a battery and if you happen to purchase a laptop with modern battery life – you'll be able to get a long battery lifespan on a single charge.
With some modern laptops which offer over 20 hours of battery life on a single charge – you'll be able to finish many movies in a row without having to think about battery life. This is especially useful when you're traveling. Watching movies on a bus, train, airport, and even on an airplane will be a lot simpler than ever before.
The best thing is that such great batteries don't sacrifice the versatility or lightness of most laptops so you have nothing to worry about.
O.S
Depending on the software you're using to watch movies and platforms you're relying on to watch movies online, you'll want to have an operating system that can handle the most popular software and video platforms.
In case you need to download software, plugin or app to access your favorite movies platform – you don't want to find out that you aren't able to do it just because of the operating system.
Sticking with Windows or Mac OS X will be the ideal choice where you will have plenty of versatility and even choices between software and video platforms to choose from.
However, if your only goal is to watch movies – you won't have a hard time since most operating systems are versatile, and you can always access online platforms for movies.
Touchpad
Since you'll be most of the time using a laptop without additional peripherals, therefore, you'll want a laptop to have a very responsive touchpad and it should even be decent in size.
This will allow you to multitask, switch between the videos, and even precisely pinpoint the time inside a movie. If you're someone who loves watching movies on a go, you will definitely want to pay attention to the trackpad since you'll be relying on it most of the time.
Some trackpads offer multitouch gestures which will allow you to do a lot more than just move the cursor along with the screen.
Frequently Asked Questions
Are 4K movies already available?
There are plenty of 4K movies available and you can choose whether to purchase them physically as a BluRay disc or watch them online – depending on the movie platform you're using. There are more and more movies coming out available in 4K resolution so it's definitely worth purchasing a laptop with a 4K display.
Best resolution for watching movies on a laptop?
While there is no best resolution, we recommend you to go for at least 1280 x 720-pixel resolution and higher. This is considered to be an HD resolution which is ideal for watching movies. However, if you aren't on a tight budget, going for a 4K resolution is a great idea since there are a lot of 4K movies coming out.
How important is a graphics card for movie watching?
You'll either watch movies on the internet using your browser or through software installed on your laptop which will be mostly relying on your processor for the power. Graphics card isn't very necessary, but it's good to have one – especially if you plan to watch 4K movies or do some gaming in your free time.
Resources
Premium PC audio by Bang & Olufsen, Bang-Olufsen.com
Top 5 Things You Should Know Between True 4k and Streaming 4K – TVSpecialist.com, 25th Sep, by Raquelle Dickerson