Watching movies on a laptop might not have been a very enjoyable experience before, but nowadays, with the most modern laptops – it can definitely be an amazing experience. And that's why we had to write a post on the best laptops for watching movies in 2020.
There are plenty of choices which make the decision hard, especially if you don't know what to look for in a laptop that is suitable for movies.
We spent hours narrowing our list of laptops to 5 and then reviewing and testing laptops individually so we can provide hands-on experience and knowledge to you in this post.
This would help you make up your decision without any prior technical experience or without any knowledge at all.
In A Hurry? Here's The Winner From Hours Of Research
Editor's Choice
LG Gram
Why is it better?
IPS display
High resolution
Decent speakers
Widescreen screen
Lightweight design
The Lineup At A Glance
The Contenders For The Best Laptops for Watching Movies
1. LG Gram – With Largest Screen
Screen size is really important to everyone who wants to watch movies on a laptop and this LG Gram laptop combines both great screen size and lightweight & thin design. Its screen is based on an IPS display that provides a great resolution and great viewing experience.
Large widescreen IPS display
Lightweight and slim body
Long lasting battery life
Durable design
Plenty of storage space
Decent configuration
Keyboard is a bit far from the palm rest
Key features & details
2. Huawei MateBook X Pro – Best Touchscreen Pick
The touchscreen makes everything easier and Huawei MateBook X Pro doesn't only offer a touchscreen capability but a great IPS display that is large and it offers great viewing experience. Its design is really thin and lightweight which makes it easily portable so you can watch movies wherever you go.
Touchscreen IPS display
Boosted performance levels
Impressive battery lifespan
Very portable design
Great connectivity
Temperature gets high during heavy-processing tasks
Key features & details
3. Lenovo Flex 14 – With Versatile Design
If you're watching movies on a laptop, why not make it easier for yourself with a laptop such as Lenovo Flex 14? This is a 2-in-1 laptop which increases the ways of use and makes it incredibly easy to use and watch movies on a go. Either as a tablet or in a studio mode will be perfect for a great movie watching experience.
2-in-1 design
More than one way of use
Long battery life
TrueBlock privacy
Active Pen included
Increased connectivity
4K display
Has a bit limited screen brightness
Key features & details
4. HP Spectre x360 – Best Audio Quality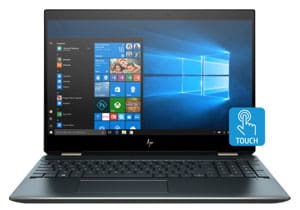 Other than a quality IPS screen, you have to pay attention to speakers too. HP Spectre x360 features Bang & Olufsen audio speakers which offer incredible surrounding experience throughout the movies. Combine it with a very flexible and rotatable screen and you will always have the best viewing experience.
Great performance
Wide Vision camera
Large IPS display
Bang & Olufsen audio speakers
Rotatable screen
The fan can get a bit noisy
Key features & details
5. ASUS Rog Zephyrus S – With 4K Resolution
If you're looking to watch movies in a true 4K resolution, there is no better screen for 4K movies than ASUS Rog Zephyrus S. It features an ultra-wide 4K display which provides brilliant viewing experience, even if you're sitting under a bright sun. It's also packed with a serious configuration that will provide a lot of gaming fun as well which is a great plus.
Innovative design
Silky-smooth display
144Hz refresh rate
Great viewing angle
Improved cooling
Key features & details
Criteria used for evaluation
Size & Resolution
If you are someone who loves watching movies wherever you go – watching movies on a laptop is a great decision.
And it doesn't need to be an awkward experience as long as you make sure you get a laptop with decent size and resolution.
The first thing everyone goes for is the screen size, but we highly recommend you to pay attention to resolution as well. Depending on the quality of a screen, some modern laptops are able to reach a 4K resolution which is 3840 x 2160 pixels.
If you get a chance to find movies that are in true 4K resolution, you'll have the smoothest and the most enjoyable watching experience.
You'll definitely forget you're watching a movie on a laptop. However, 1080p is a really decent resolution we would recommend your laptop to have. It's very common to see laptops nowadays featuring 1080p resolution which is ideal for this purpose.
Form / Design
Since you'll be watching movies on a laptop, you should take the full advantage of a laptop by making sure you find a laptop with a very thin and lightweight design. This will allow you to take your laptop anywhere you go and still have an enjoyable watching experience.
However, there's much more than just design in terms of versatility. What is really important when you're looking for a laptop for watching movies is the screen shape and design.
Most modern laptops feature a screen with a narrow bezel that basically fits a larger screen inside a smaller laptop body which removes large bezels and replaces them with a narrow one.
This increases watching experience by allowing you to focus more on the screen and opposing no distraction. Also, making sure that your laptop's screen comes with an anti-glare feature is really important.
Battery Life
There is no worse thing happening than having to get up out of your comfy bed just to plug in your battery charger. Watching movies will probably require an internet connection or video software or two.
However, that isn't very demanding on a battery and if you happen to purchase a laptop with modern battery life – you'll be able to get a long battery lifespan on a single charge.
With some modern laptops which offer over 20 hours of battery life on a single charge – you'll be able to finish many movies in a row without having to think about battery life. This is especially useful when you're traveling. Watching movies on a bus, train, airport, and even on an airplane will be a lot simpler than ever before.
The best thing is that such great batteries don't sacrifice the versatility or lightness of most laptops so you have nothing to worry about.
O.S
Depending on the software you're using to watch movies and platforms you're relying on to watch movies online, you'll want to have an operating system that can handle the most popular software and video platforms.
In case you need to download software, plugin or app to access your favorite movies platform – you don't want to find out that you aren't able to do it just because of the operating system.
Sticking with Windows or Mac OS X will be the ideal choice where you will have plenty of versatility and even choices between software and video platforms to choose from.
However, if your only goal is to watch movies – you won't have a hard time since most operating systems are versatile, and you can always access online platforms for movies.
Touchpad
Since you'll be most of the time using a laptop without additional peripherals, therefore, you'll want a laptop to have a very responsive touchpad and it should even be decent in size.
This will allow you to multitask, switch between the videos, and even precisely pinpoint the time inside a movie. If you're someone who loves watching movies on a go, you will definitely want to pay attention to the trackpad since you'll be relying on it most of the time.
Some trackpads offer multitouch gestures which will allow you to do a lot more than just move the cursor along with the screen.
Frequently Asked Questions
Are 4K movies already available?
There are plenty of 4K movies available and you can choose whether to purchase them physically as a BluRay disc or watch them online – depending on the movie platform you're using. There are more and more movies coming out available in 4K resolution so it's definitely worth purchasing a laptop with a 4K display.
Best resolution for watching movies on a laptop?
While there is no best resolution, we recommend you to go for at least 1280 x 720-pixel resolution and higher. This is considered to be an HD resolution which is ideal for watching movies. However, if you aren't on a tight budget, going for a 4K resolution is a great idea since there are a lot of 4K movies coming out.
How important is a graphics card for movie watching?
You'll either watch movies on the internet using your browser or through software installed on your laptop which will be mostly relying on your processor for the power. Graphics card isn't very necessary, but it's good to have one – especially if you plan to watch 4K movies or do some gaming in your free time.
Resources
Premium PC audio by Bang & Olufsen, Bang-Olufsen.com
Top 5 Things You Should Know Between True 4k and Streaming 4K – TVSpecialist.com, 25th Sep, by Raquelle Dickerson