Traveling around the world is a lot of fun, especially if you're able to work remotely. But you will require the best laptop for travel that will support you, be reliable, and allow you to handle all the work wherever you are.
It can be tricky finding a laptop with decent performance but also with a very versatile design. On the other hand, versatility and design might not be as easy to find combined together on a laptop.
We've spent a lot of time researching what makes the best travel laptops and testing them before writing this review.
We've even gone a step further to categorize them in different categories depending on the use or design which will make your choice a lot easier.
Editor's Choice
Apple MacBook Air
Why is it better?
Retina display
Touch ID security
8th Generation Intel configuration
Fast SSD storage
Lightest laptop on the market
The Contenders For The Best Travel Laptop 2020
1. LG Gram – Large Yet Light
When you're trying to combine versatility with a beautiful & large display, that's exactly what you can expect from LG Gram. This laptop is lighter than some 13″ laptops, yet it features a large 17″ display and a very thin body. Yet still, it's packed with a lot of power.
Large size yet lightweight design
16:10 aspect ratio
Intel 8th generation configuration
All day battery life
Thunderbolt 3 port
Durable materials used
"17" IPS Display
Even though this is one of the largest laptops we recommend for travelling, it's also one of the lightest as well. In fact, this laptop is lighter than some 13" laptops since it's specially made for travelers who want to stay light.
17" IPS display provides a great resolution, vivid, sharp & sharp image with a 16:10 aspect ratio that makes anything you do look brilliant.
Tough yet Lightweight Design
LG Gram is made out of military standard durable aluminum material which offers incredible protection yet still keeps the laptop lightweight.
Even the paper-thin screen wasn't sacrificed in terms of design quality.
Packs Enough Power
Even though this laptop isn't the thinnest laptop on the market, it's packing a lot of powerful components inside.
LG Gram is being equipped with the 8th Intel generation processor, 16 GB of RAM, large SSD storage space, and a battery that can last all day.
Hardware specifications for LG Gram
Processor

8th Generation, Intel Core i7-8565U, 1.8GHz

RAM

16 GB

Storage
512 GB SSD
Graphics

Intel HD Graphics 610

Display
17", 16:10 IPS display
Operating System
Windows 10
Battery Life
Up to 19.5 hours
Weight

2.95 lbs

Other features

Fingerprint reader
2. Apple MacBook Air – Best laptop For Digital Normad
If you're looking to travel light, look no further than the latest MacBook Air. Apple did a great job designing Air with 100% recycled material and yet still managing to provide their specific durability, lightness, and increased performance all in one – making this laptop ideal laptop for digital normad.
Retina display
Powerful Intel configuration
Touch ID
Lightest laptop on the market
Redesigned keyboard
There is no USB 2.0/3.0/3.1 port
Retina Display
Even though the MacBook Air features 13" display, Retina technology will make it seem like it's a 17" display thanks to its vivid bright picture.
Whether you're doing work that involves numbers, read a lot of text, or simply work in more of a visual way – your eyes will never get sore of Retina display.
Redesigned Keyboard
Interesting thing is that Air's keyboard has been fully redesigned in the latest version.
Therefore, Apple has introduced the latest generation of butterfly mechanism which provides 4 times better stability and durability. Typing on a MacBook keyboard has always been a pleasure which just got increasingly satisfying.
All-Purpose Performance
Whether you're a writer, accountant, videographer or photographer – MacBook Air is most likely the right choice for your needs during your traveling.
Even though Air is the lightest laptop on the market, it's pretty mighty for its size!
Hardware specifications for Apple MacBook Air
Processor
8th generation, Intel Core i5, 1.6 GHz up to 3.6 GHz
RAM
8 GB
Storage
128 GB SSD
Graphics
Intel UHD Graphics 617
Display
13", Retina display
Operating System
Mac OS X
Battery Life
Up to 12 hours
Weight
2.75 lbs
Other features
Touch ID
3. Microsoft Surface Pro 6 – Best 2-In-1 Laptop For Travelling
When you're looking to travel light yet have everything you need at the distance of a fingertip – Microsoft Surface Pro 6 is the right choice. It's a 3-in-1 laptop which features 3 different modes of use, features decent performance levels and even has custom accessories which can be paired with the laptop for more efficient use.
Versatility of a 3-in-1 laptop
Powerful Intel configuration
Ultra-slim design
All-day battery life
Smooth Windows incorporation
Can heat up during heavy use
Fully Versatile
Have you ever imagined taking a tablet on travel and yet still being able to do all your work? You can do that now with a Microsoft Surface Pro 6. Taking it anywhere even in your jacket pocket makes things so simple on a go.
And yet, if you pair it with any custom additional accessories – the things get even easier.
3 Modes Of Use
Whether you're at the desk, traveling in a subway, or you're sitting on a bench in the middle of a sunny day – Microsoft Surface Pro 6 has a way for you.
You can choose to use this laptop in a regular laptop mode, as a tablet, or in a studio mode for the best versatility.
All-Day Battery Life
Wherever you go and wherever you take Microsoft Surface Pro 6, you'll never have to worry about the battery life, thanks to the all-day lasting battery it features.
Its battery can last up to 13.5 hours which will last all day for a regular use, and even two or three days for an average laptop user.
Hardware specifications for Microsoft Surface Pro 6
Processor
Intel Pentium Gold, i5-8400T, 1.3 GHz
RAM
8 GB
Storage
128 GB SSD
Graphics
Intel UHD Graphics 620
Display
10", PixelSense display
Operating System
Windows 10
Battery Life
Up to 9 hours
Weight
2.65 lbs
Other features
Additional custom accessories
4. Lenovo IdeaPad 2019 – Most Budget Travel Laptops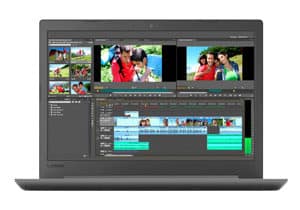 Being on a budget isn't fun, but it definitely can be with Lenovo IdeaPad 2019. This laptop features a very decent AMD configuration which is packed inside a durable & attractive design which offers great versatility. Therefore, this laptop provides a lot of value for the budget price it costs.
Offers a lot of value for the price
Strong AMD configuration
Decent performance
Increased connectivity
Great build quality
Attractive design
Touchpad quality isn't the greatest
Increased Connectivity
Lenovo IdeaPad might be the best budget laptop for travel, and even though it features a decent thin design, it still offers plenty of ports.
Other than a couple of USB ports, HDMI, micro SD card – you'll even get a DVD/RW drive.
180-Degree Screen
This laptop is very flexible in terms of the viewing angle and the display itself, thanks to the super flexible hinge that allows users to lay down the screen flat on the surface.
We find this feature to be very helpful during travel since it can avoid a lot of accidental damage.
AMD Configuration
If we didn't know the price of this laptop, we'd say it's quite on the expensive side since it features a very decent AMD configuration that will be decent for at least the next 5 years.
It features dual-core AMD A9 processor, only 4 GB of RAM, but a 128 GB SSD drive, which is a surprise at this price.
Hardware specifications for Lenovo IdeaPad 2019
Processor
AMD A9-9425, dual core, 3.10 GHz
RAM
4 GB
Storage
128 GB SSD
Graphics
AMD Radeon R5
Display
15.6", full HD display
Operating System
Windows 10
Battery Life
Up to 4 hours
Weight
4.63 lbs
Other features
180-degree screen
5. Huawei Matebook X Pro Signature – Thinnest Option
Traveling light doesn't only mean to pay attention to the weight but also to the design of the laptop. Huawei MateBook X Pro Signature is one of the thinnest laptops on the market which features incredible 3K touchscreen display along with a high-end configuration.
3K touchscreen display
High performance boost
Thinnest laptop on the market
Very portable and versatile
All day battery life
Reasonable price
3K Touchscreen Display
Huawei MateBook X Pro Signature features one of the best displays you can get in a travel laptop thanks to the ultra HD 3K display it offers.
It can reach a resolution of up to 3000 x 2000 pixels. Combined with ultra-thin Corning Gorilla Glass, viewing experience is brilliant at all angles.
Boosted Performance Levels
This is the latest version of MateBook X which features a boosted performance up to 40% than previous versions.
Thanks to the 8th generation of Intel processor and a flawless integration of the system with the components, this laptop is ready to handle even heavy-processing tasks such as video editing & rendering.
All-Day Battery Life
Wherever you go, you'll never have to carry a charger with you. It's that simple.
The main reason for that is an all-day battery life that can last up to 15 hours per charge. For an average user, this would last for about a couple of days while a regular user might even get two days out of one charge.
Hardware specifications for Huawei MateBook X Pro Signature
Processor
Intel Core i7-8550U, 1.8 GHz
RAM
16 GB
Storage
512 GB SSD
Graphics
NVIDIA GeForce MX150
Display
13.9", 3K touchscreen display
Operating System
Windows 10
Battery Life
Up to 15 hours
Weight
2.93 lbs
Other features
3K display, fingerprint sensor
6. Asus C302CA Flip – Best Travel Chromebook
What's better than a long battery life with a flip screen, that's light and can do most of your task. This is your pick for the best travel chromebook!
Convertible 2-in-1 design
Larger screen
Not ready to invest in a super high end device like the Pixelbook or Samsung Pro? This is the sweet spot for a great Chromebook experience without dropping a ton of cash.
The processor is faster, the storage size is bigger, and this device just all around runs better than less expensive models.
If you've experienced hanging or lagging with multiple tabs open on cheaper Chromebooks, this is the unit to go with for a smoother experience.
You also get a bigger screen in exchange for the increased price. Even though you get an extra inch of viewing area, this model isn't actually any heavier than the previous two contenders.
Buyers constantly mention three features of the Asus Chromebook Flip — two positive, and one potentially negative.
First off, this model has backlighting on the keyboard, which isn't typically found on cheap Chromebook models. Reviewers also frequently cite the sturdy heft of the aluminum chassis, which feels stronger and more durable than the plastic designs of other models.
On the negative side, most reviews bring up that the screen is less bright than other models. You'll need to manually turn up the brightness to get it up to par, which means lowering the battery life.
Hardware specifications for Asus C302CA Chromebook Flip
Processor
Intel Core m3-6Y30 (2.2GHz)
RAM
4GB DDR3 RAM
Storage
64GB eMMC
Graphics
Intel HD Graphics 515
Display
12.5-Inch Full-HD Touch Screen Display, 1920 x 1080 Pixels Resolution
Operating System
Chrome OS
Battery Life
10 hours
Weight
2.65 lbs
7. Apple MacBook – Best Mac For light Travelling
Very lightweight
Great battery life
Retina display
Looking for a lightweight laptop to carry around to classes? This should be among your top picks for light travel notebooks if you prefer Mac over Windows!
To find the best laptop for a student, whether in high school or college, you want a specific combination of functions.
A student laptop should be lightweight, durable, and have enough storage space to save school projects.
That's what you get with the 12 inch version of the MacBook. With 512GB of space (plus storage through iCloud) you won't run out of room.
If you're a student who like to synch up your various Apple accounts (like iTunes on your phone) to your laptop, this is the perfect pick.
Apple's MacBook will more than meet your needs for browsing the web from a dorm room or bringing along to class for note taking or emailing your professors.
You also get a retina quality screen for the asking price, along with a backlit keyboard. Between the slim profile and high specs, there aren't many downsides here.
The one complaint frequently brought up by buyers is that this model only features one USB-C port, so you will need a hub or adapter if you are using multiple peripherals.
If you want to save money for buying books or keeping your dorm's beer fridge stocked, you can also find this model refurbished for around half the price.
With Apple's unique Touch ID feature, you'll never have to rely on passwords again, and even if your laptops gets stolen or lost (which is probably the worst case scenario), it's good to know that your laptop will still be secured.
You'll be able to do everything from unlocking the laptop, paying for your purchases, unlocking files, and making important changes to your laptop with only your fingerprint.
The latest-generation MacBook Air features a keyboard that has gone through a complete redesign and now features a Butterfly mechanism.
It's proven to provide more key stability than ever before and is 3 times precise than other keyboards that still use traditional scissor mechanism.
We've enjoyed the precision, responsiveness, and comfort that Apple has featured in the latest Air laptop.
Hardware specifications for Apple MacBook 12 Inch
Processor
Intel Core i5 Processor (1.3 – 3.2GHz)
RAM
8GB DDR3 RAM
Storage
512GB SSD
Graphics
Intel HD Graphics 615
Display
12-Inch TFT Retina Display With IPS Technology, 2304 x 1440 Pixels Resolution
Operating System
Mac OS
Battery Life
9 hours
Weight
2.03 lbs
8. HP Spectre X360 – Mid size Pick For Digital Nomads
Want the absolute best 13 inch ultraportable laptop out there that can also double as a tablet with a stylus? This should be your pick!
Double the RAM of cheaper models
8th gen processor
Stylus requires batteries
No optical drive
The HP Spectre essentially doubles the specs from the Lenovo Yoga contender listed above, and is even thinner!
With 16GB of RAM, an 8th gen processor, and a 512GB SSD, this model outclasses quite a few high end desktop machines.
You pay a premium for those specs, however. You won't find this model anywhere close to under the $1,000 mark.
Like the Lenovo Yoga, you can flip this ultrabook around and use it as a tablet. The Spectre even includes a stylus and is designed with Microsoft Ink in mind.
When you need a hybrid device, you won't find many with better specs of features. Of course by going this thin you lose out on the DVD drive, but that's a small price to pay.
The Spectre also includes a fingerprint ID scanner. You definitely want that feature when you're investing this amount of money on a travel laptop.
Buyers frequently mention loving the distinctive dark ash and gold color scheme, but note the fans run more frequently than other ultra thin models.
Although it probably won't matter at this price point, but there's another consideration here to keep in mind. The battery for the HP stylus can't be plugged in to charge.
That means you'll need to buy a fairly steady supply of disposable AAAA batteries, or invest in a rechargeable set.
9. 2019 Lenovo Yoga – Best Laptop For Digital Nomads
The 2019 Lenovo Yoga is a powerful 2-in-1 Ultrabook that is perfect for the on-the-go artist. With a next gen processor and included pen, you'll be able to run all your artistic software with ease.
Great battery life
Active pen included
2-in-1
No media card reader
Expensive
The 2019 Lenovo Yoga has an incredible battery life of over 12 hours which is great for those doing their work away from a charger. Its 2-in-1 capability means that its as versatile as you need it to be and can fold into the most comfortable position for you.
With a top of the line processor, you should have no problem doing all the work necessary to wow the world with your amazing art. 12 GB of RAM will keep all your programs and tabs running for as long as you need them to.
It has loads of storage as well so you shouldn't have to worry too much about running out unless you're working with huge file sizes. Purchasing an external hard drive is an alternative if you find yourself needing more space.
It comes with an active pen included and has a space to store the pen when you're done with it. The Yoga's only drawback for the artist is its lack of a media card reader. However, you can purchase a peripheral card reader that will work just fine.
The Yoga has plenty of ports to accommodate your needs, including: 1 USB 3.0 slot, and 2 Thunderbolt 3 slots.
Other features include: a fingerprint scanner to keep your documents and information safe and secure and a rotating soundbar so you can enjoy the audio experience no matter which position you have the laptop in.
When high battery life is your main concern but you still want an incredibly lightweight travel laptops with good specs, this should be your pick.
2-in-1 design
16GB of RAM
Very high battery life
No optical drive
No stylus
In terms of sheer operational time and battery power, it doesn't get much better than the XPS. The hybrid 2-in-1 style and lightweight design give you up 15 hours of usage for most tasks.
With 16GB of RAM and a 512GB SSD, you still get excellent overall specs even with that insane battery life.
Unlike the HP Spectre listed above, this unit doesn't include its own stylus. If you want to use this as an Ink tablet, be sure to pick up a Dell stylus as well.
Don't care for the hybrid 2-in-1 design but still want to use your ultrabook all day long? Keep in mind that the Huawei MateBook X Pro and LG Gram also have astonishingly high battery lives.
When it comes to hybrid laptops, nothing beats Dell's XPS 15 at the moment. You don't lose any functionality at all here with a full 15 inch screen, 360 degree hinge, and truly top-notch specs.
Between the 8th gen processor and dedicated graphics card, this 2-in-1 can function as a business machine or a gaming rig for after work. The battery life is also extremely high for a unit with so much graphical power.
Buyers often mention the high quality display, and the extremely narrow bevel for the most viewing space possible. You also get a stylus included, and it attaches directly to the laptop magnetically so you won't ever lose it.
Despite the near-perfection of this particular 2-in-1, there is one issue frequently mentioned by reviewers. The XPS 15 features a revamped keyboard design that some love and others hate.
You get shallow keys for quiet operation, but the page up and page down buttons are located to the left and right of the arrow keys. This means you will accidentally hit the wrong key quite often while you get used to the keyboard layout.
What Features Should I Look For In A Laptop For Travel?
As with nearly any laptop, your baseline for specs should be 8GB of RAM and a solid state drive. An 8th gen processor is always better for lower power consumption and faster install speeds.
From there, it all depends on what you need from your computer. Most ultrabooks ditch the optical drive entirely to save space.
That makes sense, because drives take up space and ultrabooks needs to be as thin as possible.
Since you can't use DVDs, that means you want to take into account the specific ports available in an ultrabook.
In general, 3 USB ports and a card reader are the best ways to go for the most data storage and external peripheral options. If you need to connect to an external display, don't forget to look out for an HDMI port.
Picking The Best Travel Laptop 2020
Form/ Design
The first thing you should look into when you're looking for a travel laptop is definitely its design and shape of form. The first thing that associates travel laptops in our minds is a lightweight and thin design. That's a good starting point which you should be looking for.
Everyone who is traveling quite often requires a laptop that won't be heavy in a backpack, won't require a lot of space – and optionally, it's very compact in size.
These are some of the most important characteristics of a travel laptop. However, you should be also looking for build quality, material, and a lot more in terms of design. Make sure the functionality of the laptop isn't compromised by improving the overall characteristics.
Lastly, you can judge a laptop's design by the fashion characteristics and determine whether you will like it or not.
Battery Life
Since you'll find yourself traveling quite often, it's mandatory for travel laptops to come with a battery life that offers at least a decent life span. This works well in combination with the design and form of a travel laptop, allowing users to use the laptop anywhere and anytime without being limited.
Most travel laptops featured in this post will even have all-day batteries which can last up to 18 hours. Depending on your personal use of a laptop, this would be able to last up to 3 to 4 days for an average user.
However, the most demanding user will still be able to pull an all day in the office without having to worry about charging. This is very important, even a bit more important than the laptop's performance – since you don't want to be slowed down by a charging cable at any time.
Performance
No matter what is the purpose of a laptop purchase, everyone should be looking to get a very decent performance to handle everything from the most basic tasks to a bit of heavy-use processing tasks. You should also be looking for a laptop that comes with a configuration that will be able to last you for at least the next few years.
Depending on the use of a laptop on the go, you should be looking to get either Intel or AMD processor with plenty of RAM memory and storage space. While a dedicated graphics card isn't mandatory, it depends on personal use.
If you plan to do a lot of visual processing tasks, we recommend you to go for a laptop with a dedicated graphics card.
Storage
Storage is a really important factor that gets overlooked most of the time. Other than paying attention to the type of storage, you should be looking for the amount of storage that comes included with a laptop.
We recommend going with the SSD since it's one of the quickest storage systems we have in this year, and most of the time, you can upgrade it. However, if you're on a tight budget – an old HDD will do well, just make sure it's one of the fastest HDDs out there – which can do about 7200 RPMs.
Now, the most important part is paying attention to the storage space. You don't want to run out of space, especially if you're traveling. You will have to end up deleting files (if you have any old files you can delete), or you'll be forced to buy an external storage drive that will be a hassle to carry.
Size & Resolution
Lastly, screen size and resolution matters. Most travelers will go for the smallest laptops out there to boost their versatility and portability. However, with modern technology – you can even go for a laptop up to 17″ and still move without noticing it in your backpack.
Screen size is important since everything you'll be doing is going to happen on the laptop's screen – so you better make sure it's a quality one. We find the anti-glare feature to be very important for travelers who like working outdoors or outside the coffee bars.
If you have no plans connecting the laptop to an external display, going for a laptop that can achieve a decent resolution will help improve the use of the laptop itself. Especially if you're working with numbers of a lot of text.
Frequently Asked Questions
What's more important – performance or versatility?
The whole point for a travel laptop is to have increased versatility, so that's something we would prioritize – however, performance is equally important. Therefore, you should look for a combination of both in a laptop.
How important is the connectivity?
Connectivity might not be very important for someone who's constantly working on a go, but it's important for people who settle down in the office from time to time. Having the ability to connect desired peripherals or connect your laptop with external devices is always a good thing. Therefore, if you have the chance – we highly recommend it.
What size is the best for a travel laptop?
People think that the smaller the laptop is – the better it is for a travel purpose. While that's partially true, we have, on the other hand, a laptop such as LG Gram which is 17″ big and yet is lighter than some 13″ laptops. Therefore, pay attention to weight, thickness & design, but also don't hesitate to go for larger laptops either.
Resources
Seven tips for taking a laptop travelling, TravelHapp
Recharging laptops, netbooks, gadgets abroad, PCWorld, Aug 12th, 2009, by James A. Martin