The Sims is a popular title game and one of the least demanding on your laptop. Finding the best laptop for the sim only requires you to meet the minimum threshold for specs, which truth be told, is easy to do at any budget.
Although you should be fine playing the Sims 1 to 3 on virtually any laptop made within the last 10 years, things begin to get a little sticky when you want to play the Sims 4 going forward. The best strategy is to get a laptop that will handle any Sims game ever made and that will ever be made in the future so you don't have to upgrade your device every few years.
Bonus points if you can also play other games on it such as Minecraft, Warcraft, and League of Legends just as well as your Sims games. With this in mind, we have reviewed the best laptops for the Sims; past, present, and future.
Although these devices vary in overall gameplay quality, you can still be confident with any laptop you choose from this review.
After careful consideration and testing dozens of laptops in all price ranges, the best laptop for playing the Sims is ASUS ROG Strix Scar Edition for the following reasons;
Editor's Choice
ASUS ROG Strix Scar Edition
Why is it better?
A portable laptop that is easy to travel with
High-end video card at a reasonable price
Hybrid storage runs all versions of Sims and multitasking
256 GB RAM exceeds the minimum requirements for Sims
The Lineup At A Glance
The Contenders For The Best Laptop for the sims
1. ASUS ROG Strix Scar Edition – Best processor
The ASUS ROG Strix Scar Edition is certainly overkill and is more than you will ever need for any Sims game past, current, and future; but you can rest easy knowing that you have all your gaming needs covered. If the price is restrictive and you only want to play the Sims then the HP NOTEBOOK 15-AYO11NR is a great budget alternative.
High-end graphics card
Portable laptop
256GB Ram
Hybrid storage
Pricy
Too powerful just to play Sims
Low battery life
Key features & details
2. MSI GV62 8RD-200 – Best value for money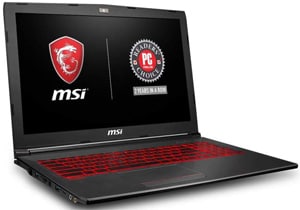 The MSI GV62 8RD-200 offers great performance for a laptop at its price range. If you are not quite ready to invest in a high-end laptop dedicated to gaming, this MSI will more than fulfill your Sims playing needs and provide a wide range of gaming options.
Great gaming experience
Good performance
SSD and HDD
Comfortable keyboard
Poor speakers
Noisy fans
Small screen size
Key features & details
3. Dell G5587 – Best portable laptop
The Dell G5587 is a good choice if you want great visuals to go with an overall smooth and powerful gaming experience. For the price, this Dell comes with great specs you will need to play any versions of Sims.
Powerful processor
Good display and visuals
High performance
Key features & details
4. Acer Aspire E-5 – Best with dedicated graphics card
This Acer Aspire E-5 comes with impressive specifications at an affordable price. This laptop is the best for a dedicated graphics card if you don't want to spend thousands of dollars on a gaming laptop.
Enhanced gaming graphics
Disk drive
High setting resolution
Up to 11 hours of battery life
The fragile laptop needs to be handled carefully
May overheat after extended use
Key features & details
5. HP Notebook 15-AY011NR – Best for budget shoppers
The HP Notebook 15-AY011NR provides the best value for money if you are on a tight budget. It meets all minimum requirements for Sims games, has an extended battery life of up to 7 hours and a full HD display for an optimum gaming experience.
Beautiful design
Good battery life
1080p display
Issues with bloatware
Shallow keyboard
Key features & details
Criteria used for evaluation
Operating System
You can run the Sims on most Windows operating systems including XP, Vista, 7,8,8.1, and Windows 10. Alternatively, you can play on Mac OS X 10.75 (Lion) or by meeting the minimum Mac specification requirements which you can find here.
The Sims 4 for Mac is a digital-only release which you can download through Origin provided you have the PC version.
You can find instructions for playing Sims 4 for Mac here. Overall you should be fine running the game on any Mac with integrated graphics and was built after 2012.
performance
The laptop performance is arguably the most important consideration for playing the Sims.
Good performance means you experience shorter loading screens and minimal lag and crashes.
For running the base game you need at least 14 GB free space on your hard drive and an additional 1 GB if you intend to load saved games and custom content.
For the CPU – AMD Athlon 64 Dual-Core 4000+, 1.8 GHz Intel Core 2 Duo, or similar will do. If you have a laptop with built-in graphics chip you need 2.0 GHz AMD Turion 64 X2 TL-62, or 2.0 GHz Intel Core 2 Duo, or similar.
Additionally, Make sure you have at least 2 GB RAM to play all versions of The Sims currently out
Display
Once you have met the performance threshold for playing the Sims; how the game actually displays on your laptop screen is going to have a big impact in your overall gaming experience.
The Sims falls in the category of casual gaming so display specs such as contrast, brightness, and resolution are not all that important.
Even so, these specifications are hardly ever mentioned in relation to laptop screens. A good rule of thumb is to look for the panel type in relation to the screen.
ISP panels typically offer deeper color contrasts and better overall viewing angles which is more than you need even for the Sims 4.
The panel type should be listed in the laptop's Specs sheet. The TN panel is older and although you may still get decent visuals, especially for earlier games, the ISP panel remains the safest bet.
Graphics
The minimum graphics requirements for playing all versions of the Sims are Intel GMA X4500 going up, ATI Radeon X1300 going up or NVIDIA GeForce 6600 going up.
The laptop should also be able to support Pixel Shader 3.0 and have at least 128 MB of video RAM.
A laptop with a dedicated graphics card, although not mandatory, is the only way to really bring the game alive and experience it fully.
It doesn't even have to be a top-of-the-range graphics card but it will help immensely with the gaming experience.
You can still play the game on low settings but the visuals will be seriously impaired.
For example, character models will be of lower quality on the Sims 4 on lower settings and you won't be able to get the best out of your expansion packs.
Faraway buildings may also appear hazy while the frame rate will drop noticeably in areas where there is high activity if playing on low settings.
Battery life
Generally the Sims games aren't too demanding on your laptop's battery power but it is still worth it switching to laptop mode on the game's settings especially for the newer games with lots of add-ons.
This option is even less taxing on your battery life and graphics. The battery life becomes crucial if you intend to use your laptop primarily for gaming.
75 Wh batteries and higher work best for gaming although it is worth considering that you still won't get the same performance as using your laptop while plugged in, even with Battery Boost.
Overall, the bigger the battery you can get for your money the better, especially if you intend on playing away from a power outlet often. A 'decent' battery life on a gaming laptop is about 4-5 hours.
Frequently Asked Questions
What Specs do You Need to Play the Sims?
For the first version on the Sims, virtually any laptop will be good enough to run the game. You will need a little more than a basic laptop if you intend to play subsequent versions of the Sims. Minimum requirements include at least 2 GB RAM, Windows XP or better, 128 MB dedicated video RAM, and at least 10 GB free space on your laptop.
Resources
Andy Chalk, The Sims 4 Recommended System Requirements Revealed, PC Gamer
EA Sports, The Sims4 System Requirements, EA Games