Starting your high school is a new chapter of your life. But no matter how exciting it can be, if you aren't equipped with the best laptop for high school students that can handle work and make your school easier – you will have to work twice as hard.
But instead of working twice as hard, there is a simple solution. Getting a new laptop can be a bit of a hassle, especially if you don't know much about them. But it's your lucky day because we have something special in this post.
Here, you'll find a buying guide that is specially written for high school students but also the top 5 laptops that students can benefit from. Stay tuned!
In A Hurry? Here's The Winner From Hours Of Research
Editor's Choice
MacBook Air
Why is it better?
The best laptop any high school student can get is definitely MacBook Air. It's the most portable laptop out there with a powerful performance that offers a simplified operating system to make high school easy.
From the keyboard to the lightweight design and speed – this laptop offers everything a high school student would need.
The Lineup At A Glance
The Contenders For High School Students & Teenagers
1. MacBook Air 13″ – Best Professional Choice
MacBook Air combines every aspect that makes a student's life easier. It consists of powerful components that give the best performance possible to tackle any task a high school student might be dealing with, yet at the same time, it's very versatile and portable.

Powerful performance
Incredible battery life
Real thin and lightweight design
Durable aluminum body
Affordable price
MacBook Air isn't very pricey, yet it's probably the best option for a high school student who's looking for the best laptop out there.
It's not even that pricey, considering the value it offers and everything it features.
MacBook Air comes with the fifth generation of Intel Core processors which is more than enough to handle any type of task for the high school. Along with that, it features an SSD storage that makes things blazing fast.
But here comes the best.
The battery of MacBook Air can last up to 12 hours on a single charge. That's perfect for students who need to use their laptop for hours.
Also, this laptop is 0.68″ thin which improves its portability. Even the WiFi is updated and it can perform up to three times faster at the same time.
Best Apple MacBook (Including Picks For Video, Photo, Music Editing)
2. Acer Chromebook 14 – Top Pick For Teenagers
If you are on a very tight budget yet would like to get a decent laptop that might perform as some of the laptops with a very strong configuration – this is the right choice. Acer Chromebook 14 is more than enough for any high school student, it stays quiet, is easily transportable, and has a very great battery life.

IPS display with ComfyView feature
Decent performance
Plenty of ports
Great battery life
Lightweight and portable
Offers a lot of value for the price
Chrome OS might require some learning time
Students are often on a budget, and most of them feel like there is no decent laptop for their budget. However, that's not true.
Acer Chromebook 14 is a pure example of a decent laptop that performs well, can handle most of the student tasks, and yet it looks great.
This laptop is priced just under $300.
But here's the deal.
It features an IPS display, Intel HD graphics, Intel Celeron processor for the price it costs. It's really surprising.
By the looks, it's really similar to the MacBook Air. It's thin, lightweight, and easily portable which is a great benefit for the high school students.
No matter its size, the laptop still features plenty of ports. The operating system is Chrome OS, which might not be suitable for everyone – but it's running pretty flawless and can handle most of the tasks high school students are facing.
3. HP Premium – Under $500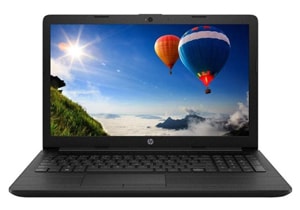 Staying under $500 and yet finding a brilliant laptop such as HP Premium might feel impossible, but it sure is possible. This laptop features a decent configuration that allows a reliable performance and even features a dedicated graphics card which is always a great thing, especially for the budget.

Powerful configuration
Upgradeable RAM
Dedicated graphics card
LED backlight display
Plenty of ports
The HD camera isn't very quality
Key features & details
4. Dell XPS Ultrabook 13″ – Best 13 Inch For High School Students
Dell XPS Ultrabook is a really powerful laptop packed inside a portable body. It can handle even the most difficult tasks and software, and that's why it's the best 13″ laptop for high school students.

Beautiful modern display

Powerful performance

Backlit keyboard

Windows 10 included

Compact and lightweight design

Reasonable price
Speakers aren't really loud enough
Dell XPS Ultrabook 13″ is the refreshed version of the usual Ultrabook which is probably one of the best 13″ laptops on the market right now.
No matter the size of the screen, it features an InfinityEdge feature along with the touchscreen ability.
Inside such thin and lightweight body, the latest 8th generation of Intel i7 is hiding along with the 16 GB of RAM, and 512GB SSD. The performance is flawless and breathtaking.
There's no task that Dell XPS Ultrabook can't handle.
But that's not everything.
Dell has even upgraded the security on their laptops, and therefore, you can see the fingerprint sensor along the touchpad.
Size matters! Check out our best collection of best laptop pick by size..
5. Lenovo Flex 15 – 15 Inch Top Pick
If you're going for a 15″ laptop, why not get the one that offers a brilliant screen for its size, and yet a lot of flexibility with its super-thin and lightweight design? We're talking about Lenovo Flex 15 which is one of the best 15″ laptops for high school students.

Full HD IPS touchscreen display
Increased flexibility
3 modes of use
Powerful processing power
All-day battery life
Fingerprint reader
Can heat during heavy-use
Key features & details
Criteria used for evaluation
Performance
As a high-school student, it's most likely parents who are making the purchase to help with the studies, and it's very important to make sure that the laptop can put up some serious performance (and we don't think gaming performance). Making sure that the laptop has a decent processor, enough of RAM, and plenty of storage is crucial.
Even an additional dedicated graphics card can be useful if it's necessary – depending on the high school student requirements. Once you are pretty sure that the laptop can handle the necessary software, it's never a bad idea to pay attention to the screen as well.
Making sure you get at least an LED screen is definitely going to pay off after hours and hours of studying and doing homework on the laptop.

Keyboard
Since you'll be using a laptop mostly for studying, doing homework, and even occasional notes taking sessions – you'll want the keyboard to be decently sized, comfortable, and most importantly – reliable.

If you're doing a lot of mathematics, getting a full-sized keyboard that includes a numpad is going to help you significantly. On the other hand, simply make sure that the keyboard placement is okay and that you find it comfortable, that the keys are wide enough, and that they offer a balanced travel time.

You don't want a keyboard that will register even accidental gentle touch, but you also don't want a laptop with hard keys that will waste a lot of your energy during typing.

We would recommend you not to judge the keyboard by its noise or even pay attention to the noise since it's the last thing you should be paying attention to.

Battery Life
No matter how much will you use the laptop, where will you take it, and what the general purpose of use will be – but you'll want to have at least a decent battery that will provide hours of power without having to be constantly recharged.

Most of the laptops nowadays come with a super-versatile and portable design, and it would be a shame to have to stick with the charger and power outlets for most of your using hours.

Instead, look for a decent battery that can offer a life of at least 5 to 6 hours. Some laptops even have such improved batteries that can last an all day (about 18 hours), and if you aren't on a very tight budget – investing in a laptop with a great battery is something you'll never regret.

Storage
Other than having a quick laptop with a powerful processing power – there's one thing that most students forget about. It's the storage. As you will be doing all your homework, working on a project and a lot of other stuff – you'll want storage that is reliable and will be able to save all your data safely.

Investing in an SSD drive is a great idea, but it isn't highly necessary. If you are looking to cut costs – going for an HDD with high RPM's is still going to provide good use.

Lastly, you don't want to forget about the entertainment since it's most likely you'll be using the same laptop for both high school and entertainment – and believe it or not, a hard disk can get filled up pretty quickly.
CD/DVD Drive
Most of the laptops produced and sold today don't come with a CD/DVD drive because most manufacturers are trying to cut the weight and find a way to make their laptop even thinner and more portable than ever before.

Some laptops will at least include a slot for CD/DVD drive where you can purchase drive additionally and simply place it inside your laptop. On the other hand, some laptops won't have such slot and you'll have to find another way.

If you find a laptop that is very good and meets your expectations yet doesn't have a CD/DVD drive, we still say you should go for it. You can always purchase an external CD/DVD drive and use it by connecting it to your laptop only at times you really need it.

This way, you'll get the best of both worlds.

Frequently Asked Questions
Do high school students need laptops?
Most of us from the older generations haven't used laptops in high school and even though it can be hard to believe it, but anything from homework, reading, research, working on projects, and much more can be done on a laptop.
In fact, high school students will 100% need a laptop for doing the research, creating presentations, and writing papers.

How much RAM does a high school student laptop need?
We highly recommend a laptop with about 8 GB of RAM. High school students could do well with even 4 GB of RAM, but for the sake of long-term goals – getting a laptop with at least 8 GB of RAM will accommodate every single student and you won't have to worry anytime soon in the future.

Do high school students require high-end laptops?
We don't think that high school students require high-end laptops unless they're doing some heavy courses or work related to photography, film making, music production, and others – which require software that can get quite heavy on the laptop.
Other than that, every high school student will do well with a decent laptop for the most common work.

Conclusion
There's no excuse for not being able to have a powerful laptop that will perform well when you need it the most.
In this post, you didn't only have the opportunity to see the best laptops for high school students, but you also have the opportunity to choose any of them depending on your needs.
Even if you're on a really tight budget, we have the right laptop for you.
Everyone deserves the equal chance to learn and handle their studies the easiest way possible.