If you're reading this now, it's because you want to find the best i7 laptop for your CPU-hungry applications. But there are just so many options to choose from, and that number is always increasing!
That's why we took the initiative and decided to find you all the best i7 laptops available in 2020. We've looked at every i7 model in the market and come up with 5 contenders for any kind of user on any budget.
The Lineup At A Glance
The Contenders For Best I7 Laptop 2020
1. Apple MacBook Pro 13 – Best Apple Option
The Apple MacBook Pro 13's best feature is its fast processing speed. Therefore, individuals with projects or jobs that need multitasking skills would appreciate its speedy nature.
In-built Siri support
Great sound quality
Sharp picture quality
Fast processing SSD
Touch Bar
Key features & details
Solid Design with Multiple Connectivity Options
The sleek grey look of the Apple MacBook Pro 13 is nothing new as it greatly resembles its predecessor. You have both positives and negatives to this design.
The positive is the design is solid but the negative is there it is nothing new and still carries around bloatware when rivals have slimmed down on designs.
This laptop does not make it easy for users when it comes to diversifying connection options. There is no presence of a microSD slot or USB port. However, you do get 4 Thunderbolt 3 ports. With the speedy nature of the Thunderbolt 3, you can connect to more than one system at a go.
Environment Sensitive Display
At first the 13-inch display of the laptop appeared no different to the others like it on the market. However, when True Tone is turned on, the graphics on the screen become pleasant to look at.
The reason for this difference lies in the system leveraging the True Tone to change the display's white point so as to match the brightness of a room.
Also, in terms of movie watching, the Retina Display is as good as ever as it is easy to view the details.
Fast Processing Speed
Apple MacBook Pro 13 may very well have the fastest SSD within a laptop. It can complete large and demanding tasks of over 5GB within 3 seconds.
This capability is better than its Windows counterparts like Dell XPS and Windows Surface Laptop which averaged 279.3mbps and 203mbps.
Hardware specifications for Apple MacBook Pro 13
Processor Intel 8th-gen Core i7 RAM 8GB ; 16GB Storage 256GB SSD Graphics Intel Iris Plus 655 Display 13.3 inches; 2560 X 1600 resolution Operating System MacOS Sierra Battery Life Up to 8 hours Weight 3 pounds Other Features Touch Bar, Touch ID and True Tone
2. ASUS Zenbook 13 – best budget i7 laptop
For a mid-budget laptop, the ASUS Zenbook 13 offers a great battery life and all round solid performance. Therefore, it would fit in well with students.
Good battery life
Sleek design
Loud speakers
Less bloatware
Several connection ports
Poor display
Cramped keyboard
Key features & details
Sleek Design
In terms of looks, the ASUS Zenbook 13 offers a royal blue body paint and a keyboard of rose gold tint. Compared to its competitors, the laptop has less bezel and more system.
However, its thickness of 0.7 inches rivals the Dell XPS 13 and HP Envy which are 2.7 pounds/0.5 inches and 2.9 pounds/0.5 inches respectively.
Diverse Ports for Connections
Unlike the Apple MacBook Pro 13, the Zenbook has diverse ports which include HDMI port, USB Type-A port, USB Type C port, Micro SD card, and an audio device slot.
But, even with the diversity of ports, the system does not offer the fast Thunderbolt ports which are a tad disappointing as none of the present ports can compare to its speed.
Active Keyboard and Responsive Touchpad
Punchy keyboards are an indication of how active the laptop keys are and the Zenbook 13 definitely offers that. However, the spacing between the keyboard is too close together thereby creating a far from pleasant typing experience.
Apart from the keyboards, we also have the touchpad of the laptop. Although it is highly responsive to touch, it is smaller than the average you would expect for a laptop of the Zenbook's size.
Sound Projection
The audio of the ASUS Zenbook 13 is loud enough to fill a room but the depth of sound is empty. The speakers can distort the sound and the necessary bass undertones of most sounds are driven to the background.
Processor 4.6 GHz Intel Core i7 RAM 16GB DDR3 Storage 512 GB Flash Memory Solid State Graphics Intel HD Graphics 620 Display 13.3 inches; 1920 x1080 resolution Operating System Windows 10 Pro Battery Life Up to 11hours Weight 2.6 pounds Other Features HDMI port, USB Type-A port, USB Type C port, Micro SD card
3. AlienWare M15 Gaming Laptop – Best for Gaming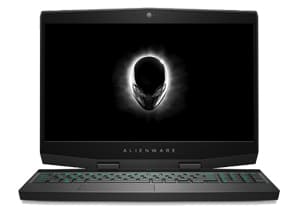 Looking for a light and easily portable gaming system? The Alienware M15 gaming laptop offers this as well as an above average battery life.
Lightweight
Good battery life for gaming
Great visual display
Sleek design
Thunderbolt 3 port
Bottom gets hot
Thin sound
Key features & details
Portable Design with Easy Connectivity
The Alienware M15 Gaming Laptop might have been a latecomer to the Intel Core i7 processor party, but it grabbed our attention with its lightweight state.
It does away with the chunkiness normally attributed to gaming laptops and instead offers a thin grey chassis. Although this system is not the lightest gaming laptop around as Razer Blade 15 and MSI GS65 give it a run for its money.
The slim nature of the laptop does not affect the presence of connection ports. On both the left and right side of the system, you have a pair of USB 3.0 Ports. We also have a Noble lock slot, headset jack, and Gigabyte Ethernet Jack.
At the back of the system, you have the fast Thunderbolt 3 port, HDMI 2.0 port, mini DisplayPort and the power jack.
Colorful Picture Display
The 15.6-inch laptop offers a stunning display as colors appear with great clarity and vibrancy which is good for gaming. The system has a 144-Hz refresh rate that also ensures the gaming action flows smoothly. The vivacity of the images makes it a top must have for gamers.
Poor Audio Speakers
In the processing of slimming down the laptop, it is quite apparent that a certain feature would have to suffer for it. In this case, the sound quality of the Alienware takes the hit.
The speakers are not the best you will find on a gaming laptop as they barely fill a room and often sound distorted.
Hardware specifications for Alienware M15 Gaming Laptop
Processor 4.1 GHz Core i7 Family RAM 16 GB DDR4 Storage 512 GB 512GB PCIe M.2 SSD Graphics NVIDIA GeForce Display 15.6 inches; 1920×1080 resolution Operating System Windows 10 Home Battery Life 6 hours Weight 9.9 pounds Other Features Noble lock slot
4. LG Gram Thin and Light Laptop – Best Portable Laptop Pick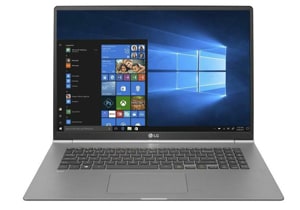 The lightness of the LG Gram Thin and Light Laptop is a great attraction as you have enough display room with less hardware to carry around.
Good battery life
Added security with fingerprint reader
Light laptop for 17-inches
Vivid display quality
Loud speakers
Key features & details
Balanced Graphics Display
One reason to get excited by the LG Gram Thin and Light system is the beautiful 17-inch display screen. Although the resolution is not 4k, the display panel still offers sharp color.
You also have no color saturation of images but, its color gamut is 114.5 which is below that of the Dell XPS at 115.
However, its brightness of 359 nits is better than that of the MacBook Pro's 354 nits.
Above Average Performance
Despite the use of the Intel Core i7 processor, the LG Gram Thin and Light is not the fastest system on the market. The reason for this might be due to lack of distinct graphics.
For its performance, it relies on the 8th Gen Intel Core i7-8565U processor, Intel UHD 620 graphics, 512GB SSD with 16GB of RAM.
Users can switch between multiple open tabs with a lag in performance, however, its responsiveness is below that of Dell XPS 15 which is in the same market.
Long Usage Time
Another reason to take a look at the laptop is its battery life of 11 hours which is way above the average of 8 hours. Web surfing and movie watching do not detract from the ability of the laptop to say running for more than 8 hours.
Hardware specifications for LG Gram Thin and Light Laptop
Processor 1.8 GHz Intel Core i7 RAM 16 GB DDR4 Storage 512 GB Flash Memory Solid State Graphics Intel HD Graphics 610 Display 17 inches; 2560 x 1600 pixels Operating System Windows 10 Home Battery Life Up to 11 hours Weight 2.95 Pounds
5. Acer Spin 3 Convertible Laptop – Best 2 in 1 Laptop
The Acer Spin 3 is a flexible yet affordable laptop system for all types of users.
Good battery life
Okay speakers
Affordable
Multiple connectivity options
Sleek design
Key features & details
Sleek Silver Body
The appearance of the Acer Spin 3 is sleek however the use of plastic takes away from what could have been a durable chassis.
The body of the laptop is painted silver and this gives off a cheap look when compared to the laptops from competitors. However, this does not make the laptop unattractive in anyway.
Perhaps the greatest detraction from the system is the bloatware from thick bezel which will let users know that this is not a high-end laptop.
Multiple Input and Output Sources
The usual ports you would expect to see in a laptop are all present on the Spin 3. They include an HDMI, power connector, two USB 3.0 ports, SD card reader, USB 2.0 port, mic/headphone jack and a Kensington lock slot.
Sharp Picture but Poor Keyboard
Acer Spin 3's display is not the best on the market but still not the worst. Graphics may appear sharp but they are not vivid.
The images are not glossy and do not pop at you. Movie watchers may find the panel display to be a disappointment.
Keyboard spacing in the Acer Spin 3 will not make it a favorite laptop for writing as the keys are too shallow. Also, there is no backlighting of the keyboard which will make typing in a low light setting difficult.
Hardware specifications for Acer Spin 3 Convertible Laptop
Processor 4.6 GHz Core i7 Family RAM 16 GB DDR4 Storage 512 GB Flash Memory Solid State Graphics Intel UHD Graphics 620 Display 14 inches; 1920 x 1080 resolution Operating System Windows 10 Home Battery Life Up to 9 hours Weight 5.55 pounds Other Features Kensington Lock slot
6. Dell XPS 13 XPS9343-8182SLV – Best Dell Option
With its much-refined webcam and good battery life, the Dell XPS 13 continues to be among the best possible in the world, even if it may not have our sought-after 'Best in Class' label any longer.
Big battery life boost
Updated processors
New color option
Otherwise small update
Ergonomics
Key features & details
Solid Design with Multiple Connectivity Options
The Dell XPS 13 also has an identical anodized aluminum screen lid and base, partnered with plain-woven carbon fiber (or glass fiber on light-colored models) keyboard deck.
The lineup of ports additionally stays the same, with two Thunderbolt 3 (USB-C) ports, one USB-C 3.1 port, a microSD card slot, and a 3.5mm headphone jack.
And, that's a good thing since this choice is significantly more beneficial than several competitive laptops, with some of them clinging solely to USB-C 3.1 and not the superior Thunderbolt 3 standard.
Environment Sensitive Display
The fact that's unchanged is that the display, not that it is required to be updated. It's even as dynamic and vigorous as ever in both the Full HD and 4K touchscreen models, and also the bezels around the display are essentially non-existent.

Specifically, on the 4K model we examined for the review, we discovered the 100% sRGB color copy through Dell's CinemaColor tools to be impressive, created even superior by some popping HDR techniques and 400 nits of brightness.
The 4K panel is extremely detailed, but it still might be a bit too much for a 13.3-inch viewing area. Overall, there wasn't a lot that required to be modified about the XPS 13 design, except for that one particular elephant in the room that Dell finally fixed.

Fast Processing Speed
The Dell XPS 13 2019 is an upgrade in each feature over its predecessor, specifically when it involves battery life. The processor within is the newest version of the 8th-generation series of Intel processors, specifically the Intel Whiskey Lake Core i7-8565U, whereas last year's model came with solely the Kaby Lake R Core i7-8550U.
The difference? Each processor operates at an equivalent frequency. However, the newer model is more efficient within the same power profile and is, therefore, slightly more powerful.
Hardware specifications for Dell XPS 13
Processor Core i7-8550U RAM 16GB DDR3 Storage 1TB PCIe SSD Graphics Intel UHD Graphics 620 Display 13 inch Full HD (3,840 x 2,160) Operating System Windows 10 Battery Life 8 hrs and 12 min Weight 2.7 lbs
7. Acer Aspire 5 – cheapest i7 laptops
The Acer Aspire 5 May well be an average laptop, it performs most tasks well, plays media fine and contains a very good battery life, all for compelling value.
Good build quality
Decent performance
Well priced
Cheap-feeling touchpad
Not most vibrant screen
Key features & details
Sleek Silver Body
Opening the laptop reveals a subsiding-sized screen enclosed by fairly solid bezels, that some might feel is wasted space. It does, at least, leave an oversized keyboard on the lowest half of the laptop, which we'll get to in an exceedingly moment.
The big bezels likewise mean the webcam can be positioned within the center of the top bezel, which in our opinion is the best area for a webcam to reside.
The Acer Aspire 5 comes with two USB 2.0 ports, one USB 3.0, a USB-C, Ethernet and SD memory card port, providing you many choices for connecting peripherals.
You could have chosen maybe one of the USB 2.0 ports to be another USB 3.0. However, the USB-C port is definitely a welcome addition that gives you some future-proofing.
Environment Sensitive Display
The Aspire 5's 15.6-inch screen gives lively colors on its 1920 x 1080 matte IPS panel. Although if you watch Penny Dreadful, which is known for its dim lighting and grim combination, Ethan Chandler's face appeared crisp and clear.
The nice and cozy color from the sun bust through the stone cellar window onto the characters' faces and determined each strand of hair on their heads. You would not have been able to embrace these details on a smaller display.
If played Overwatch as Hanzo, the wide display lets you see the minute details of Widowmaker's helmet enabling you to fire a bolting arrow across the map.
Fast Processing Speed
Mid-range laptops are, in fact, the laptops that several people are most likely to buy. Striking a balance between the newest robust components and affordability, they're excellent if you would wish for something future-proof that won't break the bank.
And, with the Acer Aspire 5, Acer could have validated once more than average devices are the way to go.
Updated with 8th-generation Intel Core processors, to start, this over competent laptop ticks all the boxes you'd need for a regular laptop, as long as your computer preferences don't include a whole lot of video editing or designing and drafting.
Hardware specifications for Acer Aspire 5
Processor Intel Core i7-8565U RAM 8GB DDR4 SDRAM Storage 256GB Serial ATA/600 Graphics Intel UHD Graphics 620 Graphics Display 15.6″ Full HD (1920 x 1080) widescreen LED Operating System Windows 10 Home Battery Life 9 hrs and 50 min Weight 4.8 lbs
8. HP Spectre x360 – Best for Multitasking
HP Spectre x360 is an improved convertible laptop that's unquestionably no ghostlike apparition; it's real, and a powered-up CPU presents even more impressive than before. This might be the most trustworthy laptop HP has ever made.
High-quality finish
Great all-around performance
Security features are useful
Average battery life
Can overheat sometimes
Key features & details
Solid Design with Multiple Connectivity Options
Straight out of the box, it's obvious that the HP Spectre x360 could be a high-quality piece of hardware. The brushed metal finish means that the whole laptop feels sturdy, and therefore the same build property extends to the namesake 360-degree hinge that allows it to swap between laptop and tablet modes.
Physical connectivity is completed with efficiency, with two Thunderbolt 3 allows USB-C ports and a single USB-A port that opens on a sprung clasp; the port itself is larger than the super-thin edge of the laptop, therefore it snaps shut once not in use. It's a great bit of design that we've seen before, however rarely done this well.
Multiple Input and Output Sources
The Spectre x360's 13.3-inch, 1080p touch screen might be brighter, however, you could still enjoy watching movies and television shows on the sharp and colorful appearance. From aqua coat to fiery scarlet hair, the sundry colors during a trailer for the X-Men movie Dark Phoenix popped on the Spectre x360's display.
The vortex of fire enveloping Dark Phoenix at the end of the trailer was an ocean of punchy oranges and deep purples. The display was so crisp that you could detect a boot floating among thousands of shards of wood as Jean Grey hovered in midair, staring down her adversary, Quicksilver, with menacing orange eyes.
Fast Processing Speed
Intel's 10th-generation laptop CPUs carry the weight also then some, therefore uniting it with a 16GB of swift RAM enables the HP Spectre x360 to lessen daily life tasks with no hassle.
Web browsing, watching videos, and utilizing the Microsoft Office software suite is all swish and straightforward to do on the HP Spectre x360.
Hardware specifications for HP Spectre x360
Processor Intel Core i7-1065G7 RAM 8GB for DDR4 Ram to 16GB LPDDR4 Storage 2TB SSD Graphics Intel Iris Plus (integrated) Display 13.3-inch 4K (3,840 x 2,160) AMOLED Operating System Windows 10 Battery Life 10 hours 55 minutes Weight 2.87 lbs
Picking The Best Intel Core I7 Processor Laptops 2020
Going with an i7 processor means you'll have better speeds for multitasking. In particular, these models are all meant for running multiple programs or web browser tabs simultaneously.
You will also get better performance with multimedia activity such as music, video streaming, gaming, and so on. There's a very wide range of models available that include i7 processors, however.
If you plan to use high end video editing software, your needs will differ from someone who just wants to surf the web or from someone who wants to play new games.
Do I really need an I7 Laptop?
Computer processor, for both desktops and laptops, come in a dizzying array of names. You'll see names like Kaby Lake, Coffee Lake, and read descriptors like i3, i5, and i7.
At the moment, the i7 line of Intel processors are among the best available, offering faster speeds than older i5, i3, Celeron, and Pentium models.
Choosing the right i7 laptop shouldn't revolve around how much RAM the laptop has, or what type of storage it has. It should be based on the following:
The Intel Processor Suffix
The Cache
The Turbo Boost
Hyperthreading
You may think that the letters after the processors are just a part of the processor generation. Guess what? No…
The i7 processor's power and capabilities are separated and indicated by the suffix you'd see at the end of the name of the processor. Here are what these letters mean at a glance:
S – Optimized for performance
HK – (H) High-performance graphics, (K) Unlocked
HQ – (H) High-performance graphics, (Q) Quad core
U – Ultra-low power consumption for longer battery life but lower performance
We recommend you get the U-series i7 for heavy multitasking tasks or for daily work tasks, one with an 8MB cache memory. This should be enough to give you the processing power and thrust to do everyday work tasks and processes without a need to spend a lot of money.
Hyperthreading on the other hand is a processor's ability to perform and process data faster. This acts as a multiple-processor processing data at the same time.
With more threads working together, the workload is cut significantly.
i5 vs i7 laptop?
Most i7 processors have four to six cores, while a few still stick to the older dual core model. More cores means more ability to multitask without slower speeds.
The i7 series also features faster speeds while engaging in Turbo Boost, which increases the clock speed when fewer cores are in use. This is basically built-in overclocking, so you don't need to make any changes yourself.
Critically, the i7 line includes a larger cache than i5 or i3 models. The cache is used for storing numbers during repetitive tasks, like updating spreadsheets, working on a text document, and so on.
When performing those sorts of tasks, you will get a much smoother experience with any of our best i7 laptop contenders.
Is There A Processor Line Better Than The I7?
As with all technology, there's always something new and better on the horizon. Of course, there is actually a higher end CPU line available now, and its referred to as the i9.
With the i9 version, you get increased speed, extra cores, and even better cache sizes. You will pay a premium to get such cutting edge tech in a laptop, however.
For the time being, laptops equipped with i9 processors are usually double (or more) the cost of their i5 and i7 counterparts. For most users, that level of speed just isn't necessary.
Finding A High End I7 Laptop At The Right Price
Whether you need to stick a budget under $500 or want a high end gaming or video editing machine, one of our contenders for the best i7 laptop should fit your budget and usage.
Having a hard time choosing which is best for you? Hit us up down the comments and we'll be happy to help you out.
Frequently Asked Questions
What is the fastest processor for a laptop?
There are different processors such as Core i3, Core i5 and Core i7. Out of these three, Core i3 happens to be the slowest while Core i7 is the fastest.
Is the Intel Core i7 better than the Core i5?
The Intel Core i7 has better processing capabilities than the Core i5. For one, they are better at multitasking, gaming and high performance tasks.