You want a great laptop that will run your programs without lag, but you don't want to spend money on high end tech you don't actually need.
Retail stores and digital outlets are always focused on the latest, most expensive cutting edge machines.
The question is — are you really going to make use of all that hardware for a laptop you take to work or class? While the market is flooded with expensive i5 and i7 laptops, there are still plenty of i3 models that offer a solid alternative at a fraction of the price.
We've scoured the web to find the best i3 laptops available in 2019, and we're ready to help you choose between them!
Picking The Best I3 Laptop
If you've been comparing different laptop options, you may have found the various naming schemes to be rather confusing. For instance, the core i3 models don't actually have three processor cores.
Instead, the term "i3" designates the overall series of processor, with the progression going from i3 to i5 to i7 (and now even i9). In general, the higher the number, the more speed you can expect.
There are many other aspects to consider however, as some 8th generation, quad core i3 processors actually beat out i5 models.
Usually, an i3 model with 8GB of RAM can handle any work, school, or home task you need. They aren't designed for gaming however, and usually don't feature high end graphics options.
Picking an i3 laptop means going with an entry level machine with lower pricing and less power consumption. Let's dive into what's available and take a look at the top contenders!
In A Hurry? Here's The Winner From Hours Of Research
Editor's Choice
Dell Latitude 15
Why is it better?
In 2019, the current reigning champ of i3 laptops is easily the Dell Latitude 15. The specs on that bad boy absolutely smoke the competition, although you will pay a very high price to get that level of hardware.
Not interested in spending so much money? If you want an excellent well-rounded i3 that doesn't break the bank, your best bet will be HP's 2018 touch screen model.
The Lineup At A Glance
The Contenders For Best I3 Laptop
Don't have the money to spend on an i5 or i7 model with a dedicated graphics card? If you still want to be able to run most games at low – medium settings, this should be your pick.
8th gen i3 processor
Solid state drive
Distinctive color
No dedicated graphics card
No touch screen
Key features & details
If you are looking for a true gaming powerhouse, you need to be aware that i3 processors are meant for casual gaming, at best. You won't typically find them with dedicated graphics cards at all.
Since you can't get a high end video card for running games at ultra settings, your choice on the rest of the specs becomes crucial.
If you want to stick with a budget i3 option, you need to pay attention to the processor, RAM, and storage option.
While the i3 is generally thought of as an entry-level processor, the 8th gen i3-8130U included in this Lenovo model is actually faster than many i5 CPUs.
Going with a solid state drive also means faster load times with your games, and that's a huge plus. In addition, the IdeaPad features an HDMI port if you want to hook up to an external display while gaming.
While it doesn't have any etched designs or RGB lighting, this is a striking red model, so it stands out a little more than your typical black or gray business machine.
The only complaint gamers typically have with this machine involves the touchpad. Since the pad is offset to the left and quite close to the keyboard, it's easy to accidentally brush against.
If you want better control while gaming, you should consider buying an external wireless or USB mouse.
2. Dell I3567 – Best Budget I3 Laptop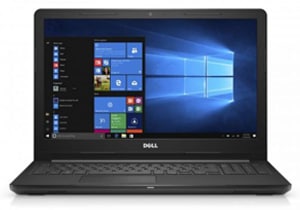 Need to find a cheap laptop that still performs well and will last a few years? This Dell model should be at the top of your list for the best budget i3 computer!

No solid state drive
No touch screen
Key features & details
You really can't expect to find a better machine at under $400 than this Dell model. All the basic features you'd expect from an inexpensive laptop are on display, and you get great specs as well.
Most budget laptops will cut corners on the RAM, but you still get a full 8GB stick here. That means faster speeds when running multiple applications at the same time.
The I3567's motherboard can handle double that amount if you feel comfortable cracking open the case and installing a second stick.
When you end up using newer, more memory-intensive programs down the line, it isn't hard to manually upgrade to 16GB of RAM.
With Bluetooth, an HDMI port, and a DVD-RW drive, you are pretty well covered for any type of input and output options.
The only real drawback here is that you don't get a solid state drive, which is becoming more of standard feature in 2018.
Not everyone truly needs an SSD, but the speed difference from a traditional hard drive is noticeable.
3. HP 2018 Touch Screen – Best Business I3 Laptop
This should be your top business i3 laptop pick, particularly if you want physical storage space rather than using online backup tools.
Touch screen
Huge storage capacity
No dedicated graphics card
Not a hybrid model
Key features & details
For a quality business laptop, you want an excellent cross slice of specs and features. That's what you get with HP's new 2018 touch screen model.
While there's no dedicated graphics card for high end video editing or CAD software, any other business application is more than covered here.
8GB of RAM and an i3 processor will easily get you through the workday, and at a surprisingly affordable price.
The biggest draw here is that you get both a touch screen and a huge amount of storage space.
The solid state drive ensures the boot up sequence will be lightning fast, while the secondary hard drive lets you save all the spreadsheets and documents you need.
Don't forget to take a look at the keyboard layout on any business laptop as well! Our HP contender features a comfortable keyboard layout for typing all day long.
4. HP Pavilion X360 – Best 2-in-1 Laptop
This 2-in-1 is a great pick for those looking for a budget-friendly laptop with massive amounts of power and storage.

Budget-friendly
Lots of storage
Battery life could be better
Key features & details
The HP Pavilion X360 is a versatile and powerful machine for a wonderful price. It does everything you would expect a 2-in-1 to do: flip back and forth, seamlessly between tablet and laptop mode for the experience that best suits your needs.
The laptop comes with an HP Digital Pen for note taking or digital art.
A whopping 1 TB of storage should be able to last you quite a while even for more strenuous use. The battery should last most of, if not all the day at an average of around 7 hours.
Under intense pressure, this is likely to shorten quite a lot. Users report as low as 3 hours under pressure.
It is a great budget-friendly option but is the better value of the two 2-in-1s on this list. Its super powered i3 processor will get you through most any task you need it to.
5. Dell Latitude 15 3000 – Best Overall I3 Laptop
Want the best overall i3 laptop currently available on the market? If you crave high end specs but don't want to splurge for an i5 or i7 model, this should be your choice.
Tons of RAM
Very large solid state drive
High price
No touch screen
Key features & details
Most laptops featuring core i3 processors are on the budget side, with lower end specs to save money. That is most definitely not the case with Dell's Latitude series.
With 32GB of RAM, you won't ever need to upgrade to stay ahead of the technology curve. You can expect great speeds and no lag, even when running multiple tabs or programs at once.
The Latitude boasts a full 1TB of drive space, but its a solid state drive, rather than an HDD. That means much faster boot up speeds and faster loading when retrieving files.
While this isn't a gaming machine and lacks a dedicated graphics card, between the RAM and 7th gen processor you can still run most games at decent framerates.
Here's the best part — despite the extremely high end specs, you get excellent, all-day battery life on a single charge.
Now for the main downside — for this price, you could buy an i7 laptop, instead. You wouldn't be able to find an i7 laptop with a 1TB SSD and 32GB of RAM at this price point, however.
Prefer to go with a touch screen and want to spend half as much money? HP's 2018 business model is another great well-rounded option, although it only sports 12GB of RAM and you lose the solid state drive.
6. Acer Aspire E 15 – best value laptop
When choosing your budget-friendly laptop, you do not want to cut any corners with the hardware. This is a great value laptop, combining a budget-friendly price with powerful hardware and an all day battery.
Loads of storage
Customizable
All day battery life
Key features & details
The Acer Aspire is the best value laptop on this list for its combination of price and excellent hardware. Its beefed up processor is sure to get you through your day to day tasks and its massive amount of storage will last the life of the laptop.
The drawback to this machine is its design. At 5 pounds and some change and a thickness of 1.2 inches, this laptop does not get high marks for portability. However, for the price and what you get under the hood, this laptop is a great value option.
The display is a standard 1920 x 1080 FHD LED-backlit but users report some screen dimness. This would be expected in outdoor lighting settings as backlit displays are often prone to dimness in such situations. However, the display should be sufficiently bright indoors.
7. ASUS Zenbook ux305ca – best laptop for travelers
This Asus Zenbook is the perfect i3 laptop for on-the-go travelers. Whether you're hopping countries or hopping down to the next cafe, this laptop is ultralight and with a long life, to keep you worry free on the road.

Ultraportable
Long battery life
Slightly weaker i3 processor
No backlit keyboard
Key features & details
The Asus Zenbook is an extremely light, extremely thin laptop. As such, there are some things the manufacturer had to cut out in order to make this machine as ultraportable as it is.
The laptop does not have fans which means it is absolutely silent but will heat up under the pressure of large file sizes or strenuous processing.
Its battery life is sure to last up to 10 hours under standard conditions and slightly less under denser loads.
The processor is slightly weaker than the others on this list, however, it is sure to keep your day to day tasks running at fast speeds, don't worry. Processing speed may slow with pressure.
8. Dell Inspiron 14 – best laptop for college
This laptop will definitely be able to keep up with the hustle and bustle of your college years. It has a powerful i3 processor that will handle all those lovely papers you'll be writing and PowerPoint presentations you'll be doing as well as those stress-relieving meme breaks you'll be taking.

Ports galore
Very budget-friendly
2-in-1
Key features & details
This is our top pick for college students because it is a highly affordable, well made laptop that will carry you through each of your busy uni days. Its processor is made to handle the pressure of daily activities such as word processing, file management, and web surfing.
However, if you need a more specialized laptop for your degree (i.e. for photo/video/music editing, digital art, intensive programming, etc.) this is probably not the laptop for you.
It is a 2-in-1, so you can take this versatile machine anywhere you want and be assured of a comfortable experience wherever you go. This makes it great for study breaks on the quad, to note taking in lectures, to doing homework back in the dorm.
Be aware of a heating issue reported on this laptop: under strenuous processing (normally caused by running many programs at once or attempting to use art software, play games, etc.) this laptop will heat up dramatically.
It does not have a very sophisticated cooling system and users should keep an eye on temperatures when performing straining tasks.
How Do I Choose Between I3 Processors?
Due to changes in processor architecture, the clock speed (the GHz rating at the end of the processor's name) really isn't a very useful tool anymore for deciding between CPUs.
Instead, you want to look at the generation — with 7th and 8th gen processors where you want to land — and at the number of cores.
Most i3 processors are dual models, featuring two cores, but you can find some laptops with quad core i3s that feature four cores.
Why does this matter? Each "core" essentially acts as its own CPU, meaning with four cores, your processor can work on four different tasks at once, instead of just one.
After generation and core, be sure to look at the letter suffix at the end of the processor's name.
All of our contenders listed above use the "U" designation, which means they use less power and are meant for multi-tasking with basic programs. Typical i3 designations include:
H – High performance graphics
HQ – High performance graphics, quad core version
T – Power optimized
U – Ultra low power
Want to know more about the differences between generations and series of processors? Check out the full break down at the Intel website here.
What Sort Of Specs Can I Expect From An I3 Laptop?
Since they tend to be the budget options in 2018, you need to carefully consider the overall specs available in an i3 laptop.
Portable computers that use the i3 technology often still include optical drives, and fewer of them are touch screens, although there are touch and hybrid models available.
In terms of memory, you want to go with at least 8GB of RAM to pair with your i3 processor. If you are willing to spend a bit more, 16GB will help future proof your machine.
Many i3 laptops still use the older HDD technology, which offers lots of storage space but doesn't access data as quickly. Whenever possible, look for an SSD option instead.
Finally, i3 laptops often lack certain features that will be standard in higher end models, like a full 1920 x 1080 resolution screen. There are some notable exceptions to this rule, however, like with the Acer Spin listed above.
What Features Do I Miss Out On With An I3 Processor?
You will notice some reduction in speed on an i3, especially during processor-intensive tasks. In particular, adding effects to large image files or running macros on big spreadsheets will get some slowdowns over i5 and i7 models.
Older i3 models don't include Turbo Boost for automatic overclocking, like you find with the i5, i7, and new i9 models. This is less of an issue in 2018 however, when some 7th and 8th gen versions of i3 CPUs do in fact include Turbo Boost.
The cache on an i3 model usually maxes out around 3 – 4MB. You'll see bigger caches on newer processors, which means you get faster speeds performing repetitive tasks where the same numbers are stored over and over.
The primary reason to pick an i3 laptop in 2018 is to save money and get a budget option. You can often find models with this slower processor but with better RAM and SSD options than their i5 counterparts.
Finding A Mid Range I3 Laptop To Fit Your Budget
From huge hard drives to extra ports and drives, there aren't any shortage of options to consider when picking a budget i3 laptop.
With these five contenders, you should have found the perfect option to fit your needs. Which of our picks do you like the best, and have you seen any other great i3 deals we missed out on? Sound off in the comments below!
Frequently Asked Questions
Is an i3 processor worth it?
Don't be mistaken by its position in the series of processors. Just because the i3 is the lowest of the series does not mean it isn't capable of powering your laptop. They still make for very powerful processors and in turn very powerful laptops. If you're looking for a cheap laptop that can get normal, day to day tasks done efficiently, an i3 is the way to go.
Can it be upgraded?
The simple answer: no, not unless you know what you're doing. Upgrading a processor is not as easy as upgrading the storage or memory of your laptop. If the processor is replaceable, you replace it at a risk. Firstly, you risk voiding any warranty you have on the laptop which is not advisable. And second, upgrading the CPU often requires a motherboard upgrade as well in which case, it's probably less of a hassle for you to just buy a new laptop with a better processor.