Not all models of gaming laptops are made equal, and there are many potential issues to look out for when shopping around. With that said, let's take a look at the list of best gaming laptop under $1500!
Picking The Best Sub $1500 Gaming Laptop
For gaming laptop under $1500, you will frequently see similar specs in terms of graphics card power to cheaper laptops. The key differences here will be in the processors and RAM jumping up to the next level, as well as significant extras geared at gamers.
This price range is one of the last tiers were budgeting becomes a concern, and you can usually expect very high end specs no matter what brand or model you prefer.
In fact, you'll notice that many of these gaming laptop under $1500 options tend to keep the same basic hardware across the board.
So what sets them apart from each other? Picking the perfect gaming laptop to meet your needs means comparing more than just the amount of RAM. You've got to look at the thickness, weight, design, keyboard lighting options, included software, and speaker sound quality.
Below we look at eight best gaming laptops under $1500 that vary widely in terms of size, battery life, and keyboard / touchpad design.
In A Hurry? Here's The Winner From Hours Of Research
Editor's Choice
HP Omen
Why is it better?
Best price to value ratio
High end CPU
SSD + HDD combo gives speed and storage capacity
The Lineup At A Glance
The Contenders For Best Gaming Laptop Under 1500 Dollars
1. Eluktronics MECH-15 G2 – Best Mechanical Gaming Laptop
Love the portability of a laptop but prefer the solid construction of a mechanical keyboard like you'd find with a desktop machine? Eluktronics gives you both, with full RGB mechanical keys and a side 10 key section at a very reasonable price!
Mechanical keyboard
Bigger SSD
No secondary storage HDD
No optical drive
Key features & details
2. Acer Predator 15 Gaming Laptop – Top-Notch Specs Gaming Laptop
If you want to be as close to top-of-the-line as you can get without crossing above $1500 and don't mind a heavier laptop, this should be your pick.
High end graphics card
Good RAM and processor
Red and black design
Heavier model
Low battery life
Key features & details
Although bulkier and heavier than many other gaming models, Acer's Predator line still offers top-notch specs for gamers.
That weight doesn't prevent this model from having the aesthetic that gamers crave either, with stylish red and black exhaust ports. Throw in fully customizable RGB lighting and you've got a very pretty machine to look at during marathon online sessions.
While it doesn't quite match the graphics card of the refurbished ASUS ROG, you still get a GTX 1060 and 16GB of RAM here in a completely factory new machine. In other words, you'll be playing everything at 60FPS on any settings, and VR will run smoothly in most cases.
The screen is also worth mentioning, which is a full IPS display with G-Sync for a crisp and clear image no matter what angle you set the laptop. From desk to lap to resting on a pillow on your bed, the display is still going to look great while playing anything from Civilization VI to Battlefield 1.
Buyers who reviewed the laptop often mention the ability to easily swap out the optical drive with an extra FrostCore fan to stay cool during long weekend games.
3. HP Omen – Top Picks Sub 1500 Gaming Laptop
Looking for a solidly built gaming laptop with a few extra bells and whistles that won't annihilate your bank account? The HP Omen is easily one of the best inexpensive gaming laptops at this price point, but you still get plenty of graphical power.
Low price and excellent value
Powerful processor
Lots of extra HDD storage space
Has RGB, but limited options
Smaller SSD
Key features & details
4. ASUS VivoBook Pro Thin And Light – Best Thin 17" Gaming Laptop
Want a huge display area but don't want to deal with an ultra heavy gaming laptop? Asus gives you the best of both worlds with the best thin 17" gaming notebook — and at a reasonable price as well!

Larger screen
Lighter weight
Wide variety of ports
Lower end graphics card
Less of a gaming design
Key features & details
5. Dell 3779 – Notable mention
If you are not an avid gamer, then you might just need a system that offers good gaming performance all around while still being able to perform other tasks. The Dell 3779 is such a laptop.
Good build
Fast processor
Thunderbolt Port 3
Less than average battery life
Bottom runs hot
Key features & details
6. lenovo legion y7000 – best performing laptop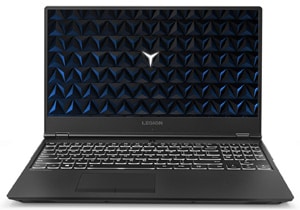 It is hard to find a gaming laptop that can perform optimally without bloatware or a lackluster design. The Lenovo Legion Y7000 changes preconceived notions consumers have of gaming laptop by offering portability, beauty, and performance
Sleek design
Good battery life
Colorful graphics
Lightweight
Key features & details
7. Alienware M15 Thin And Light – Stylish And Thin Option
Want a lightweight gaming laptop that's still incredibly sturdy and has a solid overall construction? This Alienware model is our top pick for a lightweight, high end 15" gaming machine.
Lightweight and thin for a gaming rig
Sturdy metal chassis
Primary SSD is rather small
Runs very hot
Key features & details
8. XPC GL63 VR Ready Notebook – Budget VR Ready Gaming Laptop
Want to jump into VR without spending two grand (or even a full $1,500)? This is our top pick for a budget-friendly VR gaming laptop at the price range, especially if you like a full sized keyboard with red backlighting!
High-end graphics card
Full-size keyboard on a 15" machine
Slightly less powerful CPU
Less SSD storage capacity
Key features & details
Buying Guide For Best Gaming Laptop Under $1500
What Am I Getting For This Price Range?
Many laptops in below $1500 range will give you decent enough specs to play any game with stable frame rates at medium – high settings. The question here is — do you need to go all the way up to $1500?
At this price range, 7th and 8th gen processors become the standard, and you should expect at least 16GB of RAM.
Between those specs and the GTX 1060 – 1070 graphics cards, you are virtually guaranteed to run anything you can find on Steam without any slowdowns. That can be a boon for more than just gaming as well.
Faster processors mean better ability to use other programs besides just graphics-intensive games. For those who mix audio, edit animated videos, use CAD programs, and so on, these are all solid picks for work, school, and gaming.
What Should A Gamer Avoid At This Price Range? (GTX, I5, I7)
Some manufacturers and online sellers haven't caught on to the fact that graphics technology has massively increased in the last few years. You may find systems with specs that are now low to mid range that are still selling for around $1500.
A system with 8GB of RAM should be simply unacceptable if you are going to drop this amount of money. There are plenty of laptops with that amount of onboard system memory that can be purchased at much lower prices.
On the graphics card front, anything beneath a GTX 1060 shouldn't even be in your consideration at this price, unless you don't care about VR.
If you are going to pick a laptop with a GTX 1050 or 960MX, you could save yourself several hundred dollars by finding a less expensive model.
The only potential trade off there is finding a system in this price range with maximum RAM and larger hard drives at the cost of a less powerful video card. While you don't get as much graphical power for VR applications, you also won't have to spend money on memory upgrades down the line.
How Far Can I Upgrade From Here?
For the most part, upgrading the graphics card or processor isn't going to be a viable option in a gaming laptop. They just aren't designed with that kind of modular replacement in mind, which is why you should go for the best graphics card possible at your budget.
The RAM is a whole different story, however. While most of these models will hover around 16GB, they typically can be upgraded all the way to 32GB and in a few cases even a whopping 64GB.
Don't forget to leave money in your budget for the peripherals and for more expensive extras like a VR setup, either! VR games are becoming increasingly popular and the price on VR gear is coming down over time.
When buying a VR device such as the Oculus Rift or HTC Vive, keep in mind that the GTX 1060 graphics card is where you will get a stable experience.
If you want the absolute best in graphical capabilities and no slow downs on the latest VR games, you should seriously consider a GTX 1070 instead.
Ensuring A High End Gaming Laptop Experience
Any of these five portable gaming rigs will easily offer you a top notch gaming experience, whether you are a turn-based strategy junkie or a fan of the online MOBAs.
Which of these picks do you think is the best gaming laptop under $1500? Let us know which one you plan on ordering, and be sure to leave us a comment if you've found any other killer rigs at this price we should look at!
Frequently Asked Questions
How long should a good gaming laptop's battery last?
The best gaming laptops are those that can last for 6 to 8 hours on high performance. However, in terms of life expectancy, the gaming battery should last for at least 3 years before it becomes time for a change.
Do all gaming laptops overheat?
The answer is no. Not all gaming laptops have the problem of overheating. But even with that, the gaming laptops are particularly made to handle the pressure of high performance, unlike normal laptop systems. So, the heat should not affect the system from performing its intended function.