Nowadays, we have tablets that go all the way up to 13″, and even then people are still interested in 7″ tablets, and we are aware of it very well. 7″ tablets come with many advantages, and in this post, you'll be able to find the best 7″ tablet for your own need.
7″ tablets carry a big difference in price, which is one of the advantages and reason why most people decide for 7″ tablets. However, people who don't have a tight budget still go for 7″ tablets because of the combination of portability and performance.
You'll save yourself countless hours searching for 7″ tablets since you'll find the top 5 seven inch tablets without buying a tablet that won't be able to satisfy you.
We've spent many hours deciding which 7″ tablets to choose, review, and write about in this post, just for you.
In A Hurry? Here's The Winner From Hours Of Research
Editor's Choice
Apple iPad Mini (supports Apple Pencil)
Why is it better?
Sleek & durable design
Suitable for various types of use
Powerful configuration
Fast 64-bit chip processor
Apple Pencil
The Lineup At A Glance
The Contenders For The Best 7 Inch Tablets 2020
1. Apple IPad Mini 4 – With Apple IO.S
When you're looking for the best 7″ tablet out there, if you're a big fan of Apple, you'll love the iPad Mini 4. It features a powerful configuration, great HD display, a long-lasting battery life, and a premium & stylish aluminum design. It's made to last long and be there for any type of usage.
Powerful A8 chip
Touch ID fingerprint sensor
High-quality dual camera
Up to 10 hours of battery life
Two speaker audio
Stylish & durable design
Suitable for various tasks
Automatic screen brightness adjusting at dark might be too dark
Key features & details
2. Samsung Galaxy Tab A7 – Best Small Android Tablet Tablet
Samsung Galaxy Tab A7 is the best 7 inch Android tablet on the market due to its versatility and portability, which makes it the greatest entertainment tablet. You can even connect the PlayStation 3 remote controller, how cool is that?
Expandable memory
Long-lasting battery
Suitable for kids
Advanced dual camera
Very portable body
Very affordable price
System takes half the memory
It's a bit hard to find cases suitable for A7 tablet model
Key features & details
3. All New Amazon Fire 7 – Best Tablet for Media Use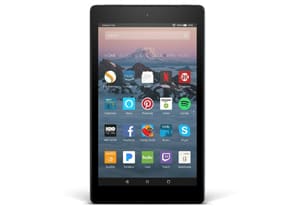 If you are looking for a tablet that allows you to access all Amazon features from shopping, ebooks, movies to TV shows and use of Alexa, the All-New Amazon Fire 7 is your membership card.
Presence of Alexa
Affordable
Available in 4 different colors
Expandable storage
Average battery life of 7 hours
Poor display for watching movies
Key features & details
4. Samsung Galaxy Tab E Lite – Top Picks
If you're looking for one of the lightest 7 inch tablets on the market, Samsung Galaxy Tab E Lite 7 is the right choice. It features a decent configuration suitable to many different needs, and a beautiful & portable design you can take anywhere with you to enjoy anything you do, on a go.
Lightweight and durable design
Long-lasting battery
Expandable memory
Samsung Galaxy Essentials
Video streaming is available
Affordable price
Gets a bit warm during long-hours usage
Key features & details
5. Google Nexus 7 – Best Mini Tablet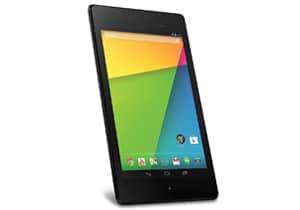 Google Nexus 7 is a concept of a tablet that features a mini size, yet powerful configuration, and is a great way of showing other manufacturers how to create quality tablets. It features a powerful battery, it has a sharp IPS screen, and a powerful quad-core processor to keep you going for hours.
Fast quad-core processor
Powerful battery
Sharp display
Powerful configuration
Dual-camera
Price is reasonable
Warranty
Front-facing camera isn't very quality
Key features & details
6. Lenovo Tab E-7 – Best Budget 7'' Tablet
The Lenovo E-7 is great for performing simple functions such as browsing the internet, watching movies and playing non-memory utilizing games. Therefore, it is best for users looking for an affordable tablet.
Lightweight
Good operating system
Great price
Low resolution
Small RAM
Poor battery life of 6 hours
Key features & details
7. All New Fire 7 Kids – Top Tablet for Kids
The Amazon All New Fire 7 is a good tablet for kids. Apart from the fact that the tablet is affordable, the casing is strong enough to withstand any rigors your little one puts the tablet through and it also comes with a warranty that ensures you are worry free.
Strong casing
Loaded with kid-friendly content
Warranty of 2 years
Reasonably priced
Poor battery life
Poor camera
Key features & details
Criteria used for evaluation
O.S
O.S isn't just a personal preference, yet some operating systems work better with their optimized O.S.
There are tablets which come with a number of the different operating system and getting a tablet with O.S that is optimized for a specific tablet is the best way to go.
Even if it means you'll have to put your preferences on the side, it's rather more important to get the best optimized O.S that works with the tablet.
The most ideal situation would definitely be to find a tablet you like with your preferred operating system that works hand-in-hand with the configuration.
Form / Design
Other than comfort, form / design determine the quality, durability, and lifespan of a tablet.
Even though most tablets are very similar in design and form, at the first look, it's crucial to pay attention to details which might make a huge difference during use.
The design is directly connected with durability, along with the weight and materials used to build the tablet. The better design and form it has, the longer lifespan it will provide.
Design and form are also important to get the most comfortable tablet you'll enjoy using for hours. There are also many tablets that come with more than one position available thanks to the wise design craft.
Performance
Nowadays, tablets come with a number of different configurations that offer various performance. The better performance, the better a tablet will perform.
Just like computers and laptops, tablets have its own configuration that is constantly getting upgraded, to the point where tablets can almost replace computers (depending on the type of use).
The better the design is, the larger and better components will be able to fit inside a tablet. 7 inch tablets in this post offer a decent amount of space for the configuration to be placed, where you can expect powerful and fast speed as a result.
Battery Life
The better the battery life a tablet has, better portability it offers, along with other benefits. Nowadays, tablets come with a number of different configurations that offer various performance. The better performance, the better a tablet will perform.
Tablets are made with a purpose to be used anywhere you go, and a battery is one of the crucial components that will determine the portability of your tablet.
Getting a tablet that has a long lasting battery life, in combination with powerful configuration is the best choice, and in this post, you'll find some of the best 7 inch tablets that have longest lasting batteries on the market.
Storage
You'll want as much storage as possible to store all your games, books, movies, and other files.
Storage for tablets might not seem important, but it definitely is. Considering you'll take your tablet on a go, anywhere you go, you'll take photos, want to download movies from Netflix, have music & books ready, and much more.
If you're not looking to get a tablet with SIM card slot, you'll be restricted to Wi-Fi internet connection only. And you don't want to store everything in the cloud.
Frequently Asked Questions
Is SIM card slot (3G connection) necessary to have?
SIM card slot has one purpose, and it's to turn your tablet into a phone, so you can use it as your phone. Usually, it's not necessary to have the SIM card slot that will allow you to have a 3G connection to make calls and send messages just like you would on a phone, but it's useful to have. It mostly depends on your needs and the purpose of a tablet purchase.
Should I stay away from refurbished tablets?
The answer is simple, and it's absolutely not! Refurbished tablets are as good as refurbished laptops or any other gadgets, and they're refurbished for a reason. They usually come with a warranty, and if they're refurbished by a well-known brand, there's no reason to stay away from such product. In the end, it's a good way to save a few bucks if you're on a tighter budget.
How to child-proof your new tablet?
Tablets are a very popular device for kids to learn, educate themselves and entertain themselves. The best way to child-proof your new tablet is to get a child-proof case for your tablet. It's a case just like any other, yet it is extra padded and rubberized to absorb shocks and prevent any damage that might occur. Samsung even produces such cases and they're available for Samsung tablets we've reviewed in this post.